2022 Masters: Why Tiger Woods is Wearing FootJoy Instead of Nike Shoes
Credit:
Photo by Andrew Redington/Getty Images. Tiger Woods shoes
There's only one explanation for Tiger Woods walking around at Augusta National in non-Nike shoes: He's not happy with the Swoosh.
The golf world was abuzz Sunday and again on Monday when Woods showed up wearing a pair of black FootJoy spikes.
The most common speculation? He needed something more comfortable after his accident.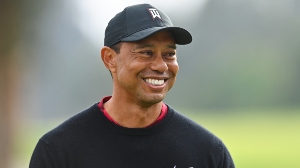 Bet $10 on Tiger, Win $200 (Even if he doesn't play!)
But having reported on the business of sports for 22 years, that doesn't pass my sniff test.
If Tiger needed a special orthotic to make his foot feel different in the shoe, Nike would have made it. If Tiger liked a different brand, Nike could have worked with him, too. They could have easily painted on a swoosh and probably could have gotten away with it.
Painting of tennis rackets and shoes happens more than people think. NFL players have a deal with adidas and like their Nikes. The player might be wearing a Nike shoe, but you can't tell from afar.
Which is why showing up with a shoe with the FJ brand seems to suggest that Tiger wasn't interested in working with Nike.
This wouldn't be the first time Tiger flexed his muscle in these business positions.
In 2015, despite coming out with new spikes, Woods wore older versions on the course. At the time, Nike said his recent swing changes led him to use an older model. Nike used a similar refrain in a statement on Sunday, saying that they will "work with him to meet his new needs."
But anyone who knows the business knows that if Woods needed something, it would have been voiced and fixed way before he got out on the course. If they couldn't make him a new spike, they could have fudged it. The only way Tiger walks out in shoes branded FootJoy is if Tiger wants to come out and wear shoes branded FootJoy.
And the fact that Tiger walked out on the course in white FootJoys on Monday after the scene that happened when he was in black FootJoys on Sunday just goes to show you that nothing was nipped in the bud.
Why is this such a big deal? Because when Tiger is missing a swoosh on any part of his body, it just looks wrong. Aside from Michael Jordan, Tiger has done more for Nike than any other athlete. He and Nike are inextricable.
When Phil Knight signed Woods to a $40 million deal in 1996, the world couldn't believe it. However, by 2000 when the price was $100 million, no one batted an eye. Two more deals followed. The last reportedly came in 2013 for $200 million, though no time length has been reported. The deals have almost certainly been altered in some fashion due to his crash, infidelity and break in 2008 followed by his lack of success on the course as well as the break required by his most recent accident.
The details haven't been shared as to when Tiger's latest Nike contract is up, but unlike LeBron James, he's not on a lifetime deal. All the more reason — as your leverage is decreasing in the twilight of your career — to flex when you can.
Could it cost Tiger for breach of contract? Perhaps. But Nike wouldn't do anything to snap back unless executives thought he was gone forever.
How would you rate this article?
This site contains commercial content. We may be compensated for the links provided on this page. The content on this page is for informational purposes only. Action Network makes no representation or warranty as to the accuracy of the information given or the outcome of any game or event.