The Crazy Story Behind the $1.19M Tiger Wager: Winning Bettor Says It Was His First Sports Bet
Credit:
Courtesy: William Hill. Pictured: James Adducci and William Hill U.S. CEO Joe Asher
James Adducci, a 39-year-old from Wisconsin, is the man who took William Hill's sportsbook for $1.19 million after Tiger Woods won the 2019 Masters.
Adducci told The Action Network's Darren Rovell that he was $25,000 in debt just months before and funded the wager, in part, by selling some Amazon stock.
Adducci said it was his first ever sports wager and that he did not hedge.
It came to James Adducci out of nowhere in March.
Tiger Woods was going to win the Masters.
What follows is a story as outrageous as Tiger Woods comeback. No, it's even crazier. It doesn't even seem possible.
You see, William Hill is paying out $1.19 million on Monday, the most the bookmaker's U.S. division has ever paid out on a single golf bet.
And it's paying it out to the 39-year-old Adducci, who says this was his first ever sports bet. He said the only other wager he had placed in his life was with the now defunct site Tradesports that Arnold Schwarzenegger would win the 2003 recall election for California governor. Yes, Adducci said he won that bet too.
Three different large Las Vegas sportsbooks confirmed independently they have no record of Adducci ever placing a sports wager previously at their properties.
Adducci said he didn't know how to place a bet and he certainly didn't have $85,000 on hand. Yet last Tuesday morning, after the Wisconsin native took a flight to Vegas, he walked up to the desk at the sportsbook at the SLS Casino in Vegas and asked if he could get an $85,000 bet on Woods to win the Masters. (William Hill runs the sportsbook at the SLS, one of more than 100 such locations for the company in Nevada.)
It was the third sportsbook Adducci said he had visited that day. One sportsbook said the max they'd let him bet was $4,000. Another, the Westgate, set the max at $10,000. He passed on both offers, hoping to put the lump sum down at one book.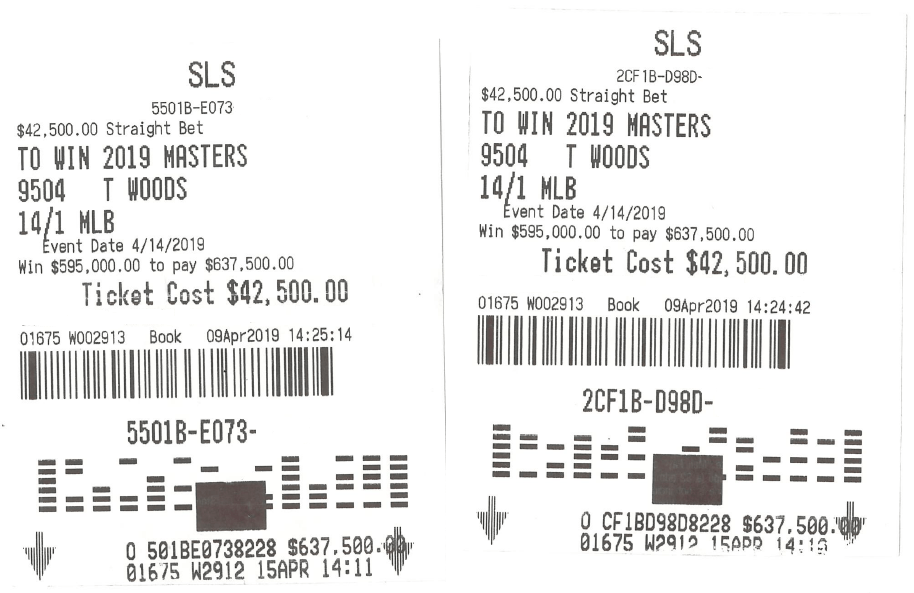 While Adducci waited, the call came into Nick Bogdanovich, the director of trading for William Hill U.S. Could they take this $85,000 bet at 14-1? It was above Bogdanovich's pay grade, he said, so he called William Hill U.S. CEO Joe Asher. The answer? Yes.
Adducci said he would be back. He says he went to a local Walmart and a bought a backpack. He said he then went to a local bank, to pick up the cash he had requested.
James Adducci said he handled the $85,000 in cold hard cash and put it into his backpack.
He then took an Uber back to the SLS. Not thinking, he said he hit POOL on the app. So with $85,000 in his backpack, he shared a ride with a mother and a daughter who he said were wondering aloud how they would pay for life ahead.
"I felt sick, knowing that I had $85,000 in my backpack and they were talking like this," Adducci said. "If I see them again, I would help them out."
It was a weird feeling. He said that on Christmas Day 2018, he was $25,000 in debt, claiming that his protein supplement business had gone bust after a supplier didn't fulfill its responsibilities.
Using the little he had left from the business plus some Amazon stock he sold, he had the cash to make his wager.
After his epiphany that Woods was going to win, Adducci said he wasn't going to make his process a secret. So he said he told his partner of eight years what he was going to do.
"She actually said to me, 'I can't stop you from doing this because if you would have won a million dollars, I'm never going to forgive myself,'" Adducci said she told him.
James Adducci swears it was his first sports bet, and the Westgate, which offered him $10,000 at 14-1, said they had no record of him ever betting with them. William Hill had no record of Adducci, either, and since it operates more than 100 sportsbooks in Nevada, more than any other, his story of not having bet, at least legally, seems somewhat plausible.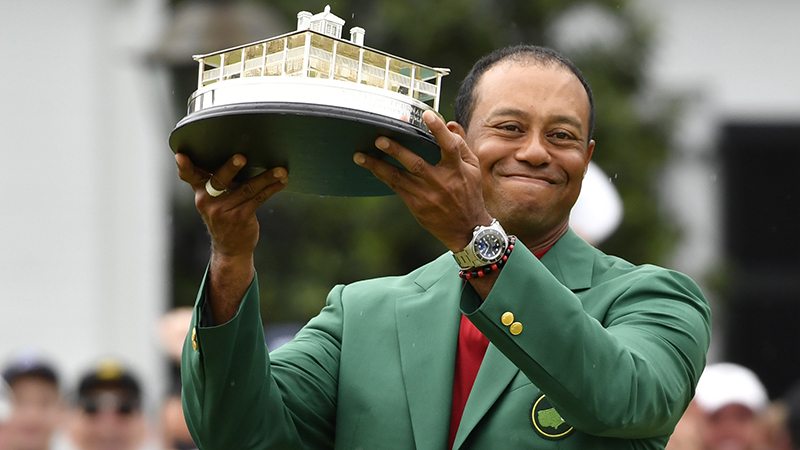 After Adducci handed over the $85,000 in cash, he said he took the ticket and guarded it with his life until he got home in Wisconsin and put the ticket in a deadbolt safe.
"It's not the best neighborhood," Adducci said. "But we had the safe and the video doorbell too."
At this point William Hill had announced that he made the bet, but had given no details as to who he was, so there was not an imminent threat to the ticket being stolen.
From Thursday to Sunday, Adducci said he watched the coverage with his 82-year-old father, who is not in great health.
Adducci started feeling the pressure on Sunday and so did his significant other. Unbeknownst to him, she asked to take off her work on Sunday and went to their home to follow.
"She was too nervous, she couldn't work," he said she later told him.
"I thought to win this, everything had to fall into place," Adducci said. "As in he had to do everything right and the field around him had to magically fall apart and then it happened."
---
>> Sign up for The Action Network's daily newsletter to get the smartest conversation delivered into your inbox each morning.
---
Fifty-four-hole leader Francesco Molinari double bogeyed both the 12th and 15th hole with shots into the water.
"I was screaming," Adducci said. "I thought I was going to give my father a mini stroke."
Adducci said he was living with Tiger's every move and didn't count his money until it was over.
"If I saw Tiger, I would tell him that I understood the pressure he must be under, because I, for a moment in time, felt it too," Adducci said.
While he waits, he's going to use the money to pay off some bills and get some new garage doors.
James Adducci had won more money ($1.19M) by betting big on Tiger Woods than each of the three men who tied for second at the Masters, Xander Schauffele, Dustin Johnson and Brooks Koepka ($858,667).
"When I won, I went ballistic," Adducci said. "The first thing my father said to me was, 'Can you go to Culver's and buy me some more frozen custard?' He just couldn't relate to what had just happened."
Neither can anyone else.
How would you rate this article?
This site contains commercial content. We may be compensated for the links provided on this page. The content on this page is for informational purposes only. Action Network makes no representation or warranty as to the accuracy of the information given or the outcome of any game or event.