Sobel: Troy Merritt Shines, Tiger Struggles (Again) During Round 1 of The Northern Trust
Credit:
Credit: Mark Konezny-USA TODAY Sports. Pictured: Tiger Woods during the first round of The Northern Trust golf tournament.
Tiger Woods' first-round struggles continued, while Troy Merritt tied a course record at Liberty National.
Jason Sobel recaps Day 1 of the Northern Trust.
JERSEY CITY, N.J. — Just as the New York Giants and New York Jets prepared for a preseason clash just off Exit 16W — not too far from Liberty National depending on traffic — the glorious hero shots of the Statue of Liberty and New York City skyline throughout the first-round telecast of The Northern Trust could leave an observer forgetting exactly which state we're actually in this week.
This, of course, is why we have Rickie Fowler around: He showed up Thursday in a flat-brimmed cap with "JERSEY" scripted across it.
Always nice to have a reminder.
Let's get to some notes on the opening frame and what it all means moving forward, starting with our unpredictable leader.
I'm not gonna suggest that Troy Merritt's performance is unsustainable, but … OK, Troy Merritt's performance is unsustainable.
In the opening round, he was just about average in strokes gained off the tee, but ranked second in putting and posted a 62, one stroke off the course record.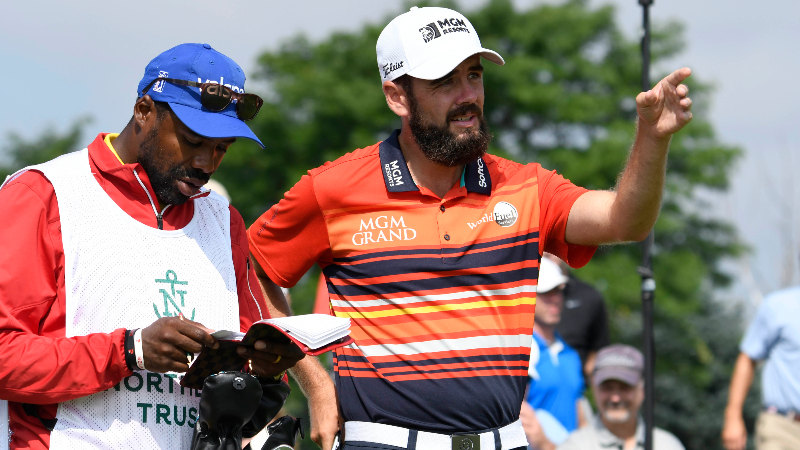 That included eight made putts of at least 8 feet and three of 14 or longer. Unless your name is Jordan Spieth, those numbers tend to back up in a hurry. For a guy who ranks 106th this season in putting, expect the law of averages to balance things out over the final 54 holes.
---
As I wrote about before the tournament, Dustin Johnson finished 20th or worse in each of his past five starts and was negative strokes gained putting in the four of those which measured that statistic (data wasn't available from The Open Championship).
On Thursday, he finished positive in strokes gained for the round and ranked first in the same category from tee to green, all of it resulting in an 8-under 63.
Moral of the story: His putting doesn't need to be great. If he can just putt "above average," he'll again start giving himself chances to win tournaments.
---
Credit to my former co-worker Justin Ray from the 15th Club for this insane nugget on Jon Rahm:
WGC Memphis 1st round: @JonRahmpga sets career high in strokes gained putting in a PGA Tour round

-next start-

N. Trust 1st round: @JonRahmpga sets career high in total feet of putts made in a PGA Tour round

— Justin Ray (@JustinRayGolf) August 8, 2019
It's true: During the first round, Rahm holed 150 feet, 1 inch worth of putts at Liberty National, a total that included five of 15 feet or longer. They weren't all for birdie, either.
Finishing up a bogey-free round on the ninth hole, he was faced with a 28-footer to save par. He made it, kept that no-bogey streak intact and finished with a 7-under 64.
---
During last year's playoffs, Tiger Woods opened with a 62 at the third event, the BMW Championship, eventually finishing T-6; one week later, he opened with a 65 and won the Tour Championship.
Since then?
It's been nothing but slow starts for Tiger. His opening-round scores in 11 starts over the past year: 73-70-70-71-70-70-72-70-70-78-75. Astute observers will note that none of those scores happen to be in the 60s.
Following his 4-over round Thursday, it's difficult to think anything but "FADE" Tiger moving forward.
The numbers won't dissuade us, either.
On those 10 previous occasions, his second-round score improved four times, was the same once, and actually became worse five times.
On the other end of that spectrum is Jordan Spieth.
His opening-round 4-under 67 on Thursday marked the 11th time in 21 stroke-play events that he posted a sub-70 total in the opener.
Entering this week, he ranked 10th on the PGA Tour in first-round scoring average at 69.35, a number that improves to 68.40 in the second round, where he ranks second.
The all-too-familiar issue for Spieth, of course, has been the weekends. He ranks 172nd in third-round scoring and 195th in the final round.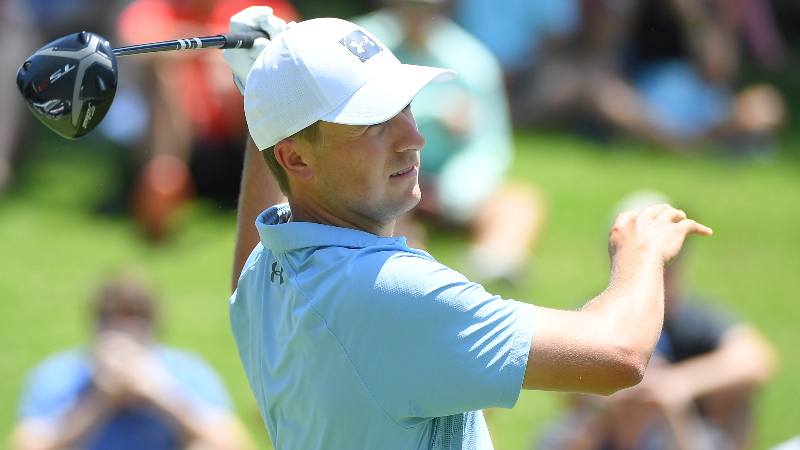 Last week's Wyndham Championship served as a microcosm for his entire season, as he opened with a 64, followed with a 67, then shot 77 to miss the secondary cut.
If the pattern holds once again this week, expect another low one Friday, but be forewarned after that.
At 69th on the FedEx Cup points list going into this week, he'll need to reverse that trend soon in order to avoid missing the Tour Championship for a second straight year.
---
With four months between the playoffs and the Presidents Cup (more time than ever before from the end of the season) there hasn't been much talk about which players are angling for spots on the U.S. team — and there's been even less talk about it from the International side.
Corey Conners, though, is making a strong case for captain Ernie Els to pick him for the squad. Royal Melbourne is a proven ball-striker's track and the Canadian excels in that area.
I don't know that his playoff run is really an "audition" for the team, but opening with a 66 certainly can't hurt the cause.
---
As one of my Twitter followers said Thursday, you could've gotten great odds in January — or even better, in April! — that the forty-something making a return to East Lake wouldn't be Tiger or Phil Mickelson, but Rory Sabbatini.
Even since he, uh, moved to Slovakia, Sabbatini has established himself as one of the game's most consistent players. Since March, he's missed just one cut in 15 starts and has eight top-25 finishes.
He entered this week at 36th on the points list — just behind both Woods and Mickelson — but after an opening 68, Sabbatini could have the inside track on both of them to make it to the season finale, though a final-hole double-bogey obviously didn't help.
How would you rate this article?