Sobel: Tiger Woods and Phil Mickelson Should Absolutely Play Together at Ryder Cup
Credit:
Credit: Rob Schumacher-USA TODAY Sports
The 2018 Ryder Cup takes place from Sept. 28 through Sept. 30 at Le Golf National in Paris, France.
What are the chances that Tiger Woods and Phil Mickelson are paired together for the biennial event?
Most would think the two rivals, who didn't play well together back in 2004, would not be a good fit. But things are different this time around.
Sometimes the truth can be hiding in plain sight.
Sometimes those subtle little hints aren't subtle at all, but important clues to a big-picture reveal that makes perfect sense when it becomes clear.
And sometimes we're shocked to realize what we should have seen coming all along.
Enough with the cliched analysis: I think Tiger Woods and Phil Mickelson will play together at the Ryder Cup.
I have no direct knowledge of this impending news. There is no mole hovering in the peculiar Venn diagram that encircles both Team Tiger and Team Phil who is leaking this information to me.
All I'm doing is paying attention to the clues.
Tiger and Phil first played a practice round together at this year's Masters Tournament, a Tuesday jaunt around Augusta National during which they drummed the seemingly mismatched tandem of Fred Couples and Thomas Pieters.
Anyone who was paying attention — and yes, we were all paying attention to a Tuesday morning four-ball that would've topped the ratings of many tournament finales had it been televised — figured this was the official thawing-out process for a relationship between rivals that was never quite as icy as most believed.
Maybe it was a way for Mickelson to publicize his new long-sleeved shirt endorsement; maybe this was the first step in their co-promotion of a late-year made-for-TV money match, simply laying the groundwork for that great unifier — the almighty dollar.
Or maybe the clues were right in front of us the entire time.
After all, if players such as, say, Dustin Johnson and Brooks Koepka played a few practice rounds together, you'd think that might have been at the behest of U.S. captain Jim Furyk, who wanted them to be comfortable with each other's games.
Same goes for Jordan Spieth and Patrick Reed, or Justin Thomas and Rickie Fowler, or Bubba Watson and Webb Simpson, each of whom appear to be natural tandems for Furyk's squad.
However, when Woods and Mickelson tee it up together — as they did again recently before the WGC-Bridgestone Invitational — we become so lost in the spectacle of the moment that the end game doesn't register.
Maybe that's because we've seen this movie before and it was a box-office bust.
Back in 2004, then-captain Hal Sutton — cashing in the idea that, hey, filet tastes great and, you know, ice cream tastes great, so let's toss 'em in the blender together for a delicious meal! — paired his two alpha dogs in what would become an unmitigated disaster.
Woods and Mickelson lost two matches that first day, looking completely out of sync, while their European opponents exposed the relationship and, just as importantly, robbed the U.S. of any potential momentum from its two biggest superstars.
Well, this just in: Times change, people change even bad ideas can change into good ones.
The difference between 14 years ago and now is that Tiger and Phil never wanted the pairing back then. This time, it almost feels like a natural progression of their time together during the year.
And really, it's up to them. Think about it: If you're Furyk, and Woods and Mickelson offer up their idea to play together, are you actually going to say no?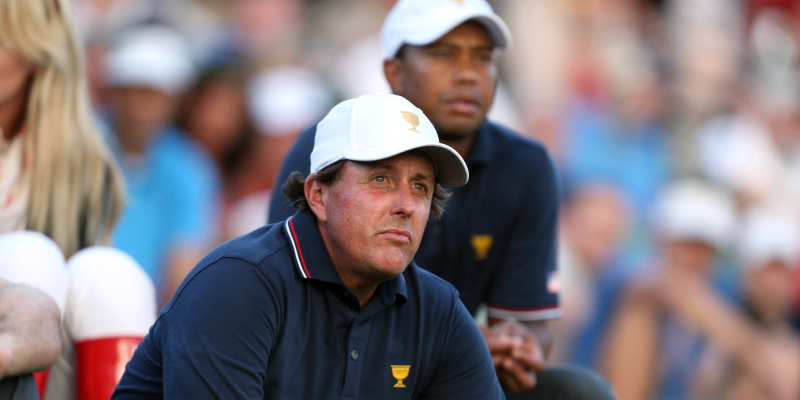 For as much as our collective jingoism tells us that the Ryder Cup is an important competition between continent and country — one that elicits international bragging rights for the next two years — this is also a televised exhibition governed by an organizing body whose chief goal is to continually grow the game amongst the masses.
In fact, I'm willing to go so far as to maintain that Tiger and Phil won't just be paired together; there's an excellent chance they could lead off the U.S. team in the Friday morning four-ball session.
That is, first of all, the better format for them, and there would be no greater fortune to the overall well-being of the event, especially on an opening day that features more pomp than circumstance, than to place the two biggest stars of the past quarter-century on the first tee and let the enthusiasm waft over the Atlantic and cover the 50 states.
Of course, we must first get past a few formalities.
Neither Woods nor Mickelson qualified for the team on points, but each presumes to be a lock for a captain's pick when the first three are announced following next week's Dell Technologies Championship.
And sure, Furyk will want to ensure that they're each playing some semblance of decent golf once they arrive at host venue Le Golf National that week.
Beyond that, though, there's no reason to believe it won't happen.
It appears as if Tiger and Phil themselves certainly wouldn't object. It's tough to think Furyk would have a problem with it.
Their teammates? Hell, they'd love it. The fans? Absolutely. The organizing body and its TV broadcast partners? You bet.
If it does happen, if the game's two most polarizing figures tee it up together again at the Ryder Cup, you might be initially shocked. You might not have seen it coming.
Maybe, though, you should have. The practice rounds, the burgeoning buddy-buddy relationship, the opportunity to avenge those losses from 14 years ago.
The clues are out there. The truth just might be hiding in plain sight.
How would you rate this article?