Tiger Woods Returns to 2022 Masters: 'It's Going To Be a Tough Challenge'
Credit:
Andrew Redington/Getty Images. Pictured: Tiger Woods.
AUGUSTA, Ga. – He's baaaack.
Tiger Woods might not want to admit he's back just yet – at least not publicly, updating the previous classification of his status as a "game-time decision" to compete in this week's Masters Tournament by coyly revealing, "As of right now, I feel like I am going to play" – but it's not too difficult to read between these lines.
If there's been a prevailing theme swirling around the five-time champion at Augusta National so far this week, it's that his 16 months away from individual competition have culminated in a palpable buzz that only the game's biggest needle-mover can create.
Woods' nine-hole practice round late Monday afternoon produced Sunday-like gallery sizes. His Tuesday morning press conference was jam-packed with media members. By the time he tees it up in the 10:34 a.m. grouping alongside Joaquin Niemann and Louis Oosthuizen on Thursday – ah, that's right, if he tees it up (wink, wink) – the game's most sedate observers should be whipped into a fervent frenzy.
And yet, for Tiger it all seems like business as usual.
When reminded that he's always insisted he only plays tournaments with a goal of winning, then asked whether he believes that's a possibility this week, he simply offered a two-word response: "I do."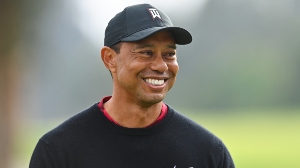 Bet $10 on Tiger, Win $200 (No Matter What!)
He later elaborated, sounding very much like the same Woods of the past quarter-century whose lone objective was always to win whatever golf tournament he was playing.
"I love competing and I feel like if I can still compete at the highest level, I'm going to," he explained. "If I feel like I can still win, I'm going to play. But if I feel like I can't, then you won't see me out here. You guys know me better than that."
There it is. The exact same rhetoric we've heard from Woods for so many years, more sincerity than bravado, as if he's never even considered another option.
"I don't show up to an event unless I think I can win it. So that's the attitude I've had. There will be a day when it won't happen, and I'll know when that is, but physically the challenge this week is I don't have to worry about the ball-striking or the game of golf. It's actually just the hills out here. That's going to be the challenge and it's going to be a challenge of a major marathon."
If his 1997 victory by a dozen strokes as a 21-year-old was improbable and his 2019 victory as a 43-year-old was impossible, we might have finally run out of adjectives to describe a potential Tiger title run this week, but that hardly means it can't happen.
In that lone practice round in front of the public, Woods routinely drove his ball near or past his top-10 playing partner Justin Thomas. The third member of their group referred to his ball-striking as "phenomenal."
As for the most difficult part of his comeback, well, Woods didn't mince words there, either.
"The swing part's easy," he said. "I can do that. It's dealing with the pain each and every day. It's just a lot of pain all day, every day."
If he can tolerate that pain, Tiger just might do the unthinkable, sending us collectively to the nearest thesaurus seeking some unused superlative.
Woods is still playing it cool, still hedging his bet, still not guaranteeing anything, but we don't have to read between the lines to understand why he's doing this and what he thinks might be possible.
"You know, 72 holes is a long road," he said. "It's going to be a tough challenge, [but] a challenge that I'm up for."
How would you rate this article?
This site contains commercial content. We may be compensated for the links provided on this page. The content on this page is for informational purposes only. Action Network makes no representation or warranty as to the accuracy of the information given or the outcome of any game or event.