Rovell: My Multi-Million-Dollar Bet Against Tony Romo
Credit:
Ray Carlin-USA TODAY Sports. Pictured: Tony Romo
Tony Romo closed with 50,000-1 odds to win the 2019 Safeway Open, which prompted Darren Rovell to make a bold bet against the former Cowboys QB.
But things haven't quite gone to plan, after Romo opened the tournament with his best PGA Tour round ever.
It's Friday and I'm nervous.
Because I didn't expect to be here.
You see, on Wednesday, I was going back and forth with oddsmaker Jeff Sherman at the Westgate. Tony Romo was prepping for another PGA Tour start, this time at the Safeway Open, and anytime that happens, there's always a lot of chatter around his long odds to win.
And on Wednesday afternoon, those odds were eye-poppingly long: 50,000-1.
While Romo is a great golfer, he's not a pro. For fun, understanding there was really no liability, Sherman was trying to get someone — anyone — to nibble at that price.
Sure enough, the "so you're saying there's a chance" crowd arrived. Within a couple hours, three tickets for a total of $30 — or $1.5 million in liability for the Westgate.
It might not surprise you, but I'm an adrenaline junkie. Noticing that Twitter was kind of slow. I tweeted:
If Tony Romo wins the Safeway Open, I will delete my Twitter account.

— Darren Rovell (@darrenrovell) September 25, 2019
And I mean it. If Romo wins, I'll have no choice but to disappear from your timelines forever.
This is, quite simply, the biggest bet I had ever made. Sure the odds are long, but the consequences are great.
My Twitter feed, given the engagement metrics, is worth at least a couple million dollars over time. If I hung it up, that would be a pretty big loss.
As a polarizing figure on social media, the response to the tweet was immediate. I got a lot of "Go Tony Romo" comments, as the "I've never rooted for someone harder" crowd came out of the woodwork.
I was fine. No chance Romo was going to win.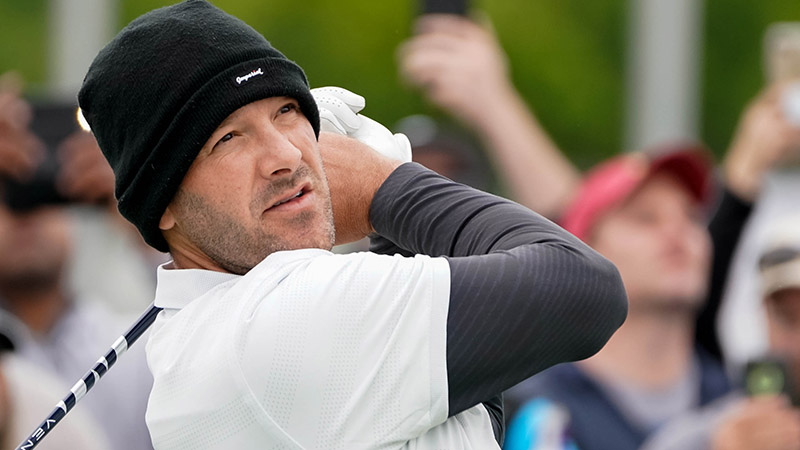 Then Thursday happened, Romo birdied the first hole. And I couldn't avoid it. Twitter let me know. While I was doing my other work, I was aware, Romo was having his best round at a PGA Tour event.
Romo, the only amateur in the field, went on to shoot a 2-under 70. Five birdies, three bogeys. His lowest tour round (of his seven), besting his previous low — a 74 he shot at the second round of the Byron Nelson this year.
Tied for 28th. Better round than Jim Furyk and Hideki Matsuyama (-1). Better round than phenom Collin Morikawa (E), Jason Dufner and Brandt Snedeker (+1). Five strokes better than … Phil Mickelson?
Gulp.
---
Check out PointsBet, where Action Network users get an exclusive 200% deposit match (deposit $50, bet with $150).
---
When I talked to Sherman about his 50,000-1 odds on Wednesday night, I wondered if I should put down a $100 hedge. If I lost my Twitter account, at least I could pick up a cool $5 million. I mean that would make it hard to make fun of me. I could see it now. As the Twitter world was slapping each other five, I would be holding up $5 million cash. Not a bad life.
But I didn't make the bet. My guys at The Action Network, primarily Mike Leboff (I say his name so that he gets the blame if Romo wins), said it would be money down the drain.
I did put some money down, against his advice, on Thursday night, as odds plummeted from 50,000-1 to 1,000-1. But it's honestly not enough to cover the financial impact of losing my Twitter account.
It didn't help when I got a text from one of Tony's guys late on Thursday night that said, "He takes a lot of flack as people think he's just playing. He does golf 8-6 everyday."
Double gulp.
Tony Romo winning a PGA Tour event would be the longest longshot ever. Yes, it's more unlikely than Leicester City winning the Premier League and "Miracle on Ice."
I'm just here to say that I've got a lot of work to do on college and NFL games today and Twitter isn't going to let me avoid Tony.
But listen, there's a lot of golf left.
How would you rate this article?