WGC Workday Championship Round 4 Buy & Fades: Continue Riding Collin Morikawa to the Finish
Credit:
Mike Ehrmann/Getty Images. Pictured: Collin Morikawa during the third round of the WGC-Workday Championship.
Moving Day at the WGC Workday Championship started with an interesting twist for the final pairing as 36-hole leader, Brooks Koepka, was visibly struggling with a neck issue to start his round. He quickly lost his lead as playing partner Cameron Smith birdied two of the first three holes, while Koepka played them in one over par. The two would go opposite directions from there with Smith putting several balls in the water on his way to a 5-over round, and Brooks found some form to climb into a tie for second into the final round.
The story of the day was Collin Morikawa who birdied seven out of eight holes in the middle of his round to take a commanding five-shot lead at one point. He stumbled a couple of times on his way in, while others, including playing partner Billy Horschel, took advantage. Horschel's eagle on the 17th put him back into contention and vaulted him into Sunday's final pairing, two shots behind Morikawa's 54-hole lead.
Webb Simpson is the only other player within three shots of the lead as he shot a 3-under 69 on Saturday. Right behind Simpson, is Rory McIlroy who shot the round of the day with a 6-under 66 to tie Patrick Reed for 5th place at 11-under.
It's a two shot lead for the young star heading into Sunday at The Concession, but we know that there are big numbers around every turn on the course and even bigger names looking to chase him down. I won't jump off the Morikawa train I've been driving since the tournament started, but we will look for some other values that could find their way in contention down the back stretch.
Strokes Gained Explanation
Strokes Gained can give golf bettors, DFS players and fans way more detail on how a golfer is truly playing by measuring each shot in relation to the rest of the field.
Using the millions of data points it collects, the TOUR calculates how many shots on average it takes a player to get the ball in the hole from every distance and situation. If a player beats those averages, he's gaining strokes on the field.
Every situation in golf is different — Strokes Gained measures how players perform relative to the situation.
In this piece, we'll touch on a variety of Strokes Gained metrics…
Strokes Gained: Off-the-Tee
Strokes Gained: Approach
Strokes Gained: Around-the-Green
Strokes Gained: Putting
Strokes Gained: Ball-Striking (which is Off-the-Tee + Approach)
Strokes Gained: Tee-to-Green (which is Ball-Striking + Around-the-Green)
In general, ball-striking and tee-to-green are the most stable long term, while putting is more prone to volatility.
You can often find live-betting advantages by identifying golfers who are hitting the ball well, but just not getting putts to drop. Likewise, players with high SG: Putting numbers may regress moving forward.
3 Golfers to Buy in Round 4
I will triple down on Morikawa on Sunday. He's been my pick all week, and I'm not jumping off now.
Morikawa is the type of player we expected to have success this week at The Concession, and the least likely to really blow up on holes due to his phenomenal ball striking.
It's been great to see the golf he can play when he pairs his elite irons with a hot putter, and that was the case as he ran hot for seven birdies in eight holes from the fifth to the 12th. There's no doubt he got a bit shaky down the stretch, missing spots off the tee and seemingly playing from bunker to bunker at times. The big blunder started with a poor three-putt on the par-5 13th, as he was in control of the tournament at that moment.
He still holds a multi-shot lead into Sunday and is nearly a half stroke above the rest of the field both tee to green and on approach. Morikawa is a player that has been under this pressure multiple times, including in a major, and I expect he will hold strong and come away with the win.
You can get Morikawa at +175 on DraftKings.
My favorite player to push Morikawa on Sunday is his playing partner, Horschel, who has been rock solid all week, despite not putting the way we would normally expect him to on these Bermuda greens. Horschel looked up and seemingly thanked the high heavens for finally draining a birdie putt on the 16th hole on Saturday, before following it up with an eagle on 17. That stretch was enough to place him in the last tee time for the final round and another 18 with Morikawa.
The Florida Gator has always been a streaky player, and generally when he's on like he has been this week, he will hang around throughout the event. He has done just that, posting his best ball-striking round of the tournament on Saturday as he gained more than three-and-a-half strokes on the field in that metric. His approach play was the star of the day as he gained 2.33 strokes with his irons in his 3-under 69.
If I'm buying anyone to overtake Morikawa on Sunday, it would actually be Horschel first. It certainly also helps that he gets the better odds at +750 on BetMGM.
There may be an opportunity for someone to fire an 8-under type of round and snatch this thing away from the guys higher up the leaderboard. If I was going to chase something like that it would be with Viktor Hovland.
Hovland has played outstanding golf this week outside of one hideous hole to close out his second round on Friday. He has played 35 of his last 36 holes in 13-under at The Concession, but that 36th accounts for a quadruple bogey.
It was impressive to see the young Norwegian bounce back today from his final-hole blunder in the second round and quickly get himself back into contention. He closed out the round with a 6-under 66, in a tie for seventh, as he gained a field best 6.3 strokes tee to green on Saturday.
I'm expecting that five shots back will simply be too much for him on Sunday, but it wouldn't surprise me if he pulled it off.
Hovland is listed at a decent +2700 on FanDuel to pull it off, which is worth a few shares, though I'll mostly be playing him in Sunday Showdown.
3 Golfers to Fade in Round 4
Since I'm buying the final group, I am by process of elimination fading the penultimate group. I don't really have a firm leg to stand on, but I'm in too deep with Morikawa to buy Koepka, and I truly like Horschel better.
It's going to be a nervy watch for me on Sunday to say the least as I seem to be fading the most proven players in the final round and trusting those with a lesser pedigree. I was actually a bit surprised to see just how well the round came together for Koepka on Saturday, as I was legitimately concerned he wouldn't make it to the end with the way he was struggling with his neck.
Koepka said after the round that it never really got better, and it's been a long-term issue that seemed to be worse today than it had been before. I guess that's really the premise of my fade, as I am just hoping the guy with a bad neck doesn't beat me on Sunday.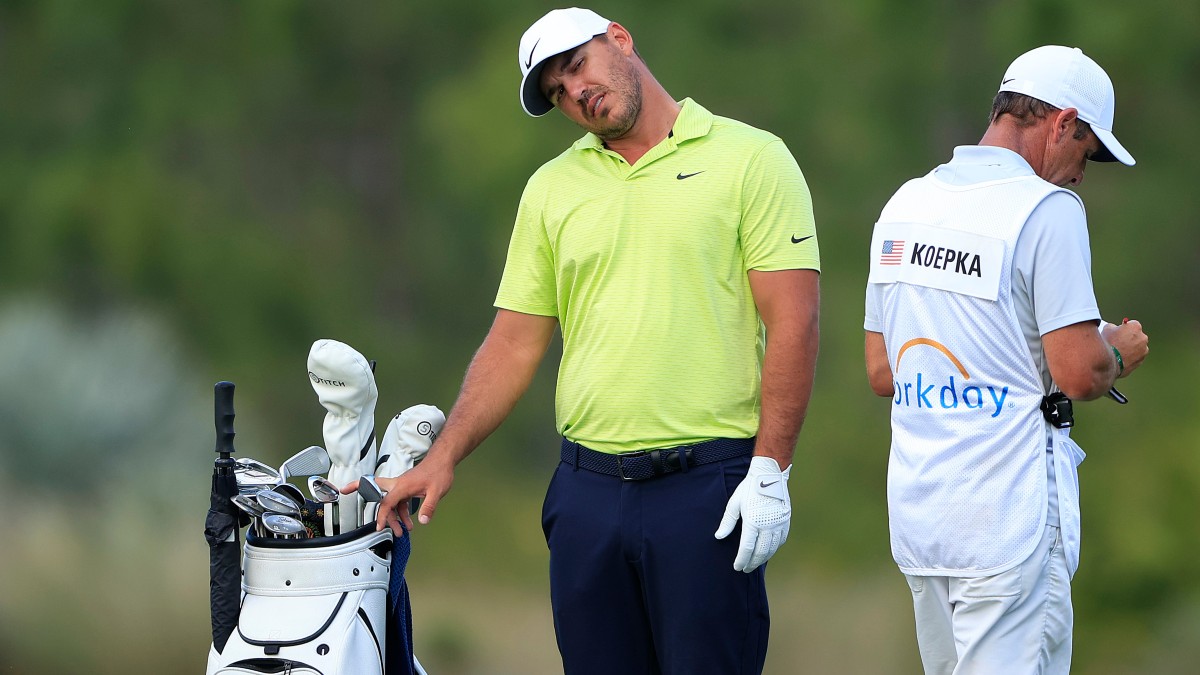 I have committed to myself that I would not play McIlroy on Sundays when he's in contention until he beats me. It's not a proposition I am overly excited about enduring because it's simply a matter of when, not if.
You may be surprised to find out that Rory hasn't won anywhere since the November 2019 WGC-HSBC Champions. He has had plenty of opportunities to get it done and stacked up a pile of top-five finishes similar to a few others on TOUR, but he has struggled on Sundays. The most recent examples were earlier this year when he took a lead into the final round at Abu Dhabi before shooting an even par round and losing to Tyrrell Hatton. He was then in contention at The Farmers before a 1-over 73 on Sunday, dropped him to a 16th-place finish.
I'm taking on the daunting task of fading Rory after his best round of the week, as his string of struggles in this spot has me believing it's become a mental block. You won't see anything in the strokes gained data to guide this play from Saturday, but rather it is the data over the past year-and-a-half on Sundays.
The player that sticks out the most for a fade on Sunday at the WGC Workday is Hideki Matsuyama. It seems like every time I've seen him this week, he has been holing out from bunkers, chipping just everywhere. That is a bit of a luck factor that simply isn't sustainable over the long term, especially when the ball striking numbers are off overall.
Matsuyama lost 1.43 strokes to the field with his irons on Saturday but holed out from the bunker on the first hole and then again from the rough on 14. He finds himself five shots back of the lead in a tie for seventh, but he is a fade for me in the final round based on his approach play issues.
Strokes Gained Data for All Players in Round 3
How would you rate this article?