What Does Phil Mickelson's Victory at Pebble Beach Mean for His Chances at the U.S. Open?
Credit:
Michael Madrid, USA Today Sports. Pictured: Phil Mickelson
Phil Mickelson stormed back in the final round to win the 2019 AT&T Pebble Beach Pro-Am.
After the victory, Mickelson's odds to win the U.S. Open -- which will be held at Pebble Beach -- were slashed to 20-1.
Does another victory at this track make Phil a decent bet to win his first U.S. Open.
One of the takeaways from Phil Mickelson's victory at Pebble Beach on Monday is that the U.S. Open will be held on that hallowed ground this year and it's long been "the one that always got away" for the six-time runner-up of that tournament and, well, it should have us thinking he just might claim the career grand slam on his 49th birthday four months from now.
The other, more obvious takeaway is that Pebble in June won't come close to resembling Pebble in February, as the fairways will be tighter, the rough thicker, the greens slicker and the scores so much higher.
All of which leaves one very relevant question: Does it matter?
Is there any cause and effect to Mickelson's success on this site or are the two tournaments so completely different that it won't have any impact?
We'll get to some nuggets backing each argument, but let's first hear from the guy whose opinion matters most in all things Mickelson – the ubiquitous lefty himself.
"I really don't think there's any carryover from here to the U.S. Open," he said after the victory. "It's a totally different golf course. The greens will be firm and the rough will be high. … There's really no carryover, other than I just really enjoy this place."
On the plus side for Phil, this double-dip has occurred previously. It's happened twice, in fact, when the winner of the Clambake later finished on top at the U.S. Open on the very same venue.
Of course, those two winners weren't exactly chumps – it was a couple of guys named Jack Nicklaus (1972) and Tiger Woods (2000) who pulled off the feat. But hey, at least it's possible.
Another positive for Mickelson is that Pebble isn't just some course where he happened to play well this week. With his fifth career title in the event, he is now tied with Mark O'Meara atop the all-time list.
Perhaps more importantly, though, this was where his maternal grandfather, Al Santos, was a caddie, and where Mickelson still carries a silver dollar from 1900 in his pocket, a gift from his late grandfather.
After that, well, it's tough to insist there will be any correlation between Monday's event and the one which will take place four months from now.
That doesn't mean, though, that he can't also win the U.S. Open.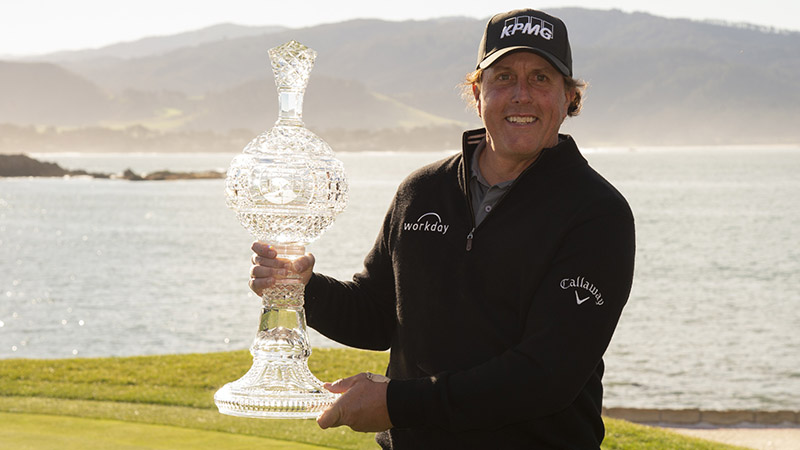 When it comes to Mickelson and the USGA's crown jewel, the greatest myth is that he's never figured out how to play this tournament. The easy answer as to why he's never won it is because he's too aggressive to win an event that places such a premium on fairways and greens, steady play and lots of pars.
Exhibit A for this argument is the final hole at Winged Foot in 2006, when Mickelson couldn't hit a fairway with his driver throughout the final round, but used it on the last hole anyway and made double-bogey to lose.
The truth is, you can't finish runner-up a half-dozen times without being extremely proficient on these types of setups. Mickelson might own a lifetime's worth of heartache from this annual tournament, but he also owns the backhanded label of best U.S. Open player to never win one of 'em.
Perhaps that's why oddsmakers were so quick to drop him from +3300 to win the U.S. Open to a mere +2000 after his latest victory.
Or maybe it has more to do with the fact that for Mickelson, success has often bred more success later on.
Of his five major championship victories, four were preceded by wins earlier in those years. Some players have a propensity to pounce out of nowhere and steal one, but Phil has often offered hints of bigger things to come.
That might mean he parlays this victory into a fourth career Masters win or another Open Championship or PGA Championship title, but we all know which one he wants the most.
Claiming that elusive U.S. Open win would elevate Mickelson into golf's most exclusive club, becoming the sixth player to claim the career grand slam. (Pending, of course, Rory McIlroy's bid at Augusta National two months earlier, and Jordan Spieth's the next month at Bethpage Black.)
There are no analytics which will suggest that his latest win will mean anything come June. Even Mickelson himself is downplaying the notion that it can help.
But here's the thing: It won't hurt him, either.
There's no statistical measurement for good vibes, certainly not the kind he'll feel when he returns to this very site in four months, trying to finally win "the one that always got away."