Sobel: Webb Simpson Major Success Bodes Well for His Wyndham Championship Chances
Credit:
John David Mercer, USA Today Sports. Pictured: Webb Simpson
The field is set for the Wyndham Championship in Greensboro, North Carolina.
After four solid showing at the major championships, Webb Simpson could be a good bet to win this tournament.
Further down the board I like Si Woo Kim, Harold Varner III and Jason Kokrak.
If you're going to have one rule that you always follow when wagering on golf, no exceptions, it should be this: Never bet against a guy who named his kid after the title sponsor.
Based on that rule, we can fire up Webb Simpson this week.
Four years ago, Simpson's wife, Dowd, gave birth to the couple's third child. (They now have four, with another on the way.) They named the little girl Wyndham Rose — and, no, it's not a coincidence that she shares a name with this week's tournament.
He explained at the time that the plan was to win the Masters and name her Augusta, but, well, that plan didn't exactly work out. Another one did.
"We had three names as a possibility," he said then. "We would say to our son, James, and daughter, Willow, 'Which name do you like?' They kept saying Wyndham. All right, y'all pick. We named her Wyndham."
Simpson, who attended Wake Forest on an Arnold Palmer scholarship, also explained that he liked the idea of calling her Winnie, after Palmer's late wife.
Of course, if you need further reason to take Simpson (+1100) at the Wyndham Championship than just familial connections, there are plenty of 'em.
Most notably, Simpson is fresh off a major campaign in which he finished top-20 in all four, not to mention a convincing Players Championship victory.
Something he told me after that win still rings true.
"I've never putted this well in my life," said Simpson, who used an anchored putting style until it was banned. "I think if I had stayed with the belly putter, I think I maybe averaged 35th to 60th every year in putting, so very average. And this year I think I'm in the top 10. It's funny how those things happen, but this is probably the first time I can say I'm glad they banned it, because I wouldn't have ever probably swayed away from the belly putter."
By qualifying for the eighth and final automatic spot on the U.S. Ryder Cup team last week, Simpson will also be playing with a weight off his shoulders.
All good reasons to take him this week, though maybe not as good as Simpson wanting to win the Wyndham for Wyndham.
The next guy on my hit list this week is a repeat offender. Those who listened to our Action Network Golf podcast with Peter Jennings, Drew "The Sleeze" Stoltz, special guest Colt Knost and yours truly will recall that I was man-crushing on Si Woo Kim for some reason.
Well, my man didn't make the weekend.
Even worse, I spent the next two days singing to myself: "I Si Woo baby, missing that cut, missing that cut …"
That MC also prompted this Friday evening text exchange between Sleeze, Colt and myself, which I'm pretty sure they'll be OK with me sharing:
Colt: Si wooooooooooo
Sleeze: Couple bad bounces or he was right in the mix
Colt: Sobel must be pouting
Me: Totally got screwed. Guy played amazing
Sleeze: Lots of lip outs. Trust me, I get it. Story of my life
Me: Needed the weekend off to prep for Greensboro… smart!!
New song this week: "I Si Woo baby, cashing that check, cashing that check…" There's some history here, too. My man Woo (+4000) won this tourney just two years ago.
Most of the focus this week will be on those trying to get into the FedEx Cup playoffs (hello, Sergio!), but my focus will be on those who have played well this season without winning, but have one last chance to claim a trophy against a nonelite field.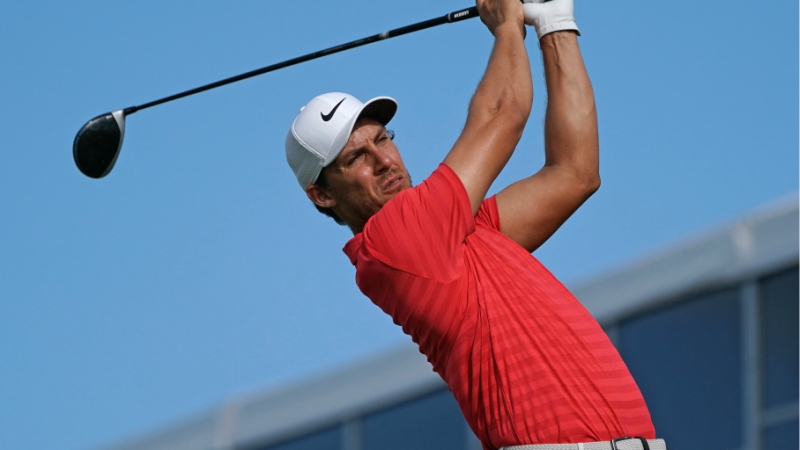 Jamie Lovemark via Jasen Vinlove-USA TODAY Sports
First up is Jamie Lovemark (+6600). He's not exactly riding a heater right now, but that belies this point: He's too talented to have zero career PGA Tour wins.
It was all the way back in 2009 when Lovemark reached a playoff with Troy Matteson and Rickie Fowler at the Frys.com Open, eventually won by Matteson. Since then, Lovemark has endured the ups and downs of injuries and streakiness, but it's about time he finally got that first W.
Another one to watch is Daniel Berger (+3000). After dealing with a wrist injury at last week's PGA Championship, Berger posted solid scores in the final three rounds and should bring some momentum to Sedgefield this week. In what's been an underwhelming season, expect him to play some aggressive golf in the last week before the FedEx Cup playoffs.
There are a few players on the PGA Tour who I can never quite figure out, and Russell Henley (+3300) might be the captain of this lineup.
He's a very good putter and is obviously capable of winning, but you've got me beat if you know when and where he'll play his best. Houston is a usual favorite, which explains a T-8 there, his best finish of the season. That said, I'm taking a shot on him this week, where he should be able to roll in some putts.
Brandt Snedeker (+2200) needs a big finish to avoid what's mostly been a blah season. His strong closing kick at the Greenbrier got him into The Open, but otherwise it's been a pretty un-Sneds-like year.
I like his moxie in these back-against-the-wall scenarios, and he's starting to trend in the right direction, so this could be that big week he needs.
With the myriad storylines going on at Bellerive, Jason Kokrak (+7000) didn't get much love, but the literal big boy hung with the figurative big boys for most of the week.
He's another guy who doesn't get much fanfare besides being able to crush a drive, but is certainly talented enough to finally claim that elusive first win.
With the last few picks, I'm going for some home cookin' in a trio of Carolina guys.
The first is Harold Varner III (+4500). I maintained when he got close at Greenbrier that an HV3 win would be as popular as any on the PGA Tour among the players. He'll have plenty of support in the gallery, which should help him carry some momentum.
The next player is Grayson Murray (+12500). He's been a bit of an enigma in his short career, but he's also shown a propensity for going extra-low when he's feeling it. This could be a perfect place for a reoccurrence.
And my last guy is Will McGirt (+7500). I've shied away from taking him the past few months, because I knew he was awaiting hip surgery at some point. Now that he's announced he'll have this surgery after the season, he can freewheel it and not try to save his body for future weeks.
---
All odds current as of 10 p.m. ET Aug. 13.
How would you rate this article?