2021 MLB Best Bets: Brad Cunningham's Top-5 Futures To Target This Season
Credit:
Mark Brown/Getty Images. Pictured: Ronald Acuña Jr.
Boy, the MLB sure did sneak up on us, but I am really excited we get a full 162-game regular season.
There are plenty of storylines heading into the 2021 campaign, like can the Dodgers repeat as champions? Will all of the Mets and Padres offseason moves pay off? Can the Yankees win their first World Series in over a decade?
There are plenty of props, team over/unders, division winner futures, etc. out there to keep things interesting throughout the season. Using my BaseRuns model, along with FanGraphs' depth chart projections, I picked out my favorite five bets for the season.
Let's get into it.
Milwaukee Brewers to win the NL Central (+320, William Hill)
I love the Brewers for a bounce back season in 2021. The 2020 season was not a kind one to Milwaukee, which finished in the bottom half of MLB in almost every hitting category. However, the Brewers made some moves in the offseason to combat those issues picking up Travis Shaw, Jackie Bradley Jr. and Kolten Wong, which should provide some depth to their lineup.
I'm also banking on a bounce back season from Christian Yelich. The 2018 NL MVP had his worst season since joining the Brewers, hitting just .205 with a .343 Weighted On-base Average (wOBA). Over the previous two seasons, he hit over .320 and had a wOBA over .420.
If Yelich is performing at his 2018-19 level, the Brewers will potentially have the best offense in the NL Central.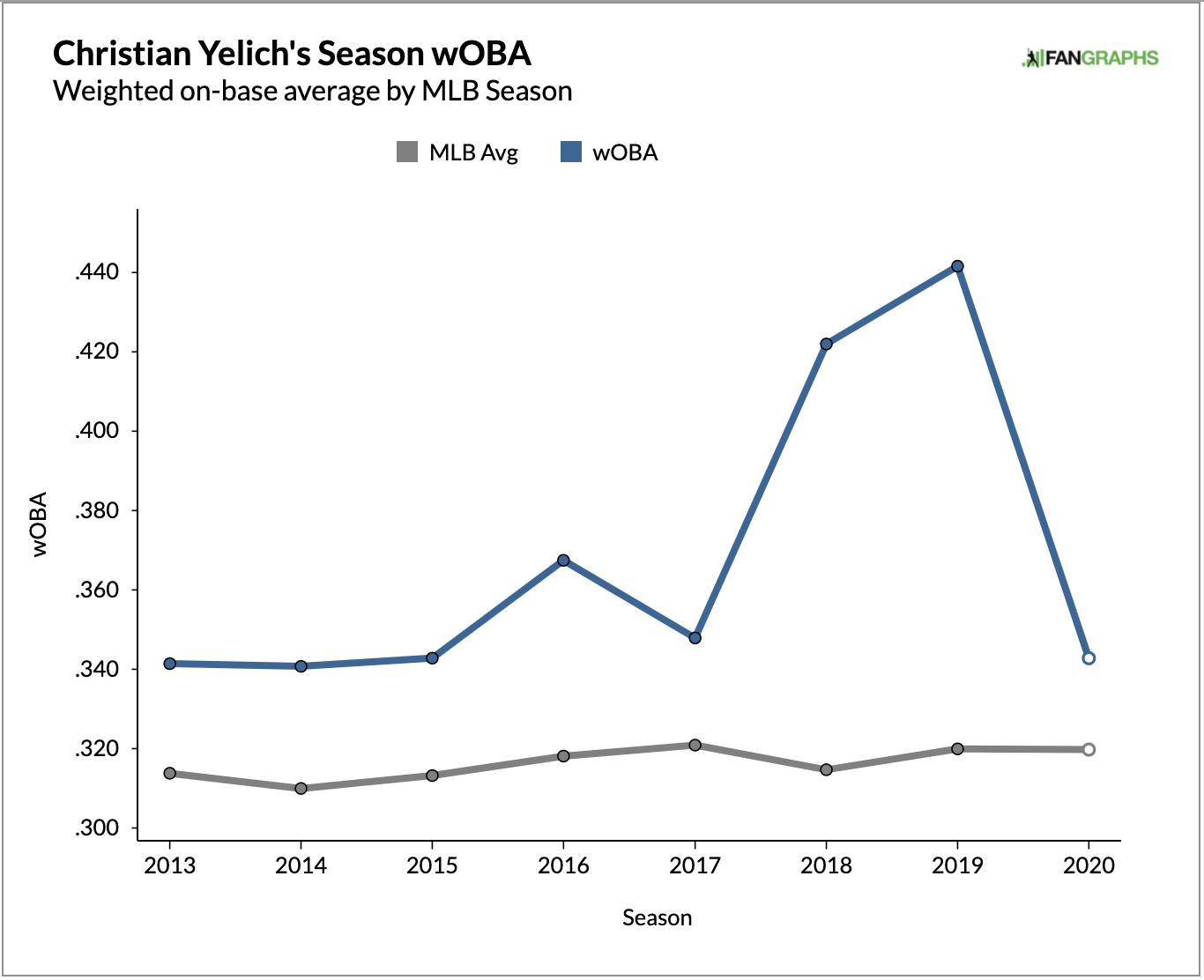 Milwaukee has two of the more underrated starters in major league baseball at the top of their rotation in Brandon Woodruff and Corbin Burnes. Both guys posted sub-3.30 xFIPs (Expected Fielding Independent Pitching) and K/9 rates over 11, which were top 10 in the National League. They'll get the benefit of facing a very weak offensive division, as the Pirates, Reds, Cardinals and Cubs all finished in the bottom half of MLB in wOBA and Weighted Runs Created Plus (wRC+).
Woodruff and Burnes will also have the benefit of handing the ball over to one of the best bullpens in baseball the last three seasons.
The Brewers' bullpen has been dominant going on three years now, but in 2020 it led MLB in xFIP as a unit at 3.72 when no other team recorded an xFIP below 4.00. Milwaukee's relief corps also led MLB in hard-hit percentage allowed mainly because they have two of the best relievers in all of baseball. Devin Williams and Josh Hader are about as solid of an eighth-ninth inning combination that you'll find in baseball today.
Williams was the best reliever in baseball last season, allowing only eight hits in 27 innings pitched. It mainly has to do with the fact that he has a completely unhittable changeup that produced a whiff rate of 61.1%, which led MLB. Williams quite literally has the most difficult pitch to hit in baseball.
Then Williams hands the ball off to Josh Hader, who has been the best closer in baseball over the last three seasons. Opposing hitters have a career average of .143 against Hader and he's posted a K/9 rate above 14.5 for three straight years. In fact, in 46 combined innings Williams and Hader only gave up a total of nine earned runs last season.
I have Milwaukee projected for 78.97 wins this season, which is the second most to only the Cardinals in the NL Central. PECOTA, FanGraphs, and Davenport all have the Brewers projected for more wins than the Cardinals and Cubs, so there is some good value on the Brewers at +300 or better. William Hill currently has Milwaukee listed at +320, which is the best odds I have seen.
New York Mets Over 90.5 Wins (-129, DraftKings)
Even though the Mets didn't make the playoffs last season, they had one of the best offenses in baseball over the second half of the season. They kept together an offense that led MLB with a .272 average and was third in wOBA and wRC+, and they added Francisco Lindor.
Lindor fills the only underwhelming position in the Mets lineup, which was shortstop, where they weren't getting a lot of production from Amed Rosario. I expect the Mets to be in the top five again in every offensive category even if they are in the most difficult division in baseball.
Not only do the Mets have one of the best lineups in baseball, but they also have the best starting pitcher on planet earth in Jacob deGrom. Nobody in MLB can match deGrom's combination of velocity and movement.
deGrom's fastball-slider-changeup combination is lethal. All three pitches produced a whiff rate over 35% last season, per Baseball Savant. He also posted his best xFIP of his career at 2.48 and K/9 at 13.76, both of which led the National League.
If people forgot, the Mets also have Marcus Stroman, who missed the entire 2020 season. He's one of the most consistent pitchers in all of baseball who is yet to post a xFIP over 4.00 for a season. The Mets also added depth to their rotation by getting Carlos Carrasco in the Francisco Lindor trade this offseason, who will be a very solid fourth or fifth starter.
Noah Syndergaard will also be returning around the beginning of June after missing the 2020 season due to Tommy John surgery, making a stacked Mets rotation even more impressive. 
Outside of injuries, the biggest reason the Mets didn't have much success last season was their bullpen. They made some upgrades through trades and offseason signings, bringing in Trevor May from the Twins, Miguel Castro from the Orioles and Aaron Loup from the Rays. They also kept Edwin Diaz, Dellin Betances and Seth Lugo, from whom New York hopefully gets more consistency this season.
I have the Mets projected for 95.63 wins and Sean Zerillo has them projected for 94.2 wins, so there is value in the Mets over at 91.5 or better.
Kansas City Royals Over 73.5 Wins (-113, DraftKings)
I love the moves Kansas City made this offseason moves to upgrade their lineup. They now have one of the more underrated offenses in the American League after adding Andrew Benintendi and Carlos Santana. They now have a fantastic mixture of guys who hit for power and average throughout their lineup.
Jorge Soler and Whit Merrfield put up fantastic numbers in the last full season in 2019. Soler smacked 48 homers, while Merrfield led MLB with 206 hits. Soler is also looking pretty good in Spring Training.
Kansas City's rotation is a bit dicey heading into the season, but it does have capable starters in Brady Singer and Brad Keller, who both posted xFIPs below the MLB average last season. Mike Minor and Danny Duffy will be the two biggest question marks given their age and performance last season, but if that lefty duo proves capable, the Royals' offense should be able to make up for their rotation.
The bullpen is also another question mark for the Royals, although it wasn't terrible last season, ranking in the top half of MLB in a ton of metrics. Their 4.30 xFIP was 10th in MLB and they had the third highest LOB% in the league. Perhaps the craziest stat is they had the third-most saves in baseball in 2020 despite going 26-34. The backend of the Royals bullpen can be effective against a weak AL Central division.
I have the Royals projected for 76.24 wins this season mainly due to their offense. If you can get them at over 73.5 wins or better, I think there is value on Kansas City.
Ronald Acuña Jr. to win NL MVP (+1000, William Hill)
Outside of Mike Trout, Ronald Acuña Jr. is the highest rated player in my model. The 23-year-old put up MVP-type numbers in 2020 and if it wasn't for his teammate Freddie Freeman, he may have won the award. \
Acuña made big strides from 2019, putting up a .406 OBP, .581 SLG, .413 wOBA, and 158 wRC+ at age 22. He also missed 14 games to injury last season, so it'll be crazy to see what he does with a full season.
Acuña is the definition of a five tool player and closest thing to Trout. He's got plus plus power, as he smacked 14 homers in only 46 games last season. In 2019, he hit 41 home runs at age 21, so 50 home runs is not out of the realm of possibility.
He'll have a ton of competition in the National League, but Acuña in my opinion should be the same odds as Soto and Betts, considering he is just as talented as those guys and has the numbers to prove it.
Jeff McNeil to lead MLB in hits (+2800, DraftKings)
Jeff McNeil is going to be near the top of MLB baseball in hits, as he's hit .310 in each of his three seasons as a pro. He had 57 hits in only 52 games in 2020 and had 162 hits in a full 2019 season. If you look at any of FanGraphs' projections he is projected to have anywhere between 166 and 174 hits, which would is inside the top in MLB baseball.
McNeil is also going to have the benefit of fantastic hitters all around him in the lineup, so he is going to see a ton of meatballs. It is a tad unfair to call him a slap hitter, but in 2019, 100 of his 162 hits were singles, which if you're going to lead the league in hits it doesn't matter how you get it.
What I like most about this bet is the odds because you want a high contact hitter for this bet. Trea Turner led the league in hits last season and Whit Merrfield had the most in 2019. Based on ATC projections on FanGraphs, McNeil is projected for the seventh most hits, but is 20th currently on the odds board at +2800. So, I think there there is some value on the "Squirrel" to lead the league in hits.
How would you rate this article?