MLB Home Run Derby Odds, Props Menu, Where To Bet & More
Credit:
AP Photo/David Zalubowski. Pete Alonso.
This year's MLB Home Run Derby is special for a variety of reasons, but scheduling is perhaps the most important one.
There's very little on the sports calendar this time of year. While there's WNBA, ATP Tennis or Liga MX in Mexico, this is the only baseball we're going to get — along with tomorrow's All-Star game — until the regular season gets back in action on Thursday.
That means all eyeballs will be on this Dodger Stadium derby on Monday night, where Pete Alonso is looking to defend his back-to-back championships.
There are plenty of other familiar faces, too. Kyle Schwarber, Ronald Acuna Jr., Juan Soto and even octogenarian Albert Pujols will suit up tonight to see who can rock the most dingers into Chavez Ravine's parking lot.
Let's take a look at the variety of ways you can bet on tonight's contest.
Outright Winner
The most obvious way to wager on tonight's Home Run Derby is by picking the overall winner. Here are the odds from BetMGM:
Player
Odds
Pete Alonso
+175
Kyle Schwarber
+325
Juan Soto
+500
Ronald Acuna Jr
+600
Julio Rodriguez
+800
Corey Seager
+1000
Jose Ramirez
+1600
Albert Pujols
+2200
Odds via BetMGM as of Monday
It's no surprise to see Pete Alonso atop the leaderboard for Monday night's event on account of his defending crowns. The man knows what it takes to win this competition — as he told ESPN in a story published this morning, it's more of an endurance competition than it is a power competition. So his strategy? Chugging ungodly amounts of water in the days leading up to the event.
But I digress: Alonso is the largest betting favorite by far with odds of +175. Those are down from its opening price at +190.
That implies the probability that he'll win his third-straight chip is roughly 36%.
Alonso has put up the most homers in MLB since 2019 with 130. Eugenio Suarez is second with 119 while Aaron Judge is third with 114.
Sportsbooks slate Kyle Schwarber as Alonso's biggest competitor for the 2022 Home Run Derby at +325 odds. Schwarber has the highest home run tally among participants this year with 29, and the slugger has jacked 110 dingers since 2019.
The Phillies slugger's +325 odds imply that he'll win this competition about 23.5% of the time.
Schwarber and Alonso aren't on the same side of the bracket and would not face each other until the final.
Julio Rodriguez is competing in the derby as a rookie, becoming the first since Alonso in 2019 to do so. His odds have shot up from an open of +1000 to its current market price of +800.
Everyone else in the field has competed in the derby before except for Jose Ramirez. The last time Pujols competed was in 2015, when he lost to Joc Pederson in the semifinals.
Player To Hit Longest Home Run
Beyond the most popular marketplace for this competition, there are plenty of random prop bets to engage in. The one with the highest handle? The player to hit the longest home run.
Player
Odds
Ronald Acuna Jr.
+200
Kyle Schwarber
+350
Juan Soto
+380
Pete Alonso
+650
Julio Rodriguez
+800
Corey Seager
+950
Albert Pujols
+1300
Albert Pujols
+1500
Odds via DraftKings as of Monday
Acuna Jr. has the highest average home run distance this season at about 437 feet per dinger. He's the favorite in this market with an implied probability of 33%.
You can also bet on the over/under for how long each competitor's farthest homer will be. All lines below are juiced to -110.
Player
Over/Under (in feet)
Albert Pujols
451.5
Corey Seager
467.5
Jose Ramirez
451.5
Juan Soto
470.5
Julio Rodriguez
465.5
Kyle Schwarber
477.5
Pete Alonso
468.5
Ronald Acuna Jr.
481.5
Odds via DraftKings as of Monday

Swing Offs
There are myriad other props to bet on, including which league the winner will come from, how many total homers the derby will have, and even the highest exit velocity for each competitor.
But the most intriguing one in this writer's estimation is on the total number of swing offs.
Each of the last two competitions have seen swing offs. Swing offs are triggered if two participants are tied after regulation and a tiebreaker.
Shohei Ohtani and Juan Soto faced off in a swing off last year after they drew 22-22 in regulation and 28-28 after the tiebreaker. Soto pulled away in the swing off to win 31-28.
The odds on o0.5 swing offs are -130 while the under is slated at +105.
Exact Outcomes
There are also "exact outcome" bets, in which you can burn money on a lottery ticket.
For instance, let's say you want to go chalk and bet that Alonso beats Schwarber in the final. That line is priced at +600.
How about if you think that the two are going to make the finals but you're unsure who is going to win? You can buy a ticket at +360 that it'll be Alonso vs. Schwarber in the finale.
Here's this year's bracket: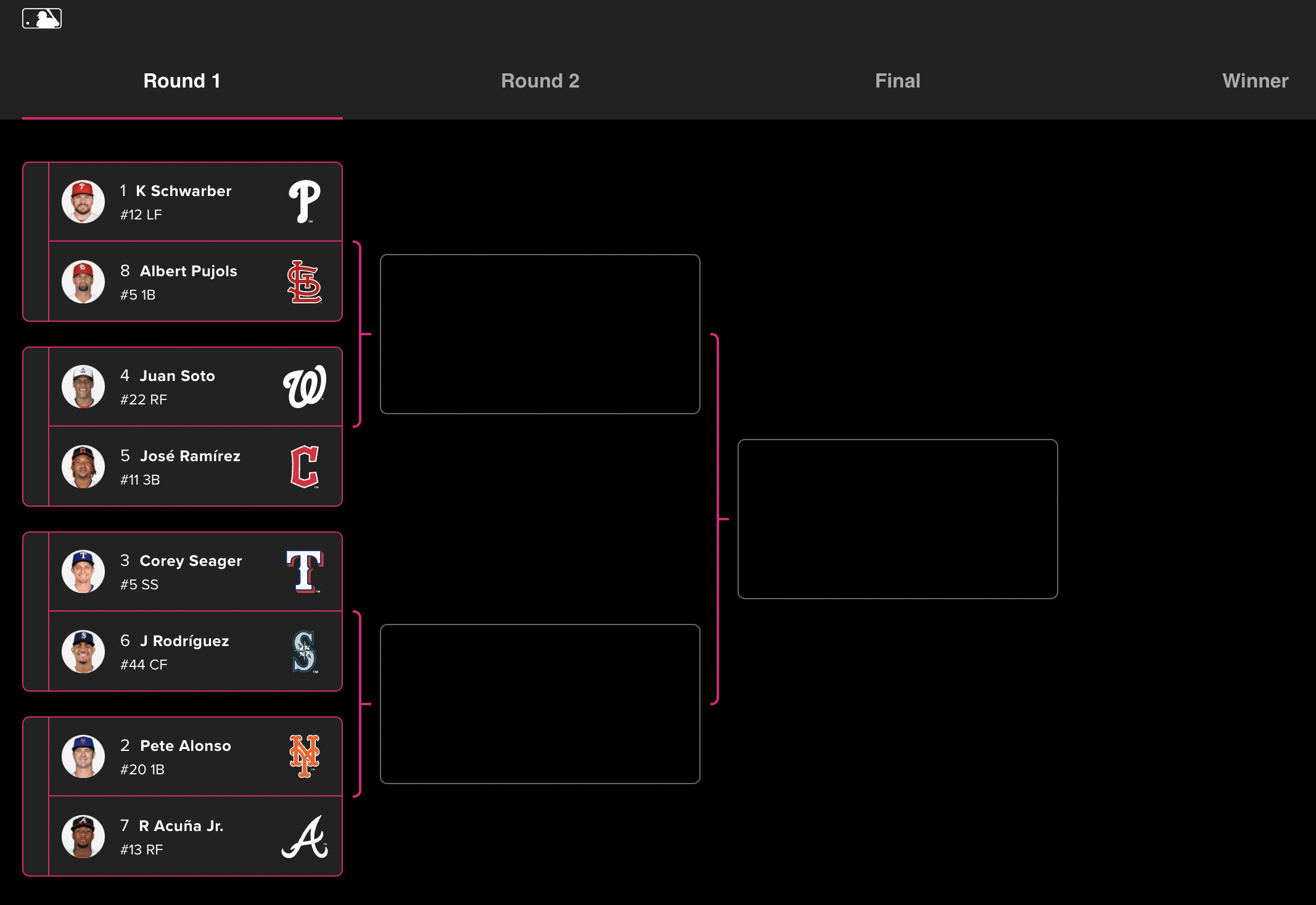 The full list of matchup props can be found on DraftKings.
Where To Bet
You can legally bet on the Home Run Derby in every state that has sports betting, including Arizona, Colorado, Iowa, Indiana, Michigan, New Jersey, New YorkPennsylvania, Tennessee, Virginia and West Virginia.
How would you rate this article?
This site contains commercial content. We may be compensated for the links provided on this page. The content on this page is for informational purposes only. Action Network makes no representation or warranty as to the accuracy of the information given or the outcome of any game or event.