The Action Network's Favorite Props and Futures for the 2018 MLB Season
Had enough of the baseball props and futures yet? We haven't.
With the season starting tomorrow and plenty of bettors still shopping around for season-long bets, here are some of The Action Network's favorite props and futures.
Mark Gallant: Nick Castellanos under 95.5 RBIs (-115)
This one is pretty random, I'll admit it. I love it, though.
The Tigers are not going to be good this year, and Castellanos — an above-average but not great hitter — has a high bar set at almost 100 ribbies. I think you could slot Mike Trout in Castellanos's spot in this lineup and he would struggle to reach 96 RBIs. This stat can fluctuate a lot, and Castellanos — who put up 101 RBIs in 157 games last year with much better bats around him — is due for a step backward.
Michael Leboff: AL MVP: Jose Ramirez (+3000)   World Series: Phillies (+8500)
Last year, Jose Ramirez busted out a .398 wOBA and a 148 wRC+ in 152 games for the Tribe. After a breakout campaign in 2016, the 25-year-old's performance in '17 showed he's legitimately one of the best talents in the game. I think Ramirez's profile will continue to skyrocket this year, and with the baseball media becoming keener on advanced metrics, he should be on the shortlist when it comes time to vote.
When you're betting a longshot, especially a season-long future, you shouldn't do it because you'll think it will come true. Do I think the Phillies will win the World Series? No. But do I think they have better than a 1.2% chance of doing so? That's the real question. The Phillies have some burgeoning young talent  in slugger Rhys Hoskins and Scott Kingery. Plus their rotation, with Aaron Nola and Jake Arrieta serving as anchors, can be a strength if things break right. With the second wild card in play, the Phils are not a bad dart at 85 to 1.
Danny Donahue:  AL MVP: Andrelton Simmons (+25000)
Yep, I'm the reason that this option exists.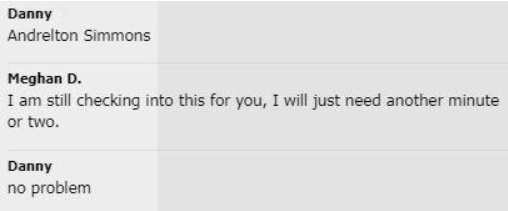 I had some trouble getting a book to post odds on Simmons, but shortly after this pleasant chat with Meghan D., they tacked him onto the bottom of the list. Their mistake.
In his injury-shortened season, Trout actually didn't lead the Angels in Wins Above Replacement (WAR) last season. Instead, Simmons' 7.1 bWAR was the third-highest in the American League among position players, behind only Jose Altuve and Aaron Judge. If there's some offensive regression this season and the voters want to show some progressiveness by rewarding defense, this is going to be the guy.
Anthony Petrillo: Xander Bogaerts over 16.5 Home Runs (-115)
Many people are going to see this over/under and think under based on Bogaerts' performance in 2017. However, he was battling a hand injury basically all year that caused his power numbers to drop significantly from his 2016 figures. A healthy Bogaerts is likely to make a significant impact to the Red Sox lineup in 2018. It's safe to say, assuming he stays healthy, Bogaerts will see his home run total rise closer to the 21 he had in 2016 than the 10 he had last season.
I also think having a former player and infielder as manager in Alex Cora who's going to instill confidence in his players is going to help Bogaerts and the rest of the Red Sox out a lot. I tend to not make too much of spring training performance, but it's hard not to notice the numbers Bogaerts has been putting up. Specifically, the three homers in 47 at-bats and .596 SLG% stick out for me. All these factors considered, I believe Bogaerts is in store for a bounce-back season.
Dan McGuire: Astros to win AL West (-250)
A lot would have to go wrong for the Astros to not win the AL West. Their lineup is similar to their 2017 one and they bolstered their starting rotation by adding Gerrit Cole to an already potent quartet of Justin Verlander, Dallas Keuchel, Lance McCullers and Charlie Morton. Their win total is set at 97, and the next closest team in the division is the Angels at 84.5, followed by the Mariners at 82, Rangers 76.5 and Athletics 75. Most sportsbooks around the market have the Astros priced around -400 to win the AL West, but at -250, there's tons of value if you can get it.
Josh Appelbaum: Andrew Benintendi over 19.5 home runs (-115)
In his first full season in the big leagues, Benintendi hit 20 homers for the Sox and finished second in Rookie of the Year voting behind Aaron Judge. However, he hit only two homers in September. This offseason he focused on gaining weight and getting stronger so he can guard against another late season drop-off. The results? He's now up to 190 pounds after weighing in at 165 at the end of the 2016 season. Benintendi will hit second for Boston and now has much-needed protection behind him with the addition of J.D. Martinez. Can he hit 20 or more dingers in 2018? I like the odds.
Keith LeBlanc: Mookie Betts over 100.5 runs (-115)
While taking a nice gander into the upcoming MLB season, one player prop grabbed my eye — Mookie Betts (pictured above) over 100.5 (-115) runs. Why you ask? First off, anyone with the last name Betts is worth laying money on. Additionally, Mookie has scored more than 100 runs in each of the past two seasons and has posted a solid .292 batting average over this brief career. Because he had so much success at crossing the plate last year despite Boston's offensive struggles, I see no reason why he won't have a solid season this year. Get the Cracker Jacks out and place your bets on Betts over 100.5 runs!
Evan Abrams: Aaron Judge/Giancarlo Stanton Under 80.5 HR (+100)
I'll start by saying I am a Yankee fan, so call me a hater, but I can see a lot of different ways that Judge and Stanton — the biggest thing since Maris and Mantle — fall short of their lofty home run expectations.
Whether its ZIPS or Fangraphs, both Judge and Stanton are projected to hit over 90 home runs combined, but I'm not a big fan of Judge being Yankee Stadium home run dependent given his career splits: 36 dingers at home vs. 20 taters on the road. Even with Greg Bird on the shelf to open the year, more power in the Yankee lineup could disperse the home run totals. Plus, Stanton is coming off an MVP and career year in home runs, WAR and ISO with his lowest percentage of balls hit hard (38.9%) since 2013 (his 2015 percentage was absurd: 49.7%). I'll be buying a ticket on the under here and rooting against home runs … lucky me.
Mike Marsh: AL Cy Young: Trevor Bauer (+20000) – Westgate Superbook
Bauer doesn't get the recognition he deserves in some baseball circles, but his terrific finish to the 2017 season was a big reason why Cleveland had the most dangerous staff in the majors. It's easy to get overshadowed when you're part of the same rotation that features the two-headed monster of two-time Cy Young Award winner Corey Kluber and Carlos Carrasco, but Bauer flashed his potential and looks poised for a breakout. Last year Bauer boasted a studly 10.0 K/9 rate, relying on a plus breaking ball he threw 29.8% of the time (fourth-highest rate in MLB).
He'll need to improve on his 1.37 WHIP, but Bauer made some mechanical tweaks that had a positive impact on his peripheral stats over the final stretch of last year. He also ended 2017 with a .337 BABIP (third-highest in MLB), which suggests luck wasn't on his side. I'm taking a shot on Bauer with his upside and hoping for a hefty payout by season's end.
---
Photo Credit: Kim Klement, USA Today Sports