MLB Betting Notes: Trout vs. Kluber Headlines Wednesday's Slate
Forget pace of play and the meetings on the mound. There's only one thing baseball needs. We want more day games, Commissioner Manfred. At least one per day, but most days we want at least two.
Luckily, we're chock full of matinees today and we've got some studs working the rubber across the country.
Let's just hope Mother Nature doesn't ruin what should be a wonderful day of beisbol.
---
Washington Nationals (-185) @ Atlanta Braves (+166) | O/U: 8
12:10 p.m. ET
Max Scherzer (1-0, 0.00 ERA) vs. Mike Foltynewicz (0-0, 3.60 ERA)
Early Bird: Max Scherzer is just 6-7 on the moneyline (-4 units) in his last 13 starts when pitching at 1 p.m. ET or earlier, dating back to the middle of the 2015 season. – Evan Abrams
Mad Max: Scherzer is one of the few aces in the league who is a fly-ball pitcher. Since 2015, his 46.6% FB% ranks third-highest out of 123 qualified pitchers. The only other really successful guy to post a number higher than 40% is Justin Verlander. Winds are expected to be blowing out in excess of 10 mph today, which may raise a red flag for some. Scherzer has a +/- of -0.95 on DraftKings when the wind is blowing 5+ mph out to left, center or right field in 18 games since 2014. Compare that to the +4.14 he's posted as a whole and you can see why there is some cause for concern. Luckily, he's facing the Braves, who posted the 29th-highest fly-ball rate last season and sit in dead last on the young 2018 campaign. – Mark Gallant
Folty Towers: It's never been a question of 'stuff' with Atlanta's Mike Foltynewicz. He's a first-round pick, can tickle triple digits and has four pitches to choose from. Unfortunately, the 26-year-old has a base-on-balls problem. Last year, Folty allowed 3.45 walks per 9 innings and his career mark is 3.04 BB/9. He's got an arsenal to dream on, but until he kicks his free-pass habit, he's a hard guy to trust. – Michael Leboff
---
Tampa Bay Rays (+209) @ New York Yankees (-235) | O/U: 8
1:05 p.m. ET
Blake Snell (0-0, 0.00 ERA) vs. Luis Severino (1-0, 0.00 ERA)
Snellzilla: Luis Severino is definitely the top-billed name of the two hurlers, but Blake Snell is a very intriguing young pitcher. Snell was pumping gas in his first start of the year against the Red Sox. In the first month of 2017, Snell averaged below 94 MPH on his heater, but last week averaged almost 96 and topped out at 99. He was surprisingly pulled after just 84 pitches (I was watching the game … very surprised.)
Even though Snell is a former high prospect, the major reason he hasn't taken the next step has been his high walk rate. After walking nearly six batters per nine innings in the first half of 2017, he walked just 2.91 in the second half. He also struck out almost a batter more per nine. This improved command and control allowed him to drop his ERA by almost a run and a half. The lanky 25-year-old southpaw may be in for a breakout season if he keeps it up. ­– Mark Gallant
Matchup Notes: Kevin Kiermaier is 1-for-17, with 8 strikeouts in his career against Luis Severino. In Severino's last six appearances (23.2 IP) against the Rays, he has a 1.52 ERA with a 5.7 K/BB ratio. – Evan Abrams
---
Philadelphia Phillies (+138) @ New York Mets (-153) | O/U: 7
1:10 p.m. ET
Aaron Nola (0-0, 1.69 ERA) vs. Noah Syndergaard (1-0, 6.00 ERA)
Kapler Watch: Aaron Nola is a very good pitcher. So is Noah Syndergaard. Pitchers' duel and the under, right? Not under Gabe Kapler's watch. Thanks to the new-age manager, we've got no idea how long Nola — even if he's going well — will be on the mound after he was infamously yanked from his Opening Day start after just 68 pitches. Sure, it was Opening Day, and Nola is the most important pitcher in the Phillies' rotation so keeping him fresh is logical, but at the same time — 68 pitches, and good ones, too! Predictably, the Phils blew the five-run lead Nola helped them build and lost to the Braves.
Just a couple days later, Kapler was swatting away questions about his bullpen usage after the first-year manager set (really invented) a record for using 15 pitchers to get through the first 20 innings of the year.
As the season wears on, it will be interesting to see if Kapler comes off whatever ego-driven pride ride he's on. If he doesn't, it's worth keeping tabs on how bookmakers approach Phillies games. – Michael Leboff
Stooping to Their Level: The Mets have lost four consecutive starts against opponents with a losing record with Syndergaard on the mound. Thor has allowed only nine runs in the four games, so it's not really his fault. – John Ewing
Did You Noah? Over the last three seasons, the first-five innings over is 14-6-1 in Noah Syndergaard's last 21 starts at home.  Since 2016, no Mets starter is more tilted to the over at home in the first five innings than Thor. – Evan Abrams
---
Cleveland Indians (-140) @ Los Angeles Angels (+126) | O/U: 7
4:07 p.m. ET
Corey Kluber (0-1, 2.25 ERA) vs. Tyler Skaggs (1-0, 0.00 ERA)
Kluber Kryptonite: Corey Kluber. Mike Trout. Tyler Skaggs. All the stars are coming out to play, but let's take a look at how the top pitcher in the AL matches up against the top hitter. In his career, Trout has gone 2-for-13 against Kluber with a homer and three walks. Not much of a sample size of course, but it makes sense that Trout has had his struggles. He essentially hits all types of pitches well, but hasn't been quite as dominant against curveballs … Kluber's forte.
Kluber, like many great pitchers, induces many swings and misses out of the zone. Since 2015, he ranks third behind Lance McCullers and Clayton Kershaw in O-Contact%. How does he do it? Well, the value he's brought to the table with his curveball over that time span is tops in the league per Fangraphs' linear weights by a wide margin.
With that said, Kluber should be able to neutralize Trout's skills by using that low and outside curveball —Kluber's strength, Trout's weakness. – Mark Gallant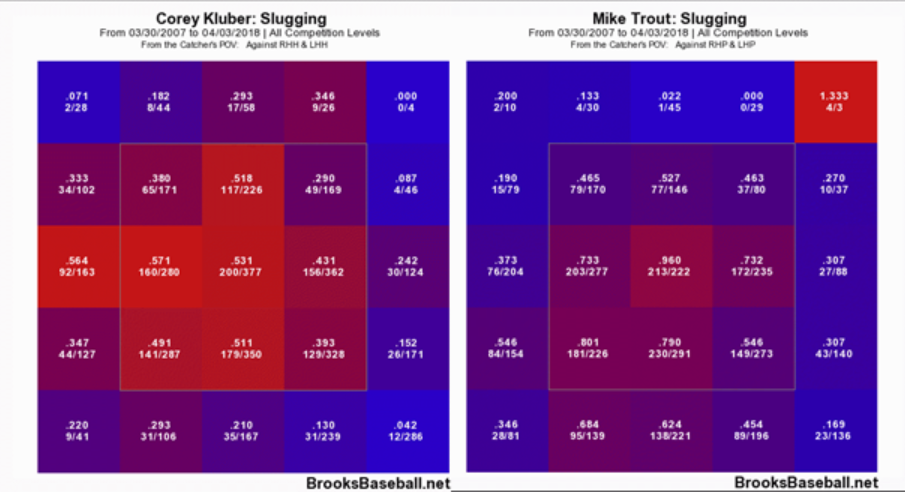 Albert Pujols is 0-for-13 career against Kluber. The right-hander is one of three pitchers (Sean Manaea, Joe Saunders) to face Pujols in at least 13 AB without surrendering a hit to him in his career. – Evan Abrams
---
Seattle Mariners (+110) @ San Francisco Giants (-121) | O/U: 7
7:15 p.m. ET
Felix Hernandez (1-0, 0.00 ERA) vs. Johnny Cueto (0-0, 0.00 ERA)
Old Guard: By the way, 2014 called; it wants its aces back. In all seriousness, Cueto and Hernandez are trying to prove that they are still two of the top arms in the league after they each had essentially the worst seasons of their careers in 2017. Neither allowed a run in their respective season openers, with Cueto allowing just one hit over seven innings.
Meanwhile, the Giants' new bats will be looking to turn things around, as Evan Longoria is 1-for-19 with one dinger, no walks and six strikeouts through his first five games, while Andrew McCutchen isn't setting a high bar himself at 2-for-20 with six strikeouts. – Mark Gallant
A New Court: This will be the first time in Hernandez's career that he will pitch in San Francisco. Hernandez has faced the Giants four times previously – all at home – with his team 4-0 and King Felix owning an ERA of just 1.86. – Evan Abrams
---
St. Louis Cardinals (-118) @ Milwaukee Brewers (+108) | O/U: 9.5
7:40 p.m. ET
Carlos Martinez (0-1, 8.31 ERA) vs. Jhoulys Chacin (0-0, 10.80 ERA)
B-Side: The Brewers made a move to shore up the back of their rotation by bringing in 30-year-old journeyman Jhoulys Chacin. The move didn't end up on many backpages, but it was the type of under-the-radar acquisition that could be labeled a "stroke of genius" — ala Charlie Morton to the Astros last year — if the Brewers go on a run.
Quietly, Chacin has posted 13 Wins Above Replacement (WAR) according to Fangraphs. His relative success is thanks to his bread-and-butter pitch — his slider. Last year, he generated 139 swings-and-misses with the slider — three more than Chris Sale — according to Statcast.
Since he's certainly the "B-Side" of this pitching matchup I wouldn't be surprised if the public jumps at the chance to back C-Mart against Chacin. Toss in the fact that Chacin got lit up in his last start and St. Louis has the makings of a public darling. – Michael Leboff
House of Horrors: The Milwaukee Brewers faced Carlos Martinez at home three times last year. They won each contest and averaged 5.3 runs per game.  – John Ewing
Not to be Outdone: In five career starts against the Cardinals, Jhoulys Chacin is 0-5 and has a 5.46 ERA and 1.50 WHIP.  – Evan Abrams
---
Top Photo: Los Angeles Angels' Mike Trout rounding the bases.
Credit: Kelley Cox, USA Today Sports