13 Games, 1 Day: Your Ultimate Guide to Betting MLB Opening Day
Sign up for The Action Network's daily newsletter to have the best sports betting insight and analysis delivered to your inbox.
Baseball is back boys and girls.
For the next six months, there will be downtowners, Texas leaguers and day games. We're here for it all.
We can wax poetic about the pastime for hours, but let's break down all 13 games on the Opening Day slate (sadly two have already been rained out) so we can win some money.
All odds as of Thursday morning.
---
Chicago Cubs (-190) @ Miami Marlins (+170) | O/U: 8 | 12:40 p.m. ET
Probable Pitchers: Jon Lester (13-8, 4.33 ERA) vs. Jose Urena (14-7, 3.82 ERA)
Betting Market: Bettors are all over the Cubs in today's first ballgame. Eighty-seven percent of the bets and 81% of the money has driven the line from -190 to -215. – Mike Marsh
Baseball Bounce Pass: What am I most looking forward to in this game? Miami getting runners on first base. I'm praying one of them will bait Lester into showing us his new and improved method of transporting the baseball from the mound to first base via bounce pass. Praying. – Danny Donahue
Smoke And Mirrors: If you covered up the names of these two pitchers and had to guess which one was a four-time All-Star and the other was Jose Urena, you'd probably get it wrong. Somehow, Urena was able to put up a solid ERA despite very poor peripherals last year. The 26-year-old had a 5.20 FIP, a 5.99 K/9 and a 3.39 BB/9 in 169.2 innings last year. It's honestly impressive that he was able to keep his ERA in check in 2017, but it's also very concerning. – Michael Leboff
Lo Duca Comin' In Hot: How do you not play the Cubs here? Lester takes the hill in what will essentially be a HOME game. Even when I played and the Marlins were relevant, Cubs fans were a lot louder than Fish fans. Yes, I know Lester may not be the same pitcher he was a few years ago, but he still struck out a batter per inning in 2017 and he's facing a roster straight out of Major League — a team slated to lose 100 games. Plus Lester is unique in a way. You don't face a lot of starting southpaws who rely on a cut fastball. On the other hand, Jose Urena, who is coming off his worst outing of the Spring, is a COMFORTABLE at-bat for any hitter. Urena does not strike out many batters and usually sits around the zone, even though his control has been questionable at times. — Paul Lo Duca
Trends: Since 2009, Jon Lester is 13-23-11 (36.1%) on the first-five-inning moneyline in the months of March and April, making him the second-least profitable pitcher in that span behind Francisco Liriano. That record includes Lester's 11-22-9 record when he's listed as the favorite in this spot. – Evan Abrams
Lefties, lefties and more lefties: This game features a ton of lefty hitters: Our projected lineups have two left-handers in the top four for Miami and five in total for Chicago (including a lefty pitcher in Lester hitting ninth). Unfortunately, they're all playing in Marlins Park, which is one of the worst places for lefties to hit, evidenced by their Park Factor of 1 (on a scale of 1-100) in FantasyLabs' MLB Models. Neither of these pitchers were exactly inspiring last season, and Lester in particular showed concerning signs with his fastball, which was down nearly 2 miles per hour to 91.7 — easily the lowest mark of his career. The hitters in this one should make contact — Urena is one of the lowest strikeout pitchers going tomorrow — although it's still not enticing for fantasy purposes given the field dimensions and low probability for many home runs. – Bryan Mears
---
St. Louis Cardinals (+133) @ New York Mets (-143) | O/U: 7 | 1:10 p.m. ET
Probable Pitchers: Carlos Martinez (12-11, 3.64 ERA) vs. Noah Syndergaard (1-2, 2.97 ERA)
Betting Market: Two steam moves were triggered at 5Dimes on Under 7 yesterday afternoon. This morning most shops have moved the total from 7 down to 6.5. It's not surprising to see 60% of the bets and more than 90% of the money on the Under with both teams' aces on the mound. – Mike Marsh
Trends to Know: St. Louis has excelled in NL games outside its division, going 198-132 (60%) straight-up over the past five seasons, including 41-25 last year. – John Ewing
In home games played at 1 p.m. ET or earlier, the Mets were 4-14 on the moneyline last season, making them the least profitable team in baseball. Ironically enough, the bottom three teams in this spot last season were all from the NL East: the Mets, Braves and Nationals. – Evan Abrams
The Stuff Is There: Finally, a matchup with two good pitchers. Both are fascinating, too. Martinez had an off year last season, mostly because he couldn't keep balls in the park. Check out the changes in several key metrics from 2016 to 2017:
· Martinez in 2016: 0.69 HR/9, 56.4% ground ball rate, 10.6% HR/FB, 3.04 ERA
· Martinez in 2017: 1.19 HR/9, 51.4% ground ball rate, 16.4% HR/FB, 3.64 ERA
He has all the pitches to be an elite ace, but was too boom-or-bust last year to reliably use in DFS cash games. Will that change this year?
And Thor — how fast will he return to his lightning-throwing ways after pitching only 30 innings last season due to a tear in his right lat? When he's on, he's one of the best pitchers in baseball, and he was reportedly consistently throwing over 100 miles per hour in the preseason. He'll have a tough first game against a Cards squad whose projected lineup has a .345 wOBA against righties, but a healthy Thor can dominate any team. – Bryan Mears
---
Pittsburgh Pirates (-118) @ Detroit Tigers (+108) | O/U: 9.5 | 1:10 p.m. ET
Editor's note: This was was postponed due to rain on Thursday morning.
Probable Pitchers: Ivan Nova (11-14, 4.14 ERA) vs. Jordan Zimmermann (8-13, 6.08 ERA)
Betting Market: The total has been the early betting story in this one. Only 44% of bettors are taking the over, but that's accounted for 85% of over/under money, and has driven the number up from 9 to 9.5. – Danny Donahue
The Nine-Figure Mann: You know who you don't want to be rolling out on Opening Day? A guy who posted an ERA higher than 6.00 in the previous season. That's the way the Tigers' season is looking, though, and Zimmermann is going to have to turn things around and pitch up to that $110 million contract he signed if they have a shot at 70-plus wins. Batters teed off on his flat fastball in 2017, which has dropped 2 miles per hour over the past few years. He induced the third-lowest soft-hit percentage among the 134 pitchers with 100-plus innings last year. Unlike some pitching stats, this is not one you want to be low in. – Mark Gallant
Meteorology Matters: This is an interesting spot for daily fantasy players. On one hand, these two pitchers are some of the worst going on Opening Day: Nova and Zimmermann posted WHIPs of 1.278 and 1.550, respectively, last season. For that reason, this game is tied for the highest over/under on the slate at 9.5 runs, and both teams are implied for nearly 4.75 runs given the almost even moneyline. On the other hand, this game is in Detroit, in March, with no retractable roof. It's supposed to be a cold 42 degrees at game time, which is not a good sign for hitters, per FantasyLabs' MLB Trends tool (degrees are on the x-axis):

Oh yeah, and there's a decent chance of rain, too. This could be a wise fade spot in guaranteed prize pools (GPPs), as most casual players will flock toward the high total. – Bryan Mears
Eyeing the Under: Since joining the Tigers two years ago, Zimmermann has posted a 17-20 record and 5.66 ERA thanks to neck and back injuries slowing him down. BUT before you fade him, just know that eight of his 17 wins with the Tigers have been in April. Zimmermann started the 2016 season 5-0 with dominating numbers before hurting his neck. He will face Ivan Nova, whose numbers the past two years are confusing. He is 6-16 away from home with an ERA in the mid 5s. But again, he threw two complete games last year, BOTH in April and BOTH on the road. So to me this is a game that on paper looks like it could yield a lot of runs but won't. — Paul Lo Duca
Problems at Home: Starting Sept. 1 last season, all 30 MLB teams won 54% of their home games to close out the regular season. During that same span, the Tigers were 3-15 (16.7%) on the moneyline at home, losing by 3.4 runs per game. The Tigers lost their final seven home games to close out the season. Yeesh. – Evan Abrams
Did You Know? Interleague games are rare on Opening Day. This is just the eighth time that an AL and NL team met in the first game of the season since 2005. The American League team is 5-2 in the previous seven games. – John Ewing
---
Minnesota Twins (+111) @ Baltimore Orioles (-121) | O/U: 9.5 | 3:05 p.m. ET
Probable Pitchers: Jake Odorizzi (10-8, 4.14 ERA) vs. Dylan Bundy (13-9, 4.24 ERA)
Betting Market: The bets vs. money discrepancy is sticking out in this matchup. Only 44% of bets are on the Orioles, but they're getting 98% of the money wagered. It's also important to note the bets vs. money discrepancy for one of the highest totals on the slate. So far the percentage of bets are pretty split, but a whopping 83% of the cash is on the Over.  – Mike Marsh
Woof: This is not exactly the high-profile pitching matchup you would expect in an Opening Day game. Considering their roles in their respective rotations, these two right-handers give up a lot of home runs. Odorizzi was one of only 16 pitchers to allow 30 home runs last season, and Bundy wasn't far behind, allowing 26. Oh, and the wind is expected to be blowing out to left-center at 10-plus miles per hour on Thursday afternoon. – Danny Donahue
Home Run Fest: This game should have fireworks. Odorizzi allowed 1.4 HR/9 and Bundy allowed 1.9 HR/9 last season. Odorizzi is a boom-or-bust pitcher; he has posted solid ERAs throughout his career, all the while giving up a ton of fly balls. Last season he posted an astounding 30.6% ground ball rate, along with a 15.5% HR/FB mark. Bundy wasn't much better, posting the 14th-highest home run rate among qualified starters, per FanGraphs. To make matters worse, this game is at Camden Yards, where lefties get the benefit of a slate-high 78 Park Factor. None of the batters are very expensive — Orioles infielder Manny Machado is the highest-priced player in the game at only $3,900 on FanDuel — which makes this the highest-upside offensive spot for Opening Day. – Bryan Mears
O's-pening Day: Baltimore has been the most-profitable team on Opening Day since 2005, with a 9-4 record and an ROI of $636 for a $100 bettor. Minnesota, on the other hand, has been the least-profitable team, with a 3-10 record, -$712 for a $100 bettor. – John Ewing
Early Birds: Over the past two seasons, the Orioles are 29-17 on the moneyline in the months of March and April, the second-most profitable team in the early part of the season behind the White Sox. The O's have won just 48.6% of their games after April over the past two seasons. – Evan Abrams
---
Houston Astros (-164) @ Texas Rangers (+148) | O/U: 9 | 3:35 p.m. ET
Probable Pitchers: Justin Verlander (15-8, 3.36 ERA) vs. Cole Hamels (11-6, 4.20 ERA)
Betting Market: The total has moved from 9 up to 9.5 around the market. This is likely due to more than 80% of the money on the Over, indicating where the bigger, sharper wagers are. The movement up to 9.5 is also telling considering 49% of bets are currently on the Under  – Mike Marsh
Sneaky Park Factor: Globe Life Park in Arlington is known as a hitter's park, and it is most of the time, primarily because of the heat. Unfortunately for hitters, it's not hot yet. In games with temps below 80 degrees, batters have posted a DraftKings Plus/Minus of -0.05. In 80 degrees or above, that number jumps to +0.43. With temperatures expected to be in the mid 70s, don't expect the ball to be flying out at a mid-summer's pace. – Mark Gallant
Cold Hitters: Mark nailed it above. Per the FantasyLabs MLB Trends tool, take a look at batters' average DraftKings Plus/Minus by month at the Rangers' home park:
· April: -0.5
· May: +0.3
· June: +0.4
· July: +0.7
· Aug.: +0.2
· Sept.: +0.4
That April mark is one of the worst in the league; that July mark is second-best behind only Coors Field. Some parks are hitters' paradises because of consistent factors throughout the year. Coors is an example of this, as it always sits at elevation. Other parks are consistently friendly to hitters because of their dimensions. The ones you want to monitor, however, are the ones that drastically change throughout the season due to weather (temperature, humidity, etc.). Globe Life is one of the strongest examples of that, and it's likely overvalued early in the season. – Bryan Mears
Good Against Bad: The Astros were the most profitable moneyline team last season when facing an opponent that didn't make the playoffs the year before (71-40 record, 64% win rate). Texas finished last season 78-84 and missed the postseason. – John Ewing
Acting Like An Ace: Since July 4 of last season (including postseason), 14 different starters threw at least 100 innings, and only one had an ERA below 2.00: Justin Verlander. He was 14-4 with a 1.99 ERA, with opponents hitting a putrid .178 against him. – Evan Abrams
---
New York Yankees (-148) @ Toronto Blue Jays (+138) | O/U: 8.5 | 3:37 p.m. ET 
Probable Pitchers: Luis Severino (14-6, 2.98 ERA) vs. J.A. Happ (10-11, 3.53 ERA)
Betting Market: With 66% of bettors and 77% of dollars on the Yanks, this line has ticked up from an opener of -144 to -159 at Pinnacle. – Danny Donahue
Bad Dogs: In divisional games on Opening Day, the underdog has gone 46-75 (38%) since 2005, costing $100 bettors $1,774.
Northern Exposure: Over the past five seasons, the Yankees are 18-29 on the moneyline playing on the road in Toronto, the second-least profitable location for the Yanks.
But, one thing to consider: Luis Severino's career numbers as a starter against the Blue Jays aren't pretty (0-3, 6.11 ERA, 1.54 WHIP). Yankees are 2-4 against the Blue Jays in Severino's six starts. – Evan Abrams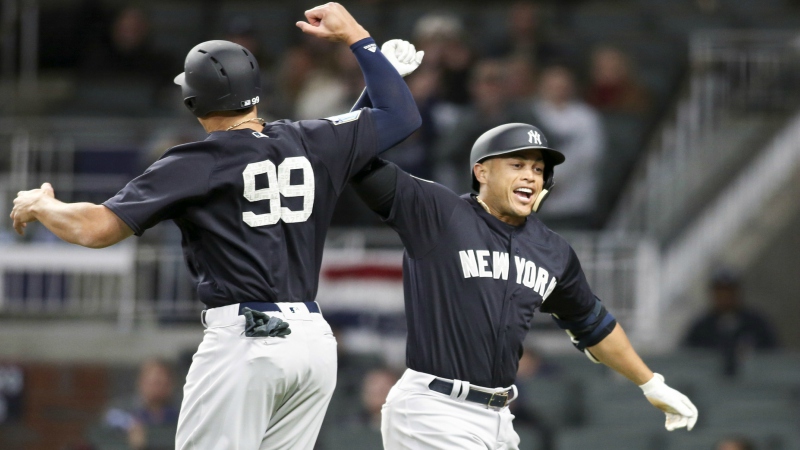 Chalk Talk: It's projected to be 42 degrees at first pitch in Toronto, which means they'll likely close the roof. That's all the more reason for DFS players and bettors alike to hammer the New York Yankees, who are the most popular team in baseball after signing outfielder Giancarlo Stanton to pair with outfielder Aaron Judge. Stanton and Judge will hit back-to-back in the order, and they'll face Happ, whose 1.314 WHIP from 2017 is one of the worst marks among pitchers in the Opening Day slate. Further, Rogers Centre (outside of last season) is a solid hitter's park, as evidenced by the Yankees bats boasting a 63 Park Factor (on a 0-100 scale). And to put the cherry on the sundae, Stanton is against a lefty, which has been as much of an auto-play situation in DFS as you'll ever see. This is a good spot to target, but beware that literally everyone is going to be targeting it. #FadethePublic? – Bryan Mears
---
Boston Red Sox (-172) @ Tampa Bay Rays (+155) | O/U: 7 | 4 p.m. ET
Probable Pitchers: Chris Sale (17-8, 2.90 ERA) vs. Chris Archer (10-12, 4.07 ERA)
Betting Market: Check out today's Sharp Report for betting market analysis on this matchup.
Punchout Party: There are some peculiar pitching matchups for Opening Day, but this isn't one of them. Sale led all qualified pitchers with 12.93 K/9 in 2017 and Archer wasn't too far behind him with 11.15 punch-outs per nine. – Michael Leboff
Buyer Beware: Sale was in the top 10 among pitchers last year in ERA, strikeouts and WAR. When he took the mound for Boston, the Red Sox won 22 games, but $100 bettors only managed to return $120 profit betting on the ace. – John Ewing
Mookie Money: In his career against Archer, Mookie Betts is 12-31 (.387) with four home runs, 10 RBI and eight walks. Betts has only faced one pitcher in more at bats in his career than Archer (R.A. Dickey). – Evan Abrams
Good Pup: Over the past decade, the Rays are 49-37 on the moneyline as a home underdog against division opponents, making them the third-most profitable team in baseball in that spot. Even last year, Tampa was 10-6 as a home dog against the AL East. – Evan Abrams
Sale's Ceiling: The Rays were tied for first in the league with the Brewers last season with a 25.9% strikeout rate versus left-handed pitchers. That seems ominous in an Opening Day matchup versus Sale, whose past-year 12.9 K/9 mark easily leads all pitchers going today. He faced them six times last season, averaging 32.2 DraftKings points, a +10.8 Plus/Minus, and an 83.3% Consistency Rating, going for over 35 DraftKings points in three of those affairs. Considering that the other high-priced studs like Max Scherzer, Clayton Kershaw, and Corey Kluber are up against low-strikeout teams, Sale definitely has an argument for the top-ceiling pitcher of the day. That's especially true in DraftKings' nine-game main slate, in which Kershaw and Kluber aren't even available. – Bryan Mears
---
Los Angeles Angels (-134) @ Oakland Athletics (+121) | O/U: 9 | 4:05 p.m. ET
Probable Pitchers: Garrett Richards (0-2, 2.28 ERA) vs. Kendall Graveman (6-4, 4.19 ERA)
Betting Market: The over has been a primary target of sharps in this matchup, steaming over 8.5 twice to get it tohe current market consensus of 9. – PJ Walsh
On the Ground: Both Richards and Graveman could be labeled as ground ball specialists. Last year, Graveman had a ground ball rate of 51.2%, which ranked 18th among all pitchers with at least 100 innings pitched. Although Richards hasn't spent much time on the field over the past two years, the 29-year-old owns a 52.8 GB% over 668.1 innings in his career. Oakland Coliseum is already a pitcher's park and with two ground ball pitchers on the mound, the total will be interesting to monitor here. – Michael Leboff
Picking Your Spots: With Garrett Richards, you have had to pick your spots throughout his career:
In Division: 25-25 moneyline
Out of Division: 30-19 moneyline
Home: 30-18 moneyline
Visitor: 25-26 moneyline – Evan Abrams
With A 10-Foot Pole: This game seems to be a DFS stay-away: two ground ball pitchers in a pitcher's park in Oakland. Richards and Graveman weren't the best pitchers in the world last season, posting WHIPs of 1.245 and 1.386, respectively, but they rarely allowed long balls, posting HR/9 marks of 0.7 and 1.0. Mike Trout is always in play no matter the game setting, and he's the highest-priced option of the day at $5,400 on DraftKings and $4,800 on FanDuel, but it's hard to be excited about stacking up either side of this game. Trout is a fine cash-game option, but I wouldn't have heavy exposure here in tournaments. – Bryan Mears
---
Milwaukee Brewers (-112) @ San Diego Padres (+102) | O/U: 8 | 4:10 p.m. ET
Probable Pitchers: Chase Anderson (12-4, 2.74 ERA) vs. Clayton Richard (8-15, 4.79 ERA)
Betting Market: This matchup is drawing two-way sharp action, providing a prime example of sharps not always agreeing on the "right side" and instead battling over numbers. – PJ Walsh
The Other Clayton: Richard posted the third-highest ground ball rate among qualified pitchers last year, which may not be something posted on the back of his baseball card, but is very important to note. One of Milwaukee's newest stars, Christian Yelich, posted a top-10 ground ball percentage among hitters. When a ground ball pitcher meets a ground ball hitter … let's just say advantage pitcher. Yelich is one of three Brewers who posted a ground ball rate above 50%, along with Jonathan Villar and Orlando Arcia, with Ryan Braun right behind that mark. Richard is the second-cheapest pitcher on the DraftKings main slate at $5,400, and although he seldom racks up strikeouts, he has an intriguing batted-ball profile matchup. – Mark Gallant
---
Philadelphia Phillies (-123) @ Atlanta Braves (+113) | O/U: 8 | 4:10 p.m. ET
Probable Pitchers: Aaron Nola (12-11, 3.54 ERA) vs. Julio Teheran (11-13, 4.49 ERA)
Betting Market: Seventy-nine percent of dollars are on Philly, but sharp Atlanta buyback has kept this line from moving much since open.  – PJ Walsh
Nola Rising: Aaron Nola put together the first relatively healthy season of his career in 2017, emerging as the bona fide ace of Philadelphia's staff. To this point in the talented 24-year-old's career, Atlanta has been the Phillies' most profitable opponent when Nola is on the hill. Last season the former top prospect won both of his starts against the Braves, going at least seven innings and only allowing one earned run in each matchup. – Mike Marsh
Very Good Dogs: Divisional underdogs are quite valuable early in the season: Since 2005, dogs in divisional matchups have netted 74.9 units during March and April. – Mike Marsh
---
Chicago White Sox (+150) @ Kansas City Royals (-165) | O/U: 9 | 4:15 p.m. ET
Probable Pitchers: James Shields (5-7, 5.23 ERA) vs. Danny Duffy (9-10, 3.81 ERA)
Ding-Dong City: Shields' best days are certainly behind him. The 36-year-old was a hot mess for the White Sox last year, with a 5.23 ERA and 5.83 FIP in 117 innings pitched. A lot went wrong for Big Game James, but his biggest problem was keeping the ball in the blasted ballpark. He had a 17.2 HR/FB% (meaning 17.2% of the fly balls he gave up went over the fence for a dinger) in 2017. A lot of luck is involved in HR/FB%, but this isn't a one-off problem for the former workhorse. Over his past three seasons, Shields has a HR/FB% over 17 — not good for fly-ball pitcher. – Michael Leboff
Windy (Kansas) City: The forecast calls for the average wind speed to be 7 miles per hour blowing in from center. In games with average wind speeds of 5 miles per hour or greater blowing in, the under is 764-613-76 (56%) since 2005. – John Ewing
---
San Francisco Giants (+259) @ Los Angeles Dodgers (-295) | O/U: 7 | 7:08 p.m. ET
Probable Pitchers: Ty Blach (8-12, 4.78 ERA) vs. Clayton Kershaw (18-4, 2.31 ERA)
Betting Market: Around -300 favorites across the market? No problem! Seventy-five percent of bettors are still happily laying that number to back Kershaw. – PJ Walsh
Almost, but Not Quite: This is the lefty duel we were all looking forward to: Clayton Kershaw versus Madison Bumgarner. Ah, wait … it's actually Kershaw versus Ty Blach. That's unfortunate. Blach does not like to strike batters out. His K/9 of 4.01 was lowest among qualified pitchers last year and fifth-lowest in a single season over the past 10 years. In 24 starts, he struck out six or more batters just twice. He also struck out zero batters twice. He's going to lose some fans unless he starts mashing long balls like MadBum. – Mark Gallant
The Shadows Have It: This is what we call an ELEMENT game! The shadows at Dodger stadium are HORRIBLE, especially if there are no clouds in the sky. Any start time between 3 and 6 p.m. makes for tough hitting conditions, but some parks — such as Dodger Stadium, PNC Park and Progressive Field — are way worse than others. It's very tough to pick up spin as the ball comes out of the shadows into the light. As a hitter, you are hunting the heater because it's straight. It's even worse when facing lefties because the ball is coming from out of the stands. Around 7-ish is when the shadows go away. By that time, the game should be over while the game goes under, if you catch my drift. — Paul Lo Duca
Giant Killer: The Dodgers are 26-14 (65%) straight-up against the Giants when Kershaw is on the mound. – John Ewing
Kershaw has made 20 home starts against the Giants in his career; the first-five-innings under is 15-4-1 in those starts. – Evan Abrams
---
Cleveland Indians (-165) @ Seattle Mariners (+149) | O/U: 7.5 | 10:10 p.m. ET
Probable Pitchers: Corey Kluber (18-4, 2.25 ERA) vs. Felix Hernandez (6-5, 4.36 ERA)
Time Machine: Man, I wish we could slightly amend this pitching matchup to Kluber versus 2014 Felix. After finishing second for the Cy Young that year, King Felix's dominance has disappeared. He has battled injuries the past two seasons, which has contributed to a slower fastball and more home runs. Still, as the only game featuring two Cy Young Award winners, this should generate relatively heavy public attention considering its west coast start time. – Danny Donahue
Overwhelming Unders: Cleveland was one of the best under teams in baseball last year, going 91-61-10 (60%). The under was 17-11-1 (61%) with Kluber on the mound. – John Ewing
Non-Postseason Hangover: On Opening Day since 2006, when a team that made the playoffs the year before faces a team that didn't, the playoff team is 56-25 (69.1%) on the moneyline, winning by 1.5 runs per game.
Games this system works for on Opening Day: Houston, Minnesota, Boston, Yankees, Dodgers, Cubs, Washington, Cleveland. – Evan Abrams
---
Colorado Rockies (-101) @ Arizona Diamondbacks (-109) | O/U: 8.5 | 10:10 p.m. ET
Probable Pitchers: Jon Gray (10-4, 3.67 ERA) vs. Patrick Corbin (14-13, 4.03 ERA)
Betting Market: Despite its late start, early betting has caused this game to jump the fence. After opening as a -115 favorite, Colorado is down to a -103 dog thanks to 58% of bettors taking the D-backs.
The total in this game has also been hammered by some sharp money, as four Sports Insights Bet Signals have driven the total down from 9 to 8.5, and even down to 8. – Danny Donahue
Humidor! With all the talk about the humidor at Chase Field potentially putting a damper on offensive production, it's safe to say pitchers aren't too upset about the upcoming change. This is especially true for a guy like Patrick Corbin, who is already a much better pitcher at home than he is on the road. Last season Corbin's home/road splits were drastic: He finished with a 3.15 ERA at home but a 5.09 ERA away from Chase Field.
Last year wasn't an outlier, either. Throughout his career, the lefty has historically been a much better pitcher at home (3.54 ERA at home, 4.47 away). Now with the humidor implemented in a park known to be hitter-friendly, it's shaping up to be an added advantage for Corbin whenever he takes the mound in Arizona. – Mike Marsh
---
Photo: Raj Mehta, USA Today Sports