Astros vs. Nationals World Series Game 2 Betting Picks, Odds & Predictions: Bank on Another Strasburg Gem?
Credit:
Thomas B. Shea, USA Today Sports. Pictured: Carlos Correa, Juan Soto
The updated betting odds for Wednesday's World Series game between the Nationals and Astros have Washington as a +160 underdog and Houston as a -190 favorite.
Which team should you be betting on tonight?
Our MLB expert Sean Zerillo breaks down Game 2 in full and makes his picks.
Astros vs. Nationals Betting Odds, Picks & Predictions for World Series Game 2
Probable starters: Stephen Strasburg (18-6, 3.32 ERA) vs. Justin Verlander (21-6, 2.58 ERA)
Nationals odds: +157
Astros odds: -174
Over/Under: 7.5
First pitch: 8:07 p.m. ET on FOX
Odds as of Wednesday morning and via PointsBet, where Action Network users get an exclusive 200% deposit match (deposit $50, bet with $150).
---
Stranded baserunners made all the difference in a tight, 5-4 Game 1 win for the Nationals.
The Astros left 11 runners on base, going 3-for-12 with runners in scoring position (RISP). Washington stranded four baserunners, going 2-for-9 with RISP.
The Astros offense was patient against Max Scherzer, ramping up his pitch count and knocking him out before the sixth inning – but they couldn't get timely hits with the bases loaded to blow open their early 2-0 lead – leaving a window for the Nats comeback.
Washington scored all five of their runs off of Gerrit Cole – sending the dominant righty to his first loss since May 22.
And now that they have hit Cole, who seemed invincible, the mystique of the Astros pitching has worn off – and the underdog Nationals seem like they have a real chance to win this series.
Can Stephen Strasburg, their most famous draft pick in franchise history, give them a 2-0 lead in their first-ever Fall Classic?
The Starters
Strasburg has dominated this postseason, with 33 strikeouts against one walk, and his career 1.10 playoff ERA is the third-lowest all-time (min. five starts).
The two pitchers ahead of Strasburg in postseason ERA? Sandy Koufax (0.95) and Christy Mathewson (1.06) – Hall of Fame company. Had the Nationals let Strasburg pitch in the 2012 NLDS, this might not be his (or their) first World Series appearance.
Conversely, this is Justin Verlander's fourth World Series, and second with Houston. He is 1-4 in five Fall Classic starts, but 15-8 (65%) in all other postseason starts.
For his career, Verlander is 65-44 (59.6%), with his team coming off of a loss.
Will he continue his trend of rotating between good and bad performances in these playoffs, or is the end of season rust catching up with this 36-year-old?
This Game 2 matchup, like the Game 1 matchup, is another situation where the underdog starter has comparable batted ball data to the favored starter, who owns slightly better control over the strike zone.
As I demonstrated before Game 3 of the NLCS, before Game 2 of the NLDS and again before Game 5 of the NLDS, Strasburg:
Reduced his four-seam fastball usage this season in exchange for more sinkers and curveballs
Now ranks in the top five for curveball pitch value
Has a plus changeup, leading to reverse splits in 2019 and an even wOBA split for his career, despite a velocity decline of four mph since his debut.
And 42 of his 55 swinging strikes (76.3%) in these playoffs have come on the changeup or curveball; including 12 by way of the changeup in Game 3 of the NLCS:
Strasburg thrives by getting the opposition to swing outside of the zone (37.2%) at a rate which is tied for the second highest amongst all pitchers.: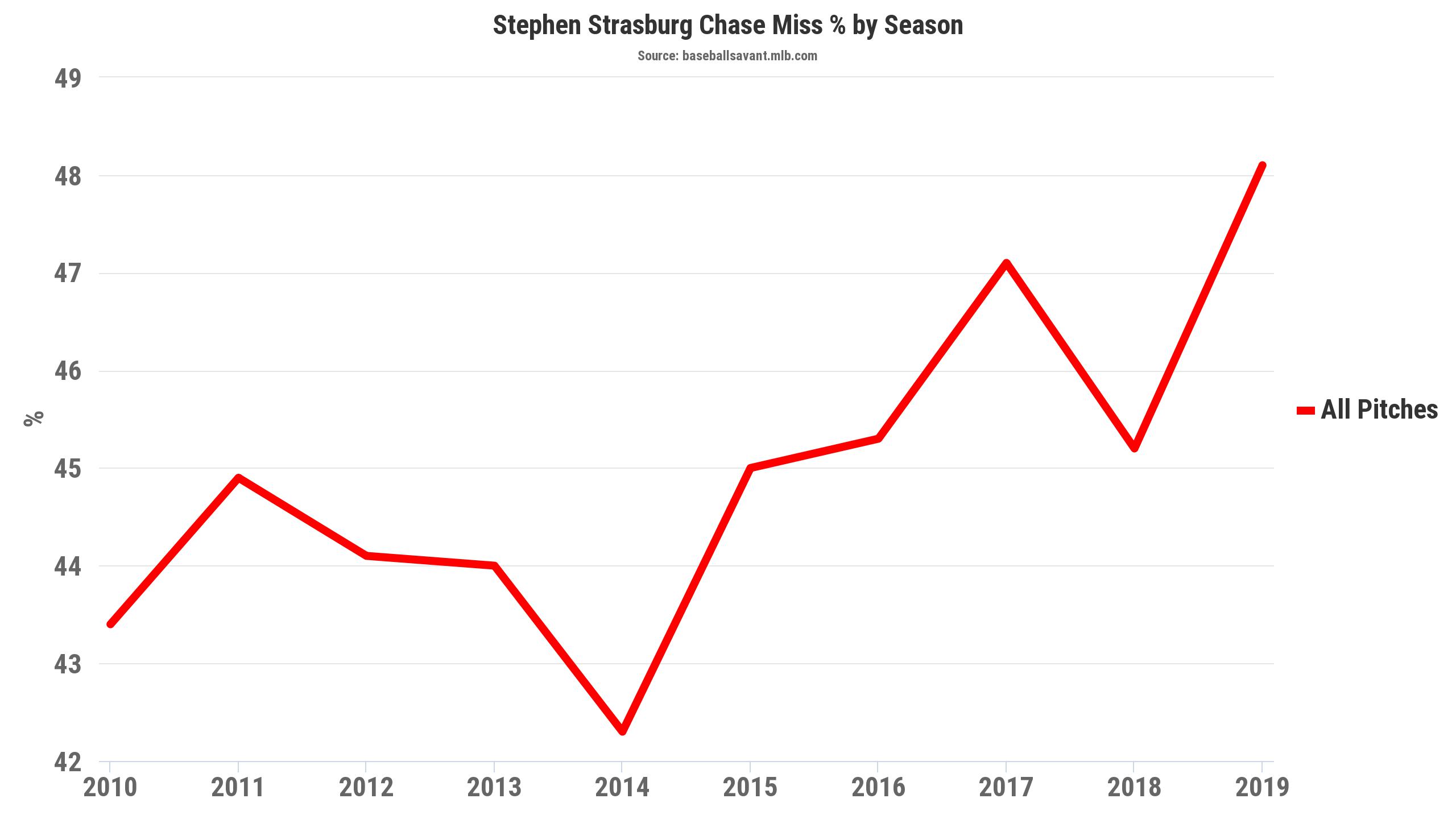 But as you saw in Game 1, the Astros are also exceedingly patient and can work to run up Strasburg's pitch count to knock him out of the game.
I featured Justin Verlander before Game 1 and Game 4 of the ALDS, and again before both Game 2 and Game 5 of the ALCS.
Overall, Verlander has been a more optimal pitcher since he arrived in Houston than he was before: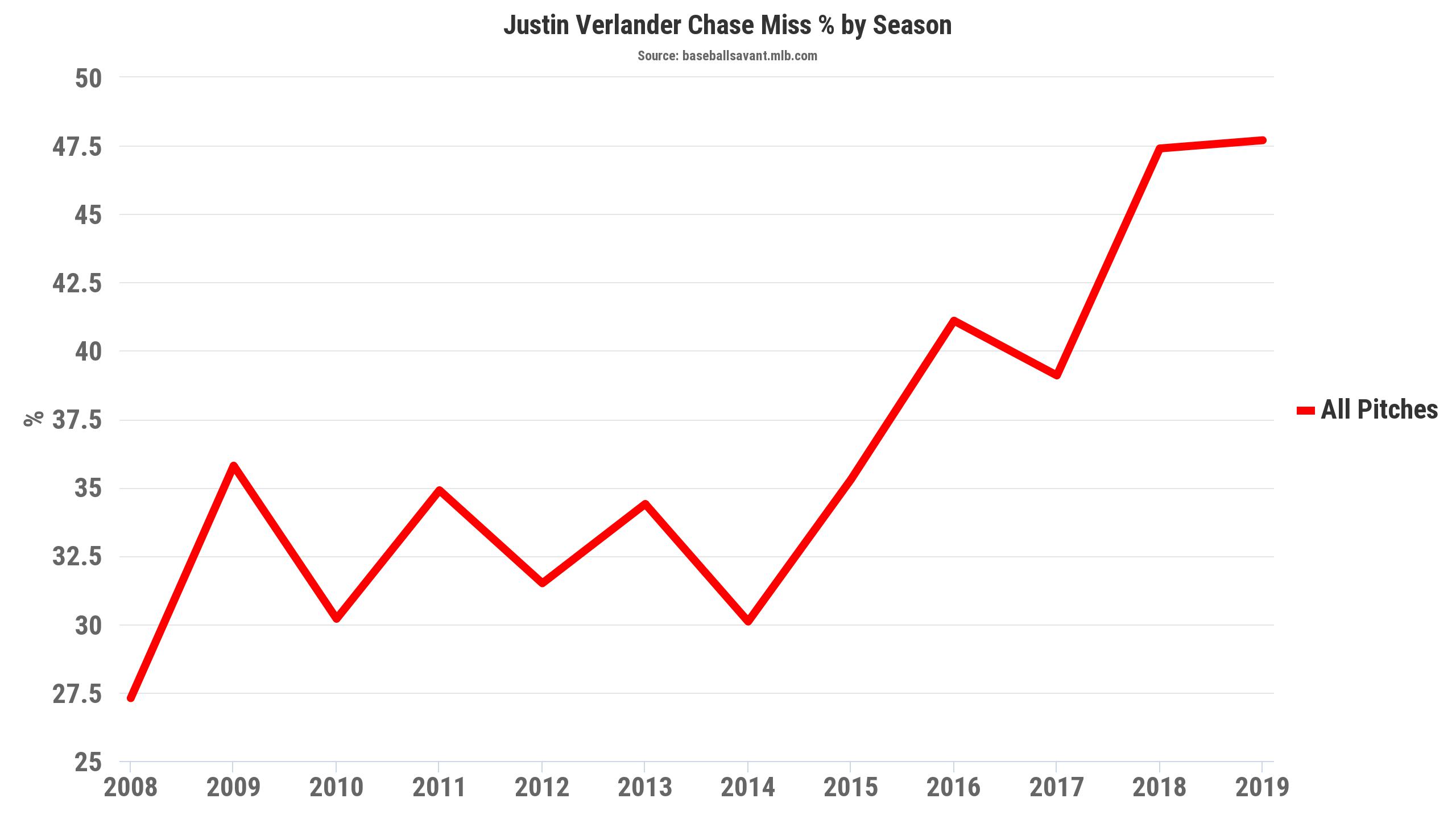 During his time with the Astros, Verlander is responsible for:
A dominant strikeout-to-walk ratio, first amongst starters with a rate of over 7.5
Increasing his strikeout rate, throwing fewer fastballs (10%) in exchange for more curveballs and sliders over the past two seasons.
Increasing his swinging-strike rate, from 10.7% in 2017 to 14.5% in 2018, and 16.1% in 2019 – breaking his career-high two years running.
All four of his offerings rating above average this season by pitch value – the first time he's achieved that since 2012.
Maintaining a hard contact/home run issue since 2016, due to a 38% ground-ball rate and the fact that his HR/9 and HR/FB rates have regressed towards league average.
Verlander has generated 30 of his 68 (44.1%) 2019 postseason whiffs while using his slider:
The Bullpens
On the season, the Astros bullpen ranks 11th in FIP, first in xFIP and first in K-BB%. By the same metrics, the Nationals rank 26th, 29th and 23rd.
Gerrit Cole continued to give the Astros length in Game 1, finishing seven innings in 104 pitches. Will Harris and Joe Smith each worked an inning behind him.
Note that the Astros didn't select a single left-handed arm for their World Series roster, and will use pitchers with reverse splits such as Harris and Chris Devenski against the Nationals left-handed bats.
Offensively, the Astros forced the Nationals pitchers to work, making Max Scherzer throw 112 pitches in five innings, before giving way to Patrick Corbin (21 pitches) and their three key relievers – Tanner Rainey, Daniel Hudson and Sean Doolittle.
Dave Martinez continues to deploy Corbin in middle relief, potentially signaling that he will start Anibal Sanchez in Game 3, Corbin in Game 4, and then save Corbin for relief appearances in Games 6 and 7 (if necessary).
The Nationals need a six or seven-inning performance out of Stephen Strasburg on Wednesday to keep their late-inning arms fresh for the remainder of the series.
Projected Lineups
Data per FantasyLabs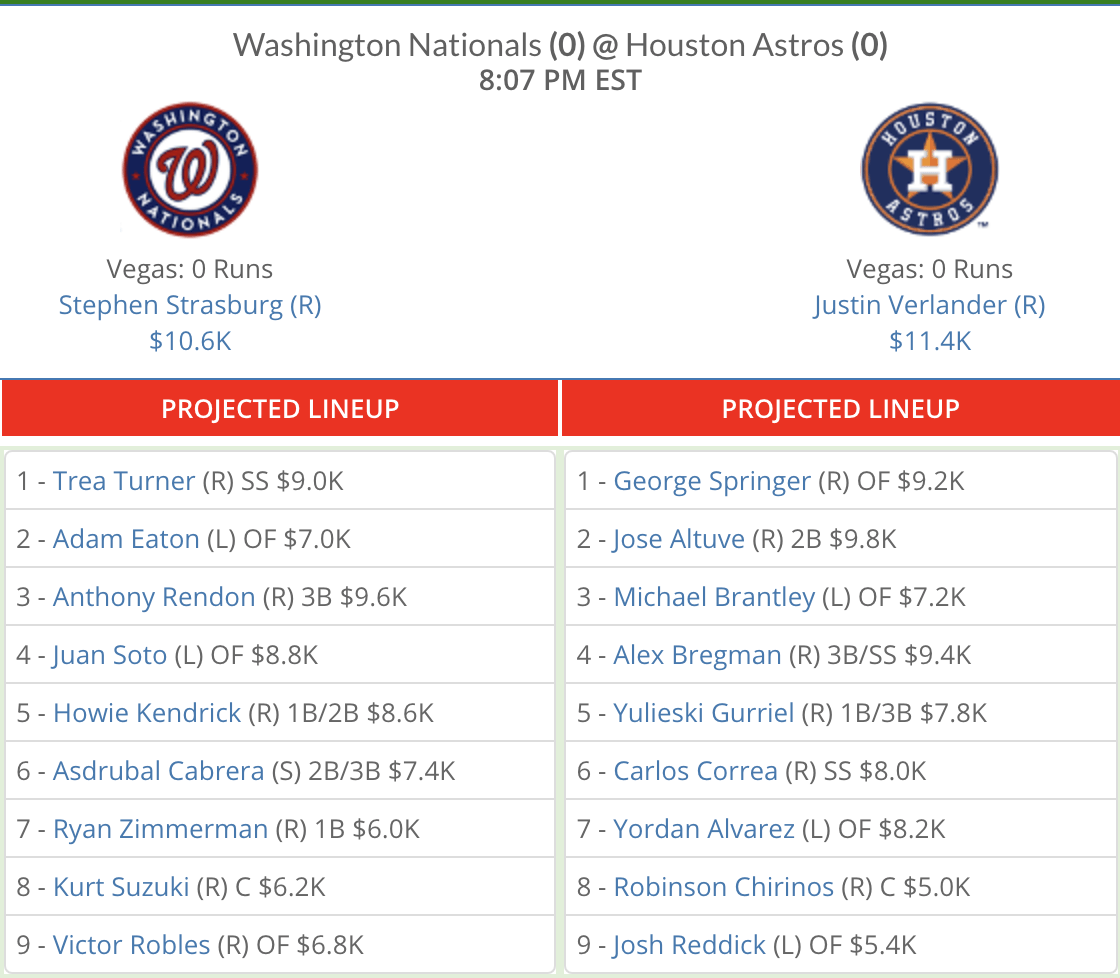 Kyle Tucker singled and scored a run off of the bench in Game 1, and it's possible that he starts Game 2 ahead of Josh Reddick, who is now 3-for-24 in the playoffs.
Umpire and Weather Report
Data per Sports Insights
The last time that the Astros played a playoff game at home with the roof open was in 2005, and the dome will be closed again on Wednesday night.
Minute Maid Park is the most profitable park for unders in our database at 629-554-58 (53.2%), generating nearly +$4700 for a consistent $100 bettor.
Doug Eddings will be the home plate umpire for Game 2. He has been an MLB umpire since 2000, and this is his second postseason game behind the dish.
Since 2005, unders are 240-210-28 (53.3%) with Eddings as the plate umpire, but just 112-118 (48.7%) since a 2012 study showed that he had the most massive strike zone in baseball.
Trends to Know
The American League owns a 66-48 head-to-head record against the National League in the World Series.
Home teams are 44-34 (56.4%) in World Series Games since 2005. Home favorites are 35-22 (61.4%), while home underdogs are 9-12 (42.8%).
Over the same period, home favorites are 16-4 (80%) in Games 1 and 2 of the World Series.
Totals are mostly split down the middle, at 37-38-3 in World Series play since 2005.
Stephen Strasburg is 15-11 (57.7%) as a moneyline underdog and 16-6-7 (72.7%) as an F5 underdog.
He has never been an underdog of greater than +155 in his career. That occurred on June 7, 2017, when he lost 2-1 to Clayton Kershaw and the Dodgers.
Series Moneyline Corner
Before Game 1, I projected the Astros as a -186 favorite in the World Series, with an implied win probability of 65%, and noted that I would move the Astros to a +113 underdog (implied 47%) with a Game 1 loss.
Down 0-1 in the World Series, I will consider betting a series price closer to +125 (implied 44.4%) on Houston, which represents a 2.6% value gap from my projection.
I would need to see a number closer to +100 (implied 50%) to bet the Nationals at a three percent edge.
Below, you will find my updated projection for purposes of betting the exact series result, including the actionable odds (all set at a two percent expected edge) that I would need to see to place a bet out that outcome:
Model Projected Odds: World Series Game 2
Favorite Bets
I projected the Astros as a -147 favorite in this game, and I set the total at 7.16 runs. Therefore, I see slight value on the Nationals moneyline, but no value on the total. 
At listed odds of +157 (implied 38.9%), I see a 1.6% gap in expected value from my projection at +147 (implied 40.5%).
I would play the Nationals down to +165 (implied 37.7%), just under a three percent gap in expected value.
Similarly, I would play the Nats on the F5 moneyline and set the cutoff price at +153 (implied 39.6%) – which represents a three percent gap in expected value from my projection.
I put a half unit on the Nationals' moneyline at +165 and will look to play their F5 moneyline and F5 spread as I did before Game 1.
How would you rate this article?