World Series Predictions for Astros vs Phillies Game 5
Credit:
Elsa/Getty Images. Pictured: The Phillie Phanatic.
The Astros and Phillies meet in Game 5 of the World Series tonight.
Justin Verlander and Houston are favored, while underdog Philadelphia will start Noah Syndergaard.
Continue reading for our expert's projections and how he's betting all tonight's pivotal matchup.
Throughout the Major League Baseball playoffs, I will provide a daily breakdown summarizing my thoughts on both futures and individual games for that day.
Below, I will address how to handle betting on these playoff series, whether on the series moneyline or a game-by-game basis, while using my daily MLB Model projections.
You can find my projections for every MLB game in the Action Network App (on both the PRO Projections tab and the game pages) and our Projections Hub (which you can bookmark).
You can also shop for the best lines on our odds page.
Using my projections, where can we find actionable value for Thursday?
Series Moneyline Corner
First, let's take a look at my updated projection for the 2022 World Series:
The Astros' Game 4 victory provided the most dramatic swing (+21.6%) to the series odds. They flipped the one remaining game, where I made them an underdog.
Still, Game 5 in a 2-2 series is even more vital. Houston's World Series chances would improve to roughly 83% with a win or decrease to 34% with a loss, headed home for Games 6 and 7.
If you don't have a bet on the series price and are looking to get involved, I would bet the Phillies at +177 (36.1% implied) or better. DraftKings is currently dealing +175, which is just out of range.
The best available price on the Astros (-180 at FanDuel) is a -EV bet. Still, I mentioned before Game 4 that this would be the last ideal spot to hedge against Phillies futures.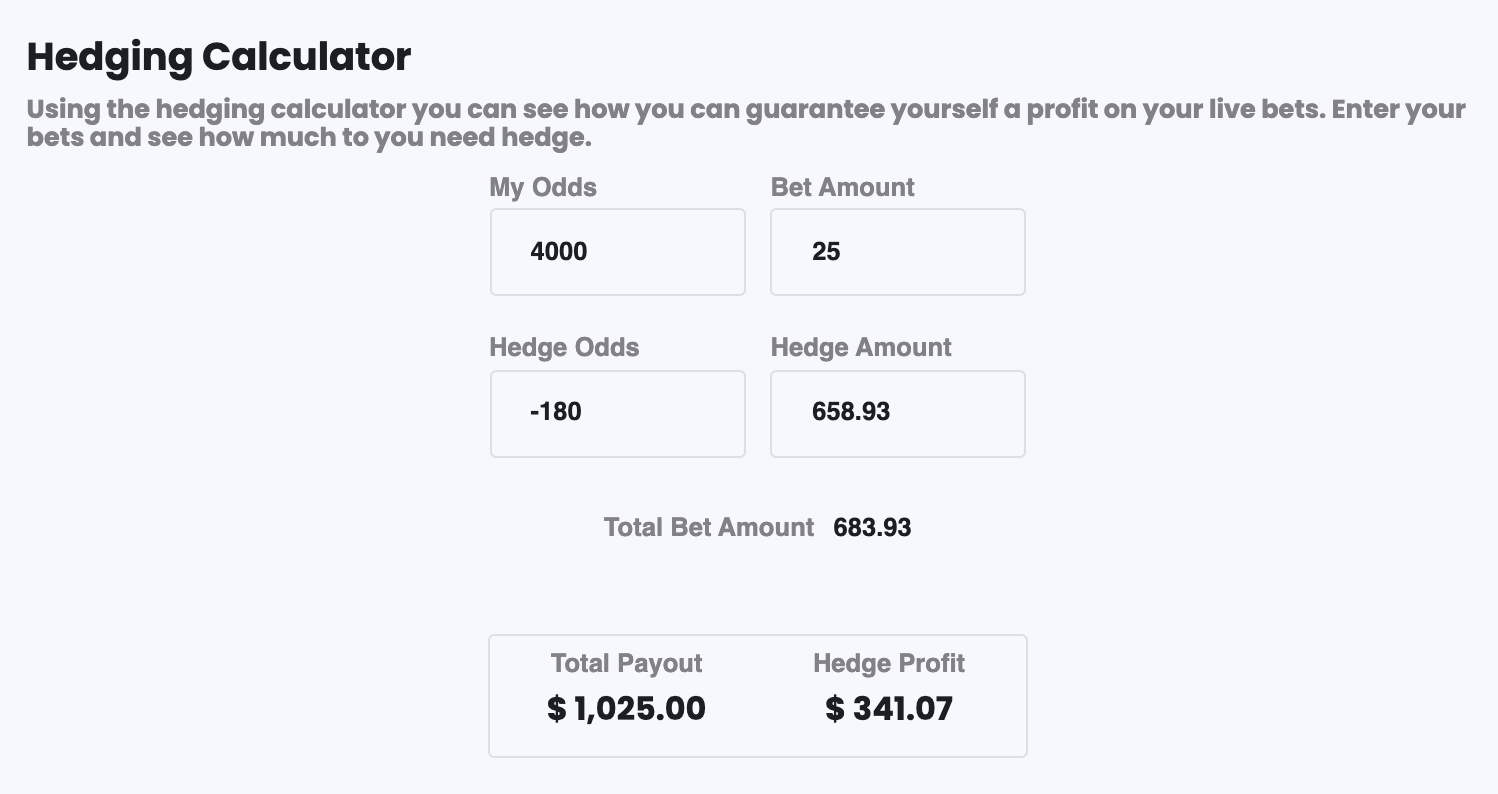 You're still getting a similar price to what was available before Game 1. But the Phillies are now in a potentially worse spot in a three-game series, with two road games and just one remaining start from their two aces.
To reiterate my previous intention, I'm not hedging my ticket  At a quarter-unit investment, it's 10 units of potential profit, not life-changing money.
Still, if locking in a profit would change your life in a meaningful way, this is the correct spot to hedge, not when the line is either -400 or +200 before Game 6.
After losing World Series tickets with the Astros (+2000) and the Rays (+2200) the past two seasons, we are more than due to cash a longshot future.
Astros vs. Phillies, 8:03 p.m. ET
Justin Verlander vs. Noah Syndergaard (full projections here)
Starting Pitching
The Phillies will likely use Noah Syndergaard as they did in the NLDS against the Braves; to turn over the opposing lineup one to one and a half times before playing matchups with a mostly rested bullpen.
Syndergaard offers drastic righty/lefty splits; you don't want him facing Kyle Tucker or Yordan Alvarez once, let alone twice, but he's serviceable against right-handed hitters (3.84 xFIP).
Syndergaard was no longer Thor this season. He's lost more than 3.5 mph off his fastball compared to peak levels. In turn, his whiff rates have dipped, and his strikeout rate plummeted by about eight percent.
The Phillies tinkered with his pitch mix after the trade deadline; eliminating his four-seamer and having Syndergaard focus on a sinker/slider mix (with an occasional curveball) to righties while re-allocating the majority of his slider usage to changeups against lefties.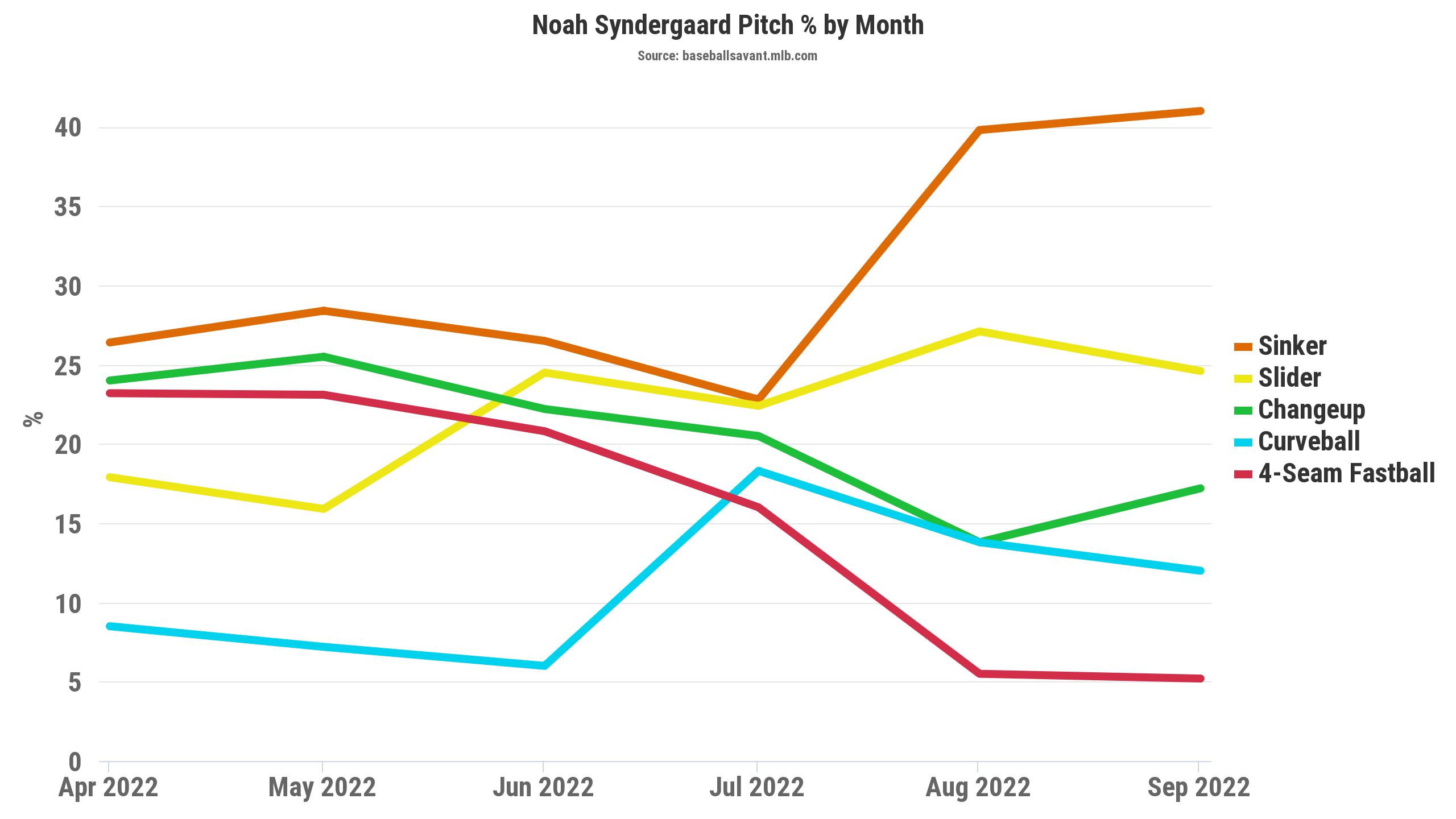 He's pitched three times this postseason and relied most heavily on his sinker and curveball in those outings.
How long he sticks around on Thursday depends upon game flow. Syndergaard can turn over the lineup once, face Jose Altuve and Jeremy Pena again, and then leave before facing Yordan Alvarez a second time. Alternatively, he may walk Alvarez and face Alex Bregman a second time before departing.
Justin Verlander may have stayed in a touch too long in Game 1. Overall, it was a poor outing (5 IP, 6 H, 5 R, 2 BB, 5 K) from the likely AL Cy Young winner. Verlander allowed eight hard-hit balls, and the Phillies only whiffed once against his two breaking balls.
Still, he was entirely in command of that outing (perfect through three innings) until the wheels came off completely.
Before Game 1, I mentioned a few critical points about Verlander's career and 2022 campaign:
He consistently posts a low BABIP and home run rate, with a high strand rate, but outlier marks across all three categories in 2022 led to a career-best ERA.
Underlying metrics — like called and swinging strike rates — indicate coming regression, despite returning with a similar pitch mix, velocity and overall results in 2022 as he had during his last entire season (identical 2.66 xERA in 2019).
His slider usage is tilted heavily toward righties, with an even split on the breaking ball usage against lefties.
Verlander opted for the curve (19) more often than the slider (12) in Game 1, and the latter was responsible for three key hits in the fourth and fifth innings.
Despite sitting at his velocity baseline, the fastball usage (59, 66%) was Verlander's highest percentage since 2018. Consequently, he threw the slider (13%) as infrequently as he has over the same timeframe: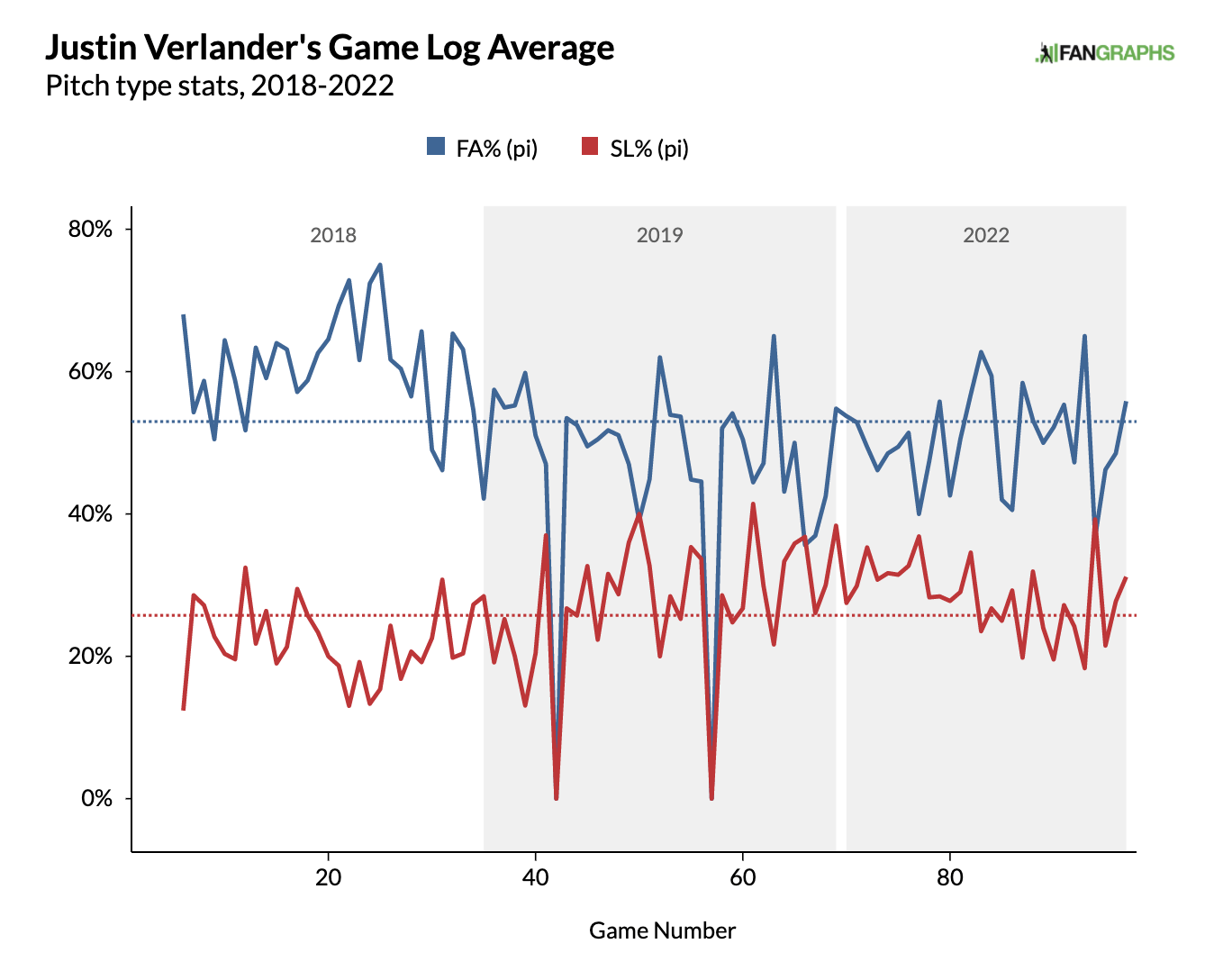 I'll be curious to see if Verlander changes his pitch mix for Game 5. The Phillies had an above-average offense against all three pitch types but ranked slightly better against the curveball (7th) than fastballs or sliders (11th vs. both pitch types).
Moreover, I wonder if Dusty Baker will have a quicker hook — with a mostly rested bullpen in a pivotal Game 5 — for a generational pitcher who is an unbelievable 0-6 in eight World Series starts (6.07 ERA, 1.33 WHIP).
Lineups and Defense
Below are my projected lineups for Game 5, alongside their 2022 splits and defensive runs saved per 9 innings:
Both teams remain in their lesser split against righties, which slightly favors the Phillies' offense in late-season splits (Houston rated as an average team against righties after the trade deadline).
The Phillies' lineup has remained stable against right-handed pitchers throughout the playoffs.
The Astros have continued to juggle a couple of spots in their lineup.
Christian Vazquez started in place of Martin Maldonado on Wednesday. Typically, Vazquez pinch hits for Maldonado when the Astros fall behind, but he has started one game in each playoff series.
I'd expect to see Maldonado back in Thursday's starting lineup.
Aledmys Diaz got the start in left field in Game 4. (0-for-4, 3 K), so you can assume that Trey Mancini or David Hensley will DH (with Alvarez in left field) for Game 5.
Maldonado (in addition to usual suspects Altuve and Alvarez) stands out against Syndergaard's sinker. Still, I can't recommend betting Maldonado props. He may only face the starting pitcher once, and the Astros would pinch-hit for him if they fall behind.
On the Phillies' side, I bet player props on Rhys Hoskins and Bryson Stott against Verlander in Game 1. Hoskins excels against the fastball/slider mix that Verlander relies on against righties.
Stott destroyed curveballs, which Verlander likes to use more frequently against lefties, but he's been terrible against the fastball this season.
Harper and Realmuto are their best fastball hitters on a per-pitch basis, and Harper is also the best slider-hitter on the team, but Hoskins will come at a discount in the prop market.
---
FanDuel Odds Boost: Both Eagles & Phillies to Win
---
Bullpens
Houston's key relievers — Bryan Abreu, Rafael Montero and Ryan Pressly — all pitched on Wednesday, but none threw more than 19 pitches, and each should be available and finely tuned for Game 5.
The trio has pitched a significant portion of Houston's high-leverage relief innings in this series. Still, with multiple days off between appearances — thanks to a rainout and a blowout loss — they have had sufficient recovery time.
The Phillies used five relief pitchers the day before a bullpen game. Andrew Bellatii (nine pitches) appeared for the second consecutive day.
The Astros' bullpen gives them the advantage in the late innings. However, the projection gap (2.96 to 3.54 Model Weighted ERA) is still less significant than the differential between the starting pitchers.
Venue and Umpire
Citizens Bank Park is a hitters park and plays about six percent above the MLB average run-scoring environment under normal conditions.
With temperatures in the high 50s on Thursday, the park should play closer to league average on Thursday.
The Game 5 plate umpire is Jordan Baker, who owns a career 53.7% record to the under (154-133-17).
Per UmpScorecards, Baker rates 27th out of 98 qualified umpires (min. 10 games) in call accuracy (94.2%) over the past two seasons.
Projection and Pick
I projected the Astros as 59% favorites (-144 implied) for the first five innings (F5) on Thursday and as 56.7% favorites (-131 implied) for Game 5.
The Phillies' full-game moneyline is actionable at +142 (41.3% implied) or better, at a two percent edge compared to my number. I don't see value in their F5 moneyline, but you can look to add a live bet on the Phillies when Syndergaard exits around the fourth inning.
Concerning the total, you can bet an Under 7.5 to -110 (projected 6.99) or look to bet a Live Under 9.5 or 9 if either starter allows early runs. Both managers should be aggressive with relatively well-rested bullpens.
I don't see value on either side of the F5 total (projected 3.69).
Bets for November 3
Under 7.5 (-110, 0.5 at Caesars), bet to -110
How would you rate this article?
This site contains commercial content. We may be compensated for the links provided on this page. The content on this page is for informational purposes only. Action Network makes no representation or warranty as to the accuracy of the information given or the outcome of any game or event.