Cardinals vs. Cubs MLB Odds, Pick & Preview: Back Wainwright to Dominate at Wrigley (Sunday, June 5)
Credit:
Mark Brown/Getty Images. Pictured: Adam Wainwright
The Cubs host the Cardinals on Sunday night baseball.
It's always special when these two teams face off and having Adam Wainwright start for the Cardinals adds even more intrigue to the matchup.
Tanner McGrath breaks down the game and shares a pair of best bets below.
Cardinals vs. Cubs Odds
It's always a little different when the Cardinals and Cubs suit up at Wrigley Field — especially on Sunday Night Baseball.
The first meeting between the Cards and Cubs came on April 12, 1892 and the Cubs lead the all-time series 1,253 to 1,196 since that all-important game.
Recently, it's been all Cardinals as the Cubbies are in the middle of a deep rebuild. However, it's certainly worth mentioning Chicago has stolen four of the past five games from St. Louis.
The wind is projected to be blowing at seven to eight MPH straight toward home plate on Sunday evening. We also get a treat with St. Louis stalwart Adam Wainwright taking the mound for the 435th time in his Cardinals career.
Where does the value lie?
St. Louis Cardinals: Offense Carrying the Load
Over the past decade the Cardinals have been heralded for their defense. Five separate Cardinals — from Harrison Bader to Tommy Edman to Nolan Arenado — won a Gold Glove last season.
It's one of the reasons why Cardinals' pitchers tend to overperform their expected statistics.
St. Louis has been nothing more than average in the field this season, ranking 11th in both OAA (+2) and DRS (+15).
Add that on to a very suspect bullpen and there are plenty of questions surrounding St. Louis. Giovanny Gallegos — who I was very high on entering the season — has been alright (3.89 ERA, 2.72 FIP). But the rest of the bullpen is filled with questionable control. The Cards' relievers are walking the sixth-most batters in baseball over the past 30 days (4.0 BB/9).
Instead, it's been a deadly lineup that has carried the Cardinals to an overachieving 30-23 record (STL is just two games back of Milwaukee in the NL Central and 1.5 games up in the Wild Card race). The Cardinals' win total closed at about 85 and they're on pace to win 91 games.
The Cardinals are ninth in wRC+ (109) this season and fifth in OBP (.323). The former stat is more encompassing, but the latter is more important for understanding the Cardinals.
St. Louis doesn't hit the ball hard. The Cardinals are second-to-last in hard-hit rate this season (34.8%), posting a mark that only beats the Tigers (33.8%). But, they have also posted the second-lowest strikeout rate this season (19%) and the fourth-highest chase contact rate (61.2%).
All-in-all, you're not going to blow past these Cardinals. They're going to win the war of attrition.
The one guy who will continue to hit the ball hard is Paul Goldschmidt and he's working on a 25-game hit streak. He has a 1.351 OPS with 10 home runs and 14 doubles during the streak, obviously attesting to his hard-hitting bat.
However, even his exit velocities are down!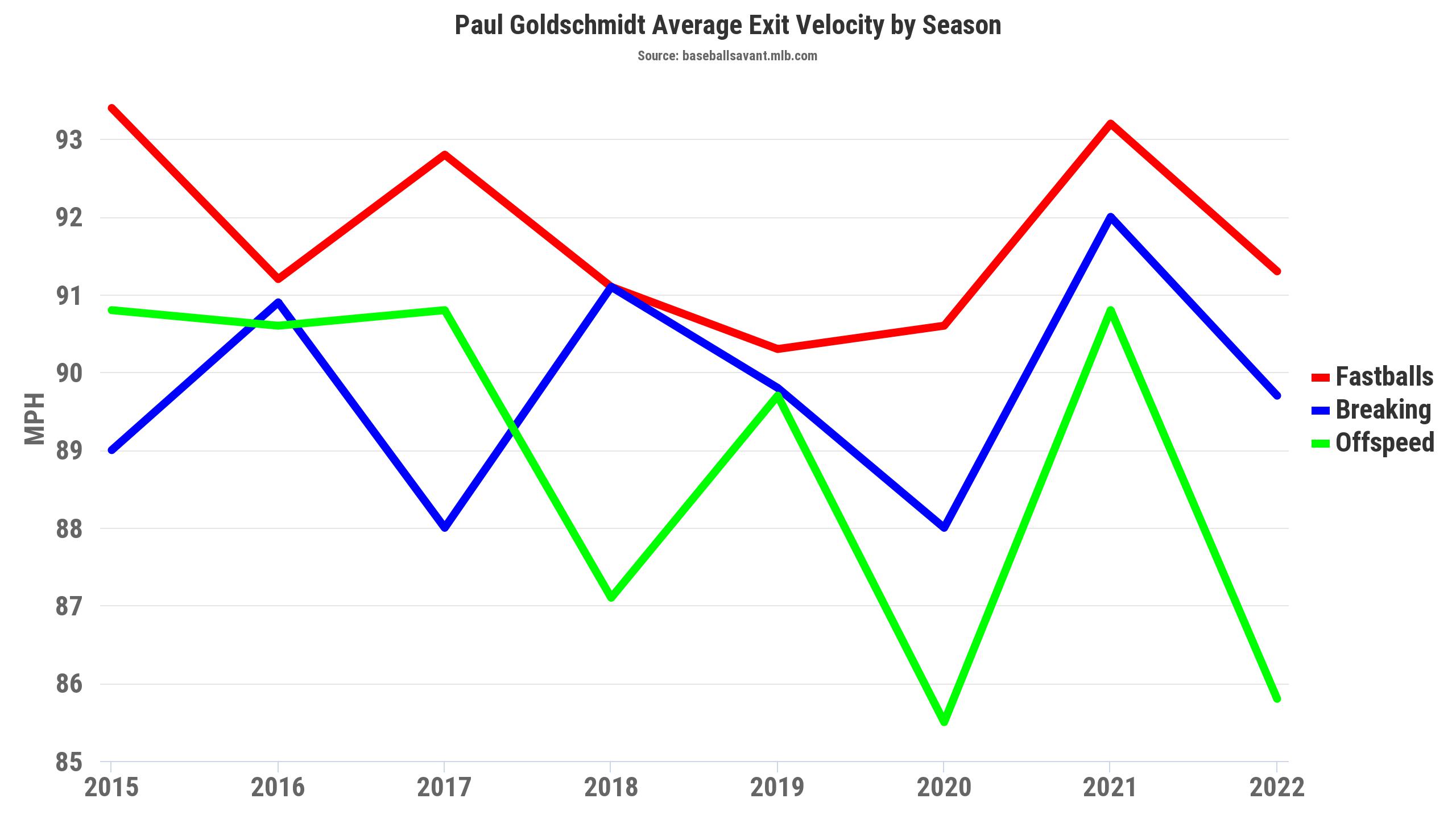 Image credit: Baseball Savant
Goldschmidt's BABIP is an impossibly high .401 this season and his plate discipline hasn't been any better (if anything, it's been worse, as his CSW% is up two ticks). There's regression looming for Goldschmidt.
But Nolan Arenado (149 OPS+), Tommy Edman (123 OPS+) and the arrival of Nolan Gorman (3 HR, 10 RBI, 1.133 OPS in 11 games) will stem the Goldschmidt tide and keep the Cardinals afloat.

Starting pitcher: Adam Wainwright (RHP)
It's always worth repeating that Uncle Charlie was drafted into professional baseball the same year Tom Brady was drafted by the NFL.
That's how long Waino has been doing this. He's now three months away from his 40th birthday and has a 2.75 ERA through 59 innings over 10 starts this season.
Wainwright is the model of consistency for pitchers in today's MLB. He's gone seven innings deep in three of his past five starts and the Redbirds won four of those games.
And somehow, just like Brady, Wainwright continues to just get better.
Adam Wainwright ERA by season since turning 35 years old

2017: 5.11 ERA (age 35)
2018: 4.46 ERA (age 36) 📉
2019: 4.19 ERA (age 37) 📉
2020: 3.15 ERA (age 38) 📉
2021: 3.05 ERA (age 39) 📉
2022: 2.75 ERA (age 40) 📉 pic.twitter.com/2sgitOtxdX

— Danny Vietti (@DannyVietti) June 1, 2022
Wainwright's walks are up this season, but it's not overly concerning. It has raised his xFIP close to 4.00, indicating potential negative regression.
But Waino will continue to do what he does. He'll throw the curveball, pitch to contact and limit hard-hit balls, thereby keeping his BABIP down (.275 in 2022, .294 career).
In fact, his 29.8% hard-hit rate ranks in the 89th percentile of qualified pitchers this season.
Wainwright pitched 15 innings over two starts against the Cubs in 2021. He allowed one run on seven hits and one walk while striking out 12.
Good luck, Cubbies.
---
Chicago Cubs: Starters Continue to Struggle
Seiya Suzuki hit his low point in terms of OPS on May 24, at .770. He went 2-for-5 in the two games after that to get that number back up to .775, but then landed himself on the 10-day IL after hitting his finger in the batting cages.
I was all in on the Suzuki train entering the season. I thought his 5-to-1 odds to win NL ROY was a lock. He posted a 1.090 OPS with a 14:19 BB/K ratio over his first 20 games, seemingly proving me right.
But, as we all know, it's never that easy.
In the 23 games since, Suzuki is slashing .183/.253/.293 for a solid .545 OPS. He's managed seven doubles during that stretch, but all I keep looking at is this: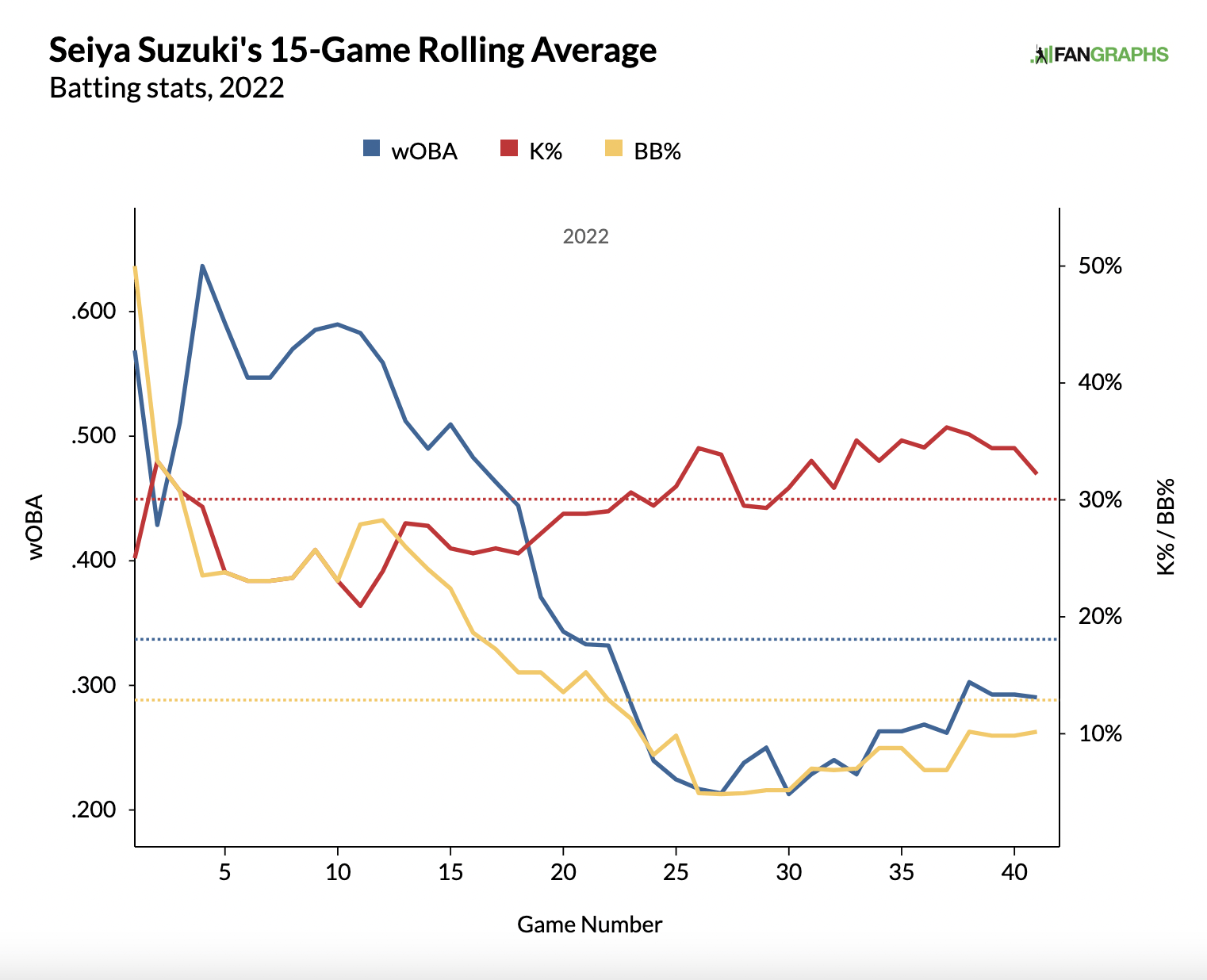 Image credit: FanGraphs
That preternatural plate discipline Suzuki showed in the NPB and in the first month of his MLB career has seemingly vanished. He's struck out in 30 of his past 91 PAs and he's walked just eight times since.
After already counting my money for Suzuki to win NL ROY, I'm now looking over my shoulder at O'Neil Cruz, who has a home run in his first two games in a Pirates' uniform.
The Cubs haven't really suffered without Suzuki in the lineup, holding a 103 wRC+ over the past month. But Chicago is just a bad team, unable to win games on a consistent basis with the rebuilding roster they've put together.
It's the starting pitching's fault. The Cubs are 24th in starting pitcher ERA (4.80) and 26th in FIP (4.55). Marcus Stroman has become the team's de-facto ace with his 5.22 ERA and Kyle Hendricks now has an ERA north of 5.00 after a relatively hot start.
Interestingly, the Cubs lead MLB in reliever xFIP (3.34). They've been unlucky it seems, as the Cubs are also 15th in reliever FIP (3.93).
But the Cubs relievers performing well doesn't do much when they never have a lead to protect.
Let's look at another unreliable starting pitcher in Chicago.

Starting pitcher: Justin Steele (LHP)
For all his faults, it is worth mentioning Justin Steele is due for plenty of regression.
He pairs his 5.40 ERA with a 3.46 xERA and a 3.22 FIP. His .342 BABIP is sure to come down, as he's one of the best pitchers in the league at avoiding barrels (1.8%, 97th percentile).
Steele also strikes out over 10 batters per nine innings with a fastball that has some serious spin on it.
However, he also walks close to 13% of the batters he faces. That's over five per nine innings pitched. Because of that, he's posted an astronomical 1.58 WHIP this season and can barely get out of the fourth inning.
It took him 53 pitches to get through two innings against Cincinnati and 102 to get through five against Milwaukee. He gave up a combined 10 runs in the two appearances.
Luckily, the Cubs bullpen seems to be the strength of the team. So, maybe this is a blessing in disguise.
It looks like Steele is transitioning into a pure fastball-slider pitcher in his second year in the league. It's a small sample size, but his usage of the two pitches is up tremendously.
Image credit: Baseball Savant
The Cardinals are the third-best fastball hitting team in the league so far (27.3 weighted fastball runs created), but are average against sliders (-2.9 weighted slider runs created). Luckily, Steele's fastball has produced a +5 Run Value so far this season.
Cardinals-Cubs Pick
I'm not betting against the Redbirds in a Wainwright start — especially against the Cubs, where he's been so thoroughly dominant over the past two seasons.
Meanwhile, look for the Cardinals to tee off on Steele's fastball and hopefully take advantage of a thin bullpen, given Steele's short expected start.
Meanwhile, I'm expecting Wainwright to give serious length in this one, allowing us to stay away from the Cardinals' crazy bullpen.
Plus, although Wainwright doesn't strike many guys out, I would target his strikeout total on Sunday night. The Cubs strike out at a top-10 rate against RHPs and Waino will get six or seven innings to strike out five or six cubs.
Look to target the Cardinals at anything better than -140 and Waino's strikeout total at anything better than 5.5 (-120).
Pick: Cardinals ML (-135 at DraftKings | Play to -140)
Lean: Adam Wainwright over strikeouts (Look for 5.5 or better)

How would you rate this article?
This site contains commercial content. We may be compensated for the links provided on this page. The content on this page is for informational purposes only. Action Network makes no representation or warranty as to the accuracy of the information given or the outcome of any game or event.