Zerillo's Dodgers vs. Mets Betting Guide: Can Syndergaard Outpitch Kershaw at Home?
Credit:
USA TODAY Sports. Pictured: Los Angeles Dodgers pitcher Clayton Kershaw (22), New York Mets pitcher Noah Syndergaard (34).
Betting Odds: Los Angeles Dodgers vs. New York Mets
Probable starters: Clayton Kershaw (13-5, 3.06 ERA) vs. Noah Syndergaard (10-7, 4.06 ERA)
Dodgers odds:  -135
Mets odds: +115
Over/Under:  7.5
First pitch: 7:10 p.m. ET
Odds above as of 2:00 p.m. ET and via PointsBet
After a four-game sweep over the Arizona Diamondbacks, the New York Mets have pulled even with the Philadelphia Phillies for fourth place in the National League Wild Card race; each two games behind the Brewers and Cubs, who are tied for the final NL playoff spot.
Meanwhile, the Dodgers have already clinched the NL West, are four games clear of the Atlanta Braves for home field throughout the NL playoffs, and are two games behind the Yankees for home-field throughout the MLB postseason.
Can the Mets' offense continue to stay hot against the best pitcher of this era?
The Starters
I discussed Kershaw before the Aug. 25 edition of Sunday Night Baseball, and talked about Syndergaard's advanced metrics on Sept. 3 so I'll try not to rehash all of that information.
Of note, Kershaw has lost fastball velocity in recent seasons and has thrown the pitch less frequently as a result — but his slider has retained its velocity and become a more significant part of his arsenal.
Both of those pitches are historically great, and Kershaw now throws the slider more often than he throws the fastball:
After peaking from 2014-2016, Kershaw has regressed towards league average: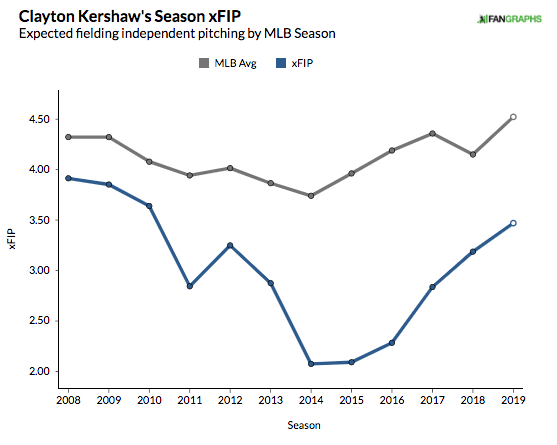 After his strikeout minus walk rate peaked at over 29% in 2015 and 2016, it has dipped by more than 8% since.
Noah Syndergaard has experienced a similar decline in FIP and strikeout minus walk rate in the past few seasons: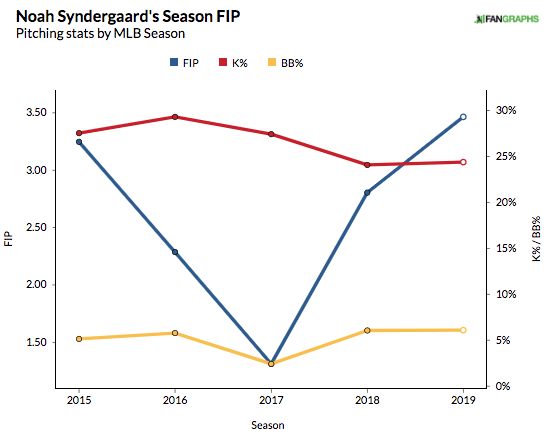 He's mentioned that he feels, "unathletic" on the mound, and recently lobbied for a personal catcher; as he isn't comfortable throwing to Wilson Ramos.
Per ESPN, Syndergaard has a 5.09 ERA in 15 starts with Ramos as his catcher, and a 2.22 ERA with Thomas Nido or Rene Rivera behind the dish.
He isn't a free agent after the 2022 season, but it seems increasingly likely that the Mets will look to trade Thor during this offseason.
His skills are declining, and he hasn't seemed content as a Met for some time.
The Dodgers also rank first in MLB in defensive runs saved, while the Mets rank near the bottom of the league; which could explain why Syndergaard has underperformed his FIP, and why Kershaw has overperformed.
The Bullpens
Since the All-Star break, the Dodgers rank fourth in FIP, third in xFIP, and third in K-BB%. By the same metrics, the Mets rank 10th, seventh, and seventh.
Jeurys Familia and Justin Wilson have each pitched three times this week for the Mets, but all of their key relievers should be available on Friday.
Meanwhile, the Dodgers come into tonight significantly more banged up after Rich Hill was lifted in the first inning on Thursday. Only Josh Sborz and Casey Sadler have not pitched in the past two days.
Yimi Garcia has thrown five times this week, and I'm sure the Dodgers would prefer to save bullets from Pedro Baez, Joe Kelly, and Kenley Jansen for the playoffs.
The Mets are more well-rested coming into tonight, affording Mickey Callaway the opportunity to have a quicker hook with his starter.
The Dodgers will be looking for a long outing from Kershaw.
Trends to Know
As of writing, the game fits the following system for contrarian unders:
More than 65% of tickets and 70% of the cash are behind the over, and yet the game total has ticked down from 8 to 7.5
Favorite Bet
I projected the Mets as a +107 underdog in this game, so see slight line value on their side, and I set the over/under at 7.1, so I still see slight value on the total too. 
Typically in a game involving ace-level pitchers, I expect money to come in on the under; but with increased public action on a Friday night, and the Mets offense surging as of late, the public is clearly backing the over.
I liked the under much more at 8, as opposed to 7.5, but I think that that's clearly the best option for betting tonight's game.
The Pick: Under 7.5
How would you rate this article?