Dodgers vs Padres Prediction Today | MLB Odds, Picks for Sunday, August 6
Credit:
Via Mark Cunningham/Getty Images. Pictured: Juan Soto #22 of the San Diego Padres looks on while batting during the game against the Detroit Tigers at Comerica Park on July 23, 2023 in Detroit, Michigan. The Tigers defeated the Padres 3 to 1.
Looking to bet Monday's game between the Dodgers and Padres? You can find BJ Cunningham's Dodgers vs. Padres prediction here.
---
Dodgers vs. Padres Odds
Dodgers Odds
Moneyline
Total
Run Line
-122

9.5

-102 / -120

-1.5

+132
Padres Odds
Moneyline
Total
Run Line

+104

9.5

-1o2 / -120

+1.5

-160

The Dodgers and Padres have flooded baseball's subconscious for over a year. Ever since the Juan Soto deal went down, this rivalry has been the talk of the town.
Yet, we're here on August 6, and the Dodgers and Padres are starting Lance Lynn and Rich Hill during a crucial inter-divisional tilt on Sunday Night Baseball.
I'm overreacting. Superstars are still aplenty in each lineup. The Dodgers are leading the NL West, while the Padres are making a late-season playoff push.
The rivalry is strong.
These two split the series' first two games, setting up this nationally televised rubber match at PetCo Park.
Read on for my best bet and prediction for Dodgers vs. Padres on Sunday Night Baseball.
---
It's almost as if when you have Mookie Betts and Freddie Freeman, nothing else matters.
The Dodgers' top two hitters are driving the success of the club. Freeman has a 169 wRC+, Mookie has a 158 wRC+, and the two have combined for 10.8 fWAR this year.
But the Dodgers always find production where you least expect it.
J.D. Martinez and James Outman are good examples. The Dodgers coaching staff reinvigorated the old guy's career while simultaneously developing the rookie at an advanced pace.
Another example: Max Muncy and Will Smith have combined for 41 home runs this year.
I'm sure the Dodgers will figure out how to coax production from Amed Rosario. The shortstop from Cleveland is having his worst season ever (as far as fWAR goes, as he sits with 0.1), but this is what the Dodgers do.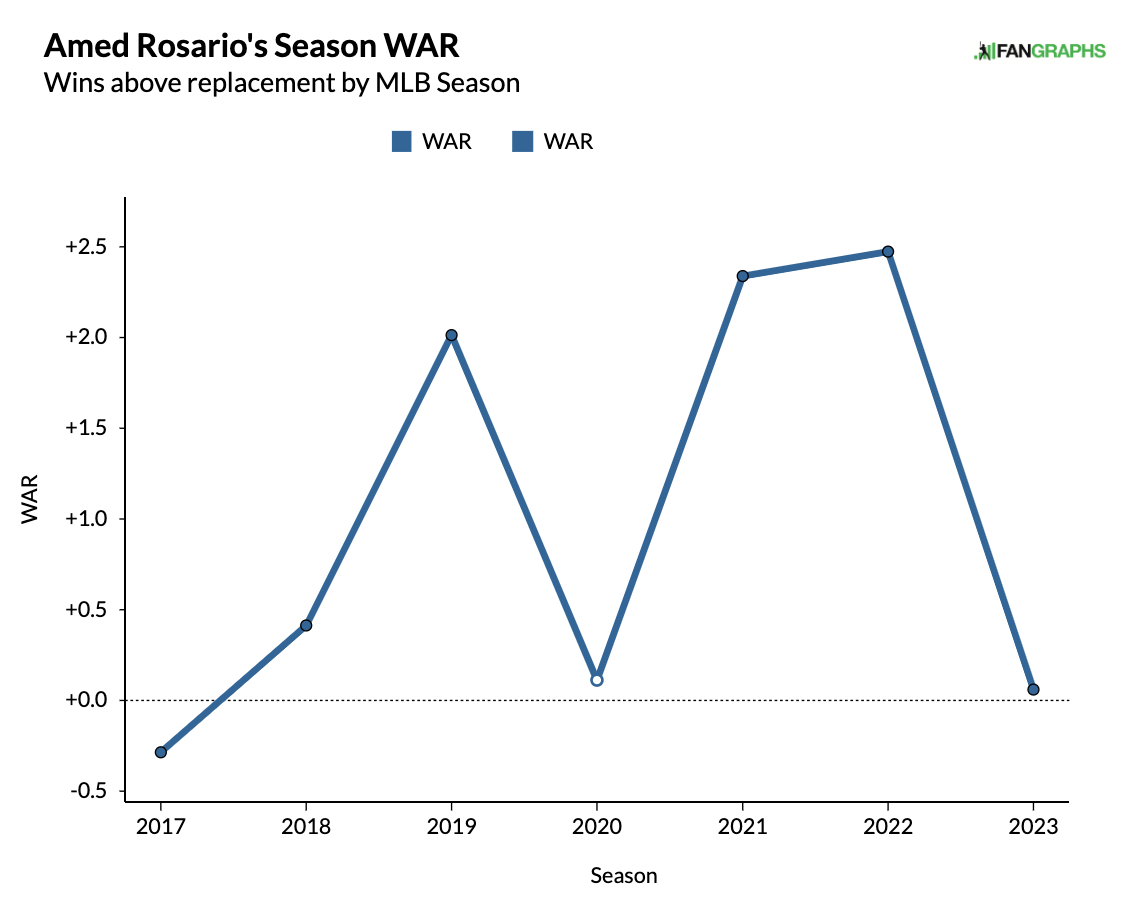 They've already begun to find production from Kiké Hernandez, who was traded back to the Dodgers after a wild two-and-a-half season stint with the Red Sox.
Kiké Hernandez is hitting .333 with 3 XBH & 4 RBI since re-joining the Dodgers

— Blake Harris (@BlakeHHarris) August 4, 2023
The Dodgers find production up and down the lineup. It's been needed, given the Dodgers have been short-armed on the mound all season.
The Dodgers have gotten zero innings from Blake Treinen, Alex Reyes, J.P. Feyereisen and Walker Buehler. They've got three from Daniel Hudson.  Julio Urias, Dusty May and Clayton Kershaw have been back and forth on the IL all season.
This bullpen is a mess. Yency Almonte and Caleb Ferguson gave up seven runs in the bottom of the eighth last night to blow the game. It's been the same story all season.
But, as the Dodgers do, they've found production in the unlikeliest place. Ryan Brasier has a 0.95 ERA in 18 appearances since joining L.A. He was DFA'd by the Red Sox (notice a trend here?).
Dodgers Starting Pitcher: Lance Lynn (RHP)
You know what you're getting with Lance Lynn.
He's got a three-fastball arsenal that can be disgusting when he's missing bats in the zone. He's currently missing bats in the zone, so he has one of the league's highest Strikeout Rates over the past six weeks.
However, we also know Lynn struggles if one of his fastballs misses a spot or catches too much of the plate. So, when a Major League fastball hitter squares one up, it's usually out of the park.
Lynn's allowed a .513 Slugging Percentage against on his four-seam, .553 on his cutter and .432 on his sinker. He's allowed 31 home runs in 126 2/3 innings pitched this year, fueling his 6.32 ERA.
You have to assume that some positive regression is coming. Lynn's HR/FB rate is north of 20%, which would be a career high and 10% above his career average. His xERA is below 5.00, and his xFIP is approaching 4.00.
Knowing the Dodgers, they'll probably fix Lynn's long-ball problem – perhaps upping the use of a secondary pitch.
He used more curveballs and fewer cutters in his first start as a Dodger, but he still allowed three solo shots to the A's while inducing 16 Whiffs.
Same old Lynn.
It's also worth mentioning that Dodger Stadium has the second-highest Home Run Factor in MLB, only behind Great American Ball Park. This will be an uphill battle for Lynn against the Padres.
---
I think the Padres are wildly undervalued right now.
They're 0-10 in extra-inning games and 6-18 in one-run games. They sit three games behind the third NL Wild Card spot but have the best Run Differential of any NL Wild Card-chasing team (+75). Their Pythagorean Win-Loss record (63-48) would put them two games behind the Dodgers.
Yeah, these Padres had a rough go in the first half. They also had a sub-.200 average with RISP through mid-June. They've scored the third-most runs with RISP in the games since (167).
The Padres have been unlucky, and that tide is turning.
Meanwhile, the team is coming together nicely.
Now that Manny Machado has solved his slump, San Diego's "core four" hitters all have an above-average OPS. Meanwhile, Blake Snell has turned into a legit Cy Young contender at the top of the rotation, while Josh Hader quietly has a 0.89 ERA and 26 saves.
But, surprisingly, Ha-Seong Kim is the team's best player.
Kim leads the league in bWAR this year (5.6) after finishing second on the team in bWAR in 2022 (5.0). He's a rock-solid defensive presence on the infield (94th percentile OAA) and keeps his OBP up because of a good eye (13% Walk Rate). He's also speedy (82nd percentile in Sprint Speed) and shows up for every game (150 games played last year, 106 this year).
Kim is working on an 11-game hitting streak and has been one of the league's best players since mid-June.
Ha-Seong Kim since June 15th:

179 PAs
.362/.453/.599
189 wRC+
13.4 BB%
14 K%
10 HR
13 SB

— Underdog MLB (@Underdog__MLB) August 5, 2023
The Padres are picking up the pieces, and it's starting to show. They're 7-3 over their past 10 games, with Baseball Prospectus's PECOTA standings projecting them with a 70% chance to make the postseason.
More positive regression is coming, and a deep October run is possible if they can survive Joe Musgrove's shoulder injury.
Padres Starting Pitcher: Rich Hill (LHP)
Here's the guy that's supposed to keep the Padres afloat until/if Musgrove returns.
At this point, what do we expect from Hill? He's 43 and can't break 90 mph with any pitch.
He's still a savvy veteran who sneaks his curveball and cutter inside the zone. As a result, he tends to overperform peripherals with craftiness. This year, he pairs a 4.76 ERA with a 5.60 xERA (8th percentile), a .281 xBA (8th percentile) and a .360 xwOBA (8th percentile)
Here's something funny: Hill's fastball velocity is up a tick in his past few starts.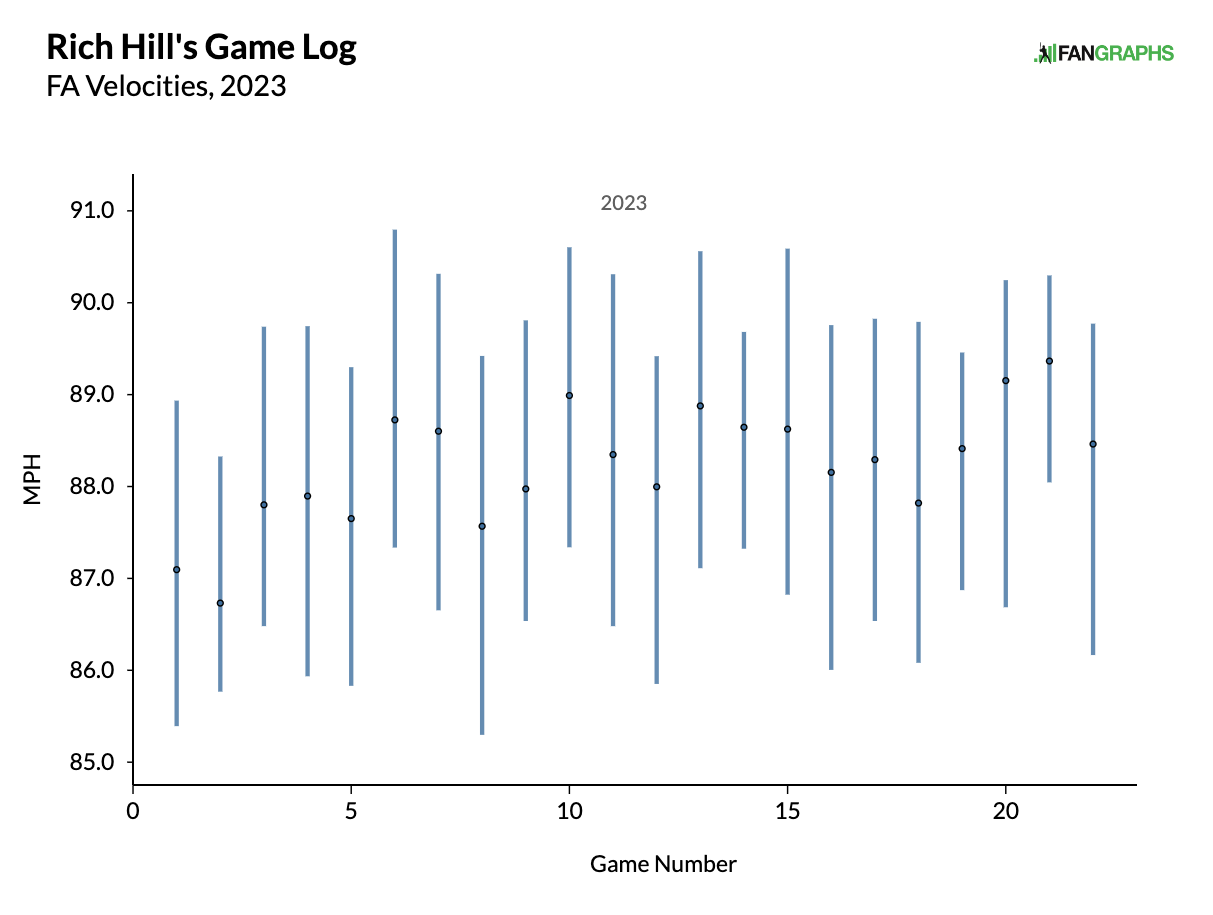 That's right. Old Man Rich is rearing back and reaching 89 mph on the four-seam. Slow down, pal. We don't need you pulling a hammy.
---
Dodgers vs. Padres Betting Pick
Over the past month, the Dodgers rank first in wRC+ (134), while the Padres rank fourth (122). These lineups are raking.
It'll be fascinating to watch the starting pitchers. How will these two old men handle two of the best offenses in the sport? Will we see a notable difference in their arsenal or strategy now that they're with a new team?
Ultimately, my handicap settled on a few significant points.
First, if you want to fade the Dodgers, do it against a lefty. They're always worse in that split.
Second, Hill is going to overperform while Lynn underperforms. While you expect everyone to regress toward their peripherals, these two pitchers feel like outliers.
Third, and finally, the Padres are undervalued, and I want to keep betting on them.
Also important to note, the Padres have a solid bullpen advantage on Sunday Night Baseball. The Dodgers' bullpen is still a mess, and they've used more of their higher-leverage guys throughout this series (Josh Hader hasn't pitched in five days!).
I can't stop, won't stop betting on San Diego. Not until I believe the market is adequately adjusting for their recent surge.
---
How would you rate this article?
This site contains commercial content. We may be compensated for the links provided on this page. The content on this page is for informational purposes only. Action Network makes no representation or warranty as to the accuracy of the information given or the outcome of any game or event.