FanDuel Dinger Tuesday Picks | Best Bets for Gunnar Henderson, Luis Robert Jr, More (June 20)
Credit:
Ronald Martinez/Getty Images. Pictured: Luis Robert Jr.
One of the most popular promotions in the sports betting community is back again this week: Dinger Tuesday from FanDuel.
The promotion allows each user to bet $25 on one player in every MLB game played that day to hit a home run. Regardless of whether the player you bet on homers, you receive $5 in free bets back for each home run hit in the game, with a max return of $25 for the game.
Some users have been limited by FanDuel this season and are only allowed to receive a maximum $50 back in free bets — essentially 10 free homers back for the day in free bets. Last season, there were no limits on the promotion for any players.
Given the average number of home runs in an MLB game in 2022 was 2.14, you will receive an average of $10.07 in free bets back for each $25 home run bet you make, without accounting for the loss in expected value on the vig of the home run yes prop.
If you're not limited at all, you should play as many games as you're comfortable with because the promo is +EV for most of the board.
If you are limited to the max return of $50, an average of five games will return your $50 maximum free bets.
Here are my five favorite Dinger Tuesday picks for this week.


Braves vs. Phillies, 6:40 p.m. ET
Pick: Trea Turner +600
There are some real concerns with Spencer Strider's drop in fastball velocity and spin rate in the last month. The results haven't been as good either. He throws in the middle of the zone and trusts his stuff, but when the stuff is down, he's a lot more vulnerable to homers than the market is suggesting with the game line and the projected home run lines for Phillies hitters.
Kyle Schwarber opened north of +300, which he maybe shouldn't ever be given that he's one of the best pure home run hitters in MLB. Now that Schwarber has been bet down to +285, I'm looking for other Phillies options.
Nick Castellanos might be worth a flier at +600, but he had a bad stomach virus all weekend and hasn't played since Friday night. Instead, I'm going to give Trea Turner a shot at +600. Turner has had a terrible season against fastballs, especially ones in the zone. His whiff rate on them is up six percent and he's slugging just .326.
It's why he's +600 on Tuesday, but the wind will be blowing out to left and Turner could capitalize on Strider's diminished fastball. Turner has improved his zone contact rate and overall results in June.
---


Orioles vs. Rays, 6:40 p.m. ET
Pick: Gunnar Henderson +500
Gunnar Henderson is in the midst of a breakout at the plate. He's cut his swing and miss and cut the strikeouts. He's done a much better job tapping into his power and now he gets a matchup with Tyler Glasnow, whose velocity isn't back to peak levels yet. Glasnow's results have been OK, but the Rays righty is more vulnerable than usual right now.
Glasnow has allowed at least 1.2 HR/9 in his MLB career, but the current version of Glasnow projects higher if he's sitting only 95-96 with his fastball. The rolling wOBA chart below shows where Henderson has really taken off and vaulted himself into the Rookie of the Year race.
With his plus power and a better matchup than the market suggests with this price, I'd bet +500 on Henderson.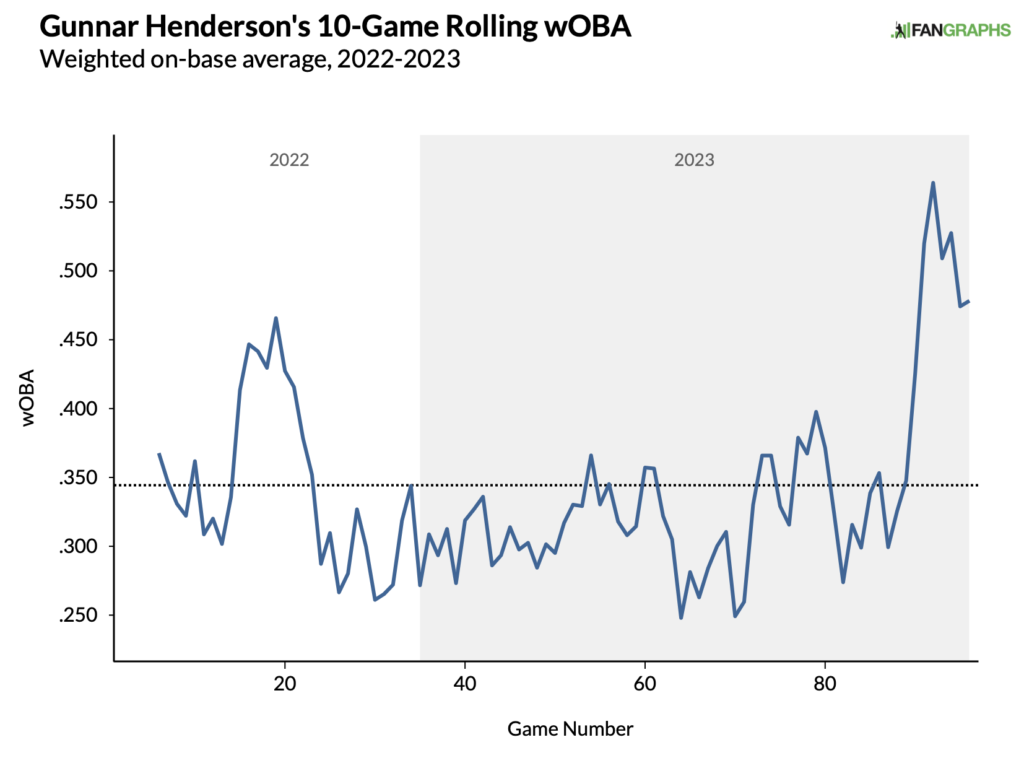 ---


Blue Jays vs. Marlins, 7:10 p.m. ET
Pick: Jorge Soler +340
Of all batters with at least 40 at-bats against lefties this season, only Luis Robert Jr. has a higher wRC+ than Jorge Soler. Soler and his near-career high 17.6% barrel rate gets a matchup with one of the most homer prone lefties in all of MLB. Yusei Kikuchi has always had excellent stuff but his lacking command has led to a home run problem (career 1.81 HR/9, 2.41 HR/9 in 2023).
Soler opened as high as +370 on Tuesday, but I'd bet him down to +300. The Marlins' lineup was historically bad against southpaws last season, but the career year from Soler and breakout from Bryan de La Cruz has led to them being a top five offense against southpaws in 2023.
Soler himself has a .333/.441/.860 slash line against southpaws with nine homers in 57 at-bats.
---


Rockies at Reds, 7:10 p.m. ET
Pick: Ryan McMahon +350
McMahon opened at +420 on Tuesday morning and has been bet down to the lowest price I'd still play him. There's a huge home run boost relative to the normal park average at Great American Ball Park on Tuesday night and lefties are set to get the majority of the benefit with the forecasted wind blowing out to right field.
McMahon has always been an extreme home and away splits hitter, but his improved hitting away from Coors Field has helped solidify his game-to-game production in 2023.
McMahon is striking out more than past seasons at 30%, but his spring training focus to pull more barrels and tap into his power has improved his contact quality and overall power output. McMahon homered twice on Sunday against Atlanta and has a career high barrel rate at 13.7%.
He's been a frequent member of this column, let's hope he doesn't hit two balls off the wall like he did last week.
---

Rangers vs. White Sox, 8:10 p.m. ET
Pick: Luis Robert Jr. +430
Like the game in Cincinnati, the hitting environment is especially good for left-handed bats on Tuesday night on the southside of Chicago. The market is onto this and moved Corey Seager from +420 this morning down to +340 as of writing on Tuesday afternoon.
The value in betting Seager against Dylan Cease is gone, but the drop of Rangers starter Nathan Eovaldi's fastball velocity makes him more vulnerable to homers going forward. Eovaldi has always had excellent strikeout to walk peripherals, but struggled with the homers in the past. Leaving Boston has helped a bit with that, as has his improved velocity.
His last two starts have seen some concerning indicators though. His fastball velocity was the two lowest readings of his entire season in the last two starts. Eovaldi has elite metrics this year and is getting Cy Young buzz, but the homers will return if he's sitting 94-95 going forward.
Luis Robert Jr. has power to all fields and has produced a career high in his barrel rate as well at 14.4%. Six of his 18 homers have gone to the opposite field too, so he can tap into the favorable wind conditions better than most righties.
---
How would you rate this article?
This site contains commercial content. We may be compensated for the links provided on this page. The content on this page is for informational purposes only. Action Network makes no representation or warranty as to the accuracy of the information given or the outcome of any game or event.