Mets vs Red Sox Odds, Prediction | Betting Picks for Sunday Night Baseball
Credit:
Photo by Brian Fluharty/Getty Images. Pictured: Justin Turner.
Mets vs. Red Sox Sunday Night Baseball Odds
Mets Odds
Moneyline
Total
Run Line

+124

10.5

-120 / -102

+1.5

-152
Red Sox Odds
Moneyline
Total
Run Line
-146

10.5

-120 / -102

-1.5

+126

The New York Mets and Boston Red Sox played a faux doubleheader on Saturday, finishing Friday's rainout (from the fourth inning onward) and then playing a traditional nine-inning game later in the evening.
They split those two, setting up a Sunday Night Baseball rubber match at Fenway Park.
After playing 15 innings yesterday, these bullpens are a tad stretched. That's a problem for the home side, as Boston is starting reliever Brennan Bernardino in a planned bullpen game.
Although they have a real starting pitcher, the Mets don't have it easy with Carlos Carrasco and his 5.35 ERA on the mound.
It should be a fun contest, the type of game that delays our Sunday Scaries for a few more hours.
Read on for my betting picks and best bets for Mets vs. Red Sox on ESPN Sunday Night Baseball.
---
The Mets are hitting the ball harder this year, checking in with the seventh-highest Average Exit Velocity (89.6 mph) and the 13th highest Hard-Hit Rate (40.9%). It's a welcome development for a team that's been softly slapping the ball the past few seasons.
Surprisingly, the Mets still have relatively solid plate discipline metrics. They still don't strike out a ton, pairing the fifth-highest Zone Contact Rate (84%) with the fifth-lowest Chase Rate (26.2%).
The Mets are producing more power without selling out for it, which is good.
However, you'd be surprised to hear that the Mets have an 80 wRC+ over the past two weeks. They're still an above-average offense on the year, but their production doesn't match their profile.
Is positive regression looming? Perhaps. The Mets have the second-lowest BABIP (.273), only ahead of the Yankees (teams from New York don't like to get hits).
Tommy Pham personifies this year's Mets. He's on pace to set career highs in multiple Statcast metrics yet is sustaining his double-digit Walk Rate (11.6%).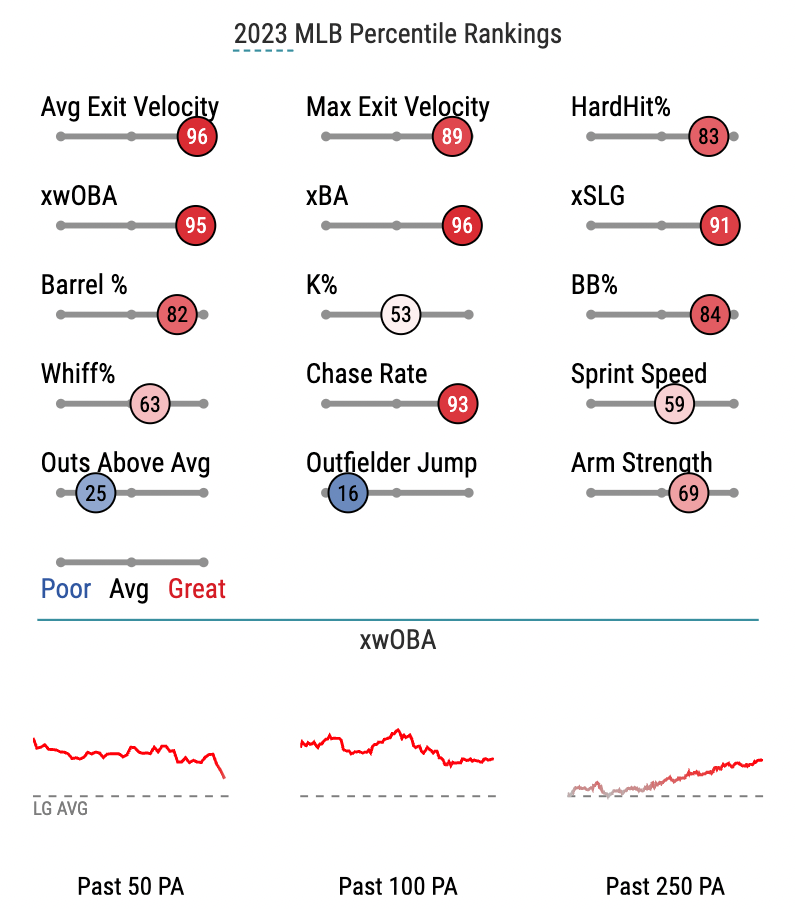 But Pham's wOBA lags behind his xwOBA by nearly 40 points. His 130 wRC+ is underselling his batted-ball profile.
On the other hand, the Mets are getting nothing from Jeff McNeil (1.6% Barrel Rate), and Pete Alonso is in a two-month slump (.611 OPS since the start of June).
The Alonso thing is curious. He does have a horrendous .161 BABIP during the slump, but his xwOBA is declining as quickly as his wOBA. He boasted a 45% Hard-Hit Rate and 29 Barrels through May 30 but has just a 33% Hard-Hit Rate and six barrels since.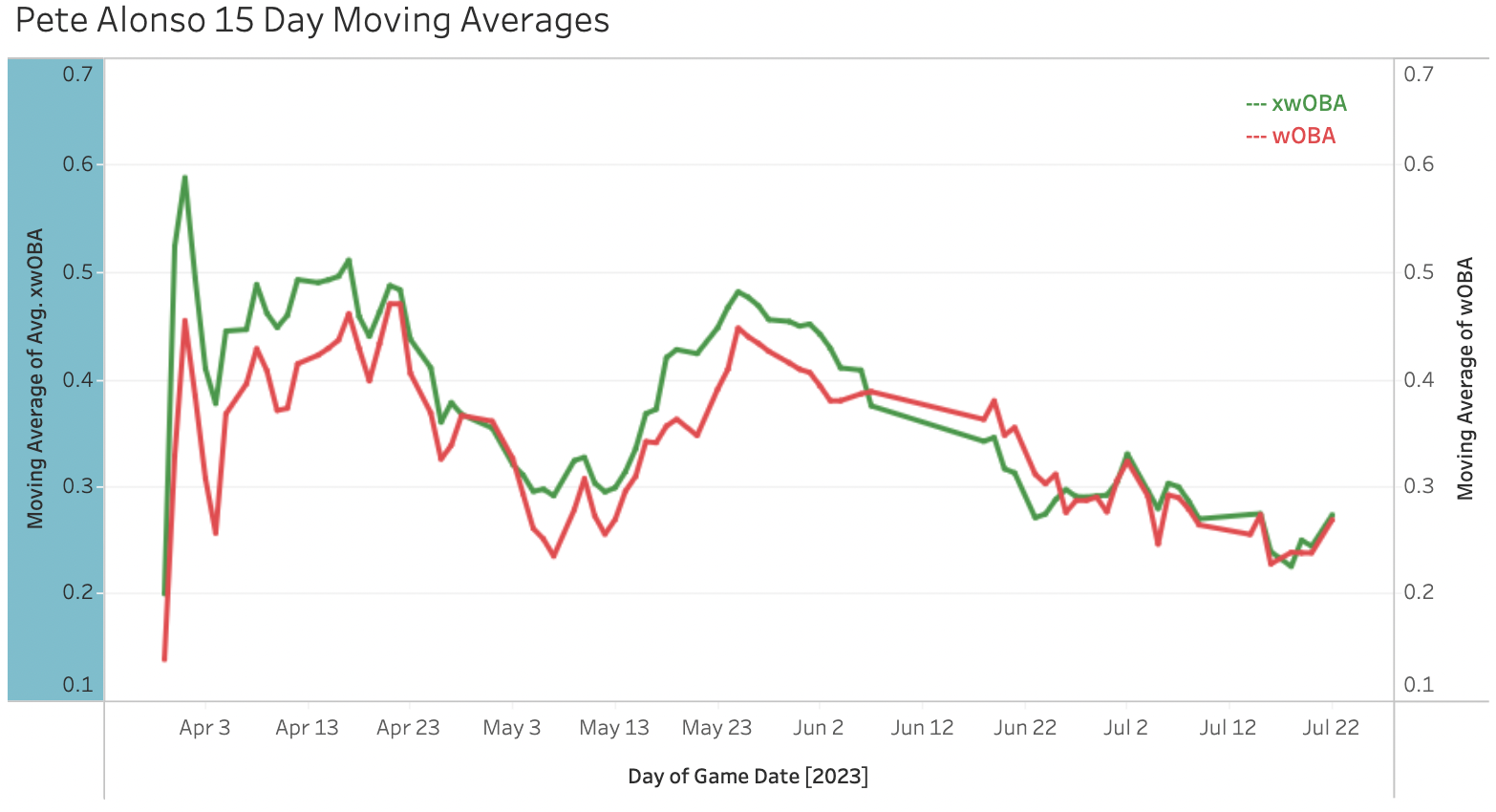 I don't know what's up with Alonso. He could be hurt.
Pete Alonso was originally supposed to miss 3-4 weeks with his left wrist injury.

He ended up returning in 10 days.

Since then he's slugging .297 with a 60 wRC+.

Hmmmm

— Brendan Tuma (@toomuchtuma) July 20, 2023
Starting pitcher: Carlos Carrasco (RHP)
"Cookie" is cooked as his 5.35 ERA is only bested by a 6.12 expected ERA.
Carrasco never had great stuff, but he survived on location. However, his Location+ is down from 105 last season to 97 this year, and his Walk Rate is up to 10% from 6.4%.
He's also seen a dip in his fastball velocity. Carrasco now has the 102nd "best" fastball by Stuff+ among the 126 pitchers with 60 IP this season.
In turn, Carrasco's whiffs are down, as he's seen a 7% year-over-year decrease in Strikeout Rate.
Cookie is becoming a soft-tossing righty, but his batted-ball profile is also poor.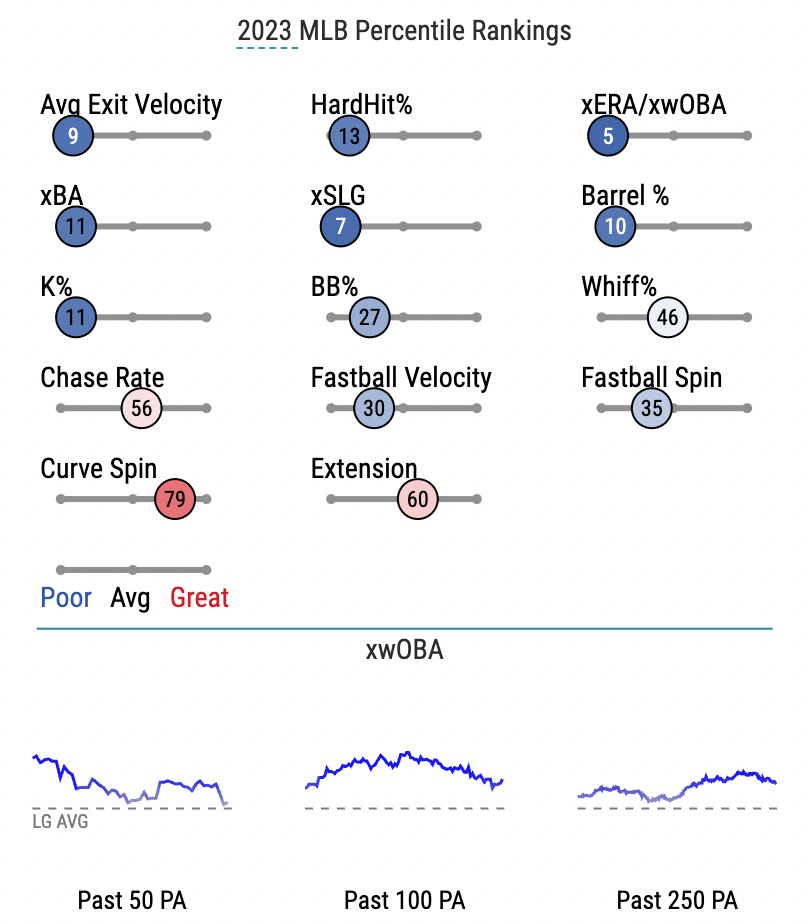 Carrasco has pitched better recently because he's leaning more into his changeup. The change has been his one plus-pitch this season with a 33% Whiff Rate and a .135 BAA.
---
I'm bullish on the future of the Red Sox franchise because there is a ton of young talent in Boston.
Jarren Duran is turning into an everyday center fielder, which is shocking after his second half in 2022. He has a 137 wRC+ and pairs elite speed (99th percentile Sprint Speed) with great instincts (99th percentile Outfield Jump) to create an above-average defensive profile.
Masataka Yoshida is going to be a plus-hitter for a long time. His combination of plate discipline and bat speed is hard to find.
Brayan Bello is a legitimate ace. His sinker-changeup combo creates a unique combination of ground balls (56%) and whiffs (45% on the change).
Many folks were out on Triston Casas, but his early-season struggles were defined by bad BABIP luck. Nonetheless, he stayed patient at the plate and became more aggressive in hitter's counts, and the luck quickly flipped.
Triston Casas has played 86 games this year. His first 43 games, he hit .181 with a .666 OPS. His last 43 games, he's hit .299 with a .947 OPS. More recently, since June 13, he's hitting .341 with a 1.091 OPS. That's the 4th best OPS in the big leagues. pic.twitter.com/11xOCXKNbp

— Jared Carrabis (@Jared_Carrabis) July 23, 2023
Last night, Casas became the first rookie to hit two homers off of Max Scherzer in a game. He had two dingers, a triple and two walks in the doubleheader, officially passing Alonso in the OPS race.
Top prospect Marcelo Mayer's arrival is on the horizon.
The future is bright.
Surprisingly, Rafael Devers has had a down year after signing his monster contract. Boston fans are blessed that a 123 wRC+ is a down year for Raffy, but it's worth noting.
However, Raffy emphasizes the biggest difference between this year and last year.
Last year's team had more top-end lineup talent (specifically, Xander Bogaerts), but this year's team has more depth. The Red Sox grind down pitchers from the leadoff man to the bottom of the order, so they can survive down stretches from their superstars.
Starting pitcher: Brennan Bernardino (LHP)
The Red Sox starting pitching staff has been crushed by injuries. Boston only has three healthy starting pitchers in Brayan Bello, Kutter Crawford and James Paxton.
The good news is the Red Sox have 11 relievers on the current 40-man roster, making for this funny Roster Resource screenshot.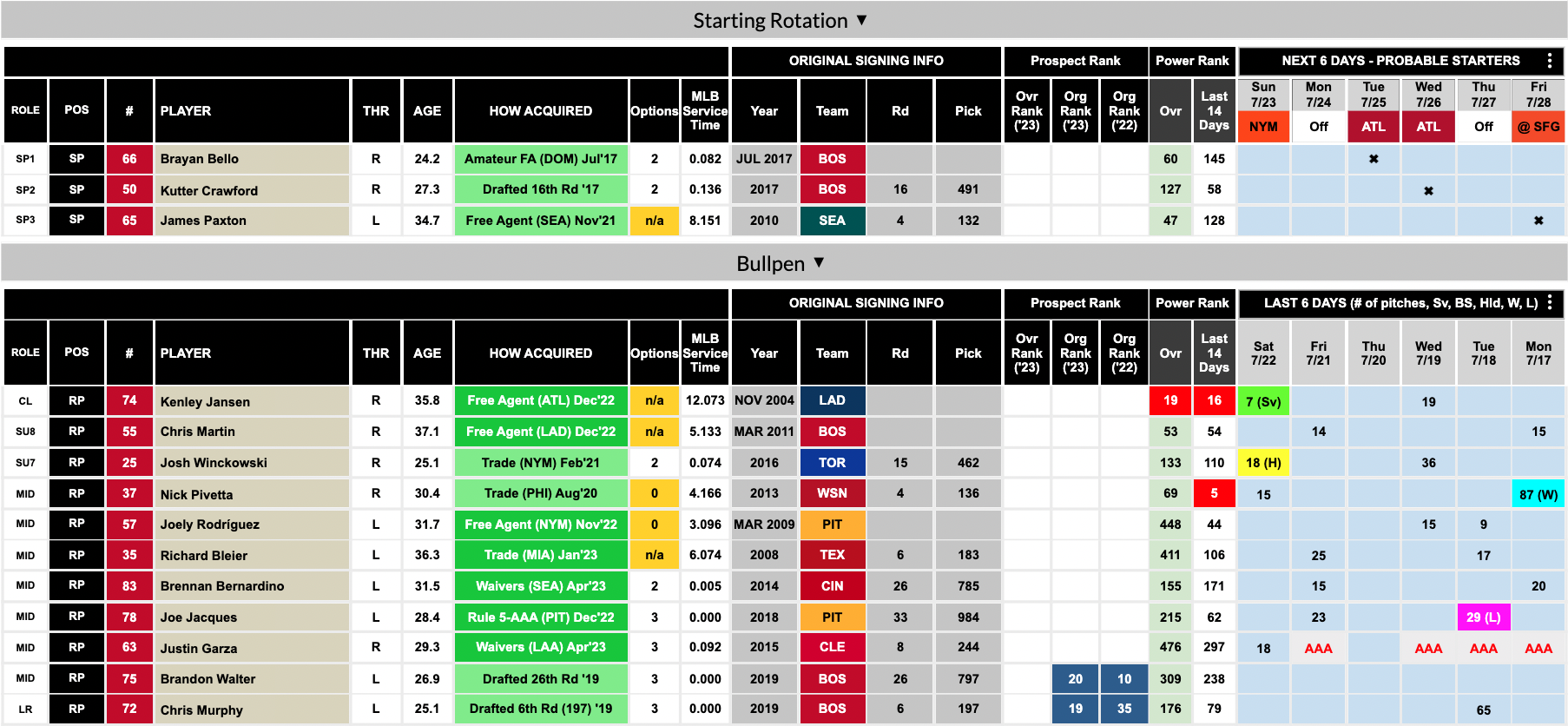 Bernardino has been decent, but I wouldn't expect more than two innings out of the starter.
The last time Alex Cora went with Bernardino as the starter, Nick Pivetta was the bulk reliever and recorded a franchise record for strikeouts in a relief appearance (13).
However, Pivetta was used for an inning in Saturday's game, so it's unclear if he'll be available.
I'm guessing Cora will use Chris Murphy as the bulk reliever. The southpaw would put the Mets in their worse split, which would be the smart move.
Young lefty Brandon Walter is also available as a bulk reliever.
We could see an array of arms. The goal is to get the ball to setup-man Chris Martin and closer Kenley Jansen, as both of Boston's highest-leverage relievers are available for Sunday Night Baseball.
---
Mets vs. Red Sox Betting Pick
The Mets and Red Sox used 16 relievers in yesterday's 15-inning doubleheader.
The Red Sox are going to try a bullpen day directly after that. They have no choice, given the injuries to Chris Sale, Tanner Houck and Garrett Whitlock.
It wouldn't matter if the Mets' relievers were fully rested because this unit does not work without Edwin Diaz. They have the second-highest reliever xFIP over the past month (5.08), and they're bottom-10 in bullpen WPA (-4.72).
All of their stats also get worse on the road. Throw fade candidate Cookie Carrasco into the mix, and we should see fireworks on Sunday Night Baseball as run prevention will be impossible across all nine frames.
Hitter-friendly weather (winds blowing toward the Monster, high-70s temps, +13% Run Factor, per BallParkPal) adds to this high-scoring game script along with two bottom-10 defenses by Defensive Runs Saved and Outs Above Average.
The Red Sox have been obliterating the baseball. I mentioned their young talent, but it's worth mentioning that Devers has turned it around recently, with his 15-game Rolling wOBA continuing to climb.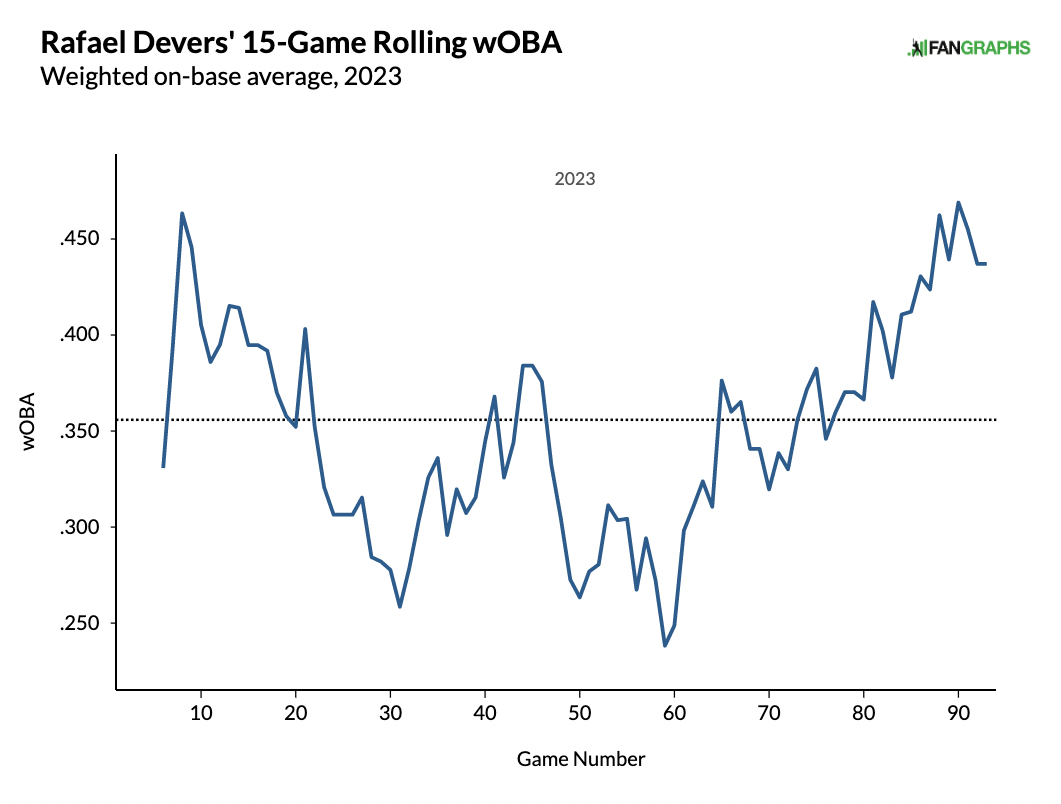 Offseason acquisition Justin Turner is also slashing .335/.391/.629/1.020 this month. He has nine extra-base hits to just 11 strikeouts over his past 70 PAs.
Both the rookies and the veterans are hitting.
Overall, the Red Sox boast the second-highest OPS (.847) and third-highest wRC+ (126) in July.
Carrasco and New York's middling bullpen have a tough job on Sunday Night.
Considering the Sox crush Cookie's only good pitch, it only gets tougher.
Red Sox fifth in pitch value against the change

— Kenny Ducey (@KennyDucey) July 23, 2023
The Mets should scrape across a few against Boston's depleted staff.
But the Red Sox have a dream offensive matchup, while the Mets will be in their worse offensive split for most of the game (105 wRC+ vs. RHPs, 95 wRC+ vs. LHPs).
Ultimately, Sunday Night Baseball screams high-scoring Red Sox win.
There's value on the over 10.5 (-110), as both Sean Zerillo and BallParkPal make this total around 11. Three consecutive games between these interleague foes have flown over the listed total.
Meanwhile, the Red Sox have won seven of their past eight games against the Mets.
Expect more of the same on Sunday Night Baseball and bet accordingly.
---
---
How would you rate this article?
This site contains commercial content. We may be compensated for the links provided on this page. The content on this page is for informational purposes only. Action Network makes no representation or warranty as to the accuracy of the information given or the outcome of any game or event.