MLB Betting Preview | Pitchers to Buy, Fade This Week, Including Eury Perez, Dane Dunning
Credit:
Getty Images. Pictured: Eury Perez, George Kirby, Dane Dunning, Braxton Garrett
The daily grind of MLB betting can be grueling, but one way to gain an edge is by looking ahead at pitching matchups worth targeting.
As you know, a starting pitching matchup is the most integral part of assessing a game from a value standpoint.
While most sportsbooks don't post lines until approximately a day in advance — once starting pitching matchups are confirmed — if you're on top of the ball, you can jump on pitchers with value, before the markets adjust post-opening, and create positive ROI.
Here are three pitchers I am looking to fade and one I want to continue to buy on this week:

George Kirby, Seattle Mariners
Projected Starts: Tuesday vs. New York Yankees (Gerrit Cole), Sunday vs. Baltimore Orioles (Dean Kremer)
I've often written about George Kirby and how much I like the right-hander. Long term, he sets up to be a consistent arm atop the Seattle Mariners rotation, and he's proven how dominant he can be this season.
Kirby gets another shot against the Yankees on Tuesday night, nearly three weeks after quieting the Bronx Bombers for eight scoreless innings. His command is among the best in baseball, and the key is for Kirby to find himself ahead in the count. He doesn't generate many swings and misses, but he is in the 79th percentile in chase rate.
Pitching ahead allows for those chases out of the zone. Pitching behind — or with runners threatening — can lead to a blowup because of his low whiff rate.
But in general, Kirby is above average across the board. His Stuff+, Location+ and Pitching+ all rank above 100 and his expected metrics sit in the mid 3s.
He draws a pair of matchups I am intrigued by this week. The first is against the Yankees and Gerrit Cole. Kirby already dominated the Yankees bats once and now will find himself as an underdog to Cole, a pitcher I'm lower on than the current market. His xERA is above 4 and his xBA/xSLG are his worst since 2017.
Strikeouts are down significantly for the right-hander, who has been giving up hard hits and mitigating damage with a low BABIP, high LOB% and 2.75 ERA through the first three months of the season.
While I may target Kirby against the Yankees, I am most excited for his projected Sunday start against Dean Kremer and the Baltimore Orioles. Not only do I like to fade the O's against right-handed pitching — they crush lefties — but Kremer is another fade candidate for me. We could very well see this matchup close to a PK or the Mariners as short road favorites.
Kremer is in the bottom 10% of all pitchers in xBA (.295) and xSLG (.518). His xERA (5.89) remains over a run higher than actual, and he's struggled with both limiting barrels and overpowering the opponent. The Mariners' bats should find plenty of success against Kremer and I love Kirby to roll against the Baltimore bats.

Eury Perez, Miami Marlins
Projected Starts: Tuesday vs. Toronto Blue Jays (Yusei Kikuchi), Sunday vs. Pittsburgh Pirates (Johan Oviedo)
It's been just over a month since 20-year-old Eury Perez was called up to the majors, and in seven starts since the 6-foot-8 right-hander has posted a 1.80 ERA. He has given up just one run in three June starts.
But there are some concerns for the right-hander, and we could find the Blue Jays at a cheap favorites behind Yusei Kikuchi on Tuesday night. Perez has four pitches in his arsenal, but he relies heavily on his fastball (46.6%) and slider (24.7). While his fastball has a 124 Stuff+, the rest of Perez's pitches are 100 or below (100 is average).
Perez's arsenal sets up for a lot of chases out of the zone. Look at his heat maps and his changeup rarely ever makes it in the zone. His curveball also relies on chases — which he does generate a lot of — but the location is often outside, or nibbling on the edges of the strike zone.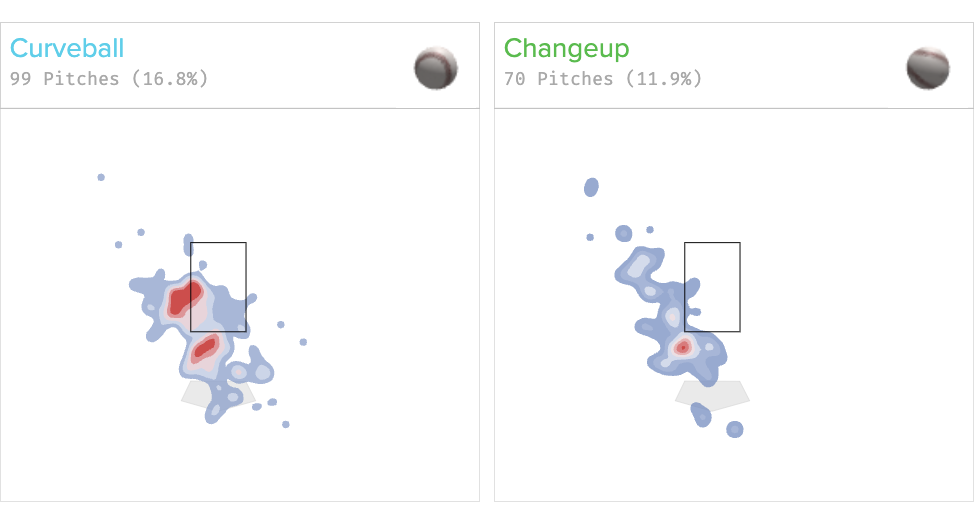 But if he isn't locating his fastball or his slider isn't moving as much, Perez has the potential to be crushed. His BB% sits at 9.9 and he ranks in the bottom 40% of pitchers in barrel rate. We saw this with Hunter Greene last season, and even Josiah Gray to a degree — where a fastball with great movement can lead to plenty of success, but it also leads to trouble with the long ball.
In general, Perez is below that 50% mark in hard-hit rate, too. He hasn't been able to pitch deep into ball games — just one start over 5 IP — and the rookie has an unsustainable .227 BABIP and 92.6 LOB%. His ground ball rate is also just 26.4%; he gives up line drives on 22% of balls put into play, for reference.
Perez has all the makings of being an ace and will likely get there soon enough. But he's due for negative regression and draws a tough matchup against the Blue Jays bats.
Whether it's a team total over on Toronto or backing the Jays as small favorites, I do expect Perez to struggle here and the negative regression bug to hit him on Tuesday night.
I also love the idea of backing Pittsburgh against Perez on Sunday, his second start of the week. Johan Oviedo gets the start, and I wrote briefly about him last week and how he's slowly becoming a strong arm in the Pirates rotation. He has a 4.05 xERA — about a half-run lower than actual — and has slowly seen his strikeout numbers increase. He limits barrels and is using his slider a bit more this season, which has led to a step forward success wise.

Braxton Garrett, Miami Marlins
Projected Start: Thursday vs. Pittsburgh Pirates (Mitch Keller)
The Miami Marlins are an interesting team, and I'm banking on negative regression to hit their pitching staff — and team as a whole — this week. Despite entering Monday 10 games above .500, their expected record is down at 33-39. They have a (-24) run differential, third-worst in the National League, yet sit in first place in the wild-card standings.
Braxton Garrett gets the call on Thursday against Mitch Keller in what should open as a near-coin flip matchup. The Pirates may be slight road favorites here.
Garrett has pinpoint command and does generate chases at a high rate, but if the southpaw isn't striking out batters, he's often crushed. He ranks in the bottom 11% of pitchers in average exit velocity and hard-hit rate. His xBA (.271) and xSLG (.454) have taken a huge step back from last season and his xERA sits about a half-run higher than actual.
Since mid-May, Garrett has thrown 38 innings of nine-run ball (2.13 ERA). This is the perfect sell-high spot against a Pirates team behind their best pitcher in Keller.
Keller has made one of the most impressive leaps year over year I've seen. He's taken a considerable step forward in improving his hard-hit rate, xBA and xSLG. His strikeout rate has jumped nearly 8% — he introduced a cutter this season that has a 26.5 whiff% — and has shored up on his command.
There are few negatives to say about the right hander. He can often run into trouble with limiting barrels — he's given up six home runs in his last six starts — but his xERA (3.44) and xFIP (3.31) remain impressive.
In this Thursday matchup we'll get the better pitcher (Keller) in the Pirates' better split. Continue to buy Keller and take this opportunity to sell high on the red-hot Garrett.
Dane Dunning, Texas Rangers
Projected Start: Friday vs. New York Yankees (Clarke Schmidt)
It hurts to fade Dane Dunning, a pitcher I've loved to back as a heavy underdog over the last few years. He's been incredibly consistent for the Rangers once again this year, but it's also come with some luck. Dunning is a big-time fade candidate and has overperformed expectations drastically.
From a baseline perspective, you see a 2.78 ERA in 16 games — eight starts — and think that he's taken that necessary step forward. But expected metrics immediately go against that thought. Dunning's xERA is nearly 2.5 runs higher than actual and his xFIP sits in the high 4s. He's relying on his slider more often in 2023, but his pitches across the board have concerningly low whiff rates when compared to previous seasons.
His strikeout rate has dropped nearly 6% while his xBA and xSLG have jumped to career-lows of .281 and .457. While his command has improved, Dunning still gives up a high exit velocity and he's benefited from a .269 BABIP and 78.2 LOB%. The BAT, Steamer and ZIPS all projected Dunning to have a BABIP around .300 and a LOB% about 10% lower than it is right now.
Dunning went his first 13 appearances without allowing a home run. He's given up four in his last three starts. So long as his strikeouts remain down and his hard-hit rate up, Dunning should negatively regress back to his career norm. The Rangers' offense has helped carry him to a 6-1 record, and he'll likely be a favorite against the Yankees in a perfect fade spot on Friday.
Clarke Schmidt is projected to get the call opposite Dunning, and I've been impressed with his last month and a half. After struggling mightily to find his footing in April, Schmidt has given up two or fewer runs in five of his last six starts. The other (three runs) came in a quality start against the White Sox.
Schmidt projects as the better pitcher here and the Yankees offense should be able to get to Dunning. As much as they've struggled, a lot of the hitters pack a punch and can make Dunning pay for his lack of whiffs and consistently high exit velocity.
How would you rate this article?
This site contains commercial content. We may be compensated for the links provided on this page. The content on this page is for informational purposes only. Action Network makes no representation or warranty as to the accuracy of the information given or the outcome of any game or event.