MLB Predictions Today | Odds, Picks for Thursday, April 13
Welcome to Opening Pitch, my column that you'll find daily throughout the 2023 MLB season.
My goal for Opening Pitch is to highlight my top daily projection edges for MLB moneylines and totals, share my favorite bets and provide some betting notes and analysis, mainly as I react to opening and overnight lines while using my baseball betting model.
I will look to release a new version of Opening Pitch daily between midnight and 3 a.m. ET; after I enter my overnight bets in the Action Network App and update the MLB projections. Hopefully, you will use it as your morning betting guide to get ahead of the baseball markets.
You can find my projections for every MLB game in the Action App (on both the PRO Projections tab and the game pages) and our Projections Hub (which you can bookmark).
You can also shop for the best lines on our odds page.
Expert Picks for Thursday, April 13
Oakland Athletics vs. Baltimore Orioles
Adam Oller vs. Cole Irvin
First Pitch: 1:05 p.m. ET
While I'm high on Baltimore's long-term potential as an organization — and suspect that we will continue to bet on the Orioles as underdogs throughout the year — their starting pitching depth and quality concern me, and we may find value betting against them against the worst teams in the league at big prices.
Kyle Gibson, Dean Kremer and Cole Irvin all forecast for an ERA greater than 4.25, and each project as a back-end starter. I'm significantly higher on Grayson Rodriguez, Tyler Wells and Kyle Bradish than the former trio.
I don't see a significant difference between Irvin (projected FIP range 4.53-4.73) — whom the Athletics recently traded to Baltimore — and Adam Oller (projected FIP range 4.99 to 5.36). In my model projections, I view a similar differential between the pair, roughly a four-tenths of a run on an ERA. Irvin is a low-end No. 5 or solid No. 5 starter; Oller is replacement level.
I projected the A's as 36.2% underdogs (+176 implied odds) for Thursday. After cashing Oakland as +170 underdogs on Wednesday, we'll take another shot against one of Baltimore's lesser starters down to +193 (34.1% implied).
You can bet the moneyline for 0.75u to +200 or add some spread (+1.5 runs) to +105. And I would bet Baltimore's F5 moneyline to +185.
Boston Red Sox vs. Tampa Bay Rays
Corey Kluber vs. Jeffrey Springs
First Pitch: 1:10 p.m. ET
Last season, I got stuck betting on the Reds (when they lost 21 of 30 games in April) and the Angels (when they dropped 18 of 20 last May and June) as each went on cold streaks.
This year, I am stuck betting against the Rays on a heater. On 13 wagers on Rays games this season, we have lost 3.37 units, 1-4 to the Under (0-1 F5, or First Five Innings), and 2-6-1 on the moneyline (2-1-1 F5, including Rays F5 bets on April 5th and 8th).
Have I handicapped this Rays' team incorrectly? I'm not sure of that. We have bet against them seven times at an average price of +170; the consensus closing line on those wagers was +163, an average CLV gain of around one percent. The market moved against us once (bet Oakland +215, closed +222 on April 7).
Concerning the five Under wagers, our average price was -113 (53% implied), and the consensus close on those lines was -119 (53.4% implied).
I assume I will continue to show value in betting against the Rays, probably one of my most commonly bet-on teams during my time at Action Network.
And, of course, I also have another Under wager in a game involving the league's hottest offense.
I projected the Red Sox as +143 underdogs for Thursday and would bet their moneyline down to +156.
You can bet them for 0.75u to +195 or add some spread (+1.5 runs) to -114.
I also show value with regard to the F5 Under (projected 4.01); bet the F5 Under 4.5 to -122, even though the ball has been flying in the Trop (and everywhere else). I would want something closer to even money to bet the full game Under 8 (projected 7.63); I prefer the F5 total, given Springs' effectiveness, and expect Boston to have a chance to steal the game late like they nearly did on Wednesday.
Philadelphia Phillies vs. Cincinnati Reds
Bailey Falter vs. Nick Lodolo
First Pitch: 6:40 p.m. ET
The total (8.5) is relatively low for a game at Great American Ball Park. I projected the number around 8.7 and would consider jumping in closer to even money, even though I am a big fan of Nick Lodolo, who dominated these same Phillies in his last start (7 IP, 3 H, 2 BB, 12 K).
I'll re-check the lines for this game in the morning — as I do for every matchup. Based on these overnight lines, Phillies-Reds is a pass.
Minnesota Twins vs. New York Yankees
Joe Ryan vs. Jhony Brito
First Pitch: 7:05 p.m. ET
Jhony Brito has seemingly pitched well for the Yankees in place of Frankie Montas (10 IP, 5 H, 1 R, 3 BB, 8 K); however, the 25-year-old righty has been a bit fortunate in those outings, carrying a 5.06 expected ERA or xERA. I don't put too much stock into advanced stats over a small sample, but I do put Brito at the lower end of his projections (FIP range 3.94-4.44), and I am a staunch supporter of Joe Ryan.
Ryan doesn't throw particularly hard (averages 92 mph on the fastball), but he has an excellent pitch command and is confident in challenging hitters up in the zone.
I dabbled on Ryan in the AL Rookie of the Year market (+4000) last preseason (alongside Julio Rodriguez and Adley Rutschman), and I expect him to take a step forward this season after justifying a 3.55 ERA (3.57 xERA) in 27 starts last year. My one concern for Ryan is the juiced balls and his flyball tendency (career 53.8%). For his career, Ryan has allowed 1.26 home runs per nine innings — and entering Yankees Stadium against a potent Yankees lineup seems like a potential disaster.
Additionally, the Twins likely won't have closer Jhoan Duran — and potentially setup man Griffin Jax — after tossing back-to-back games on Tuesday and Wednesday.
Even still, you can bet Minnesota at +110 or better to steal a game at their house of horrors in the Bronx. And bet their F5 line to -105.
Detroit Tigers vs. Toronto Blue Jays
Spencer Turnbull vs. Chris Bassitt
First Pitch: 7:07 p.m. ET
Chris Bassitt tossed what was technically a quality start (6 IP, 2 H, 3 R, 5 BB, 5 K) in his last outing against the Angels, following a meltdown against the Cardinals (3 1/3 IP, 10 H, 9 R, 4 HR, 0 BB, 0 K) in his first start as a Blue Jay. His pitch velocity throughout his entire arsenal is down one or two to ticks across the board, and I'm concerned about his arm health.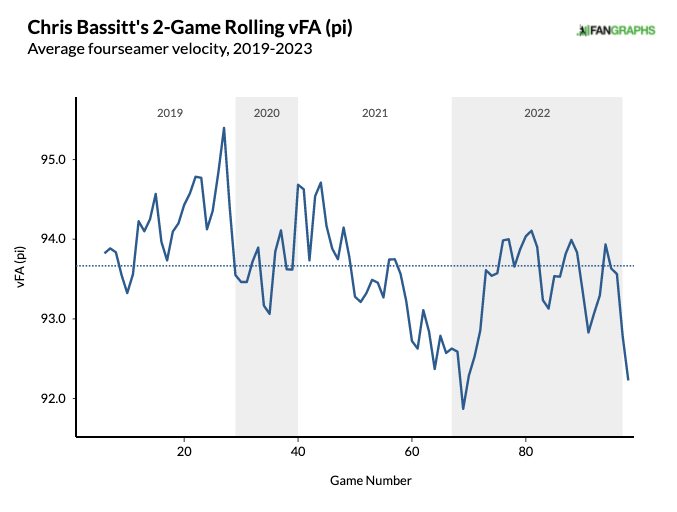 Bassitt's velocity trend is not going in a positive direction. The 34-year-old righty has averaged 93 mph on his fastball for his career and experienced a similar velocity dip at the beginning during the first month of last season (averaged 92 mph) before heating in mid-May (averaged 93.2 mph over his final 24 starts). There's a near certainty that he will regain a tick of velocity at some point as his season develops, but I wouldn't say I like the red flags, given his age.
Based on these overnight lines, I don't anticipate having a bet on this matchup.
Pittsburgh Pirates vs. St. Louis Cardinals
Vince Velasquez vs. Jordan Montgomery
First Pitch: 7:45 p.m. ET
I would be infinitely more excited about betting on this Pirates team on a game-to-game basis with Oneil Cruz in the lineup. He raised their ceiling significantly. Still, I suspect we will have to continue to back the Buccos at big plus money against playoff-caliber teams, which is par for the course for this process.
Generally, we will get a team like the Pirates at average odds of around +200 throughout a three-game series against a team like the Cardinals. If the Pirates win one of the three games — and we bet all of them — we break even. If we can bet them at average odds of +210 and go 1-2, we can generate a 3.3% return on our investment; which doesn't sound glamourous, but that is roughly my long-term ROI at betting baseball using a data model.
Add that 3.3% return up over thousands of bets, and it pays off big.
Vince Velasquez is a replacement-level pitcher, while Jordan Montgomery is a capable and consistent mid-rotation starter. Still, this is one of those bets we must trust purely on the math over the long haul.
I'm going to bless this space with the great moment of Velasquez's career for good luck:
My F5 projection (+180) aligns with the overnight market, but I give the Pirates' bullpen a far better chance of winning a tight game than the 20 to 30-cent discrepancy shown between the F5 and full-game markets.
I projected the Pirates as +171 underdogs for Thursday and would bet them to +185.
You can bet them for 0.75u to +205 or add some spread (+1.5 runs) to -103.
I set my Pittsburgh F5 price target at +200.
Milwaukee Brewers vs. San Diego Padres
Bryse Wilson vs. Nick Martinez
First Pitch: 9:40 p.m. ET
While this is a rather sketchy pitching matchup, I did have to bet an Under 8.5 at even money, which I felt was a half run too high compared to both my price target (Under 8, -101) and projection (7.68).
Petco Park should see rare temperatures in the 50s on Thursday night, so even though the wind is blowing out to the right field, I expect relatively favorable conditions for the pitchers.
I am not exceptionally high on either of these bullpens, either. And the Brewers' offense has surprised early, with multiple young players busting out.
That said, we're firing on a weather-oriented Under in a park where I rarely find myself betting on totals.
When I fired overnight, the F5 market hadn't developed, but I would look for an F5 Under 5 to -130 or 4.5 at +105 (projected 4.34).
Zerillo's Bets for Thursday, April 13
For additional bet notifications, follow me in the Action Network App. 
Boston Red Sox (+170, 0.5u) at WynnBet (bet to +156)
Boston Red Sox +1.5 (+100, 0.25u) at FanDuel (small to -114)
Boston Red Sox / Tampa Bay Rays, F5 Under 4.5 (-120, 0.5u) at FanDuel (bet to -122)
Milwaukee Brewers Under 8.5 (+100, 0.5u) at DraftKings (bet to 8, -101)
Minnesota Twins F5 (+112, 0.5u) at BetRivers (bet to -105)
Minnesota Twins (+135, 0.5u) at WynnBet (bet to +110)
Oakland Athletics F5 (+185, 0.25u) at WynnBet (Small to +185)
Oakland Athletics (+198, 0.5u) at FanDuel (bet to +193)
Oakland Athletics +1.5 (+110, 0.25u) at WynnBet (small to +105)
Pittsburgh Pirates F5 (+210, 0.25u) at FanDuel (small to +200)
Pittsburgh Pirates (+195, 0.5u) at WynnBet (bet to +185)
Pittsburgh Pirates +1.5 (+110, 0.25u) at WynnBet (small to -103)
How would you rate this article?
This site contains commercial content. We may be compensated for the links provided on this page. The content on this page is for informational purposes only. Action Network makes no representation or warranty as to the accuracy of the information given or the outcome of any game or event.