MLB Picks Today | Odds, Expert Projections (Friday, August 11)
Credit:
Getty Images. Pictured: Javier Baez, Bryan Reynolds, Ketel Marte.
Welcome to Opening Pitch, my column that you'll find daily throughout the 2023 MLB season.
My goal for Opening Pitch is to highlight my top daily projection edges for MLB moneylines and totals, share my favorite bets and provide some betting notes and analysis, mainly as I react to opening and overnight lines while using my baseball betting model.
I will look to release a new version of Opening Pitch daily between midnight and 3 a.m. ET; after I enter my overnight bets in the Action Network App and update the MLB projections. Hopefully, you will use it as your morning betting guide to get ahead of the baseball markets.
You can find my projections for every MLB game in the Action App (on both the PRO Projections tab and the game pages) and our Projections Hub (which you can bookmark).
You can also shop for the best lines on our odds page.
Find my MLB picks and predictions for Friday, August 11 below, including bets for Padres vs. Diamondbacks and Tigers vs. Red Sox.
Expert Picks for Friday, August 11
Cincinnati Reds vs. Pittsburgh Pirates
Andrew Abbott vs. Johan Oviedo
First Pitch: 7:05 p.m. ET
I have featured Andrew Abbott as a potential fade candidate for a while now, and regression hit him like a wave in his past two starts (9 IP, 15 H, 10 R, 8 BB, 8 K).
Even after those blowups, Abbott still has a reasonably significant delta between his expected xERA (3.72) and his actual mark (2.93), thanks to a .256 BABIP and an 84.8% strand rate, both of which remain significantly better than the major league averages of .295 and 72%, respectively. All pitchers tend to regress toward a combination of their career and league averages in those categories.
Moreover, pitching models view Abbott as a below-average starter (86 Stuff+, 101 Location+, 97 Pitching+), even though he has produced above-average results (16.4% K-BB%). He has good command over his breaking balls and tends to pitch backward and use them to generate called strikes early in counts. Still, his fastball (.496 xSLG vs. .456 actual) and curveball (.401 xSLG, .581 actual) have gotten crushed. The sweeper (107 Stuff+, .209 xSLG) and changeup (74 Stuff+, .202 xSLG) have been the money pitches.
Pitching models view Johan Oviedo (93 Stuff+, 97 Location+, 97 Pitching+) as a similarly effective arm, even though Abbott's underlying indicators are slightly better than the league average, while Oviedo's (4.38 xERA, 11.1% K-BB%) are slightly below.
There is a tendency for pitching models to underrate (1) lefties and (2) changeups, and I think that's potentially the case with Abbott, whom I rate as the superior starting pitcher in this matchup.
However, even after accounting for the Reds' offensive advantage, I still make the Pirates a slight favorite over the full game. Bet Pittsburgh on the moneyline at +101 or better.
Additionally, I set the total around 9.5 runs; bet Over 9 to -110.
Chicago Cubs vs. Toronto Blue Jays
Javier Assad vs. Jose Berrios
First Pitch: 7:07 p.m. ET
I anticipate betting at least a couple of unders in this series between the Cubs and Blue Jays — two of the best defensive teams in baseball this season.
Toronto ranks first in Defensive Runs Saved (DRS), and the Cubs are fourth. Toronto has the better outfield (+33 to -3), while Chicago's infield is superior (+20 to +2).
Toronto is currently without Kevin Kiermaier (13 DRS), who ranks fourth with 160 DRS since 2003 (behind Adrian Beltre and Andrelton Simmons at 200 and Yadier Molina at 184, and is just ahead of Nolan Arenado). Still, Daulton Varsho (19) is tied with Fernando Tatis (19) atop the DRS leaderboard for all positions, and he has 12 DRS in center field in 321 innings, nearly the same production as Kiermaier in half the innings (13 DRS in 714 innings).
They'll also have their best defensive pitcher, Jose Berrios, on the mound. Over the past three seasons, Berrios has 10 DRS — sixth most among all pitchers. Berrios struggled with baserunners earlier in his career, but in the past four seasons, opposing base stealers are just 16 for 29 (55%) against him.
I'm not particularly fond of Berrios (4.59 xERA) or Cubs opener Javier Assad (4.66 xERA). Still, I set this total around 8.5, given the defensive quality on both sides, and would make it closer to 9 with league-average defense.
Bet Under 9 to -110, and look to back the surging Cubs at +143 or better (projected +132).
Detroit Tigers vs. Boston Red Sox
Tarik Skubal vs. Chris Sale
First Pitch: 7:10 p.m. ET
Tarik Skubal was one of the model's favorite pitchers last season, and I have seemingly bet on him in each start of 2023, where he seems to have improved after a significant injury.
Skubal's fastball velocity is up from 94.4 mph to 96 mph this season (with his changeup increasing by a similar amount). Through 27 innings, he has a 97 Stuff+, 108 Location+, and 108 Pitching+ ratings, compared to marks of 91, 101, and 99 last season.
And Skubal's results are better, too. His K-BB% has increased from 17.8% to 27.7%, his xERA has fallen from 3.34 to 2.30, and his xFIP has dropped from 3.40 to 2.65.
Chris Sale will return to Boston's rotation — and pitch around four innings — after a nearly two-month layoff. Over the past 10 days, he looked sharp in a couple of rehab appearances in Worcester (combined 6 1/3 IP, 0 R, 4 H, 2 BB, 10 K). He should approximate prior results (3.62 xERA, 92 Stuff+, 102 Location+, 101 Pitching+), which were somewhere between Skubal's level last season and this year.
Ultimately, given the superior results and Sale's layoff, I don't project a significant difference between these two starting pitchers and might give a slight nod to Skubal.
The Tigers project better against lefties than righties — while the opposite is true for the Red Sox — giving a slight boost to their chances in a matchup of southpaw starters.
And I view the two bullpens as relatively comparable. Detroit has better results this season (4.22 vs. 4.37 xFIP; 14.9% to 13% K-BB%). Since the trade deadline, Detroit has posted superior Stuff+ (106 to 104) but worse command (99 to 94), and both teams have bottom-eight bullpens, per Pitching+, over that span.
Bet Detroit down to +125, compared to my projected line at +116, and play their F5 (First Five Innings) moneyline to +110 (projected +102).
San Diego Padres vs. Arizona Diamondbacks
Blake Snell vs. Ryne Nelson
First Pitch: 9:40 p.m. ET
Over his six-start stretch from June 11 to July 8 — when he recorded double-digit strikeouts in five of six starts (63 in 36 innings) and posted a 0.75 ERA — Blake Snell recorded a 110 Stuff+, 100 Location+, and 104 Pitching+ rating during what may have been his career-best form.
In five starts since, Snell has maintained a 1.73 ERA, but his xFIP has climbed from 1.43 to 4.47, his K-BB% has fallen from 37.2% to 7.8%, and both his Stuff (102 Stuff+) and command (95 Location+) have plummeted. He's danced through the fire with an 88.4% strand rate over this recent stretch, where the Mr. Hyde side of his profile has reappeared.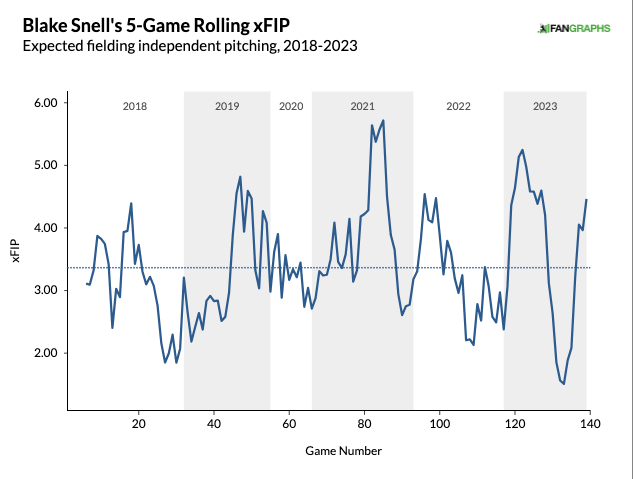 Ryne Nelson remains a perplexing arm, with horrendous results (5.05 xERA, 5.21 xFIP, 8.4% K-BB%) but encouraging pitch modeling metrics (98 Stuff+, 102 Location+, 101 Pitching+). Aside from his fastball, the remainder of Nelson's arsenal rates above average per Stuff+, but his recent performances (5.59 ERA since July 1 with more runs than strikeouts and more combined home runs and walks than strikeouts) aren't trending in a positive direction.
I'm not factoring any of Nelson's modeling predictors into my projection — only his performance indicators — and I still show value on Arizona in this matchup.
Bet the Snakes to +133, compared to my projected line of +123.
Zerillo's Bets for Friday, August 11
For additional bet notifications, follow me in the Action Network App. 
Arizona Diamondbacks F5 (+145, 0.25u) at WynnBet (small to +143)
Arizona Diamondbacks (+150, 0.5u) at WynnBet (bet to +133)
Chicago Cubs / Toronto Blue Jays, Under 9 (+100, 0.5u) at Caesars (bet to -110)
Cleveland Guardians (+184, 0.5u) at FanDuel (bet to +180)
Detroit Tigers F5 (+120, 0.5u) at WynnBet (bet to +110
Detroit Tigers (+145, 0.5u) at WynnBet (bet to +125)
Los Angeles Dodgers F5 (-260, 0.5u) at DraftKings (bet to -275)
New York Yankees (+130, 0.5u) at Caesars (bet to +130)
Parlay (+175, 0.5u) at WynnBetr: Houston Astros F5 (-165) & Seattle Mariners F5 (-140)
Philadelphia Phillies F5 (-150, 0.5u) at DraftKings (bet to -155)
Pittsburgh Pirates (+110, 0.5u) at WynnBet (bet to +101)
Pittsburgh Pirates / Cincinnati Reds, Over 9 (-110, 0.5u) at FanDuel (bet to -110)
How would you rate this article?
This site contains commercial content. We may be compensated for the links provided on this page. The content on this page is for informational purposes only. Action Network makes no representation or warranty as to the accuracy of the information given or the outcome of any game or event.