Zerillo's MLB Daily Betting Model, 6/21: Are Astros, Yankees Poised for a Friday Night Shootout?
Credit:
Brad Penner-USA TODAY Sports. Pictured: New York Yankees starting pitcher James Paxton
Sean Zerillo's MLB model helps you find edges when betting moneylines and over/unders for the full game and first five (F5) innings.
He analyzes the full slate of games on June 21 with his model below and highlights Indians-Tigers (7:10 p.m. ET) and Astros-Yankees (7:10 p.m ET) as potential edges.
Plug in your odds to the spreadsheet at the bottom of this article to see where you might have an edge.
My favorite position player, Matt Chapman, and relief pitcher, Diego Castillo, squared off late in the evening in Oakland on Thursday, and Chapman came out ahead:
It was a wild swing for Rays backers after Tampa Bay scored three runs in the top of the ninth inning to take a 4-1 lead before Oakland responded with four runs of their own: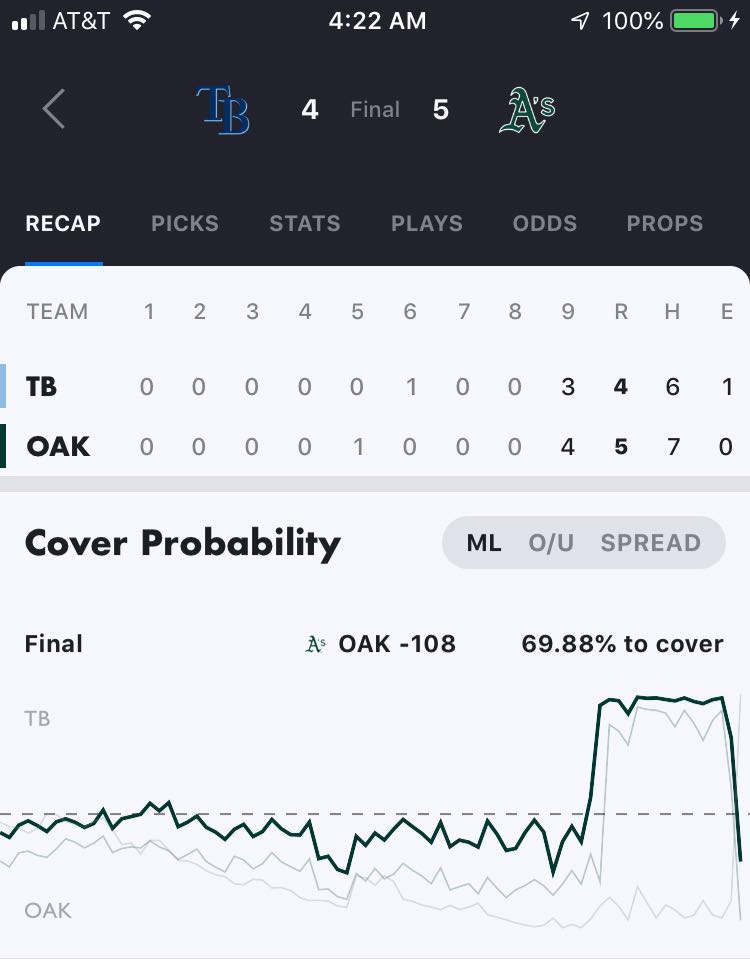 Check out bet win probability charts for every game in The Action Network app.
---
Recapping Yesterday's MLB Model
At writing yesterday, the model would have gone 2-1 against full-game moneylines and 1-1 against first-five innings moneylines (F5).
My plays went 1-5, and I finished down 2.26 units for the day.
Technically it was more like 0-4, as I ended up on both sides of the Astros / Yankees game in order to buy out of my Houston bet.
Apparently, there was some confusion as to why I did this and how the math worked, so let me explain further:
A $50 wager at +120 and a $63 wager at -133, to buy out of your initial +120 position creates a maximum loss window of $3 on either side of the game.
Professional bettors buy out of positions all the time based upon new information in the marketplace. I made that Astros play as soon as the line opened, however…
Bullpen days are incredibly difficult to project. It was immediately apparent that someone had different information than I did about the Yankees' expected staff on a bullpen day. There is no reward for being stubborn in betting.
I typically try to align myself with the sportsbooks, and not with the public. Public underdogs have been extremely unprofitable in 2019, and are both historically and intuitively the incorrect side to be on. Before a line opens, it's often difficult to project what side of the game the public will key on.
Generally, if see the action going opposite one of my potential plays, I lay off of the game entirely. I didn't have that option since I made a stab at the opening line, so I played the other side.
The Yankees remain undefeated when Chad Green serves as an opener.
It was a relatively neutral day in terms of generating Closing Line Value (CLV).
Those Astros and Yankees lines eventually settled within a penny of where I played them.
The F5 under that I played dropped from 6.0 to 5. The remaining totals stayed on the number where I played them, but the Baltimore under did end up heavily juiced.
MLB Betting Model for Friday, June 21
All odds as of Friday morning (view live MLB odds). Stay tuned on Twitter or follow me in The Action Network App for my entire betting card for Friday.
Today, the model recommends seven full-game moneylines and eight moneylines for the first-five innings (F5).
As of writing, the 3.5% trigger threshold officially marked the Astros, Blue Jays, Braves, Marlins, Mets, Reds and Tigers as full-game plays. The model also likes the Angels, Astros, Giants, Marlins, Orioles, Pirates, Reds and Tigers as F5 plays.
I played the Astros on the full-game moneyline and took the Tigers at +1.5 on the game spread.
Whether you have realized it or not, the Tigers' Matthew Boyd has entered ace territory in 2019.
Boyd's FIP (3.00) and xFIP (3.40) best his 2018 marks by 1.45 and 1.32 runs respectively, as he's striking out three additional batters per nine innings (8.4 to 11.4) while permitting one fewer walk (2.69 BB/9 to 1.73 BB/9).
The fact that he's throwing his slider 37% of the time while maintaining his zone% and increasing his first pitch strike rate (to 63%) is impressive in and of itself.
Boyd's development has been, in his opinion, a "progression," the combined result of learning from the advanced metrics at his disposal, while also refining both his mechanics and mental approach.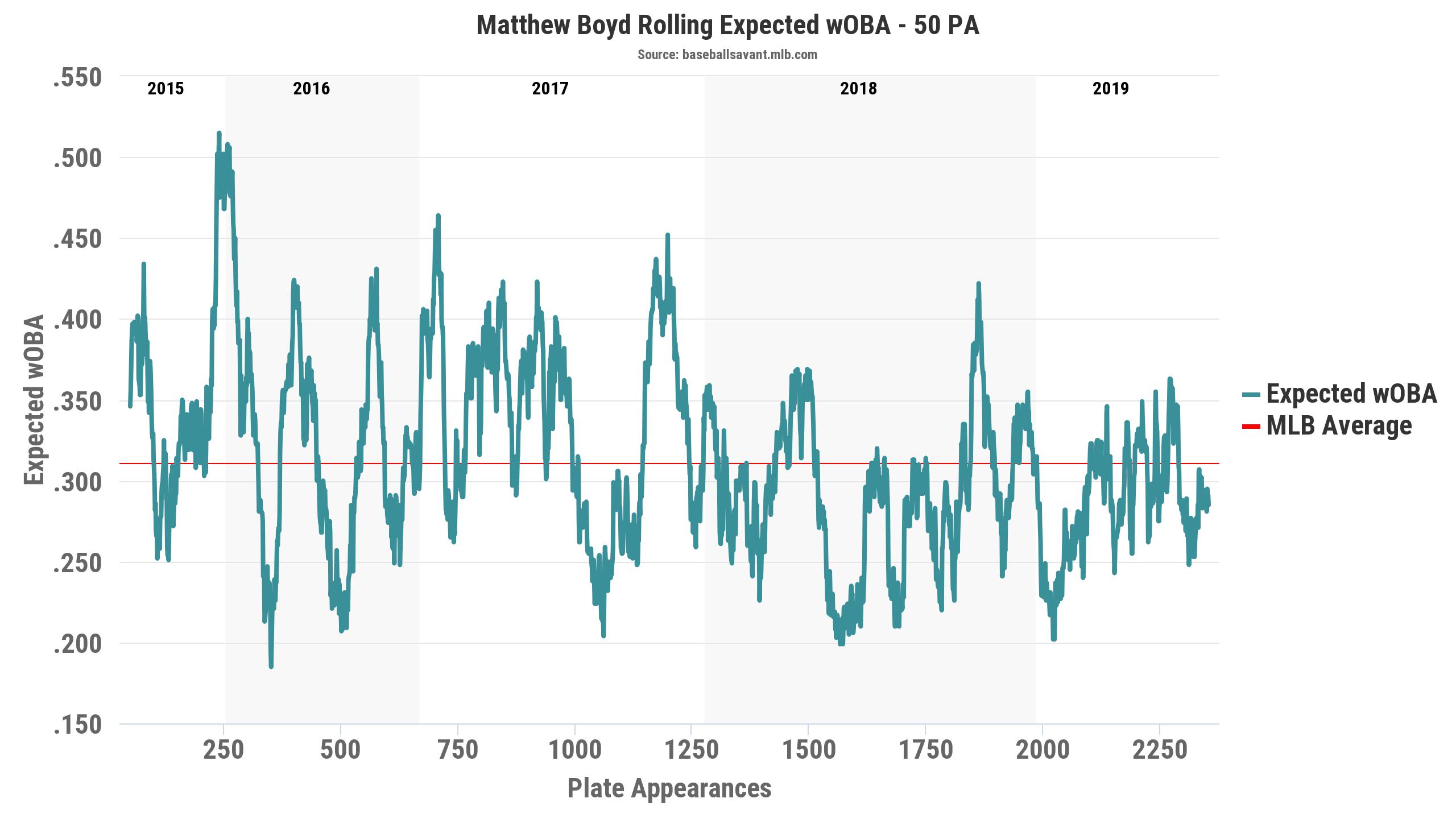 However, the Tigers have played extremely poorly after finishing April with a 13-14 record. Through May and June, they have gone 13-30 with a -113 run differential, an average margin of -2.6.
Cleveland has also been red hot of late, and Trevor Bauer is coming off of the first complete game shutout of his career (five days ago against these Tigers).
As a result, I'll take the game spread instead of the much juicier moneyline.
Brad Peacock continues to fly under the radar for the Astros, but he should be able to keep tonight's game against the Yankees closer than the odds suggest.
His past two outings are a bit concerning, surrendering four runs to both the Blue Jays and Brewers and seeing his xwOBA point into below-average territory over that rolling period.
However, the same could be said for James Paxton, who threw just 14.1 innings over four starts between May 3 and June 11, with 10 walks and 13 strikeouts.
His velocity has held up, Paxton was just hitting the zone less frequently and generating fewer whiffs in those starts. He pitched six innings (one walk, seven strikeouts) against the White Sox on June 16.
No team hits southpaws better than Houston (36% above league average), but the Yankees have also been far more effective against righties (16% above league average) than against lefties (16% below league average).
The stars might be aligning for a sneaky shootout in the Bronx on Friday, which only helps a team in the role of an underdog.
---
Bets (So Far) for June 21
Detroit Tigers (+1.5, -120) Game Spread
Houston Astros (+140) Game Moneyline
Stay tuned on Twitter or follow me in The Action Network App for my entire betting card for Friday, June 21.
---
Zerillo's Full MLB Model, 6/21
Download the Excel doc with my projections to input odds from your sportsbook. These projections cover the full game and First 5 moneylines and over/unders. A sample of one of the sheets is below.
How would you rate this article?