MLB Daily Betting Model, 6/17: Can Padres Rally for Another Win vs. Brewers?
Credit:
USA TODAY Sports. Pictured: Joey Lucchesi
Sean Zerillo's MLB model helps you find edges when betting moneylines and over/unders for the full game and first five (F5) innings.
He analyzes the full slate of games on June 17 with his model below and highlights Padres-Brewers (10:10 p.m. ET) as a potential edge.
Plug in your odds to the spreadsheet at the bottom of this article to see where you might have an edge.
Over bets on Sunday finished 10-4-1, and now stand at 523-494-46 (51%) on the season. They cashed less than 49% of the time between 2017 and 2018.
Nearly 70 games into the 2019 season, the league is averaging 4.75 runs per game and 1.35 home runs per game, 7% and 17% higher than in 2018.
Take a look at how per-game run production and prevention in the league has tracked dating back to 2015:
A confluence of factors are causing these changes, some related to strategy, and others likely related to the baseball itself.
Fewer balls in play and the ability to shift players defensively presents an opportunity to fit additional sluggers into your lineup. Just look at how the Brewers use Mike Moustakas (21 HR, .937 OPS) at second base.
Batters are also hitting more flyballs than ever, and taking advantage of advanced technologies in order to optimize their swings.
But we also had complaints throughout 2017 that the ball was behaving differently. MLB later confirmed that it had changed the ball. 
That suspicious ball might be back this season after reduced offense in 2018. And after introducing the major-league ball at Triple-A this season, they're quietly smashing home run records in the minors, too.
We saw the Mariners break or tie various home run records early this season, and the Padres and Rockies just combined for a record 92 runs in a four-game series; surpassing a mark for most runs in a series that had stood since 1929.
At this point, it's hard to argue with the fact that the run environment is a bit different.
Like major leaguers, all we can do is continue to make adjustments based upon the information we have.
---
Recapping Yesterday's MLB Model
At writing yesterday, the model would have gone 0-7 against full-game moneylines and 1-3-1 against first-five innings moneylines (F5).
My plays went 1-5, and I finished down 2.18 units for the day.
It was a mixed day in terms of Closing Line Value (CLV). 
I gained 19 cents overall against moneylines and spreads, gaining as much as 28 cents against Oakland's moneyline (-129 to -157), but losing 14 cents against Detroit's moneyline (+151 to +165).
One under that I played moved from 9.5 to 9.0 (New York/Chicago, but another moved from 12.5 to 13.0. That being said, the latter (San Diego/Colorado) took professional action at both numbers.
MLB Betting Model for Monday, June 17
All odds as of Monday morning (view live MLB odds). Stay tuned on Twitter or follow me in The Action Network App for my entire betting card for Monday.
Today, the model recommends two full-game moneylines and two moneylines for the first-five innings (F5).
As of writing, the 3.5% trigger threshold officially marked the New York Mets and San Diego Padres as full-game plays. The model also likes those same teams as F5 plays.
The Mets game feels like a bit of a trap to me. There is certainly value on them on paper but something is amiss with Zack Wheeler, as my colleague Stuckey recently discussed.
Wheeler has allowed nine home runs in his last five starts and despite increased velocity and a solid strikeout rate, he hasn't looked as sharp as in late 2018, getting into a lot of deep counts and showing distrust in his recently developed splitter.
Though he throws the offering less than 7% of the time it has a pitch value of -1.9, easily his worst pitch, and especially on a per pitch basis.
The one play that I like for tomorrow involves two starters trending in opposite directions, Joey Lucchesi and Jhoulys Chacin.
I already discussed Lucchesi, his "churve," and his newfound cutter on June 6. I just wanted to include a picture of one of his circle-change style grips on the pitch that he modifies by throwing it like a curveball:
It's easy to see from the graphic below how he's taken the next step in his development this season: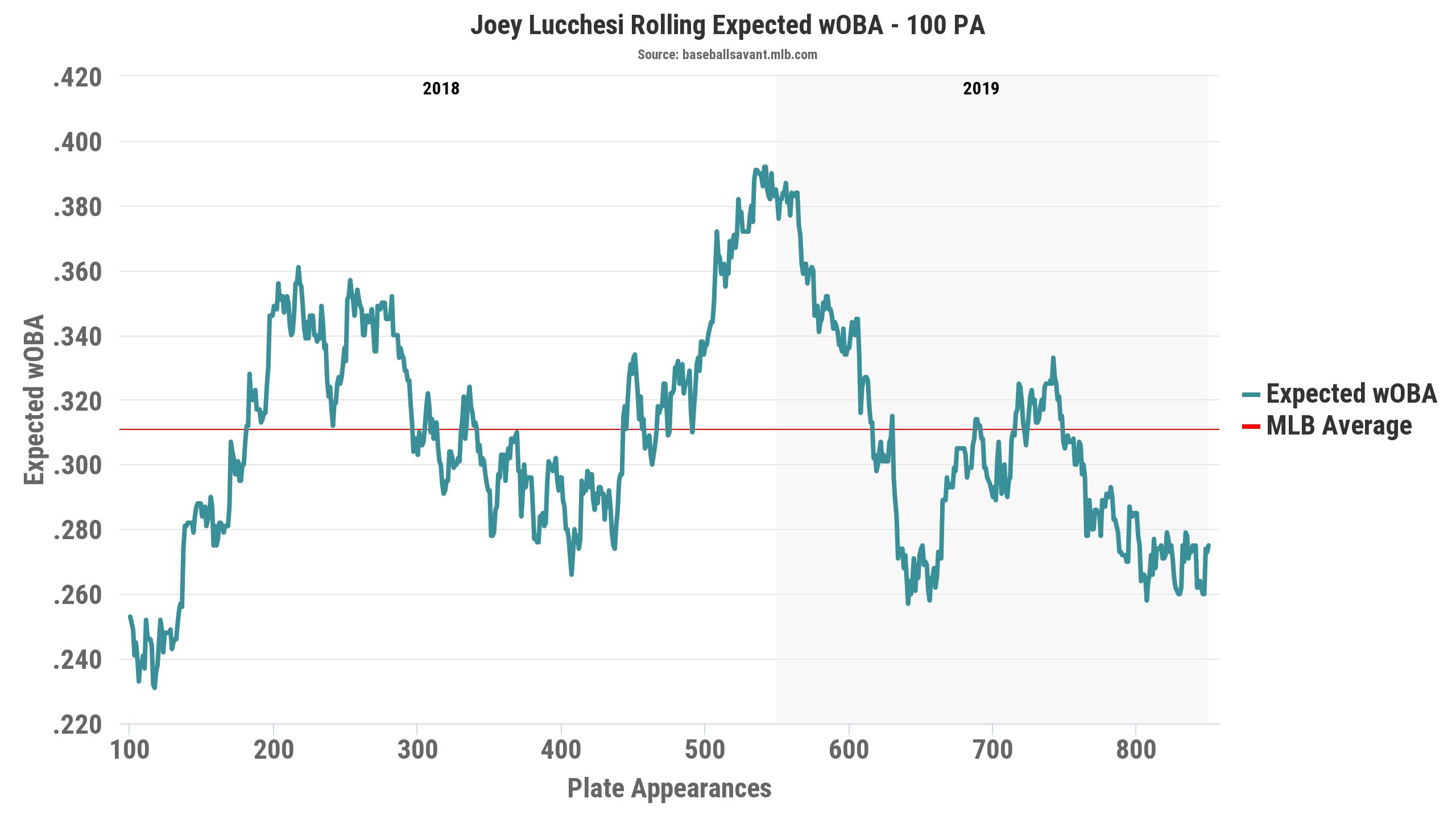 Now take a look at Chacin's decline: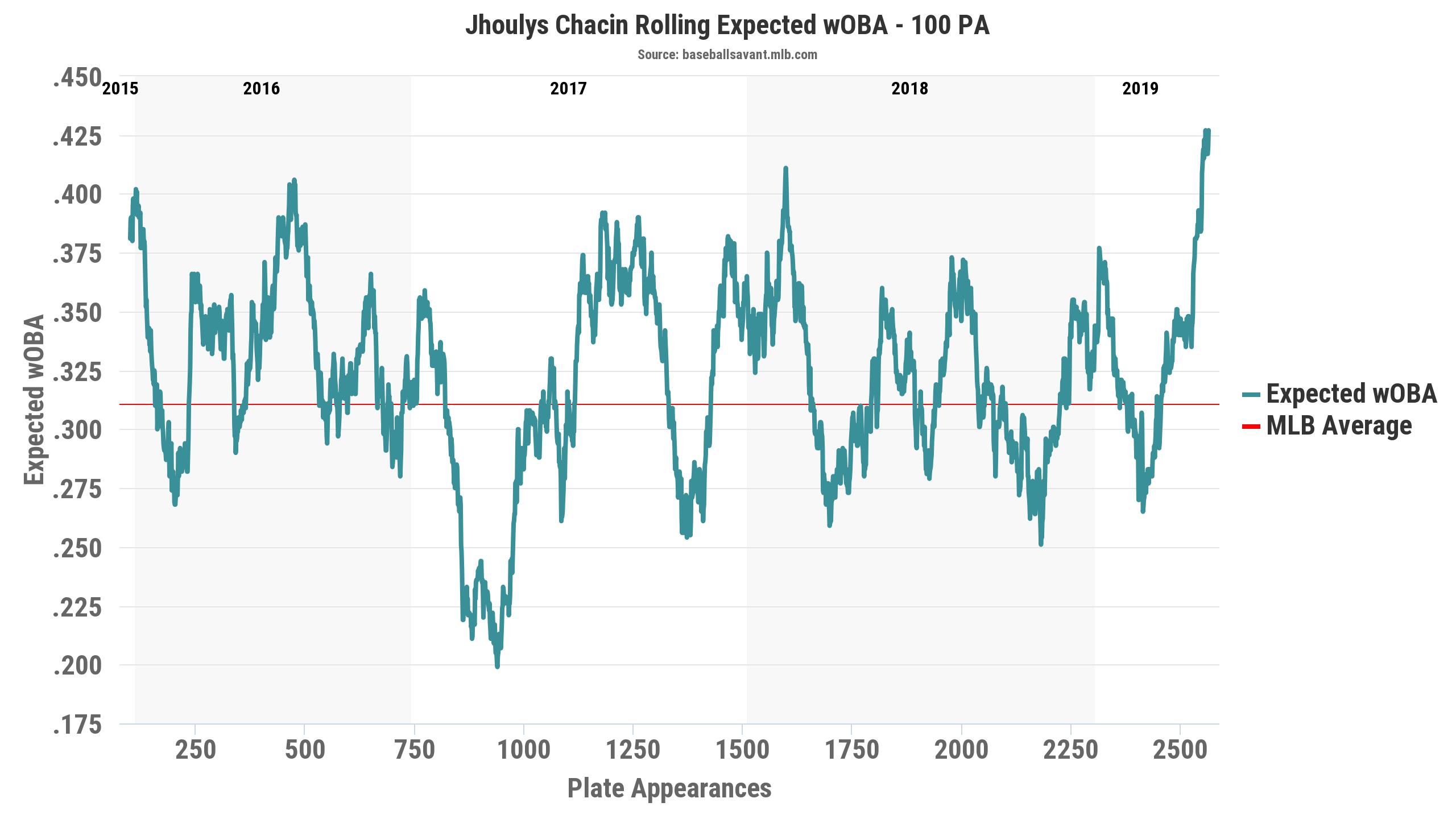 With a 3.50 ERA in 2018, Chacin outpitched his xFIP by a full run. But regression has been a kick in the teeth, with his 5.74 ERA confirmed by a 5.77 FIP and 5.70 xFIP.
A 44:29 strikeout to walk ratio in 58 innings isn't going to get it done in 2019, especially when your home run rate (1.71 HR/9) is double your career rate (0.89 HR/9).
The Padres offense has also been more potent with Fernando Tatis Jr. back in the leadoff spot and is coming off of two of the most confidence-inducing ninth inning come back wins of the season in the past three days.
I'm only concerned about the longevity of their bullpen this week after fighting through four slugfests in Colorado, but I do think that Lucchesi has the length to get them through one more day.
---
Bets (So Far) for June 17
San Diego Padres (-128) Game Moneyline
Stay tuned on Twitter or follow me in The Action Network App for my entire betting card for Monday, June 17.
---
Zerillo's Full MLB Model, 6/17
Download the Excel doc with my projections to input odds from your sportsbook. These projections cover the full game and First 5 moneylines and over/unders. A sample of one of the sheets is below.
How would you rate this article?