Zerillo: Odds, Projections & Picks for Rays vs. Astros ALCS Game 3 (Oct. 13)
Credit:
Alex Trautwig/MLB Photos via Getty Images. Pictured: Jose Altuve
Sean Zerillo's model projections for Rays vs. Astros ALCS Game 3 are a bit off from the betting market.
As such, he's found some betting picks for tonight's game, hitting both the first-five and full-game moneylines and over/unders.
Check out all of his picks, projections and betting analysis below.
Even though it feels like it just started, the 2020 MLB season is already winding down – with as few as nine and as many as 18 games remaining in this expanded playoff format.
There is plenty of actionable value up for grabs if you approach these games and series on an individual basis, checking both series moneyline prices and game moneyline prices between each contest.
As a result, certain playoff series are only worth betting on a game-by-game basis, while others offer more significant value in the series market.
Where can we find actionable value on Tuesday?
---
Braves vs. Dodgers Game 2 Odds
Ian Anderson vs. Tony Gonsolin
| | |
| --- | --- |
| Braves Odds | +100 [Bet Now] |
| Dodgers Odds | -121 [Bet Now] |
| Over/Under | 8.5 (-110/-110) [Bet Now] |
| First Pitch | 6:05 p.m. ET |
| TV | FS1 |
Odds as of late Tuesday at 12 p.m. and via PointsBet, where you can get $250 FREE instantly after signing up AND your bets automatically sync to the Action app. Learn more about BetSync here.
Model Projection (full projections here)
Braves probability: 47.7% (Fair odds of +110)
Dodgers probability: 52.3% (-110)
Projected total: 7.75
The Braves' bullpen outlasted the Dodgers relievers in Game 1, and Atlanta increased its NLCS win probability by 17% in my projections, from 39% to 56%, as a result of the victory.
The Braves re-opened as an even-money series underdog, however, despite the 1-0 lead, and there is actionable value on the Braves' series price at +100 or better, representing a 6% edge compared to the projection. 
Even if you already own a Braves' series ticket from before Game 1, you might consider making another play on the Braves — if Kershaw cannot go in this series, the Dodgers are in serious trouble.
Here's how my projection changed for Game 2 after Kershaw was replaced by Tony Gonsolin:
The Dodgers and Braves finished atop numerous offensive leaderboards in 2020, including wrC+ (1st and 3rd), xwOBA (1st and 3rd) and DRC+ (1st and 2nd).
Los Angeles has been the far superior defensive team, with 29 Defensive Runs Saved (DRS), compared to -8 for the Braves.
Defensively, the Dodgers are led by two-way star Mookie Betts (+10 DRS), and reigning MVP Cody Bellinger (+5) in the outfield, with Kike Hernandez (+9) and Chris Taylor (+5) providing ample versatility.
The Braves were buoyed by Dansby Swanson (+9), the best defensive shortstop in 2020, Max Fried (+5), who was the best defensive pitcher in 2020 and Ronald Acuna Jr. (+3), but as a team, they severely underperformed relative to the 2019 season (+41 DRS).
On paper, the Dodgers have the superior bullpen — though the Braves' arms appear to be going better right now.
The Dodgers relievers finished the regular season with a 3.88 xFIP (second in MLB) — 11 spots ahead of the Braves (4.41 xFIP), and a difference of 0.53 runs per nine innings. In my current projections, the gap between these two bullpens is less than half that number (0.24), and the Dodgers closer situation is currently in flux.
Kenley Jansen is currently in the midst of a substantial velocity decline: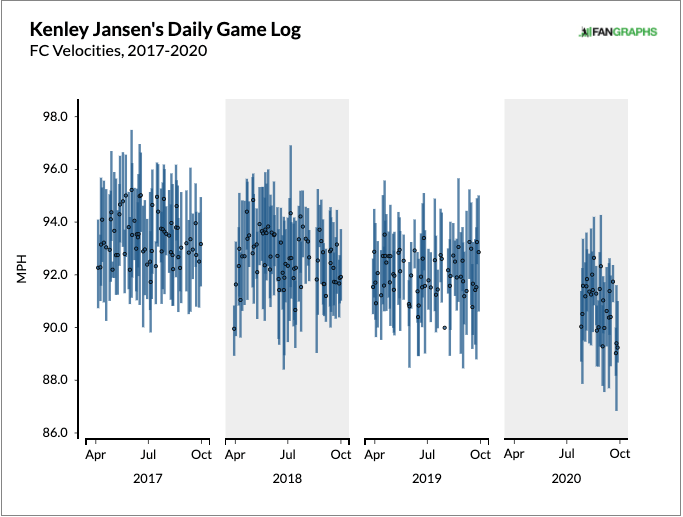 His cutter, which has averaged 93.3 mph for his career, sat at 90.9 mph in 2020 — down 1.3 mph from 2019, 1.8 mph over 2018 and 2.6 mph since 2017.
During his final three regular-season appearances, Jansen could hardly crack 90 mph with the pitch (averaged 89.4 mph), and he was rocked in his most recent playoff outing (0.2 IP, 3 H, 2 R, 0 BB, 1 K) while trying to close out the Padres.
While the Dodgers lost Game 1, they used all of the best relief arms, including Dustin May, who will likely be unavailable for Game 2.
And now they will have to turn to Tony Gonsolin, who hasn't pitched since Sept. 26, as a late replacement for Kershaw.
The 26-year-old has been extremely effective (3.02 FIP, 4.31 xFIP) since making his debut last season, and his 4% walk rate in 2020 tied with Kenta Maeda and ranked in the top five for starting pitchers.
His expected ERA (xERA) of 3.31 doesn't quite put him on par with Kershaw (3.11) this year, but Gonsolin is an effective pitcher nevertheless.
His high-spin (92nd percentile), plus-velocity (81st percentile) fastball dominated hitters, and Gonsolin pairs the heater with a splitter (30%), slider, (17%) and curveball (6%) — with the slider grading out as his best secondary offering.
Braves' rookie Ian Anderson has been equally spectacular, however, with 17 strikeouts against three walks in his first two postseason starts — and he's yet to allow a run.
You shouldn't be stunned that Anderson — the No. 3 overall pick in the 2016 draft — has turned into a dominant pitcher, but you might be surprised that it happened this quickly, and particularly when he wasn't a clear part of the Braves' 2020 preseason rotation.
Anderson dominated at every stop on his quick ascent through the minor leagues, while striking out 11.4 batters per nine innings last season between Double-A and Triple-A combined — matching his 2020 strikeout rate at the MLB level.
He offers a three-pitch mix including a four-seam fastball (48%, 94.1 mph), changeup (31%, 87.4 mph and curveball (22%, 80.1 mph), which was previously considered his better secondary offering.
The development of Anderson's changeup has been the biggest driver for his quick ascent, by allowing him to tame lefties (.201 wOBA) — who have yet to record an extra-base hit against the right-handed starter.
The Braves have a penchant for trying to develop high-pedigree arms, whether drafted or acquired via trade, including Anderson, Max Fried (No. 7 overall, 2012), Kyle Wright (No. 5 overall, 2017), Bryse Wilson (fourth round, 2016), Mike Foltynewicz (No. 19 overall, 2010), Sean Newcomb (No. 15 overall, 2014) and Touki Toussaint (No. 16 overall, 2014).
You shouldn't necessarily be surprised when they finally hit on one or two of those guys, and they immediately turn into stars.
If Anderson keeps pitching at this level, he would undoubtedly make the NL All-Star team next season.
Don't doubt him due to his inexperience, but embrace the value that comes as a result of that unfamiliarity.
After the pitching change, the market appears to have adjusted appropriately, decreasing the Dodgers' chances by roughly 8% from -150 (implied 60%) to -110 (implied 52.4%).
I would still bet the Braves moneyline at +125 or better.
The only play that might come into range is the under, which I would consider playing small at -105 or better.
Hopefully, you follow me in the Action App and locked in some "action" wagers on the Braves' moneyline prior to the pitching change.
Recommended Bets
Braves Series Moneyline (play to +100)
Braves Moneyline (play to +125)
Under 8.5 (0.5 units, play to -105)
---
Rays vs. Astros Game 3 Odds
Ryan Yarbrough vs. Jose Urquidy
| | |
| --- | --- |
| Rays Odds | -110 [Bet Now] |
| Astros Odds | -110 [Bet Now] |
| Over/Under | 8.5 (-115/-105) [Bet Now] |
| First Pitch | 8:40 p.m. ET |
| TV | TBS |
Odds as of Tuesday at 12 p.m. and via PointsBet, where you can get $250 FREE instantly after signing up AND your bets automatically sync to the Action app. Learn more about BetSync here.
Model Projection (full projections here)
Rays probability: 57.3% (Fair odds of -134)
Astros probability: 42.7% (+134)
Projected total: 7.3
With a 2-0 series lead, I give the Rays an 89% chance of winning the ALCS and making their second World Series appearance.
I don't see actionable value on either side of the series price, however, which currently makes the Rays a -700 favorite (implied 87.5%). I'm not playing a 1.5% edge when I can bet the Rays at a much more significant edge to win Game 3.
Tampa Bay seemed primed for a bullpen day in Game 3, but rather than using Ryan Yarbrough as a piggyback behind an opener, Yarbrough will make his 10th start of the season.
The southpaw has been remarkably consistent over three seasons and 344 MLB innings, recording a 4.33 xFIP which has only fluctuated from 4.24 to 4.41. He has the 14th best walk rate (5.8%) over that time by consistently getting ahead of hitters (63.2% F-Strike%) and pitching in the zone (54%).
Yarbrough's four-pitch mix relies upon finesse — he had the third-slowest fastball (87.4 mph) amongst starters this season, just beating out Dallas Keuchel (83.3 mph) and Zack Greinke (87.1 mph).
Yarbrough leans on his cutter (36%, 83 mph) and changeup (30%, 78.6%), while mixing in a curveball (10.7%, 71 mph) to round out his arsenal.
He does well to allow hitters to put the ball in play, ranking in the top 4% for average exit velocity allowed (84.8 mph) and hard-hit rate (26.3%) since reaching the MLB level.
From there, the Rays defense, which has ranked 6th, 6th, and 4th over the past three seasons in Defensive Runs Saved, generally cleans everything up.
Unfortunately, the Rays dominant bullpen may be without Pete Fairbanks (60 pitches in the past four days), Nick Anderson (50 pitches in the past four days), Aaron Loup (worked consecutive days) and Ryan Thompson (worked consecutive days) on Tuesday, taking some punch out of the back end of its bullpen and likely requiring a longer outing from Yarbrough.
He was flawless over three appearances against Houston in the 2019 ALDS (3 IP, 2 H, 1 BB, 1 K) and will hope to continue that playoff dominance.
There shouldn't be a lot of free passes from either starting pitcher in this contest, as Jose Urquidy actually bests Yarbrough in walk rate (5.3%) since reaching the bigs last season.
He utilizes a changeup (20.5%), slider (13.1%), and curveball (11.9%) behind his fastball (93.1 mph, 54.5%), consistently throwing strikes (54.6% zone rate) and generating a large percentage of free outs via popup (5.2%).
Urquidy has shown reverse splits, performing significantly better against lefties (.202 wOBA) than righties (.353 wOBA) to this point in his career, with his changeup grading out as his best secondary offering:
The Rays have hit lefties (133 wRC+, 3rd) significantly better than they have hit righties (105 wRC+) this season, so Urquidy's split might actually be to their benefit, and Yarbrough (career .296 wOBA vs. RHH, .294 wOBA vs. LHH) can neutralize all types of bats.
Dusty Baker has managed the Astros bullpen quite well, and their entire bullpen should be available.
I show value both on the F5 Under 4.5 (to -105) and the Rays F5 (to -125). Furthermore, I see value on the Rays moneyline (to -116) and Under 8.5 (to -117) or Under 8 (to -104).
I'll look to middle the total live at Over 5 or 5.5, given the Rays' potential lack of late-inning options.
Recommended Bets
F5 Under 4.5 (0.5u, play to -105)
Rays F5 (0.5u, play to -125)
Rays Moneyline (1u, play to -116)
Under 8.5 (1u, play to -104)
---
Recommended MLB Playoff Bets (Oct. 13)
Braves Series Moneyline (play to +100)
Braves Moneyline (play to +125)
Braves/Dodgers, Under 8.5 (0.5 units, play to -105)
Astros/Rays, F5 Under 4.5 (0.5u, play to -105)
Rays F5 (0.5u, play to -125)
Rays Moneyline (1u, play to -116)
Astros/Rays, Under 8.5 (1u, play to -104)
[Bet any team at PointsBet today and win $125 if they get a hit. Seriously.]
How would you rate this article?