MLB Playoffs Picks, Projections, Odds for Phillies vs Padres NLCS Game 1
Credit:
Gregory Fisher/Icon Sportswire via Getty Images. Pictured: Bryce Harper and J.T. Realmuto
We're treated to two MLB postseason games on this Tuesday thanks to Monday night's Guardians-Yankees rainout.
One of those teams will be moving on to the ALCS, while the Phillies and Padres get things going on the National League side.
How should you bet these two games? Our expert analyst Sean Zerillo breaks it down below.
Throughout the Major League Baseball playoffs, I will provide a daily breakdown summarizing my thoughts on both futures and individual games for that day.
Below, I will address how to handle betting on these playoff series, whether on the series moneyline or a game-by-game basis, while using my daily MLB Model projections.
You can find my projections for every MLB game in the Action Network App (on both the PRO Projections tab and the game pages) and our Projections Hub (which you can bookmark).
You can also shop for the best lines on our odds page.
Using my projections, where can we find actionable value on Tuesday?
Series Moneyline Corner
First, let's take a look at my updated projected series prices for both the Divisional Round and the NLCS before Tuesday's games:
The Guardians–Yankees series projection matches my Game 5 moneyline projection. As a reminder, you might find different prices in two markets (Game 5 money vs. series price) on the same book, so check both markets. We'll get into Guardians–Yankees Game 5 on its own below.
And the same goes for the NLCS: you might find those odds under either series price or the NL Pennant markets. Make sure to check both.
I set the Phillies as a slight favorite of the NLCS and bet their NL Pennant odds at +110 on Sunday. You can play that line down to +107 (48.4% implied) at a two percent edge compared to my series line.
Cleveland Guardians vs. New York Yankees, 4:07 p.m. ET
Aaron Civale vs. Nestor Cortes Jr. (full projections here)
According to my projections, the Game 5 postponement helped the Yankees' chances by 2.2% by allowing them to flip their starting pitcher from Jameson Taillon to Nestor Cortes and giving their key relievers an extra day of rest.
Cortes (2.70 xERA) was far more effective than Taillon (4.20 xERA) this season but will also stick the Guardians back in their lesser split; Cleveland's offense ranked above average against righties (104 wRC+, 11th) and carried the lowest strikeout rate in baseball, but fell to 27th against lefties (86 wRC+) while ranking in the bottom two for isolated power and slugging percentage.
Perhaps those splits will be slightly negated by Cortes taking the ball on short rest. Still, the Yankees should have an advantage in the early innings, and they can rely upon a now-rested bullpen once Cortes gets into trouble.
The southpaw relies on a fastball/cutter/slider pitch mix, and should continue to have success against a Guardians offense that ranks as average or below against all three of those pitch types (27th, 17th, and 13th, respectively).
I expect the Guardians to stick with Aaron Civale (3.80 xERA) at least once through the order before turning to their own bullpen or possibly Shane Bieber (3.51 xERA) on short rest for a trip through the heart of the Yankees' lineup.
Civale was a bit unlucky this season (4.92 ERA), stranding 62.5% of baserunners (72.3% career, league average 72.6%) with a BABIP roughly 10 points higher than league average and 20 points above his career norm.
Civale does carry a home run problem (career 1.33 HR/9) — a potential issue against the best home run-hitting team in the majors –, and he has shown reverse splits for his career (3.81 xFIP vs. lefties, 4.36 vs. righties) while relying on a cutter, curveball and sinkerball mix.
Civale bumped his curveball to a career-high usage rate this season (27.5%, +11.3% year over year), and it proved to be his most effective pitch on a per-pitch basis.
As a team, the Yankees had a top-five offense against fastballs and curveballs but ranked 22nd against cutters.
Bieber was dominant in his Game 2 effort, generating 19 whiffs on 32 swings with his slider and cutter. The Yankees finished second against sliders.
I would expect a quick hook for Civale in a must-win game with a rested bullpen behind him. Cleveland's best relievers have now had three full days off.
Based on Civale's and Biber's arsenals and Yankees hitters against those pitch types, I would look at player props for Aaron Judge and Isiah Kiner-Falefa for Game 5.
And I would expect a quick hook too for Cortes — who danced through trouble a bit during his Game 2 outing before allowing the game-tying home run in the fifth inning.
As we have seen all year — and throughout this series — the Guardians excel at putting the ball in play and floating singles (or sometimes triples) into the space between the infielders and the outfielders. They don't hit for power but force you to make plays.
And unless your pitching can overpower them, it just gives them more opportunities to get lucky and piece together rallies, even against the No. 1 defensive team in baseball.
Call them a luckbox if you want, but the Guardians' five-hit, ninth-inning rally in Game 3 featured hits with expected batting averages of .680, .880, .660, .370 and .460. They look like cheap hits, but not all of them are, and sometimes they benefit just from making contact.
The Yankees have a bevy of sinker and slider-oriented relievers in their bullpen, and I'll take a closer look at Oscar Gonzalez and Andres Gimenez in the prop markets.
With the swap from Taillon to Cortes, I now see value in the Yankees moneyline for both the first three (F3) innings (-150 at Caesars) and the first five (F5) innings (-170 at Caesars), and I would place both of those bets up to about -175 (63.7% implied), at a two percent edge compared to my F5  projection (-192, 65.7% implied).
I also see value in the Under 7 to -122 and would play that total as low as 6.5 (-104) compared to my projection of 6.12.
However, given the uncertainty surrounding the pitching usage for both teams — and with the hitter-friendly Alan Porter behind the dish — I'm not going too heavy on any individual wager for Game 5.
Philadelphia Phillies vs. San Diego Padres, 7:07 p.m. ET
Zack Wheeler vs. Yu Darvish full projections here)
Zack Wheeler (3.10 xERA, 3.06 xFIP, 3.19 SIERA) continued to look dominant in his Game 2 loss against the Braves despite allowing a trio of sixth-inning runs, which ultimately proved to be the difference in the contest.
His fastball velocity sat at 96.9 mph in both playoff starts, a full tick higher than his 2022 average; and much more in line with his career-best 2021 campaign (2.79 xERA).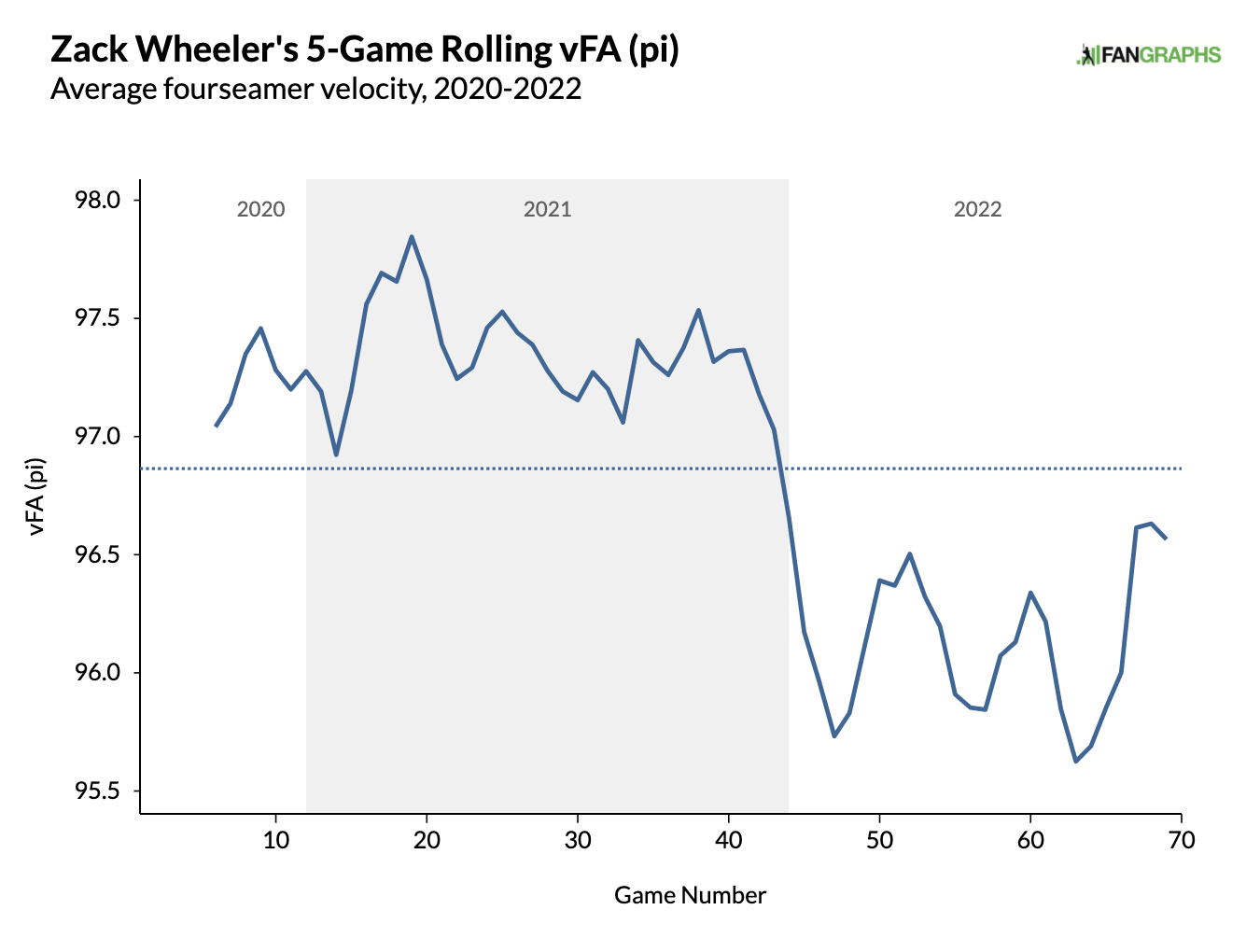 At that velocity level, we can project Wheeler closer to a sub-3 pitcher in terms of an ERA projection; more than a quarter of a run better than his results from this season.
Wheeler has had a relatively stable pitch mix for the past few seasons (roughly 42% four-seam fastballs, 27% sliders, 18% sinkers and 12% curveballs), and the Padres ranked 23rd against fastballs, 12th against curveballs and fourth against sliders on a per-pitch basis.
Josh Bell (8-for-26, .910 OPS, 1 BB, 5 K) fits the mold of a player who should have success against Wheeler's arsenal, and Juan Soto (11-for-38, .923 OPS, 11 BB, 10 K) has hit well against Wheeler in the past too. I'll take a look at both bats in the player prop market.
It's also worth noting that — after the trade deadline — the Padres' offense chased less often than any other team (28.4%), compared to the 10th lowest mark (31.4%) over the first four months of the season.
I rate Yu Darvish (3.49 xERA) as a lesser pitcher than Wheeler, Aaron Nola (2.74 xERA), and even his own teammates Blake Snell (3.19 xERA) and Joe Musgrove (3.27 xERA).
And I view the Phillies lineup as the superior offense, even though they only finished a few spots and a couple of percentage points ahead of the Padres in offensive splits before and after the trade deadline.
The defensive gap isn't as wide as you might suspect, either. The Padres ranked 19th in Defensive Runs Saved (+8), while the Phillies finished 25th (-33). And the gap was even more pronounced per Outs Above Average (3rd vs. 29th).
Still, my model sees both teams as having slightly above-average defensive units and only gives the Padres a small advantage in that area. That said, the Phillies' biggest weakness is in the corner outfield — where Kyle Schwarber and Nick Castellanos reside. And San Diego had the eighth-highest flyball rate after the deadline compared to 13th for the Cardinals and 15th for the Braves, so perhaps they can test those outfielders just a bit more often.
Lastly, these two bullpens carried very similar metrics over the final two months of the 2022 season, with both teams rating around league average. Obviously, both units have been dominant this postseason, but I don't project as big an advantage for the Padres — when both units are fresh — as you might suspect in the late innings.
I make the Padres' bullpen about four percent better than the Phillies' bullpen, worth about half a percentage point to the moneyline price, similar to their defensive advantage.
I project the Phillies as a slight favorite (51.3%, -105 implied) for the first five innings (F5) on Tuesday and would place that bet down to +103 (49.3% implied) at a two percent edge.
Moreover, I see a similar edge on the full-game moneyline (projected 49.8%, +101 implied) at +109 (47.8% implied) or better.
With Wheeler and Aaron Nola starting Games 1 and 2, the Phillies' aces should be aligned to start Games 5 and 6, respectively. I project the Phillies to win this series in six games around 16% of the time (+525 implied), and I would bet that prop for small stakes down to about +500.
Bets for October 18
NLCS Series Prop: Phillies Win 4-2 (+550, 0.25u at DraftKings)
Philadelphia Phillies F5 (+114, 1u at FanDuel), bet to +103
Philadelphia Phillies (+110, 0.5u at WynnBET), bet to +109
Yankees F3 (-150, 0.5u at Caesars), bet to -175
Yankees F5 (-170, 0.5u at BetMGM), bet to -175
Yankees/Guardians Under 7 (-115, 0.5u at DraftKings), bet to 6.5 (-104)
Bet the Phillies First Five Innings Moneyline Right Now at FanDuel!
How would you rate this article?
This site contains commercial content. We may be compensated for the links provided on this page. The content on this page is for informational purposes only. Action Network makes no representation or warranty as to the accuracy of the information given or the outcome of any game or event.