MLB Second Half Preview | 7 Undervalued Pitchers to Bet on, Including Corbin Burnes, Lance Lynn
Credit:
John Fisher/Getty Images. Pictured: Corbin Burnes
The second half of the MLB season begins on Friday after the All-Star break concludes. The entire league has played more than half of the season now. At the beginning of the season, I wrote about 10 pitchers I was looking to potentially bet on this year, thinking that the market would be underrating their true talent or ERA projections.
A handful of notable and expected aces had poor starts to the 2023 season, from Sandy Alcantara to Corbin Burnes to Aaron Nola and Alek Manoah. The market catches on to the breakouts and the disappointments, but changes in velocity, stuff and underlying projections can provide value going forward betting on and against certain starters.
Here are seven potentially undervalued pitchers I'm looking to bet on in the remainder of 2023.
For each pitcher, I've also included their record and ROI (for a $100 bettor) if you had bet on them in each start so far in the 2023 season. Data for that is provided by BetLabs.
To see Anthony Dabbundo's MLB bets throughout the 2023 season, follow him on the Action App.
Corbin Burnes, Brewers
First Half Betting Record: 10-8, -$105
The Reds' hitters remarked that Burnes had the best stuff they had seen all season long after he threw six innings with two runs allowed and six strikeouts on Friday. Burnes has been one of the most fascinating cases of the entire season in the betting market. The market has consistently moved against him start after start from the opening line to the close, including in that start against Cincinnati.
Early in the season, Burnes did see a legitimate drop in his velocity and swinging strike rate that would make him project as a diminished pitcher. He even expressed frustration with the media in May about the drop-off.
His cutter is traditionally one of the best pitches in all of baseball and the velocity on it was below 93.7 mph in three straight May starts. Burnes' velocity has returned enough that he's had an average cutter velo of 94.5 or higher in four of his last five starts. He had one blowup against the Diamondbacks in the first inning of a June 19 start, but he still is in the top five in overall Stuff+ among starters.
Even despite that blowup, Burnes has a 3.92 ERA in his last eight starts with 51 strikeouts in 50 1/3 innings. If you want to bet Burnes, I'd advise waiting until closer to first pitch of his games if the market is going to continue to underrate him.

Tyler Wells, Orioles
First Half Betting Record: 10-7, +$71
I've probably bet on Wells more in the last two seasons than on any pitcher in all of baseball.
The home run problem does exist and is always going to be problematic in small samples because he does allow a good number of fly balls. Wells allowed 1.39 HR/9 in 2022 and is up to 1.81 HR/9 with the increased run environment and fly ball distance in 2023. His HR/FB rate has also risen from 11% to 14% year over year. The BAT projection expects him to allow 1.55 HR/9 for the remainder of the season, which is right near the middle of the last two seasons.
Wells is producing more strikeouts this season, though, and that raises his ceiling as a starter. He's just short of a strikeout per inning, and the Stuff+ and swinging strike rate projections always suggested he was capable of maintaining a K/9 around nine. Wells is once again in the top 10 among qualified starters in infield fly ball rate. His ability to generate pop-ups is major for stranding runners.
The market has fully caught up to the similar profile of Cubs lefty Justin Steele, but there's still value left in betting Wells for now.

Kyle Bradish, Orioles
First Half Betting Record: 10-6, $+262
Bradish is the only pitcher featured in both the preseason and midseason columns. His Stuff+ has only trended up in the last two months. Of pitchers with at least 30 innings as a starter in 2023, only Jacob deGrom, Spencer Strider, Graham Ashcraft, Hunter Greene, Gerrit Cole and Shohei Ohtani have a better Stuff+ rating, per FanGraphs.
If you make the sample just the last 30 days, Bradish's 130 Stuff+ is the best in all of MLB. A quick look at his Baseball Savant Statcast profile would not at all jump off the page, but Bradish has showcased good command and the pitch modeling suggests he should improve his strikeout rate going forward.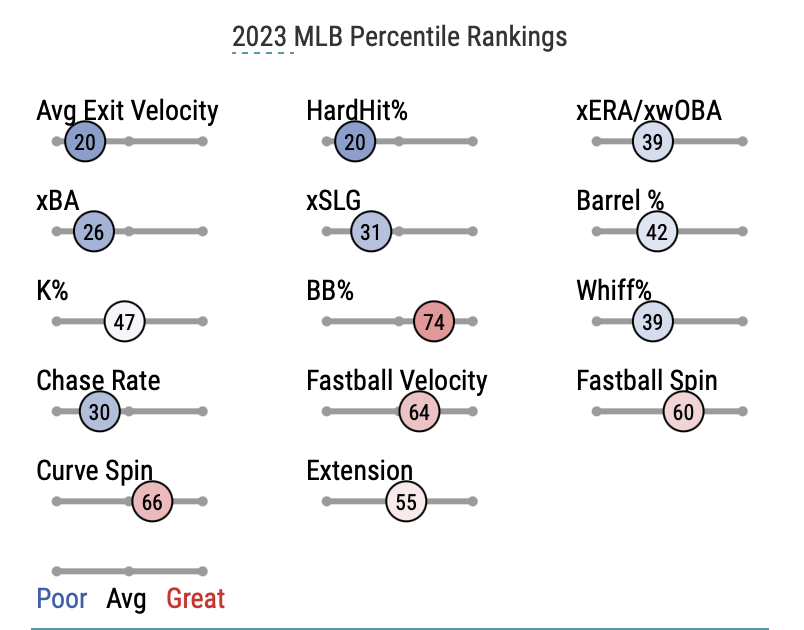 Bradish's fastball remains below average overall and has been hit decently hard, so the righty has de-emphasized the pitch and focused more on his plus-plus slider and mixed more curveballs and sinkers into the arsenal.
The BAT has him projected for a 4.55 rest of season ERA, but he can beat that number and be close to a 3.9-4.0 ERA pitcher rest of season with his tweaked arsenal.
Tarik Skubal, Tigers
First Half Betting Record: 0-2, -$200
Skubal just returned from injury and looked every bit as good in his first eight innings as you could have hoped for. Not only did Skubal not allow a run, but his swinging strike rate was a career high against the Toronto and Oakland lineups.
Skubal's fastball remains below average by Stuff+, but the elite slider and the good changeup really give him an out pitch against both lefties and righties. He's been out injured for so long that it's easy to forget how much Skubal took a leap as a pitcher in the first half of 2022.
He's added more vertical movement to both his curveball and changeup thus far. Even though there's not a huge track record of success with his new arsenal, he's a different pitcher now. The market was really slow to catch on to him last year and may be once again in the second half of 2023.
It takes more pitches for swinging strike rate to stabilize, but 13.3% through two starts would make him near an ace-level pitcher.

Kutter Crawford, Red Sox
First Half Betting Record: 4-5, -$56
Crawford has earned an extended run in the Boston rotation and made a real impression thus far in 2023. Crawford was awful in his 2022 starts with a 5.47 ERA, but the underlying pitch model data has always liked him and suggested that better results were coming for him in the future.
Crawford has a 3.68 xERA (compared to 4.11 actual) in 2023 and is striking out almost a batter per inning. His K-BB%, which stabilizes after 60 innings, is well above average at 18.5%, and Crawford just crossed the 60-innings threshold in his last start.
Crawford also has a pretty wide arsenal that's mostly fastball and cutter, but the small mix of breaking balls is enough to avoid potential major platoon issues. The Red Sox have multiple starters on this list and could be a sneaky team for a second-half run if Crawford establishes himself as a mid-rotation starter.

Brayan Bello, Red Sox
First Half Betting Record: 9-5, +$471
The Stuff+ model on FanGraphs is missing on Bello's changeup, but it's clear from the movement and results on the pitch that he's in the midst of a breakout right now.
The 24-year-old righty hasn't showcased huge strikeout numbers, but he's massively improved his command. His first pitch strike rate and zone rate have both jumped more than a full percentage point, and despite getting fewer chases and fewer whiffs, Bello's underlying data has improved.
He's not as good as his 3.04 ERA would suggest, but he should be better than the mean projection of a 4.20 ERA rest of season.
His sinker has a 53 grade per the PitchingBot Stuff metric (20-80 scale), with the changeup at 55. Both are plus pitches, and while you would expect potential platoon splits against righties as a result, he's actually been even better vs. righties than lefties in 2023.

Lance Lynn, White Sox
First Half Betting Record: 7-11, -$445
I've bet against Lynn more often than not in 2023, but all of his underlying metrics suggest that he's about to go on a run in the second half. Lynn has a career-worst 6.03 ERA, but it is paired with his career high strikeout rate of 11.1 per nine. He's allowed a home run on 20% of his fly balls, which is a major positive regression indicator for the second half.
Lynn has allowed a 5.9% career barrel rate, and yet in 2023 the righty is getting barreled nearly twice that much. Lynn has seen a drop-off in his overall Stuff+, but it hasn't shown up in more contact. His 14.1% swinging strike rate is a career high, and his zone contact rate allowed is third best amongst all MLB starters. It's time to buy Lynn at the floor.
Top 10 lowest Zone Contact rates — an indicator of how good your stuff is:
Spencer Strider
Shane McClanahan
Lance Lynn
Joe Ryan
Luis Castillo
Freddy Peralta
Blake Snell
Pablo Lopez
Zack Wheeler
Shohei Ohtani
How would you rate this article?
This site contains commercial content. We may be compensated for the links provided on this page. The content on this page is for informational purposes only. Action Network makes no representation or warranty as to the accuracy of the information given or the outcome of any game or event.