MLB Odds, Picks, Predictions for Phillies vs. Mets: Will Wheeler Continue to Have Success in Sunday Night Baseball Clash? (Sunday, May 29)
Credit:
Mitchell Leff/Getty Images. Pictured: Philadelphia Phillies ace Zack Wheeler.
It's an NL East matchup between the Philadelphia Phillies and the New York Mets on Sunday Night Baseball.
Zack Wheeler gets the start for the Phillies and Chris Bassitt will take the ball for the Mets.
Tanner McGrath shares his best bet below ahead of this matchup.
Phillies vs. Mets Odds
An NL East battle on Sunday Night Baseball during Memorial Day Weekend.
Readers, it doesn't get much better than this.
But winning some money on the game would improve the quality of our night greatly. So, as the first-place Mets and third-place Phillies get ready for battle, where's the value?
Philadelphia Phillies
The Phillies have lost three straight against the Mets and four of the past five. Philadelphia has also fallen to 21-26 and 9.5 games back of the first-place Mets.
The Phillies have been embarrassed, more or less.
Philadelphia has been involved in plenty of strange games so far and part of that is due to the defense. The Phillies' defense is atrociously bad. They've posted a -27 Defensive Runs Saved this season, which is much morse than the next closest team as the second-to-last Giants are at -20.
Two Phillies converge on a fly ball. Neither of them catch it. It's a two-run triple for Francisco Lindor and a six-game RBI streak — the longest of Lindor's career.

Mets 6, Phillies 2, bottom five. pic.twitter.com/KpJbyPt7r8

— Anthony DiComo (@AnthonyDiComo) May 29, 2022
The Phillies currently have a run differential of +14, which is actually a good sign and a better indicator of their true talent than the regular win-loss record. Just think about where this team would be if they could field a grounder and catch a fly ball.
It'd be nice if Philadelphia could get Bryce Harper back in right field, but with his torn UCL, it's likely that we won't get that for the rest of the season. Instead, Phillies' fans have to deal with an outfield of Nick Castellanos, Odubel Herrera, and Kyle Schwarber.
That's a fielding coach's nightmare.
Harper is an interesting case study. Since being shifted into the DH spot, he's lost his plate discipline. His walk rate of 6.1% is a full eight percentage points lower than his career average and 10 below last year's mark.
He's still mashing the ball, ranking above the 90th percentile in almost every important metric (from avg. exit velocity to barrel rate to xwOBA). Over the past two years, his ISO and SLG are as high as they've ever been and he's smashed 10 homers so far this season.
So, the end result is the same, if not better. But the decline in walks is intriguing, to say the least.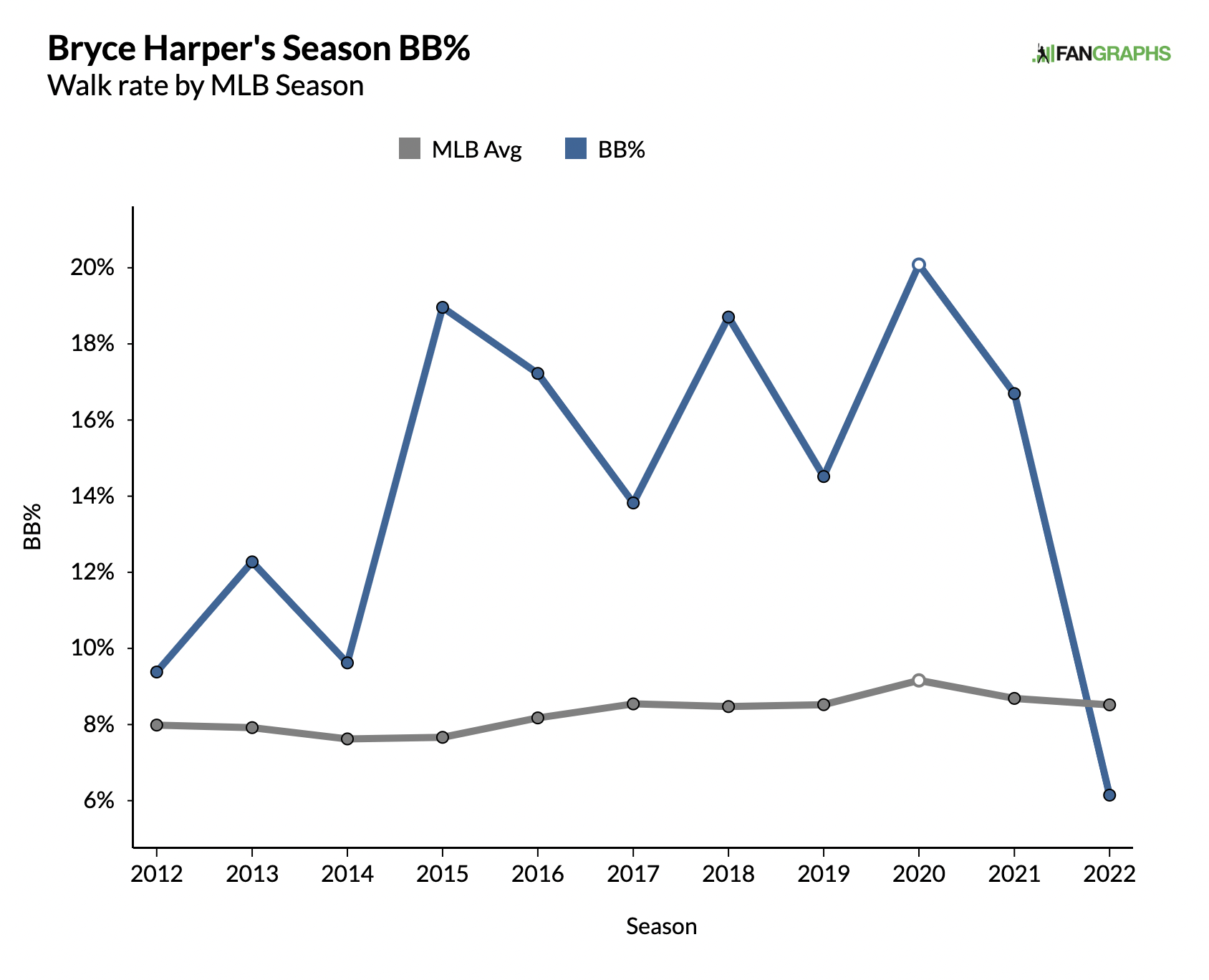 Image credit: FanGraphs
Anyway, the lineup has been fine all-around. The bullpen hasn't. The Phillies are 22nd in reliever ERA (4.25) and 16th in FIP (3.82). They're also 24th in xFIP (4.16), indicating a largely bad bullpen is due for more negative regression.
Starting pitcher: Zack Wheeler (RHP)
The starting pitching staff is second in xFIP (3.30) this season, trailing only Tampa Bay. After a shaky start, Aaron Nola has been incredible. Meanwhile, Ranger Suarez is the only starter in the Philly rotation with an ERA north of 4.00.
But don't overlook what Zack Wheeler is doing this season.
He's trucking along with a 3.38 ERA and a 2.32 FIP, and his 2.96 xFIP means regression is not on the horizon.
There are three pitchers tied for fWAR in the NL so far this season and Wheeler is part of that list (1.5). He's right in the hunt for the NL Cy Young, currently third at +1000 on Caesars.
Wheeler is a heavy four-seam fastball pitcher with a plus sinker and slider. His stats have dropped off slightly year-over-year, but his usage and ability to string together quality starts qualify his elite status.
Plus, Wheeler could be due for some slight positive regression. His .339 BABIP should come back down to league average .300 and his 2.94 xERA confirms that.
Wheeler has made nine starts against the Mets in his career and pitched a total of 59 innings (6 2/3 innings per start). He's done so with a 2.58 ERA, a 2.69 FIP and a 3.38 xFIP while striking out 53 in the process.
He's also allowed just an 87.6 mph average exit velocity and an eight-degree average launch angle. Wheeler has shut down the Mets in the past and he could do so again.
New York Mets
This Mets team is remarkable.
The comebacks the Mets have pulled off so far this season are remarkable. A 30-17 record with their two best pitchers on the Injured List is remarkable. The way the Mets continue to post plus offensive numbers despite having a super low average exit velocity is remarkable.
That last point is worth expanding on. The Mets do not hit the ball hard (fifth-lowest average exit velocity, fourth-lowest barrel rate), but they do have elite plate discipline stats.
The Mets have the third-lowest Whiff rate and the third-lowest strikeout rate in MLB. They've been really good about not swinging at bad pitches and swinging and missing.
Six of the Mets' regulars in the nine-man lineup have an OPS+ above 100 and five have an OBP above .350. It's a true team effort in Queens and the team is excelling as a result.
How about Brandon Nimmo? The outfielder is having a career year through May and is leading the team with 2.0 bWAR. Speaking of plate discipline, Nimmo's 15.6% strikeout rate is a full eight points below his career average and he's got a .386 OBP as a result.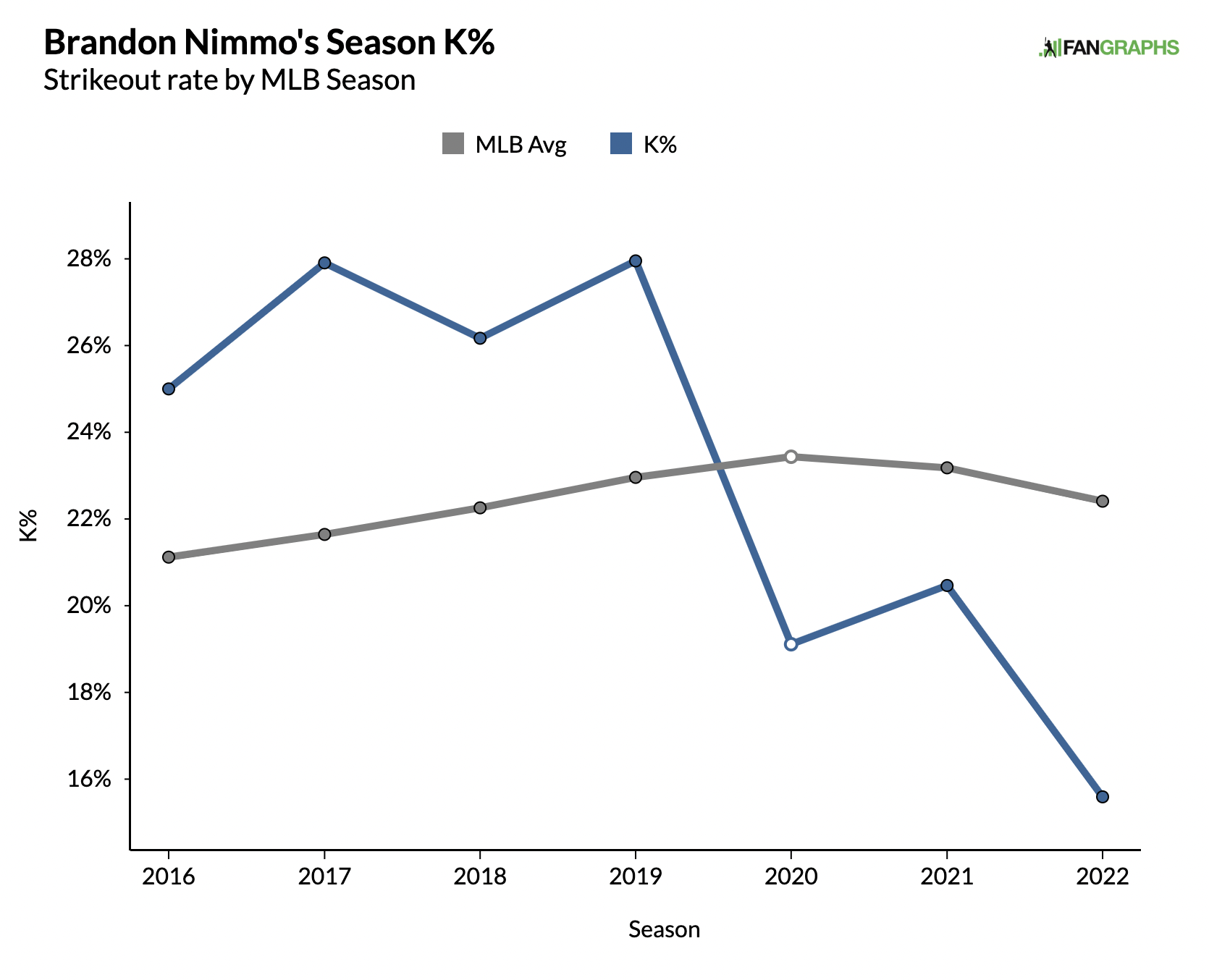 Image credit: FanGraphs
Nimmo has been the perfect Mets player so far this season. And so has tonight's starting pitcher.
Starting pitcher: Chris Bassitt (RHP)
Chris Bassitt simply gives the Mets a chance to win and the Mets are 6-3 in his starts. He has a 4-2 personal record, as well.
His length has been impressive. He's failed to pitch a full five innings just once this season and has eclipsed six innings in six of his eight starts. If anything, Bassitt has been great at resetting the bullpen.
Bassitt's numbers are up and his 3.91 ERA would be the highest number he's posted over a full season since his rookie year with the White Sox. But his 3.89 xFIP has been largely okay and I'm expecting positive regression for him soon.
There's a paradox at the center of Bassitt's game. His best trait is that he's managed to keep exit velocities down — he ranks in the 95th percentile of pitchers in average exit velocity allowed.
Image credit: Baseball Savant
However, Bassitt's biggest weakness is his inability to avoid the long ball. His 15.3% HR/FB rate is five points above his career average and he's allowing a whopping 1.53 homers per nine innings. It's been the one weak link in his starts so far this season.
However, Bassitt did just allow three home runs and eight earned runs over 4 1/3 innings against the Giants in his last start. That has inflated his year-long stats and I think we'll see immediate regression in the near future.

Phillies-Mets Pick
Our Action Network App has already tracked sharp money coming in on the Phillies and I'm ready to side with them in Queens on Sunday Night.
Bassitt has been as good as asked, but he's no Wheeler.
That's why taking the Phillies as underdogs in the first half makes sense to me. These are two similarly performing lineups, but the starting pitching battle favors the road team.
Plus, I want no part of a bullpen battle that heavily favors New York.
However, in the first five innings, I think this is a case of the wrong team being favored. That said, I'll bet the Phillies in the first five innings at anything better than -105 odds.
Pick: Phillies F5 ML (+104 at FanDuel | Play to -105)
How would you rate this article?
This site contains commercial content. We may be compensated for the links provided on this page. The content on this page is for informational purposes only. Action Network makes no representation or warranty as to the accuracy of the information given or the outcome of any game or event.