Marky's Wednesday MLB Forecast: Texas Temperatures Good for the Long Ball
Credit:
Jerome Miron-USA TODAY Sports. Pictured: Roughned Odor.
The Highlights
Triple-digit temperatures at Globe Life Park in Arlington will help balls fly in the Padres-Rangers game.
Storms in the Midwest have shifted east and could affect a handful of games. 
Sharp action on the under has hit on the Giants game, which has the lowest Weather Rating of the night.
---
Despite scary weather and some long rain delays Tuesday night, no games were postponed. Even though Corey Kluber ended up pitching, I hope everyone avoided him because it was ugly.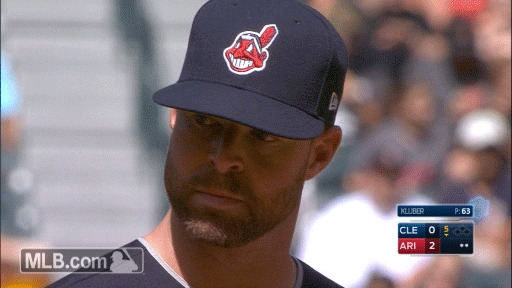 It was, Corey. It was.
There aren't any stud pitchers who should be hindered by rain delay/PPD possibilities tonight, but there will be rain. Figuring out where and when is the hard part, but I'll give it a weatherman's effort and let you know what I think.
Highest Weather Ratings
Padres at Rangers: 87
Indians at Cardinals: 72
Athletics at Tigers: 72
There's a solid chance that the first pitch in Texas tonight will be in 100+ degree heat, which is great for hitting home runs. The standard wind blowing in from right field will accompany said heat, but that isn't stopping the Weather Rating from approaching 90. The one thing you should keep in mind, however, is that Clayton Richard — an extreme ground ball pitcher — is going for the Padres. The heat can help fly balls go over the fence, but it can't do a darned thing about grounders. This total has remained at its opener of 9.5.
Lowest Weather Ratings
Rockies at Giants: 36
Angels at Red Sox: 42
Cubs at Dodgers: 48
Nothing crazy low this evening. Pretty standard stuff with the Giants game, where I will be praying for some Kyle Freeland Ks. The under has seen some sharp action, dropping from 7.5 to 7 despite fewer than 30% of bets on the under.
Rain
Well, we have a handful of games tonight on the East Coast. Here's the Weather.com future radar during the middle of a few of these games …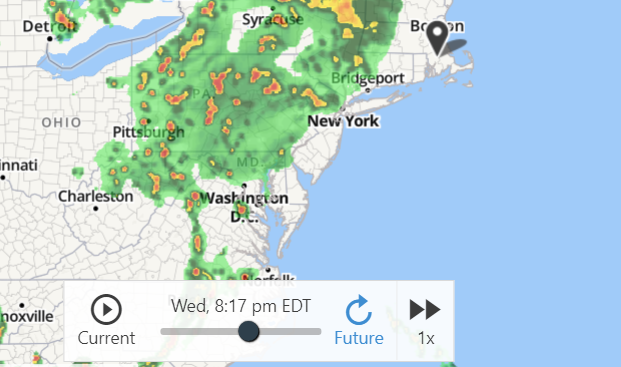 Yikes!
Yankees at Phillies: The early frames probably won't be affected, but that big chunk of rain will be moving in at some point. Exactly when is tough to tell, but we could be looking at a rain-shortened affair.
Mariners at Orioles: A similar situation is expected in Baltimore, but the rain percentages are higher earlier in the evening than they are in Philly.
Pirates at Mets: Rain will be entering the area at some point, but should start out relatively light and without thunder and lightning.
A's at Tigers & Angels at Red Sox: I'm far less concerned with these two games than I am about the first three. Detroit could have a late start, but any rain in the area should clear out early on. The opposite is true for Boston, as a slug of rain will arrive around 10 p.m. ET or later.