World Series Game 4 Betting Picks, Odds & Predictions: Can Astros Even Things Up vs. Nationals?
Credit:
Brad Mills-USA TODAY Sports. Pictured: Jose Altuve (27) and Alex Bregman
Astros vs. Nationals Betting Picks, Odds & Predictions for World Series Game 4
Probable starters: Jose Urquidy (2–1, 3.95 ERA) vs. Patrick Corbin (14–7, 3.25 ERA)
Astros odds: -105
Nationals odds: -115
Over/Under: 8.5
First pitch: 8:07 p.m. ET on FOX
---
Odds as of Saturday and via PointsBet, where Action Network users can access an exclusive promotion to get a 200% deposit match (deposit $50, bet with $150).
---
With timely hitting in Game 3, the Nationals might be up 3-0 in this series.
On Friday night, their offense stranded 12 baserunners and went 0-for-10 with runners in scoring position (RISP) against Zack Greinke and the Astros bullpen in the first World Series game in Washington D.C. since 1933.
The teams left 22 runners on the basepaths between them, as the Astros won 4-1 to get right back into the series.
However, the Nationals have their first (and likely only) shot at being favored in any game on Saturday and need just one win to put the Astros on the brink with Max Scherzer and Stephen Strasburg still in their holster.
Can Patrick Corbin overcome the Astros' mostly right-handed lineup, or will the Astros bullpen continue to put up zeroes against the Nationals offense?
The Starters
Patrick Corbin has only started two games during this postseason but will make his seventh appearance tonight.
Jose Urquidy was announced as the Game 6 starter in the ALCS against the Yankees, before being replaced by Brad Peacock.
Urquidy ultimately came in to provide 2.2 innings of effective relief in that win, and tonight will mark his third postseason appearance. He hasn't started since Sept. 27.
Pitcher usage in 2019 remains unorthodox, especially during the playoffs.
Corbin pitched an inning in Game 1 against the Astros, striking out Carlos Correa and Martin Maldonado around a single by Yordan Alvarez.
He generated four whiffs with his slider and has a swinging strike rate of 28% with his best pitch in the postseason.
I highlighted Patrick Corbin before Game 1 against the Dodgers, and Game 4 against the Cardinals, noting that he:
Throws his slider more frequently (37%) than all but just a few pitchers
Had the third-best slider in 2019 by total pitch value, and eighth-best on a weighted basis
Prefers to throw his slider low and away to lefties, or down and in to righties
Look at how he buries that pitch, as he did to Maldonado, with two strikes: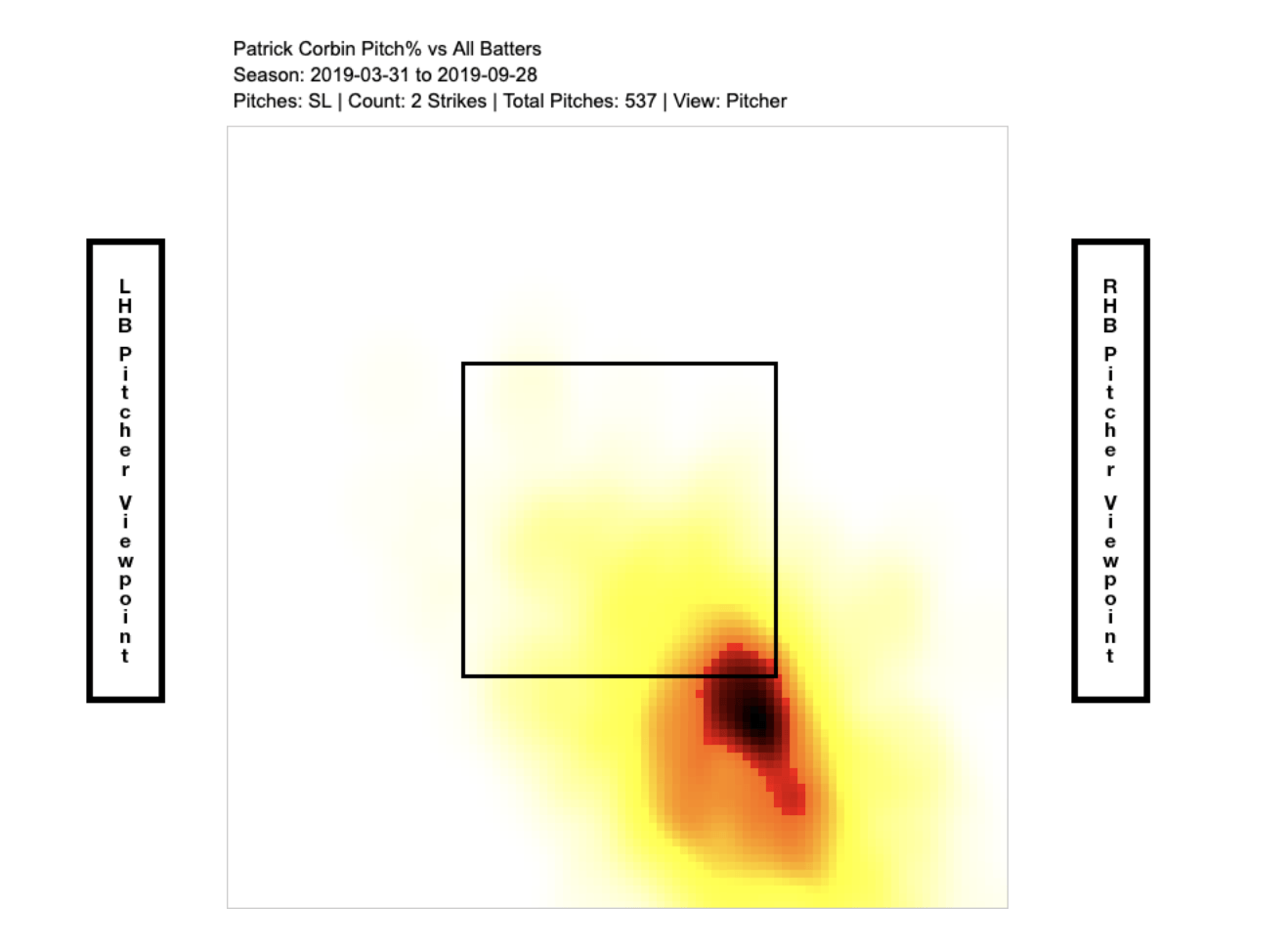 He ranked as a top-15 pitcher by both groundball rate (49.5%) and strikeout rate.
But Corbin also has relatively significant splits, performing better against lefties than righties, and the Astros' loaded right-handed lineup, which was historically excellent (131 wRC+) against left-handed pitching, can exploit that.
Moreover, Corbin relies on whiffs outside of the zone, throwing the ball in the zone less frequently (36.3%) than any starter: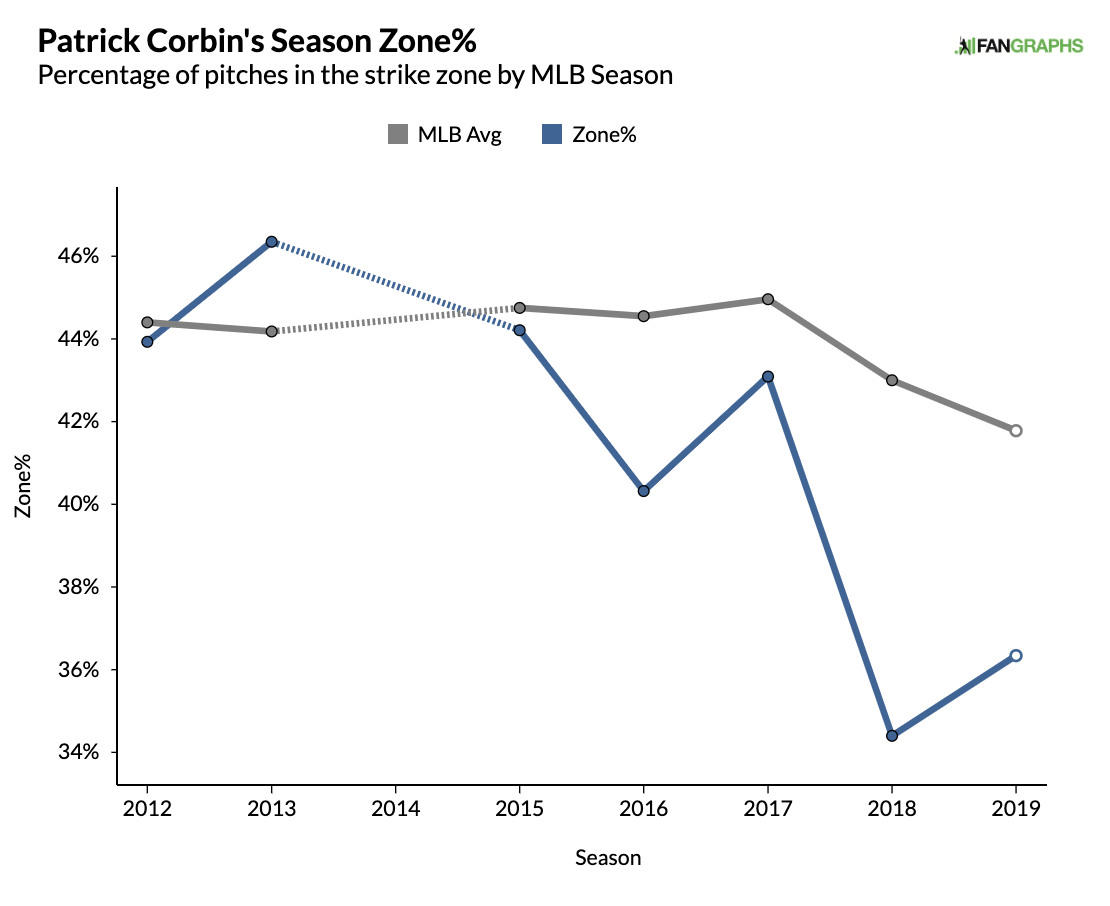 The Astros' contact rate on pitches outside of the zone was 68.2% — the best in baseball.
As for Urquidy, he was featured as the opener for Game 6, though he ultimately ended up pitching in a bulk relief role.
I noted that each of his three pitches (four-seam fastball, slider, changeup) had returned positive pitch value in his debut season after experiencing a velocity uptick following 2017 Tommy John surgery.
I'm a fan of his slider, but scouts continue to salivate over Urquidy's changeup, which he isn't afraid to throw to same-sided hitters:
Urquidy has thrown as many as 98 pitches in an MLB outing, but I would look for the Astros to pull him after he turns over the Nationals batting order twice.
The Bullpens
On the season, the Astros bullpen ranks 11th in FIP, first in xFIP, and first in K-BB%. By the same metrics, the Nationals rank 26th, 29th, and 23rd.
Zack Greinke failed to make it through the fifth inning for the third time this postseason, and the Astros had to cobble together 4.1 innings of shutout baseball from their bullpen on Friday.
Will Harris did the bulk of the work, recording five consecutive outs in 25 pitches (two strikeouts), and he has now thrown 8.1 innings (4 H, 0 R, 1 BB, 10 K) and 121 pitches in the postseason.
Fifty-six of those pitches have come in the past seven days.
His cutter (58%) and curveball (42%) are incredibly frustrating for hitters from both sides of the plate:
Over the past two seasons, Harris has a 2.58 xFIP against lefties, and a 3.27 xFIP against righties, making him extremely useful against Adam Eaton and Juan Soto with the Astros' lack of left-handed arms.
Despite the recent workload, Harris had been the Astros' most dominant reliever, and he should be available (along with everyone else) on Saturday.
For the Nationals, Joe Ross worked two innings (19 pitches), and Fernando Rodney (15 pitches) got in for the second consecutive game in this series.
That enabled the Nationals key arms, Tanney Rainey, Sean Doolittle, and Daniel Hudson, to get another day of rest — and you should expect to see all behind Corbin if Game 4 is close in the late innings.
Projected Lineups
Data per FantasyLabs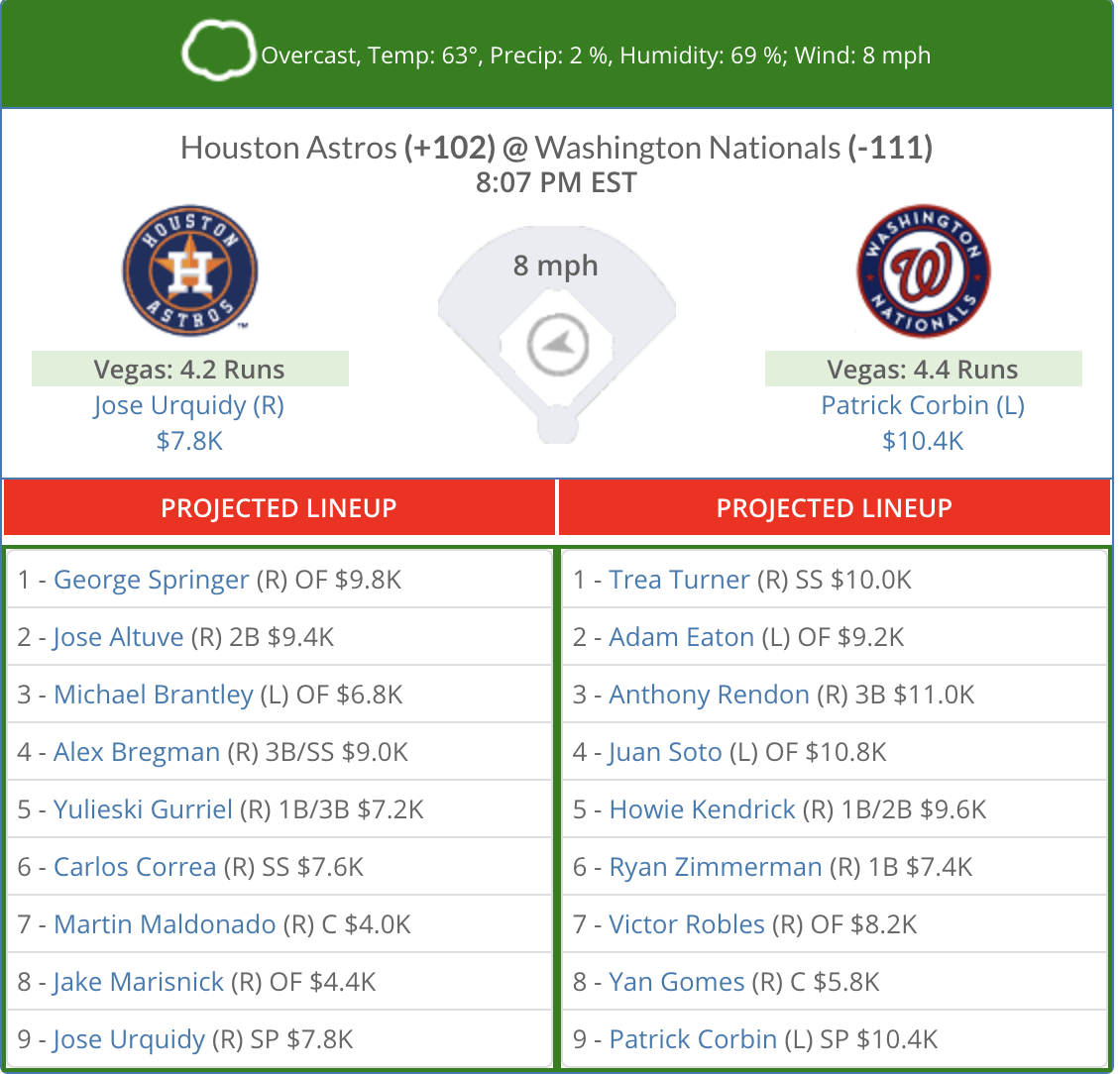 Asdrubal Cabrera started over Howie Kendrick and batted fifth in Game 3, but he had good historical numbers against Zack Greinke. Expect to see Kendrick back in the Nationals' lineup in Game 4.
Umpire and Weather Report
Data per Sports Insights

James Hoye was a reserve MLB umpire from 2003-09 and became a full-time umpire in 2010. This is his fourth playoff game serving as the plate umpire.
Since 2010, unders have cashed with Hoye behind the dish 55.3% of the time, netting +$2,248 for a consistent $100 bettor, the sixth most profitable umpire for under bettors over that span.
Hoye has also shown a lean towards road underdogs, who have won at a 45.2% clip with him as the plate umpire,  netting +$1,758 for a consistent $100 bettor.
Trends to Know
The American League owns a 66-48 head-to-head record against the National League in the World Series.
At 482-454-47 (51.4%), Nationals Park is the sixth most profitable stadium for over bettors since 2008, though totals are 8-7-2 to the under in postseason games.
As of writing, nearly 80% of the bets and 70% of the cash behind the total is backing the over, making Saturday, another spot for a contrarian under:
That PRO system is 102-84-8 (54.8%) in 2019, including 8-5 in the playoffs.
In Friday's Game 4, 70% of tickets and 72% of the cash was behind the over.
Series Moneyline Corner
With a 2-1 series lead, I project the Nationals to win the World Series 59% of the time, implied odds of -144.
Oddsmakers have re-listed the Nationals as a -120 series favorite (implied 54.5%) before Game 4, representing actionable value at an expected 4.5% edge compared to my projection.
As I wrote before Game 3, I project the Astros as a -170 series favorite (implied 63%) with the series tied 2-2, but I would move the Nationals to -400 (implied 80%) if they take a 3-1 lead.
If you like the Nationals to win both Game 4 and the series, this is the time to play their series moneyline, which is closer to their Game 4 odds than it should be despite a one-game series lead.
Model Projected Odds: World Series Game 4
Favorite Bets
I projected the Astros as a -102 favorite in this game, and I set the total at 9.52 runs. Therefore, I see slight value on the over, but nothing on either side of the moneyline. 
I would play the Astros down to +106 (implied 48.6%), or the Nationals down to +111 (implied 47.4%) on the full game moneyline — a two percent edge on either side.
Similarly, I would play the Astros to +123 (implied 44.9%) or the Nationals to -104 (implied 51.1%) on the first five innings (F5) moneyline, again representing a two percent edge on either side.
I put one unit on the Astros at +115 (implied 46.5%) at open, which represented a four percent edge compared to my projection.
I would consider playing over 8.5 (-110), at a 3.2% edge, but would prefer the F5 over 4.5 (-115), at a 4.4% edge.
However, F5 totals can be a bit more unpredictable, especially in playoff games, with the Astros extremely willing to pull Urquidy at the first sign of trouble.
[In New Jersey? Bet Game 4 of the World Series at PointsBet]
How would you rate this article?