Yankees vs Orioles Prediction Today | MLB Odds, Picks for Sunday, July 30
Credit:
G Fiume/Getty Images. Pictured: Orioles catcher Adley Rutschman
Yankees vs. Orioles Odds
This week's Sunday Night Baseball matchup is way more fun with Baltimore atop the division and Aaron Judge back in the fold. What a treat.
The starting pitching matchup will be impossible to break down.
What's up with Luis Severino? Why is Dean Kremer suddenly a viable rotation arm?
Let's get into all that and more in our best bet and prediction for Sunday Night Baseball's Yankees vs. Orioles game.
---
The return of Judge was … underwhelming.
He went 0-for-1 and walked three times. His one batted ball was hit 104.4 mph off the bat and went more than 300 feet but fell short of the wall.
I've never thought of baseball as an individual's sport, for lack of a better phrase. The league isn't as star-driven as the other three leagues, and deep lineups tend to win out over top-heavy ones in the long run.
That said, Judge's on-field impact is making me re-think that analysis. His absence has shown how important he is to the success of the Bronx Bombers.
Will it be enough to save their season?
Impossible to say. They were shut out last night by a resurgent Grayson Rodriguez and a solid Orioles bullpen, though they managed nine hard-hit balls (Exit Velocity over 95 mph).
I don't want to overreact to one performance, but the game did exemplify what's wrong with these Yanks.
The only Yankee with an above-average OPS outside of Judge is Glebyer Torres. If you give Judge the Barry Bonds treatment, you're pitching to the A's.
The good news: Four important Yankees are underperforming.
Giancarlo Stanton has a .298 wOBA and a .357 xwOBA
DJ LeMahieu has a .289 and a .320 xwOBA
Anthony Volpe has a .289 wOBA and a .311 xwOBA
Gleyber Torres has a .328 wOBA and a .353 xwOBA
The Yankees are a top-heavy lineup, and their top hitters are all getting BABIP'd to death. Their .261 team BABIP is 12 points lower than any team in baseball.
The Yankees have been underperforming all season. At some point, you'd think this luck would turn.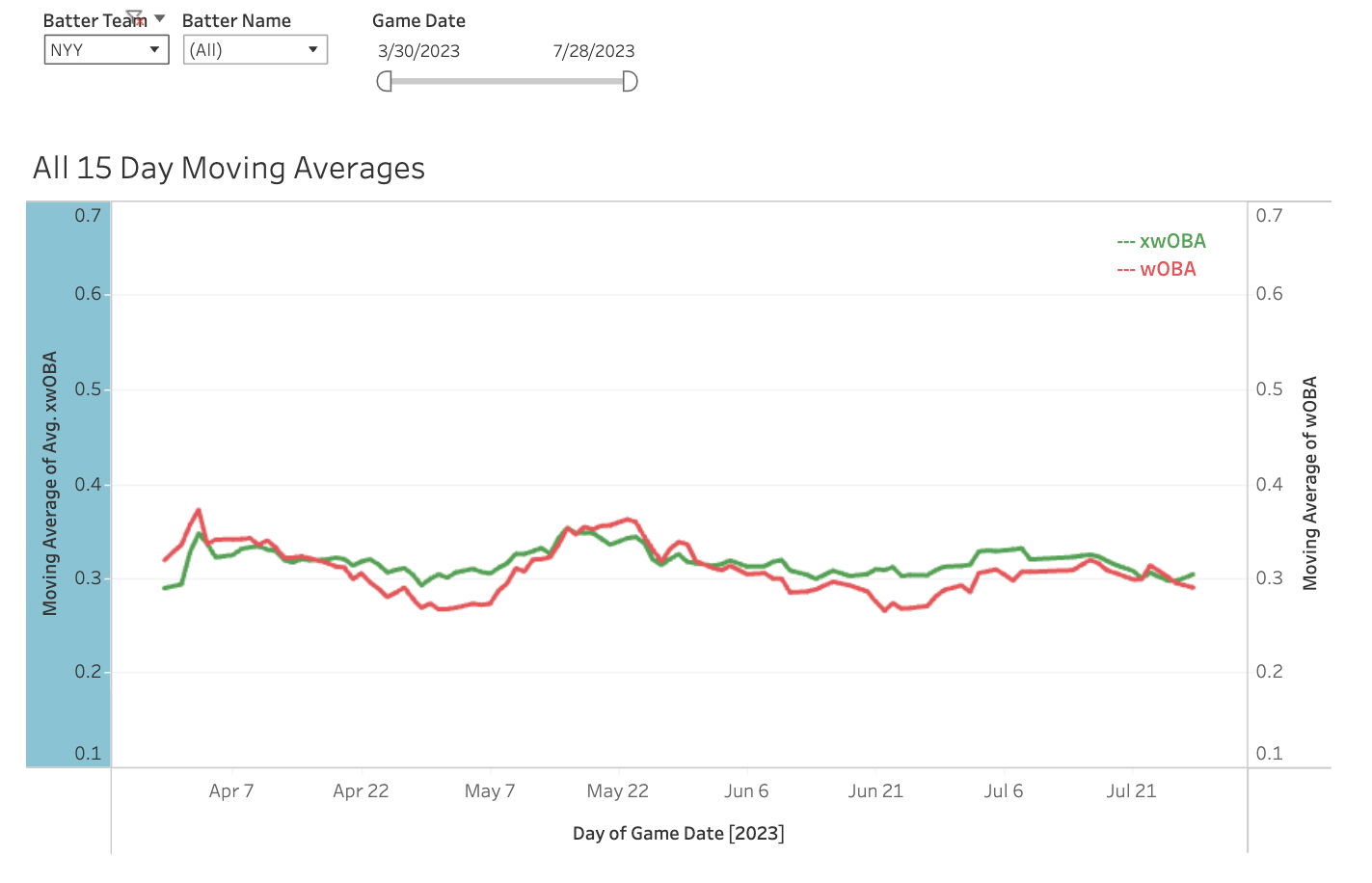 My other theory is that these Yankees are not built to succeed with this season's rule changes. The shift ban and bigger bases mean teams that prioritize contact and speed end up succeeding. Think Miami or Arizona.
The Bronx Bombers have always been a three-true-outcome team, sinking them in the new baseball order.
The theory is half-baked, as the Yankees have a league-average Contact rate, and Texas is still winning by mashing the ball.
Occam's Razor tells us the Yankees should see positive regression, especially with the return of Judge. Once (if) the DJ LeMahieu-Anthony Volpe-Oswaldo Cabrera trio starts hitting for average, maybe everything will fall into place.
Starting  Pitcher: Luis Severino (RHP)
Is "cooked" the right word to use for Severino?
His K-BB% rate is at 9%. His batted-ball profile looks like the Blue Powerade I had this morning.
Imagine having a 1.73 WHIP.
Severino seems to be locating alright. He's keeping his fastball high in the zone. He boasts a 104 Location+ rating across his arsenal.
His fastball is hittable right now. He's throwing it in the zone 55% of the time (84th percentile), and 71% of them are producing strikes (89th percentile), but he's allowed a .347 average and a .653 slugging on the pitch.
His Zone Contact rate is up nearly 4% year over year. His 86.9% mark would be a career-high.
You can't be effective in the Major Leagues without a Major League fastball, especially when you throw the thing more than half the time (52.5%).
Sevvy boasts a 6.46 ERA and a 6.37 xERA. He's allowed 18 earned runs over his past 18 innings.
---
The O's are cooking. They're 15-8 in July and stole a series from Tampa.
My favorite thing about the O's is their bullpen. Yennier Cano and Felix Bautista were already the best one-two back-end punch in the game, but adding Shintaro Fujinami to the mix makes them even better.
Do not be fooled by Fujinami's statistics. He's been much better since adjusting to the league in mid-May, and I think he likes his middle relief role. He has a respectable 3.81 ERA over his past 26 innings, cutting down on the walks but continuing to force Whiffs with his fastball-sinker approach.
Fujinami ranks in the 89th percentile of pitchers in Whiff rate.
And Fujinami has become more important than ever.
You see, the Orioles are tired.
Orioles are in a very interesting position.

Come mid-August, 80% of their current rotation will have reached a new career high in innings. Cano's clearly already showing signs of fatigue with his arm slot dropping. Bautista will also likely be close a career high in IP.

— Alex Fast (@AlexFast8) July 23, 2023
Kyle Bradish, Tyler Wells and today's starter are all near career-highs in innings pitched. The Orioles are in the thick of the biggest divisional race in baseball, and they may have used their hot streak just a tad early.
This deadline will be crucial for Baltimore. They have to keep adding arms. It looks like they're in the conversation for Michael Lorenzen.
I was surprised to learn that Baltimore hasn't been hitting the ball much during this hot streak. They boast a 95 wRC+ in July and are having trouble hitting righties (.299 wOBA, .294 xWOBA against the side over the past two weeks).
Adley Rutschmann is crushing the ball lately (.361 xwOBA, 9.8% Barrel rate in July) but has been unlucky.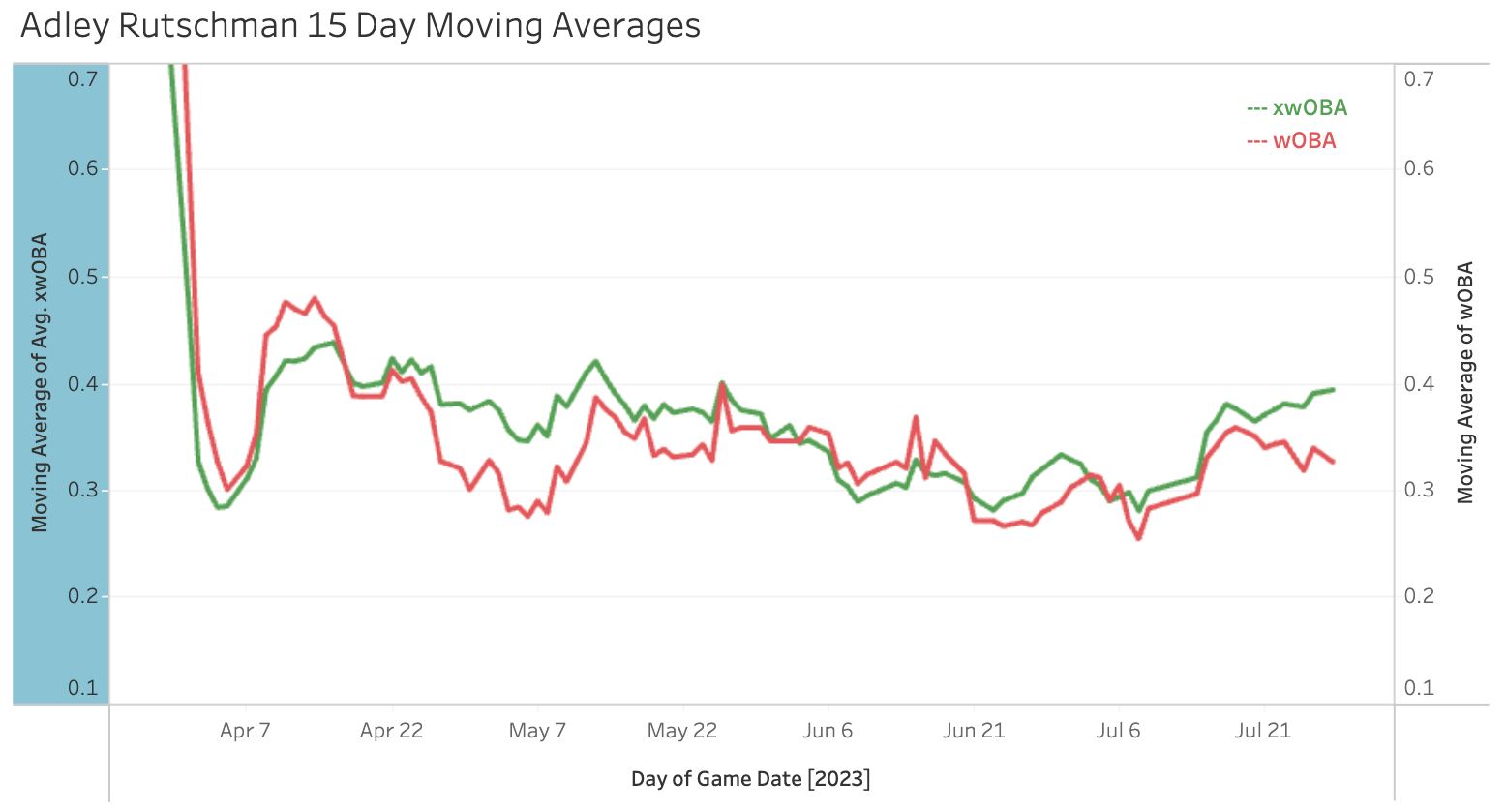 Once he sees some positive regression, maybe the entire lineup will get a jolt. Cedric Mullins probably needs to get healthy again, too (he's on the 10-day with groin strain), alongside Aaron Hicks (10-day with a hamstring strain).
Anyway, the Baltimore pitching staff has been keeping the O's alive. They have the sixth-best starting pitching ERA (3.50) and the seventh-best bullpen ERA (3.55).
But the starters rank 16th in xFIP (4.32), so they'll see some regression.
For the O's to continue their hot streak, they need to:
See some positive regression in the lineup
Survive the negative starting pitching regression
Add arms at the deadline
I don't know, but that seems like a tall order. I might be fading the O's in the coming weeks.
Starting Pitcher: Dean Kremer (RHP)
Here's a guy that perfectly represents the overperforming Orioles rotation.
Kremer has been nothing but a replacement-level arm since reaching the Majors. He's got a 5.39 xERA and a brutal batted-ball profile this season.
Yet Kremer is putting up quality starts, costing me money. Here are Kremer's last six starts, excluding blow-ups against the Dodgers and Twins.
7/24 @ PHI: 7 IP, 1 ER, 3 K, 2 BB
7/14 vs. MIA: 6 IP, 1 ER, 8 K, 2 BB
7/5 @ NYY: 7 IP, 1 ER, 10 K, 1 BB
6/24 vs. SEA: 7 IP, 3 ER, 5 K, 1 BB
6/18 @ CHC: 5 IP, 1 ER, 7 K, 2 BB
6/13 vs. TOR: 6 IP, 2 ER, 6 K, 0 BB
Make it make sense!
From what I can tell, Kremer is just locating his fastball better. He's on pace for a 58.9% Hi-Location rate on the four-seam, which would be a career-best by a mile (52.4% last season, 51.8% in 2021, 46.3% in 2020). As a result, he's getting batters to swing underneath it, as the pitch has recorded a 14.6% Swinging-Strike rate this year.
The Location+ on his fastball is up three points from last season (105 from 102), and the Stuff+ is up nine (103 from 94).
Is this sustainable? I'm not sure. His Hard-Hit rate is down about 5% since June 1, so maybe. I'd like to see more out of his secondary pitches.
---
Yankees vs. Orioles Betting Pick
I have yet to discuss the Yankees bullpen.
New York's bullpen is fantastic. The Yankees have gotten contributions up and down the 'pen from Clay Holmes (2.21 ERA, 14 saves) to Michael King (3.17 ERA, six saves), Wandy Peralta (2.29 ERA, four saves), Ian Hamilton (1.71 ERA, 25 appearances), Nick Ramirez (3.08 ERA, 22 appearances) and Tommy Kahnle (2.53 ERA, 23 appearances).
That is, until recently. Over the past two weeks, New York's bullpen boasts a walk rate of just under 12% and a Barrel rate of just over 12%. The relievers have a 3.97 ERA and a 1.44 WHIP during that stretch, hardly becoming of the Yankees bullpen.
Combine that with the Yankees' lack of offense and Severino's lack of substance, and I have serious concerns about the Yankees on Sunday Night.
I'm unsure what we'll get out of Kremer, and Baltimore's bullpen is due for regression in mid-August. But for now, Kremer shut down the Yankees last week, and the bullpen is performing at an elite level (2.5% Barrel rate and 3.91 xFIP over the past two weeks).
Give me some positive regression from Rutschmann and the O's bats, and we should see the home favorite cruise to a relatively easy victory on Sunday night.
I'm worried that Baltimore is short-handed in the lineup, but they can't be worse than the Yankees' one through nine.
What is QuickSlip?

QuickSlip is an Action Network feature that allows users to automatically pre-load their bet slip at FanDuel Sportsbook.
---
How would you rate this article?
This site contains commercial content. We may be compensated for the links provided on this page. The content on this page is for informational purposes only. Action Network makes no representation or warranty as to the accuracy of the information given or the outcome of any game or event.