Khabib vs. McGregor Highlights a Huge Sports Weekend in Vegas
Credit:
Noah K. Murray, USA Today Sports. Pictured: Conor McGregor
The Khabib Nurmagomedov-Conor McGregor mega-fight is sandwiched among playoff baseball, college football and the NFL this weekend.
A high amount of tickets have been placed on McGregor out in Vegas, but Khabib is seeing more of the dollars at various sportsbooks.
LAS VEGAS — It was already going to be a huge weekend in Las Vegas with the usual NFL and college football plus an assortment of MLB playoff games. But this Saturday we also have a huge UFC fight with the return of Conor McGregor facing one of the top fighters in the world in Khabib Nurmagomedov.
Everyone seems to have their own opinion on this fight, but those in the know consistently say one thing: Nurmagomedov is the better fighter.
So why is a large percentage of the wagers still going on McGregor?
Each book is seeing a similar pattern of wagering as we get closer to Saturday, and most anticipate the sharp bettors to pounce on a favorable line as it gets closer to fight time.
---
>> Sign up for The Action Network's daily newsletter to get the smartest conversation delivered into your inbox each morning.
---
Earlier this week Nick Bogdonavich, director of trading at William Hill, put in his two cents on the fight, "We expect a huge handle on the fight. We're definitely going to need the Russian (Nurmagomedov) as of now and I don't expect that to change. Unless we get a few big six-figure bets on him, which could easily happen since people could be waiting it out to get a little better price.
"They could be looking for a little value since Conor has been away for so long partying and throwing things at buses. The masses will definitely be all over McGregor."
When Bogdonavich was asked if William Hill has a wager limit on the fight he said, "We'll take any amount. When you get a fight this big you just can't have limits."
Jason Simbal, sportsbook director at CG Technologies, is seeing a similar pattern and isn't surprised.
"The fans have begun to show up and, not surprisingly, they're betting McGregor," Simbal said Thursday. "Currently 75% of the tickets we've written so far are on Conor; however, 52% of the money bet here is coming in on Khabib.
"So, at the moment, we're going to need Conor to win. I still expect the sharps to come back in on Nurmagomedov, but they know the public money is on Conor so they're going to wait for the best price which will likely be midday Saturday."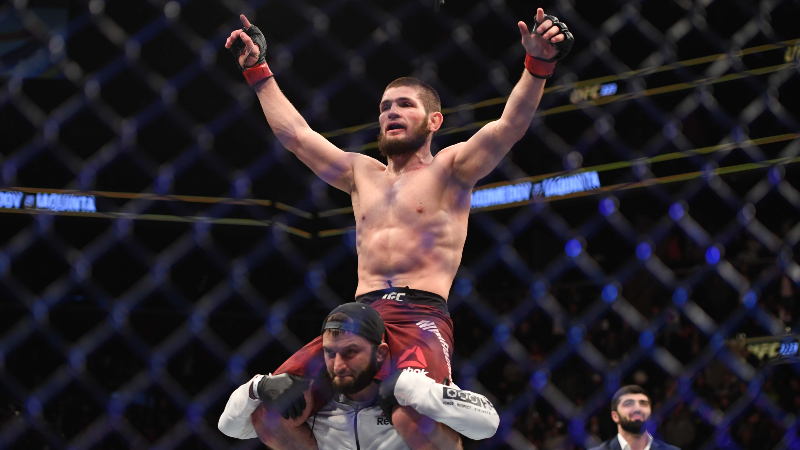 At the Westgate SuperBook, sportsbook director John Murray (who prides himself on being an avid UFC fan), offered his in-depth analysis of the match on Wednesday. "So far we're not seeing much big action on the fight, but of course that will change. The ticket count is currently three or four to one on Conor, which is about what I thought it would be.
"In the big fights the public is always going to like the underdog and because of the name recognition of McGregor it's not surprising at all," Murray added. "We had a guy bet $20,000 on Conor at +140 earlier this week and knock the price down a little. Then later in the day a guy bets $10,000 on Khabib. If I've been surprised by anything it's how aggressively the public has been buying back on Khabib."
"Every time we lower the price on Conor, it's not just the scalpers who are coming back on Khabib. It's the public too. That's what has prevented the price from going down more than it already has. I still think the public will be heavy on Conor this weekend. Most of the people coming in for the fight aren't here yet. So I still think the price will come down. However, it may not go as low as I initially thought it would. Things should still stay one sided as we get closer to Saturday."
The over/under 2.5 rounds is also looking like an interesting proposition. Murray likes the under (currently at -130). "I'm a little tempted to look at the under here," he said. "I feel like Conor's only chance is to go for broke early and try for a knockout, which he is absolutely capable of doing. But I don't know if he will have the gas in the tank to go five rounds since he hasn't fought an MMA fight in nearly two years."
Murray also offered some insight on some of the undercard matchups.
"In the Felice Herrig-Michelle Waterson match, it's hard to believe that fight won't go to a decision. The over 2.5 rounds is currently -500. I'm not going to tell people to bet that but it would be hard for me not to tell everyone it won't go to a decision."
In the Derrick Lewis-Alexander Volkov match, Murray expects a quick ending. "Currently that line is 2.5 rounds under -130 and I think that has a decent chance of ending quickly simply because it's heavyweights and those fights have a history of not lasting very long."
When asked about the bigger bettors and his overall opinion on the outcome of the fight, Murray had this to say:
"We've yet to see our MMA wiseguys weigh in on this card. But one of our sharper players did bet Khabib at -150 a few months ago when the line first came out. We have seen some sharp money on Khabib and when it comes in I expect a majority to go on the Russian. I honestly think Khabib will win, but I won't completely dismiss Conor like in the (Floyd) Mayweather fight where Conor really had no chance. He has an opportunity to win this fight with a big left-handed shot that will likely have to come early."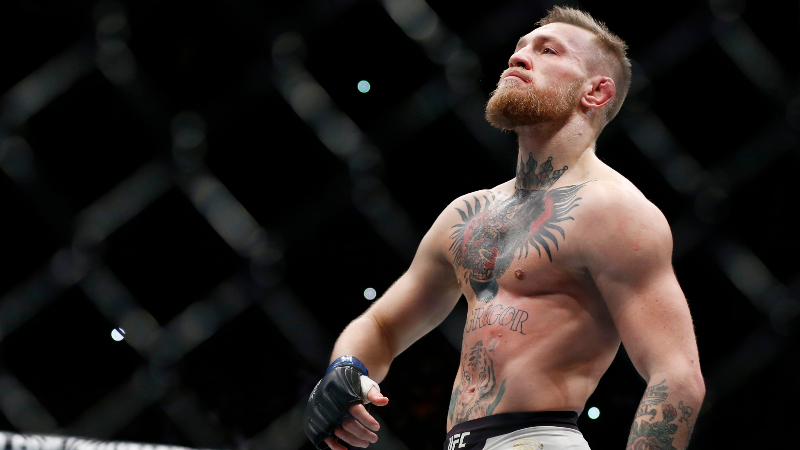 Checking in at the Westgate for an update on the wagering, Westgate supervisor Derek Wilkinson added, "We've tried to keep our number on the lower side of the market because the public just loves to bet on McGregor. He's a polarizing figure with a lot of fans. So far we've got a five-figure liability on McGregor, but that's pretty reasonable.
"Everyone here agrees that Khabib is the superior fighter and should win," he continued. "But Conor is a great striker and can knock anyone out in a heartbeat. As long as Khabib doesn't try to trade blows with McGregor in the center of the ring, I think he's going to win. One thing we're fairly sure of is that the smart money is going to come in late on Khabib once his price drops from all the public money on McGregor."
William Hill's updated lines currently have McGregor at +150 and Nurmagomedov at -170 with 75% of the tickets being written on Conor and 60% of the money being bet on the Russian, which may change Bogdonavich's perspective on the outcome. But the numbers seem in line with what everyone here has been saying.