UFC Fight Night 144 Betting Preview: Renato Moicano vs. Jose Aldo, Plus Undercard Bets
Credit:
Joshua Dahl-USA TODAY Sports. Pictured: Jose Aldo (red gloves).
Renato Moicano (-120) and Jose Aldo (+105) meet in the co-main event in a battle between top featherweights.
Charles Oliveira (-120) vs. David Teymur (+100) and Johnny Walker (-210) vs. Justin Ledet (+175) provide valuable betting opportunities on the undercard for UFC Fight Night Fortaleza.
UFC Fight Night 144 betting odds: Renato Moicano vs. Jose Aldo
Renato Moicano -120
Jose Aldo +105
Time: Approx. 9:30 p.m. ET
Channel: ESPN+


---
The co-main event of the UFC's second event on ESPN+ is headlined by a featherweight bout between No. 4 ranked Renato Moicano and No. 2 ranked Jose Aldo. Moicano is looking to extend his UFC record to 6-1 while Aldo is looking to put together his first winning streak since losing to Conor McGregor in 2015.
Renato Moicano
Moicano first stepped into the public consciousness of MMA fans in his third UFC fight: a decision victory over Jeremy Stephens in April 2017. He followed that performance up with a gutsy, but losing effort, to recent title challenger Brian Ortega. Moicano then reeled off two impressive victories over fellow prospect Calvin Kattar and veteran Cub Swanson.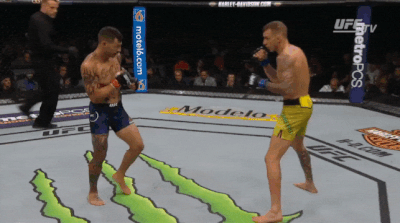 Moicano is a muay thai fundamentalist that employs a high-volume attack built on leg kicks and an educated jab. He complements his striking with a capable ground came, superior cardio, and an impressive killer instinct.
This is a "show me" fight for Moicano, who will surely be angling for a title shot with a win over Aldo. Moicano is currently tied with Alexander "The Great" Volkanovski for No. 4 in the featherweight rankings, and a win over No. 2 ranked Aldo should separate him from the pack.
Jose Aldo
The inaugural UFC Featherweight Champion, Jose Aldo was nigh invincible during his reign of terror through WEC & UFC. From 2008 to 2014, "Junior" won 15 consecutive fights – often in spectacular fashion. Aldo eventually fell at the hands of Conor McGregor in 2015 and has had a turbulent career since then.
Aldo rebounded from the McGregor loss with a decisive decision over Frankie Edgar, but he subsequently fell twice to current UFC Featherweight Champion Max Holloway. However, Aldo's most recent fight was a return to form as he finished Jeremy Stephens via vicious body shot in the very first round. The stoppage victory was Aldo's first since 2013.
Like his opponent, Aldo is a muay thai-specialist. He's one of the best athletes the UFC has ever seen and has been devastating opponents with his explosive striking attack for over a decade. Though it's unlikely Aldo ever sees another title shot while Holloway is champion, this fight is more about Aldo proving he still has something left in the tank.
The Matchup
Striking
On a surface level, we have two similar fighters on their feet. Both Brazilians are based in muay thai and boast remarkably similar significant strikes (SS) statistics.
Aldo possesses 44% SS accuracy and 67% SS defense while Moicano stands at 46% SS accuracy and 68% SS defense.
What separates these fighters is where they want the fight to take place. Aldo is a quintessential pressure fighter. He comes forward early and often. Leg kicks, boxing combinations, flying knees — everything is on the table, especially in the opening minutes of the fight.
Aldo fights up and close and in the pocket. He's willing to take one to give one, but is always defensively-aware. His head movement and defensive boxing ensure that when Aldo does get hit, he almost always sees it coming which allows him to absorb the shot relatively well.
And then there's Moicano, who prefers to fight at range and slowly take over the fight with accumulative damage. He has a great jab that often finds the mark and peppers his opponent with leg kicks constantly.
However, Moicano doesn't like to exchange in the pocket and often gets flustered when his opponent rushes in, responding wildly with wide, looping punches and backing straight up.
What is most compelling about this striking matchup is how the strengths and flaws of both fighters mirror each other. The anomalous McGregor loss aside, Aldo has never been overpowered in a fight.
Aldo's losses to Holloway came when the champion was able to withstand Aldo's best shots and keep up a breakneck pace that Aldo simply couldn't match. On the other hand, Moicano's wins have mainly come through high-volume, round-winning attacks. He's yet to display true one-shot power in the UFC.
Grappling
Aldo rarely uses his grappling offensively. He's landed takedowns in just four of his 20 WEC/UFC fights. Instead, Aldo created his legacy feasting on wrestle-boxers who were unable to get the fight to the mat. Aldo boasts an impeccable 92% takedown defense rate over a career that has included bouts against notable wrestling tacticians Chad Mendes (twice), Frankie Edgar (twice), Ricardo Lamas and Urijah Faber.
Moicano has relatively pedestrian takedown stats (54% accuracy and 76% defense). He mainly uses his wrestling as a round winner tool. I don't expect Moicano to create much of an offensive advantage on the ground.
It's worth noting that Moicano also has a tendency to look for the takedown as a safety valve when he's hurt and/or is trading in the pocket more than he'd like to. If Moicano attempts any of these takedowns, I expect him to fail. "Junior" is also very capable of making his opponents pay for failed takedown attempts as Chad Mendes and Cub Swanson (among others) can attest.
X-Factor: Pace
Much like the Alexander Hernandez vs. Cowboy Cerrone fight, the key to this bout is pace. In this case, however, it's the veteran who starts fast and the up-and-comer who takes a while to get going.
Of Aldo's 17 WEC/UFC victories:
47% (8-of-17) have been finishes in one of the first two rounds
12% (2-of-17) have been finishes in rounds 3-5
41% (7-of-17) have gone to decision
About half the time Aldo blitzes through his opponents in the opening frames. In the others he often gets ahead early and maintains his lead.
Even in his losses, Aldo makes his opponent swim through some deep waters. Against Holloway — especially in the first fight — Aldo landed significant strikes that would have at least hurt, if not finished, a fighter less durable than Holloway.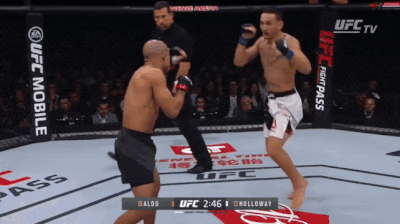 Moicano doesn't have as storied a career to analyze but digging a little deeper, the numbers paint a clear picture:
Moicano is most vulnerable in the opening frame and tends to improve as the fight goes on.
Historical and Current Betting Odds
Moicano (-120) opened as the favorite and heading into this article, I expected to side with the oddsmakers. However, I think this matchup favors Aldo. He has the power and depth of technique to make Moicano pay for his defensive shortcomings.
A bet on Moicano implies you believe either a) Moicano has Max Holloway-caliber durability that can withstand Aldo's opening salvo and/or b) Aldo has deteriorated as a fighter to the point that the first factor doesn't matter.
I'm not willing to make either of those bets.
The Pick: Aldo +115
The Undercard
Charles Oliveira (-120) vs. David Teymur (+100)
Already a 22-fight UFC veteran at just 29 years of age, Brazilian Charles "do Bronx" Oliveira is looking better than ever. Entering this bout, Oliveira is on the second-longest win streak of his UFC career.
Oliveira is the UFC's all-time leader in submission victories (12) and will either get the submission or get finished trying. The Brazilian specializes in chokes of all kinds and in recent years has developed a pressure striking game to bolster his grappling arsenal.
Swedish striker David Teymur has reeled off five increasingly-impressive wins. A high-output counter-striker, Teymur is content to wait on the back foot and rack up points when his opponent charges in. The Swede has yet to attempt a submission in his UFC career and has amassed an impressive 82% takedown defense rate.
The dynamics of this fight are easy to understand but hard to predict. We know Oliveira will come forward hunting for the submission and we know Teymur will look to pot shot off the back foot. What we don't know is who will get the better off the exchange. It's hard to recommend a straight up play on either fighter and the betting lines flipping multiple times reflect that.
That doesn't mean this fight is without value:
91% (20/22) of Oliveira's UFC fights have ended inside-the-distance
40% (2/5) of Teymur's UFC fights have ended ITD
Oliveira and Teymur fights have a combined finish rate of 81% (22/27). The current odds imply a 65% chance of a finish. I think there's value in that discrepancy.
The Pick: Fight doesn't go to decision (-185)
Johnny Walker (-210) vs. Justin Ledet (+175)
Brazilian light heavyweight Johnny Walker is a long, athletic, and powerful striker. He entered his promotional debut against Khalil Rountree as the underdog and left with a Performance of the Night bonus and one of the most impressive UFC debuts in recent memory.
Justin Ledet entered the UFC with a 6-0 record in professional MMA and a 5-0 record in professional boxing. "El Blanco" looked impressive in his first fight with the UFC and scored a quick stoppage his next time out, but since then has looked increasingly worse with every fight.
Ledet's fight against Zu Anyanwu was a languid, uninspiring affair, and he suffered a one-sided beatdown at the hands of Aleksandar Rakic in his light heavyweight debut.
This is fight is all about momentum. Walker is looking better than ever and is riding an eight-fight winning streak. Ledet is coming off the first loss of his career and has been declining with every fight. It may not be pretty, but I expect these trends to continue for both men.
The Pick: Johnny Walker (-210)