No, Nate Diaz Won't Throw a Fight in Protest, but What Would Sportsbooks Do if a Fighter Did?
Credit:
Jeff Bottari/Zuffa LLC. Pictured: UFC welterweight Nate Diaz
What would happen if an MMA fighter intentionally threw a fight, perhaps as a form of protest?
Whether it's a sport league, sportsbook or even athletic commission, everyone could feel repercussions.
Ben Fowlkes digs into what the fallout could look like.
(Editor's note: On Friday, Khamzat Chimaev missed weight for the UFC 279 main event, which prompted a reshuffling of the top three fights on Saturday's card. The new matchups now include Nate Diaz vs. Tony Ferguson, Chimaev vs. Kevin Holland, and Li Jingliang vs. Daniel Rodriguez.)
Not long after UFC officials announced the fight between Nate Diaz and Khamzat Chimaev as the main event for UFC 279 on Saturday, fans on the internet began suggesting some interesting hypotheticals.
Blame it on the circumstances of the fight, how and why it came together.
Diaz, with only one fight left on his UFC contract, had made it very clear that he wanted to fight somebody – anybody – and exit the promotion as a free agent. UFC executives had reportedly tried for months to get him to sign a new contract. According to Diaz, they denied him other fights against other opponents who might have made more sense.
In the end, they offered him Chimaev, a fast-rising welterweight contender who looks like a stylistic nightmare for Diaz.
The message seemed clear: If you want out, you'll have to take a beating on the way out the door. You'll also have to enter free agency on a loss, having given some of your star power to the UFC's next big thing while also leaving more of your blood on the UFC canvas.
But what if Diaz found a loophole, some fans online wondered. What if he walked into the cage, waited for the signal to fight, and then immediately tapped out?
What if he instructed his corner to throw the towel as soon as any significant action began in the fight?
Or what if he simply made it clear that he wasn't trying all that hard, that he was going to go ahead and give Chimaev the win but in a way that would also give the UFC the finger?
Here's where the thought experiment hits a roadblock. This is, after all, Nathan Donald Diaz we're talking about. As much as he might enjoy enraging the UFC, here's a man who seems genetically incapable of turning his back on a fight. He might not want this particular bout, but there's no reason to think he'd tank this (or any bout). Someone lays hands on him, Diaz is fighting back hard, end of story.
But not everyone out there is like Diaz. What if some other fighter really did try this as a way of getting even with a promoter on the way out the door? And what if that fighter did it in a fight in which he was favored, or in a fight in which he was not a massive +700 underdog, as Diaz is here?
What would happen then, and how might sportsbooks react?
Combat Sports No Stranger to Wackiness
Such a situation would not be entirely unprecedented in MMA.
Especially in the old days of one-night tournaments, it was not unheard of for fighters who were in no shape to continue to the next round to start a bout they had no intention of finishing. It happened in the PRIDE Grand Prix Finals in 2000, when Kazuyuki Fujita's corner stopped his semifinal bout with Mark Coleman as soon as it began, thus clearing Coleman's path to the finals of the tournament he would go on to win, thereby revitalizing his career.
Then there was the infamous case of former UFC and Strikeforce fighter Sean Salmon, who admitted to intentionally giving up a submission and losing a fight in 2009, in order to keep himself from getting hurt and therefore remain eligible for future career opportunities.
That resulted in a suspension and a fine from the Ohio Athletic Commission, which accused Salmon of "conduct detrimental to the sport" and of "not fighting to the best of his ability."
If any fighter did decide on an intentional loss as a form of protest, it could open them up to similar penalties. If a fighter was immediately suspected of throwing a fight for any reason, the first such consequence could be having his purse withheld, according to California State Athletic Commission Executive Director Andy Foster.
"If they didn't fight for real, many things would happen," Foster said. "Not getting paid would be first."
Then there would also probably be consequences to a fighter's reputation. What would peers say? What about potential future employers, especially if free agency was the next step?
A fan favorite could instantly lose all the goodwill he'd built up over the years if he phoned it in on a night when his biggest supporters were excited to see him compete.
Plus, if his hope was to continue fighting elsewhere, in any combat sport, there could be problems getting licensed if a fighter was thought to have thrown a recent bout.
Decision Time for Sportsbooks
But as for how it would be handled inside sportsbooks, according to longtime Las Vegas sports betting reporter Patrick Everson, who recently joined our sister property Vegas Insider as a senior reporter, a lot could depend on how the presiding athletic commission handled the situation initially.
If there's some question as to whether one fighter threw a bout, it might ultimately go down as a no-contest on the official records. But that tends to be a decision athletic commissions make weeks or even months after a fight, and only after much deliberation.
If the result was announced on fight night as a win for one fighter and a loss for another, sportsbooks probably wouldn't have time on their side – unless the athletic commission officials at cageside were ready to make a ruling immediately.
"That's possible, but it would really need to happen pretty quickly," Everson said. "Bettors want to settle up. Winning bettors? If they're physically in the book, they're rushing to that window. If they're on the app, they're checking that right away. Maybe the book wouldn't grade it right away if there was some question about how the commission might rule, but they're not going to wait weeks or months."
In an anonymous and informal poll we conducted, reps from legal US sportsbooks all said their staffs would lean toward grading the bets based on the initial result that's announced in the cage.
So, as soon as Bruce Buffer reads the official result, legal sportsbooks are likely to start grading wagers. Those going strictly by the letter of their own house rules would be entirely justified in paying out based on that announcement.
But, especially if the losing fighter had been the favorite choice of many bettors, it's possible some of those sportsbooks might have other considerations in mind, as well.
Would US Sportsbooks Refund Bets?
In fight sports, chaos and confusion are always hovering on the perimeter of the action. Just when you think you've seen it all, these sports have a way of reminding you that you haven't.
Veteran oddsmaker Dave Sharapan, who runs the popular @SportsbkConsig account on Twitter, learned that for himself while working at an offshore sportsbook when Evander Holyfield and Mike Tyson had their heavyweight rematch in the summer of 1997.
Interest in the bout was extremely high after Holyfield's TKO win the year before, and sportsbooks all over the world saw tons of action come in on the rematch. Then Tyson bit Holyfield on the ear in the third round. Then he did it again. Then all hell broke loose in the ring, eventually leading to a DQ win for Holyfield amid a swirling mass of anger and confusion and frustration.
"We'd never seen that before," Sharapan said. "That hadn't been done. I asked the guy that ran the place, what do we do now?"
For sportsbooks, it's not always as simple as relying on the initial decision announced in the ring on fight night. They're in the business of taking all kinds of bets and winning more than they lose, but they're also in the business of customer retention.
If a fight ends in controversy – particularly of the variety that calls into question whether the fight was ever seriously contested in the first place – sportsbooks might opt for a lenient stance on refunds in order to assuage angry customers.
"What you could see in a situation like this is the books just deciding to give everyone their money back," Sharapan said. "You see this stuff – the bad beat refund, these various marketing promotions.
"If something like this happened? I think that's what a lot of the books would do. It's a push, put the money back in people's accounts. But other books might take a hard line and go by the letter of the law."
Another complicating factor, Sharapan said, is that sports betting has become so enmeshed with the business interests of companies like the UFC. Just this week, UFC President Dana White showed up to a pre-fight media day wearing a T-shirt advertising DraftKings, a prominent UFC sponsor that offers multiple betting lines on every UFC bout.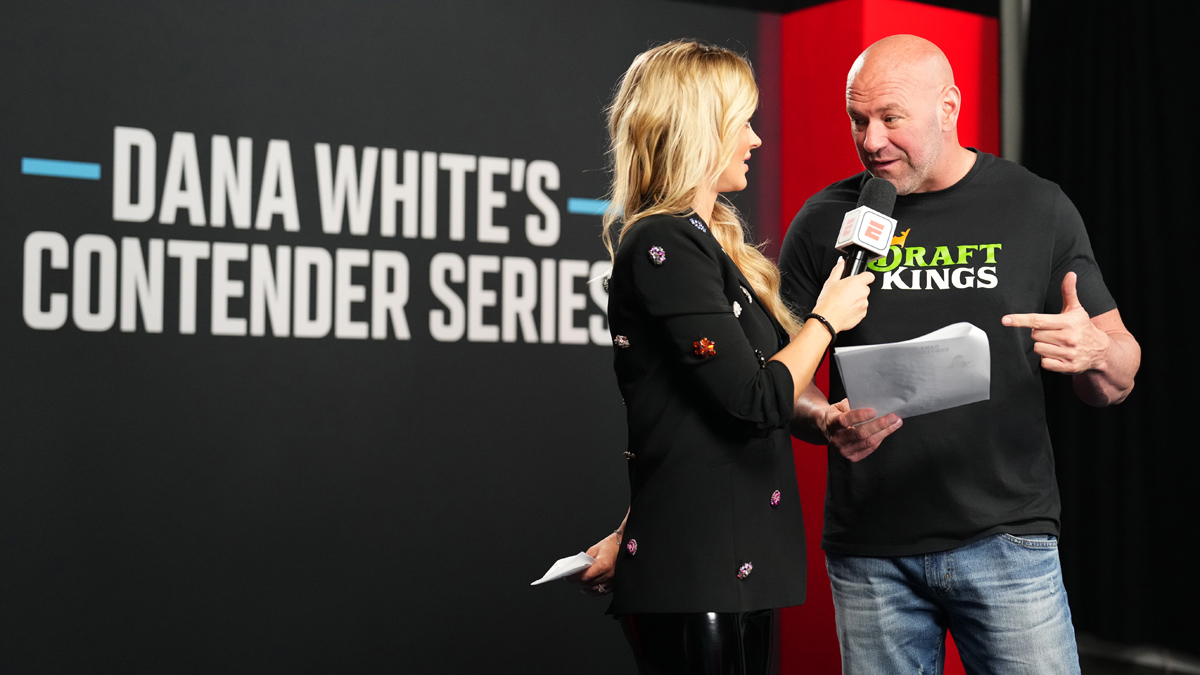 "The lines have been blurred now more than ever with sponsorships and all that," Sharapan said. "They're on all the shows talking about betting all the time. It's all out in the open now. So it's like, wait a second, you guys have a book as a sponsor, and then you have a guy going in there, and your fight isn't on the up and up?
"So the books would have to weigh that in how they'd respond, whether they want to take that hard-line stance. It could be the difference between keeping customers and losing them forever."
Everyone Shares Integrity Concerns
While Diaz seems like the last guy who would intentionally lose, whether as a protest or for financial gain, some of his comments in the days leading up to this bout have made people wonder just how committed he is this time around.
Speaking to the media on Wednesday, Diaz said he "gave up on preparing" for Chimaev.
"Whatever," Diaz said. "Beat me."
But then, even before those comments, Diaz was the biggest underdog on this card. And the UFC had to know that would likely be the case when it made this fight its main event for Saturday's pay-per-view.
One could easily argue that bettors and the promotion alike are all walking into this one with their eyes wide open. Everything we know about Diaz suggests that he'd be far more willing to take a beating than he would to quit without trying. Other fighters, however, might not be similarly inclined.
If there were to be a question in some other bout about whether or not both participants were really trying to win, it doesn't mean the calculations for sportsbooks would always remain so simple. Their reputations are also tied up in the legitimacy of these contests.
That's why, even if the sportsbooks paid out winning bets in that type of situation, they might also end up refunding the bets made by the losing fighter's backers, who are likely to be the most aggrieved parties in the case of a "thrown" fight. MMA betting makes up a very small piece of the sports-betting pie, so refunding those bets wouldn't necessarily crush sportsbooks' bottom line.
Plus, they can parlay such situations into some good publicity. That's what sportsbooks did when competitive eater Joey Chestnut's performance at the 2022 Nathan's Hot Dog Eating Contest was interrupted by protestors. "Over" bettors were incensed by the disturbance and argued that it affected the outcome of the event, which they had bet actual dollars on.
DraftKings' and Barstool Sportsbook's subsequent "bad beat refunds" gave them tons of publicity while also pacifying those bitter bettors.
After all, sports betting already comes with enough wild cards. The industry doesn't need to risk its reputation with otherwise-preventable scandals.
According to Everson, this is one reason why the risk analysis experts for sportsbooks keep such a close eye on any unusual line movement prior to events, not only to cover themselves but also to alert the relevant commissions and leagues if it seems like there's any funny business afoot.
"I've heard this from the guys at the big sportsbooks numerous times," Everson said. "They'll tell you, 'Hey, our integrity is on the line as much as anyone else's.' They want repeat customers. They need people to trust in the legitimacy of what they're betting on.
"We all have a bad beat sometimes. It's called gambling; it's not called winning. People understand that, as long as they can be reasonably sure that it's on the level. If they can't? Then you have a problem."
How would you rate this article?
This site contains commercial content. We may be compensated for the links provided on this page. The content on this page is for informational purposes only. Action Network makes no representation or warranty as to the accuracy of the information given or the outcome of any game or event.