Celtics-76ers Series Preview: Keep Trusting the Process in Round 2
Credit:
Bill Streicher-USA TODAY Sports
Boston and Philly have a storied history, but the rivalry has been dormant for years. Although Boston isn't bringing its best roster to the table, it's entirely possible that this series may contain the two best teams in the East for years to come.
With Boston so beat up, not many people are giving the Celtics a chance. Seemingly everyone is trusting the process. What can Boston do to stop Ben Simmons, Joel Embiid and Co.?
Can Brad Stevens pull some coaching wizardry out of his Butt…ler playbook, or will the young stars in Philly be too much to handle? — Mark Gallant
---
Odds
Series: 76ers -390, Celtics +320
Game 1 (Monday at 8 p.m. ET): 76ers -3, Over/Under 208
---
Advanced Metrics Breakdown
By Bryan Mears
With Jaylen Brown doubtful to suit up in Game 1, the Celtics will begin the series down three of their top four shot-creators from the beginning of the season in Brown, Kyrie Irving and Gordon Hayward. The importance of the latter two is obvious, but don't sleep on how big Brown has been for this team all season, and especially in the first round of the playoffs. During the regular season, the Celtics were 8.8 points/100 better with him on the floor (90th percentile of all players this year). They were 6.4/100 better on offense and 2.4/100 better on defense. With Irving out, too, Brown's shot creation will be missed even more. Against the wings of Philadelphia and rim protection of Embiid, it was already unclear how Boston would score in this series. In Game 1 … well, let's just say the situation is pretty dire if Brown can't go.
There isn't much to take away from the regular-season series between these two squads: Philly's main unit played only 14 minutes against Boston this season. It didn't do very well, but that sample is quite small; the overall sample on that starting unit is ridiculously good. In 600 minutes together, that fivesome scored at a rate of 117.1 points/100 and allowed just 95.7/100 — good for a +21.4 net rating. It was literally the best five-man unit — by a mile, too — among guys who played at least 400 minutes together. Philly's ceiling is huge, and Boston is merely trying to scrape by given its injury situation. The Celtics managed to steal their first-round series despite inferior talent, but I fear the gap is just way too large to bridge in this one.
---
Locky's Betting Analysis
By Ken Barkley
In the Bucks-Celtics preview, I wrote that Boston could win solely because of the coaching mismatch, which was one of the largest I'd ever seen. Well, somehow, the Celtics did it. I'm not even really sure how, considering who was on the court. Now they have a much loftier goal: beating an even more talented team (Philly, which is now a massive -400-ish favorite) with a coach who isn't necessarily as good as Stevens but is a universe ahead of Joe Prunty. The Celtics are 3-1 dogs right now. Can they do it?
Nope! I actually love the value on Philadelphia in this situation. What Boston showed us in that last round was that in road playoff environments, its role players really tend to shrink. The three road games were really noncompetitive at times. I wouldn't expect the Celtics to be able to compete in that environment in Philly with an even more raucous crowd. I think the likelihood the Sixers win all three of their home games is extremely high, so basically it's just a question of winning in Boston.
Although that can be difficult, the Bucks basically blew Game 1 and were down four with eight minutes left in Game 5, so it's not like this is outside the Sixers' reach. They're absolutely more talented and better coached than Milwaukee, and I think winning one game (or more) in that arena is a very likely outcome. There's really only so much Stevens can do in this spot (maybe go to hack-a-Simmons at least once?) when the chips are stacked this much against him talent-wise.
Although it's really weird to see a team with home-court advantage (and therefore hosting the first two games) be this big of an underdog, the fact that Boston comes in even more banged up with Brown's injury — off a marathon of a series, with very little prep time — means that home-court advantage is tenuous at best and can be lost early on. What we saw with Utah in Game 1 against Houston was a similar effect to what I think you could get in Game 1 of this series, where there's just no way to get back to that same level of intensity a team had to close out its first series on such a tight turnaround.
I expect Philly to take the series lead and not look back. I'll be playing Philly -3 in Game 1 and have a small bet on Sixers in 6 +230, as well as a significant wager on Philly to win the series overall. This is a case of needing to shop around, because, while Philly is mid-400s in many places, there's a -370 lurking that's too good to pass up. This is a number I'd bet all the way up to -600, and maybe a little higher. It's easy to envision a split in Boston, Philly winning Games 3 and 4, Boston winning Game 5 while facing elimination, and then the Sixers being listed at -300 or more in a Game 6 to advance to the conference finals. You'll of course be holding +230.
---
Notable Matchups and DFS Spin
By Chris Raybon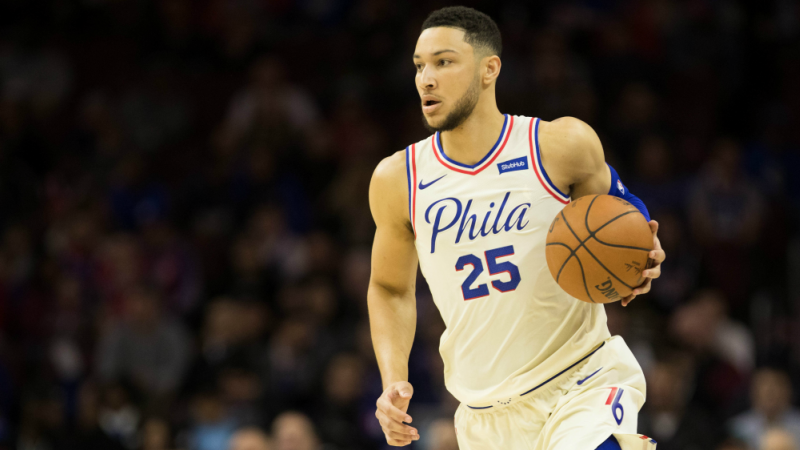 Bill Streicher-USA TODAY Sports
It's no secret that the 76ers will go only as far as Embiid and Simmons take them, and both of them need to play better than they did in the regular season against the Celtics if Philadelphia wants to advance. Embiid cleaned up the glass in three games against Boston (he missed a fourth due to injury), averaging 13.0 rebounds per game. But he struggled to get buckets against the Celtics' vaunted defense, averaging only 17.3 points per game on 38.5% shooting. Embiid made up for it some with 4.7 assists per game (1.5 above his season average of 3.2), and ultimately he was just fine in DFS, averaging a team-leading 46.8 DraftKings points per game against the Celtics.
Simmons averaged only 31.8 DraftKings points per game in four games against Boston, which resulted in an ugly -7.8 average Plus/Minus. Simmons averaged only 12.5 points, 6.5 rebounds and 4.8 assists per game in 34.9 minutes against the Celtics — well below his season averages of 15.1 points, 8.1 rebounds and 8.2 assists. The Celtics threw a little bit of everyone on Simmons, and it worked. Al Horford, Marcus Morris, Jayson Tatum and Semi Ojeleye held Simmons more than 10 points per 100 possessions below his season average. Horford drew the assignment on Simmons the most often, and given that Aron Baynes did a decent job on Embiid, you wonder if Stevens will reinsert him into the starting unit at some point in this series after going small with Horford at center for the last three games of the first round.
---
Betting Trends to Know
By John Ewing and Evan Abrams
The Sixers enter this series on six days' rest. Since 2005, teams on five days of rest or more in the playoffs (all Game 1s) are 44-42 against the spread (51.2%), almost exactly even in terms of units as well. When you look at the home/road splits for teams entering Game 1 on extended rest, the discrepancy becomes glaring. Here's how teams on five-plus days of rest in the playoffs have performed since 2005:
Home: 32-18 ATS, +3.1 ATS differential, +12.6 units
Road: 12-24 ATS, -1.8 ATS differential, -12.6 units
Philly opened as a 2-point road favorite in Game 1. This is just the ninth time since 2005 that a team seeded No. 3 or higher has been favored on the road against a 1- or 2-seed in the playoffs. The previous eight teams went 4-4 straight-up and 2-5-1 ATS.
Since 1995, only six teams have been listed as a home underdog in Game 1 of a playoff series. Those teams have gone 1-5 SU and 1-4-1 ATS in Game 1, but more importantly, just 1-5 in terms of winning the series, losing 23 of the 34 games SU in the six series.
---
Picks
Barkley: Sixers in 6
Mears: Sixers in 5
Pictured above: Robert Covington