Everything Bettors Should Know for Celtics-Jazz
The minute tickets were released for the season, Jazz fans far and wide grabbed seats for the March 28th Celtics game, hoping to see their beloved Gordon Hayward's triumphant return. We're about to see 18,306 very disappointed Utahns. Yes, that is a word.
Other than that fun fact, here are five actual things for Boston Celtics at Utah Jazz (-6.5) you can use to your financial gain. — Mark Gallant
1. The Jazz Are Still Fighting For a Playoff Spot
The Celtics are likely locked into the No. 2 spot in the East, as they're 3.5 games behind the Raptors and seven games ahead of the Cavaliers. The Jazz, on the other hand, are smack in the middle of a Western Conference battle. They're the No. 7 seed currently, but they sit just four games behind Portland for the 3 seed and 1.5 behind Oklahoma City for the 4. That's encouraging, but they're also just two games ahead of the ninth-seeded Clippers and missing the playoffs altogether.
They have now dropped two of their past four after winning nine straight to start March, and one of those defeats has to be a candidate for worst loss of the season: They put up 94 points at home against the tanking Atlanta Hawks and lost by five. Since then, they've beat a tanking Dallas squad, lost to the Spurs and beat a Warriors team that was missing approximately 23 of their top players on Sunday. Not exactly inspiring. They will need to regroup and get back on track to stay in the playoffs, and they'll need to do it defensively: They've uncharacteristically allowed more than 114 points per 100 possessions in two of their past three games. Thankfully they'll catch a Boston squad tonight that ranks 16th in offensive efficiency this seasons and is even worse without point guard Kyrie Irving. — Bryan Mears
2. The Celtics Aren't Good Without Kyrie, but It Isn't Rozier's Fault
Earlier in the season, it was en vogue to highlight how poor the Celtics were without Kyrie Irving. It has flipped and now people are raving about the play of Terry Rozier in his place, as the Celtics have won four straight, two of which came against tough competition in the Thunder and Blazers. I have a hot take coming for you, however: The Celtics still stink without Kyrie AND Rozier is simultaneously very good. Let me explain.
The numbers sans Kyrie are hard to dispute. Without him on the floor, the Celtics have been 4.9 points/100 worse, and the offense has really dropped off, scoring a whopping 8.9 points/100 less in his absence. The defense has been better by 4.0 points/100, although I'm curious whether that's because his absence has also corresponded with the absences of guys like Marcus Smart and Jaylen Brown — excellent defenders. Back to Kyrie: The Celtics post an effective field goal rate 4.0 percent worse without him, and they hit 5.0 percent fewer 3-pointers. Those on/off differential marks are some of the starkest in the league.
That said, it's not the fault of Rozier. He has been excellent in Kyrie's absence, and the main lineup in those games — a combination of Rozier-Brown-Jayson Tatum-Al Horford-Aron Baynes has crushed teams, posting a +31.8 net rating in 135 minutes together. Substitute Marcus Morris for Brown, and they're still really darn good. The issue isn't the initial substitution of Rozier for Kyrie; it's the ripple effects within the rotation. The main lineup without Horford in games without Kyrie has posted a shockingly bad -35.1 net rating, and it has scored just 83.1 points/100. Rozier and Horford are great, but no Kyrie means Stevens can't really stagger those players and still keep enough offense on the floor to survive. That's why their ceiling is so much lower right now than it will be when Kyrie gets back. — Bryan Mears
3. Boston Thrives in the Underdog Role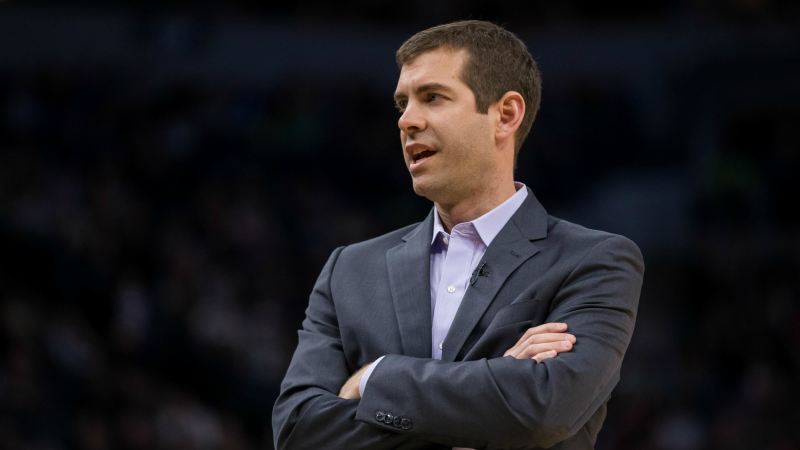 The Celtics are listed as an underdog without Kyrie Irving again, this time against the Jazz. Since Brad Stevens took over as coach in 2013, the Celtics are 96-74-3 ATS (56.5%) when listed as the underdog, making Stevens the second-most profitable coach in that spot behind just Toronto's Dwane Casey. To put the cherry on top: Stevens and the Celtics are 72-46-1 ATS (61%) in that same span as a road underdog, including 9-3 ATS this season. — Evan Abrams
4. Avoid This Game in Fantasy Hoops
This game is not ideal for DFS purposes. The Jazz have played at the sixth-slowest pace this season (97.7), and the Celtics have played even slower with Kyrie Irving off the court this year (93.5). Further, both of these teams are among the best defensive squads in the league, and that combination leads to one of the lowest over/unders of the day (194.5). That said, one player who could be worth some consideration is Terry Rozier. He's averaged 38.75 DraftKings points per game with both Irving and Marcus Smart out of the lineup, and he's been priced down to just $6,900 on DraftKings. — Matt LaMarca
5. Hit the Road, Celtics
Boston is playing its fourth straight road game. Under Brad Stevens, the Celtics are 56-38 (60%) ATS after the first game of a road trip. — John Ewing
Photo credit: David Butler II-USA TODAY Sports