Betting, DFS Angles for Spurs-Thunder: Why Westbrook Is a Risky Play
Credit:
David Richard-USA TODAY Sports
A light NBA slate holds us over on Saturday, while most folks will be preoccupied with college ball. There are only five games, and to be honest, most of them aren't that compelling unless you're a direct family member of one of the players.
The one game that has our eye is San Antonio at Oklahoma City. One team has been without their best player for essentially the entire season while the other has the reigning MVP and two other star players. The former has the better record.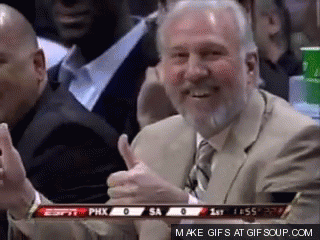 Here's what you need to know before betting Spurs at Thunder (-4.5, 210.5), which tips off at 8:30 p.m. ET on ABC. — Mark Gallant
---
1. Westbrook comes with risk.
Russell Westbrook (pictured above) is as matchup-proof as anyone in NBA DFS, but the Spurs are one team that has historically given him trouble. He's posted an average Plus/Minus of -1.60 over his last 17 games against them, including an average Plus/Minus of -2.90 this season. He was also priced much cheaper for those first two contests than he is today at $11,500 on DraftKings. Westbrook has somewhat struggled recently, posting an average Plus/Minus of -0.50 over his past 10 games. He will still be one of the highest-owned players on a small game slate — and deservedly so — but there is more risk than usual with him in this matchup. — Matt LaMarca
2. Not all hope is lost without Andre Roberson.
We've discussed extensively the on-court value of Andre Roberson here at The Action Network. The numbers are stark: With him off the floor, the Thunder have been 8.2 points per 100 possessions worse. So what do they do? Well, their big issue without Roberson has been playing rookie Terrance Ferguson in his place: The starting lineup with Ferguson instead of Roberson has been bad, posting a -6.9 net rating in 457 minutes. But replace him with Alex Abrines, and they have a net rating of +7.0 in 395 minutes. Put in Josh Huestis, and things are even better at +11.3. And things are especially promising with new addition Corey Brewer, who got the start last game for Huestis and should be a prominent part of their rotation moving forward: In 60 minutes now with the starting lineup, the Thunder have outscored opponents by 31.8 points/100. That will regress as the sample grows, but the encouraging signs are there, and they come at a much-needed time: The Thunder, Spurs, and Wolves are all tied for the No. 5 spot in the Western Conference playoff picture. — Bryan Mears
3. Can San Antonio's Discipline Trump OKC's Athleticism?
A lot of this comes down to Patty Mills. Mills has shot 47.8 percent from 3 in his career with the Spurs vs. OKC. The Spurs flat out don't have a lot of weapons at this point, even with LaMarcus Aldridge back from his ankle injury, and they need those kind of shots from Mills to help keep pace.
The big concern for OKC defensively has to be cuts. They surrender the fifth-highest mark per possession and the third-most points off cuts in the league. A lot of that is the Andre Roberson effect. But versus the Spurs, it can be doom. What the Spurs lack in individual weapons, they make up for with smart players. If the Thunder don't watch the angles, they'll get in trouble.
For the Spurs, it's about dictating pace, as it always is versus OKC for them. They need the game slow, which means they need scoring to force OKC to go into a set defense. Additionally, this actually means the Spurs' low 3-point attack (25th in 3-point attempts per 100 possessions) helps keep the long run-outs down.
In the end, OKC is less disciplined but more talented, and San Antonio is the opposite. It's a battle of wills, one that the Spurs usually come out on top in, except when they face the Thunder. — Matt Moore
4. San Antonio is falling apart.
Here's a fun fact: San Antonio has won 50 or more games every year since 2005. During this run, the team has had few losing stretches, but since February, the Spurs are 3-9 straight-up and have lost seven of their past 10 games. This is only the 11th time since 2005 that Gregg Popovich's team has lost seven or more games in a 10-game period. Every other team in the league has gone 3-7 or worse in a 10-game run at least 60 times. Next closest team to the Spurs are the Thunder (62 times) and the worst team in the league has been the Timberwolves (486 times). — John Ewing
5. Beware of backing the Spurs away from home.
The Spurs are 14-20 straight-up (41.2%) on the road this season, the second-worst road record among current Western Conference playoff teams. That record includes a 3-12 SU mark on the road vs. opponents over .500 this year, losing by 6.6 PPG.
The Spurs have finished above .500 SU on the road every single season since 1996-97, Gregg Popovich's first in San Antonio. A loss in Oklahoma City Saturday night would end the Spurs' road streak and make it it nearly impossible to reach 50-plus wins for a 19th consecutive season. They'd need to go 13-2 SU down the stretch. More importantly, another loss would begin to put San Antonio on playoff alert altogether with the crowded bottom half of the Western Conference field. — Evan Abrams
Photo via David Richard-USA TODAY Sports