Warriors-Pelicans Series Preview: The New Orleans Starters Can Hang
Credit:
Kyle Terada-USA TODAY Sports
The Pelicans are feeling hot after tooling on the Trail Blazers in a first-round sweep. Lucky Pels! They now get to play the Warriors! And, Stephen Curry might be coming back at some point. Fun!
What does New Orleans have to do to keep up with Golden State? Can the Warriors contain the Brow? Will Curry return, how will Golden State ease him in and how much of a factor will he be?
Here are our experts' feelings on the series. — Mark Gallant
---
Odds
Series: Warriors -850, Pelicans +575
Game 1 (Saturday at 10:30 p.m. ET): Warriors -9, Over/Under 223.5
---
Advanced Metrics Breakdown
By Bryan Mears
The starting lineup for the Pelicans — a combination of Rajon Rondo-Jrue Holiday-E'Twaun Moore-Nikola Mirotic-Anthony Davis — was probably the best fivesome in the first round of the playoffs. That unit played 79 minutes together, scoring 126.3 points per 100 possessions and allowing just 96.2/100 — good for a stupid-high +30.1 Net Rating. While it wasn't quite as scorching during the regular season, it was one of the best fivesomes in the league: The group played 204 total minutes and posted a stellar +16.8 Net Rating. The sample size is big enough to confidently declare that this starting lineup is legitimately one of the best in the league. Period.
I know what you're thinking. So, Bryan, you set up how good that unit has been just to bring the haymaker and tell us how it struggled against the juggernaut Warriors. Well, the trick's on you: This Pelicans lineup actually crushed the Warriors, albeit in limited time. That main unit got only 16 minutes in a single game against the Dubs, but the data is emphatic: The Pels scored 151.7/100 and posted a +33.6 Net Rating in those minutes. There are a lot of unknowns in this one, including when Curry will return and how good he'll be right away, but the Pelicans' main guys aren't question marks. Those players are darn good and can absolutely hold their own in this series.
---
Locky's Betting Analysis
By Ken Barkley
This series line is some kind of disrespect being shown to the Pelicans despite their first-round performance. Golden State hovered around -900 for a large part of the week leading up to its first-round series with San Antonio, and now, in the second round, facing a New Orleans team that is clearly much more talented than the Spurs, Golden State is… -850.
I think the mistake here isn't necessarily assuming the Warriors win, but that Golden State's victory will be easy. Even if Curry does come back at some point in the series (and what percent will he be when he does?), we all saw what Holiday can do to opposing guards. This feels like a narrow Warriors series win that they will really have to earn.
The great thing about opening a series price with this disparity is that when the derivatives come out (plus or minus games in series for each team, total games in series, etc.) there is inherent value on Pelicans +2 or +2.5 games and for the series to go 5.5 to 6 games or over. This type of prohibitive series price virtually guarantees great plus-money prices on those derivative bets.
You could grab the Pelicans at +575 now as well, but the situation would have to get incredibly dire for Golden State during the series for you to be able to bet the other side for a reasonable profit. Warriors prices just won't drop very far during a series because everyone will believe they'll advance up until the moment they're eliminated. We saw it with Cleveland this round, where it took being down 2-1 on the road for Game 4, and with way more question marks than Golden State will ever have, for the price to even get close to -110 each way. If you're taking the Pelicans, do so to hold that ticket because you think New Orleans will advance.
Toppling the Warriors would truly be a massive upset, but just getting them near the edge? It's a much more feasible scenario in a postseason where the best team almost always wins.
---
Notable Matchups and DFS Spin
By Chris Raybon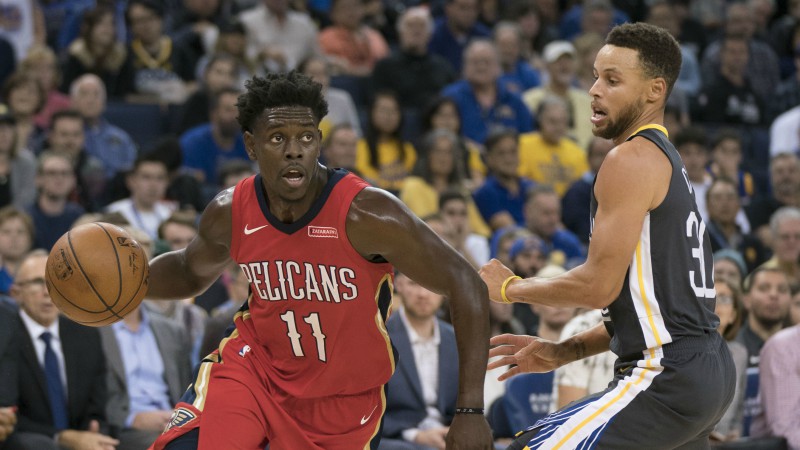 Kyle Terada-USA TODAY Sports
Ken briefly alluded to this above, but Jrue Holiday is going to have to continue to play elite-level defense for the Pelicans to have a chance at a second consecutive series upset. Holiday's defense on Damian Lillard was the biggest X-factor in the last series. Holiday suffocated Lillard, limiting him to 21% fewer shots per offensive possession than his season average. Holiday also forced Lillard into eight turnovers with only nine assists and 25.8% shooting.
But Holiday hasn't had similar success against Stephen Curry this season — or even Klay Thompson, for that matter. Curry shot 60% when guarded by Holiday during the regular season and had a smooth 3:1 assist-to-turnover ratio on 63 total possessions. And Thompson shot 51.9% against Holiday while getting up 28.9% more shots per possession than his season average while not turning the ball over on 92 possessions. In three games against the Pelicans during the regular season, Curry averaged 49.3 DraftKings points, which is 3.3 more than his season average. In four games against them, Thompson averaged 36.2 DraftKings points, 4.4 points better than his season average.
---
Betting Trends to Know
By John Ewing and Evan Abrams
The Pelicans are a good-but-not-great team, going 48-34 (58.5%) straight-up in the regular season. In the playoffs, teams that won 60% or fewer of their games in the regular season have gone 375-426-20 (46.8%) ATS since 2005. These squads have had a losing against-the-spread record in 11 of the past 14 postseasons. And similar teams have underperformed as they got deeper into the playoffs: Teams that won 60% or fewer of their games have gone 66-90 (42.3%) ATS in the second round.
The Pelicans enter the second round having covered their past nine games overall, including a sweep of the Blazers in the first round. Teams on an ATS streak of at least four games, facing a top-two seed in the playoffs, have gone 44-33-2 ATS (57.1%) since 2005; those teams have gone 10-4 ATS in Game 1 of a series.
Under Steve Kerr, the Warriors have been just mediocre covering the spread in Game 1s compared to the rest of the series. Golden State is 39-28 ATS in the playoffs under Kerr (+9.2 units), but only 7-6 ATS in Game 1 as opposed to 32-22 ATS (59.3%) in Game 2 or later in a series.
---
Picks
Raybon:  Warriors in 7
Mears: Warriors in 7
Moore: Warriors in 6
---
Pictured above: Anthony Davis and Stephen Curry