Wolves-Rockets Series Preview: The Math Problem Is Too Much to Overcome
Before the season began, I figured the Timberwolves would make some noise out West. Potentially get the No. 3 or No. 4 seed. Make a little playoff run, perhaps. Instead, it took a blocked shot with 1.6 seconds left to force overtime on the final night of the season to make the playoffs.
Their prize? The Houston Rockets. At -3000, Houston is the biggest opening round favorite for their respective series. Can anyone out West other than Golden State put up a fight against them? — Mark Gallant
---
Odds
Series: Rockets -3000, Timberwolves +1500
Game 1 (Sunday at 9:00 p.m. ET): Rockets -11, Over/Under 215.5
---
Advanced Metrics Breakdown
By Bryan Mears
We've mentioned the "Math Problem" in a lot of our NBA content this year, and that's definitely going to be in play here. Basically, the Wolves are at a supreme disadvantage against the Rockets because of the profiles of the two offenses. The Rockets rank first by a country mile in 3-point rate and eighth in percentage of shots at the rim. The Wolves, meanwhile, rank literally dead last in 3-point rate and just 20th in frequency of shots from the rim. Both squads have top-five offenses, but the room for error is just so much smaller for Minnesota: If both offenses are clicking, the Rockets will still win the majority of the time because they're taking 3s to the Wolves' 2s.
As crazy as it sounds, the Rockets may be a little underrated despite owning elite advanced metrics. The main unit of Chris Paul-James Harden-Trevor Ariza-P.J. Tucker-Clint Capela has played just 526 possessions together — compare that to the Wolves' main unit, which has played 2,260 possessions together — and has been only +2.9 per 100 possessions. In the playoffs when they aren't blowing teams out, I'm expecting that number to jump up. The Rockets are by far the best first-quarter team in the NBA, posting a stellar +16.8 net rating during that time. I'll be interested in betting that specific prop, and I'm also interested in plus odds on the Rox sweeping.
---
Locky's Betting Analysis
By Ken Barkley
This is the final series write-up I'm working on, and it would be easy to just write "put the mortgage on Rockets -3000" and call it a day. Of course, this price is incredibly prohibitive and has only gotten more prohibitive as the market has adjusted; it's the best team in the league against a team in Minnesota that lost to Memphis at home with a week left and their playoff lives in the balance. But there are absolutely ways this can be a difficult situation for Houston.
First, the Rockets' approach this season has changed. Last year, they played everyone up until Game 82, and although it may have hurt them as the postseason wore on they hit the ground running by destroying the Thunder in Game 1 of their first round match-up by 20. This year, the team hasn't played a meaningful game in weeks and was actively resting players down the stretch. It is possible they will stumble a little bit at the start due to the lack of intensity and cohesion, which makes sense. Meanwhile, their opponent just played the equivalent of a full playoff game with high stakes.
Second, Houston has some injury concerns, with Ryan Anderson, who is "50/50" for Game 1, and Luc Mbah a Moute, who played 26 minutes per game in all four wins vs. Minnesota this year; the latter is out for the series. That matters. Even with all those factors, Houston is an 11.5-point favorite in Game 1, despite the fact they were favored by just 5.0, 3.5, 8.0, and 7.0 in the four games this year vs. the Timberwolves. The third meeting between the teams featured full-strength squads on each side and was in Houston; that closed at an 8-point spread. Now, with Anderson and Mbah a Moute out and Houston not yet in rhythm, it's 11.5? I'm interested in Minnesota's first-half and full-game price in Game 1.
As for the series, I think Houston wins an incredibly high percentage of the time, but their path to victory is probably a little bumpier than people expect. Rockets in 5 or 6 at a good number may provide some value, but, for the most part, after Game 1 I'm checked out for the rest of the series, just like Minnesota may be.
---
Notable Matchups and DFS Spin
By Chris Raybon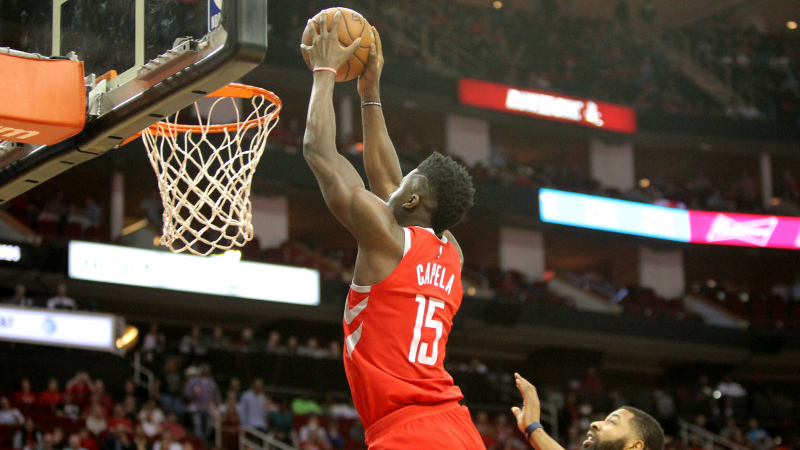 Erik Williams-USA TODAY Sports
This is the type of series Minnesota got Jimmy Butler for. Ideally, Butler's first defensive assignment in the playoffs as a member of the Timberwolves wouldn't come against MVP favorite James Harden, but teams who get into the playoffs on the last day of the season can't be choosers. Butler missed the final meeting between these two teams with a knee injury, but in the first three games he was plastered to Harden on 94 Houston possessions — 75 more than anyone else on the team. And he was a problem for Harden. Not only did Harden shoot 21-of-60 (35.0%) in those games, but his attempts per possession fell by 21.5%, per NBA Stats. In other words, Butler forced Harden to give up the ball. In the three games Butler was active, Harden averaged 25.0 points and 9.7 assists, but for the season he's up at 30.4 points and down at 8.8 assists. His 49.17 DraftKings points per game was well below his overall season average of 55.61.
That's not to say all is well and good with Minnesota's defense. When Harden is giving up the ball, one place he'll look often is Clint Capela. Unfortunately for Minnesota, Karl-Anthony Towns still doesn't fully get this whole defense thing, finishing No. 63 among centers in ESPN's Defensive Real Plus-Minus. Towns was the primary defender on Capela for 154 possessions this season and allowed Capela to score 14.3 points more per 100 possessions than his season average on 25.3% more attempts. Capela averaged 18.8 points and 10.0 rebounds against Minnesota this season en route to 38.13 DraftKings points per game — third on the team and just 3.62 behind Chris Paul. Capela's team-leading +5.1 average DraftKings Plus/Minus against Minnesota is more than double that of any other Rocket. Towns can make up for his lackluster defense in DFS, though: His 54.19 DraftKings points per game and +9.74 average Plus/Minus against the Rockets this season are the highest of any player vs. opponent in this series.
---
Betting Trend to Know
By John Ewing
The Timberwolves lost and failed to cover all four games against the Rockets this season. Can Houston make it five in a row? History isn't on their side: Home teams that made the playoffs the year before like the Rockets, facing an opponent like Minnesota that was not a postseason participant, have gone 45-71-4 (38.8%) ATS in the first round since 2006.
---
Picks
Barkley:  Rockets in 5
Mears: Rockets in 4
Raybon: Rockets in 4
---
Pictured above: Jimmy Butler and James Harden
Photo credit: Troy Taormina-USA TODAY Sports