Bucks vs. Suns NBA Finals Odds, Picks, Betting Predictions: Bet the Favorite in Game 1 (July 6)
Credit:
Garrett Ellwood/NBAE via Getty Images. Pictured: Devin Booker (left) and Chris Paul.
The Bucks and Suns open an unlikely NBA Finals matchup on Tuesday night in Phoenix (9 p.m. ET, ABC).
Giannis Antetokounmpo's status is up in the air, and the Suns have had three more days of rest than Milwaukee.
Austin Wang breaks down the betting value in Game 1, delivering his analysis and pick for the game below.
Bucks Odds
+5.5
Suns Odds
-5.5
Moneyline
+190 / -240
Over/Under
218.5
Time
Tuesday, 9 p.m. ET
TV
ABC
Odds as of Monday and via PointsBet
The NBA Finals. We are finally here.
This Suns vs. Bucks matchup wasn't supposed to happen on paper. At least that's not what the NBA media told us.
It was supposed to be the Lakers or Clippers coming out of the Western Conference. Every time the Phoenix Suns were mentioned as a contender during the regular season, they were brushed aside for their counterparts in Hollywood.
It was supposed to be the Nets, the NBA's latest super team, representing the Eastern Conference. The Milwaukee Bucks were an afterthought.
With all the big-market teams out of the picture, the Suns and the Bucks now remain the two teams left standing to face off for the Larry O'Brien Trophy in a series with no shortage of entertaining narratives.
Chris Paul, the 36-year-old point guard in the 16th NBA season of a Hall of Fame career, will be making his first Finals appearance. He finally has a chance to re-write his legacy in a career that has been outstanding, but marred by postseason struggles and injuries.
The Suns are yet to win a championship, coming close in the early 1990s when Charles Barkley and Kevin Johnson led them to the finals. The Steve Nash-led teams a decade later could never get past the Spurs in the playoffs.
This season, Phoenix gets another chance. After an undefeated run in the bubble last year, Paul has taken this team to another level, but will they complete this magical season with a title?
The Bucks, meanwhile, have been another unfortunate franchise in recent years. They finished the previous two seasons as the NBA's best in the regular season with Giannis Antetokounmpo winning back-to-back Most Valuable Player Awards, only to come up short in the playoffs twice. Now, it's up to Mike Budenholzer and the Bucks to exorcise their playoff demons.
Editor's note: Giannis Antetokounmpo is active for Game 1.
Game 1 opens up in Phoenix on Tuesday evening with the Suns as hefty 5.5-point favorites. The large spread is due to their rest advantage, the home-court advantage and Antetokounmpo's injury status. Phoenix won both of these teams' regular-season matchups by a combined two points.
If that's any indication of how this series will go, then we are in for a real treat.
Milwaukee Bucks
It has not been an easy road to the Finals for the Bucks, but they have persevered.
After Antetokounmpo went down with a knee injury in Game 4 of the Eastern Conference Finals, many were bearish on the Bucks' chances to eliminate the Hawks. His teammates stepped up, though, winning the next two.
Bobby Portis and Brook Lopez were both aggressive in the paint in an easy Game 5 win. Then in Game 6, Middleton had a ridiculous 23-point third quarter to put the Hawks away. It was an admirable performance, but I question if Milwaukee has enough left in the tank for the Suns.
Antetokounmpo's status is currently "day to day." There was optimism that he might have been able to play Game 7 against the Hawks, and it sounds like this will be a true game-time call. Keep up with our Bet Labs Insider tool for his most up-to-date status.
If Antetokounmpo plays, I don't think he will be at full strength. Also, bringing a high-usage player back into the mix after a couple of games away does not always go smoothly, and I could see the Bucks struggling to adjust at first. If he does not play, I don't think Milwaukee is as deep or talented to keep up with the Suns.
The Bucks are a different team on the road. Players like Portis really feed off the energy of a home crowd. Milwaukee was a mediocre 25-20 straight-up (SU) on the road this season, including the playoffs, and only 19-25-1 against the spread (ATS), per the Sports Data Query Language database. Not all of those games were against a team like the Suns either.
In Game 6 against the Hawks, the Bucks were hot from behind the arc, going 17-for-45 (37.8%) and knocking down big 3-pointer after big 3-pointer to extinguish any hint of an Atlanta comeback. That was a huge contrast to Milwaukee's overall 3-point shooting this playoffs, during which it has only shot 31.1% from behind the arc.
The Bucks now face the Suns, one of the best teams at defending the 3-pointer. I anticipate they will have the green light to continue launching from beyond the arc but won't nearly be as successful against the stout Suns defense.
Phoenix Suns
Those who were quick to dismiss the Suns as a true championship contender have not been paying much attention to them this season. During the regular season, they ranked sixth in Offensive Rating (116.3) and Defensive Rating (110.4) and third Net Rating (5.9), according to NBA Advanced Stats.
Phoenix ranked first in Assist-to-Turnover Ratio (2.15) and third in Effective Field Goal % (56.4%). Their efficient offense should be too much for the Bucks' tired legs to handle, especially without a fully healthy Antetokounmpo.
The Suns will have had five days of rest before this matchup compared to the Bucks' two. That's an advantage that gave Phoenix wins and covers in previous series against the Lakers and Clippers.
Jae Crowder and Mikal Bridges are two 3-and-D guys who will make a huge impact on this series. I don't anticipate Khris Middleton to blow up like he did against the Hawks with these two on him. Crowder and Bridges are at a size disadvantage against some of the Bucks' frontcourt players, but they have the physicality and basketball IQ to offset that difference.
The Suns are 33-11 straight-up at home and are 27-17 (61.4%) ATS this season and have been an unstoppable force at home.
Home teams in Game 1 of the NBA Finals have gone 16-2 SU and 15-3 ATS since the 2002-2003 season, per the SDQL database. To dig in a little further, home teams in Game 1 of the NBA Finals with more than two days of rest have gone a perfect 13-0 SU and 13-0 ATS since the 2004-05 season.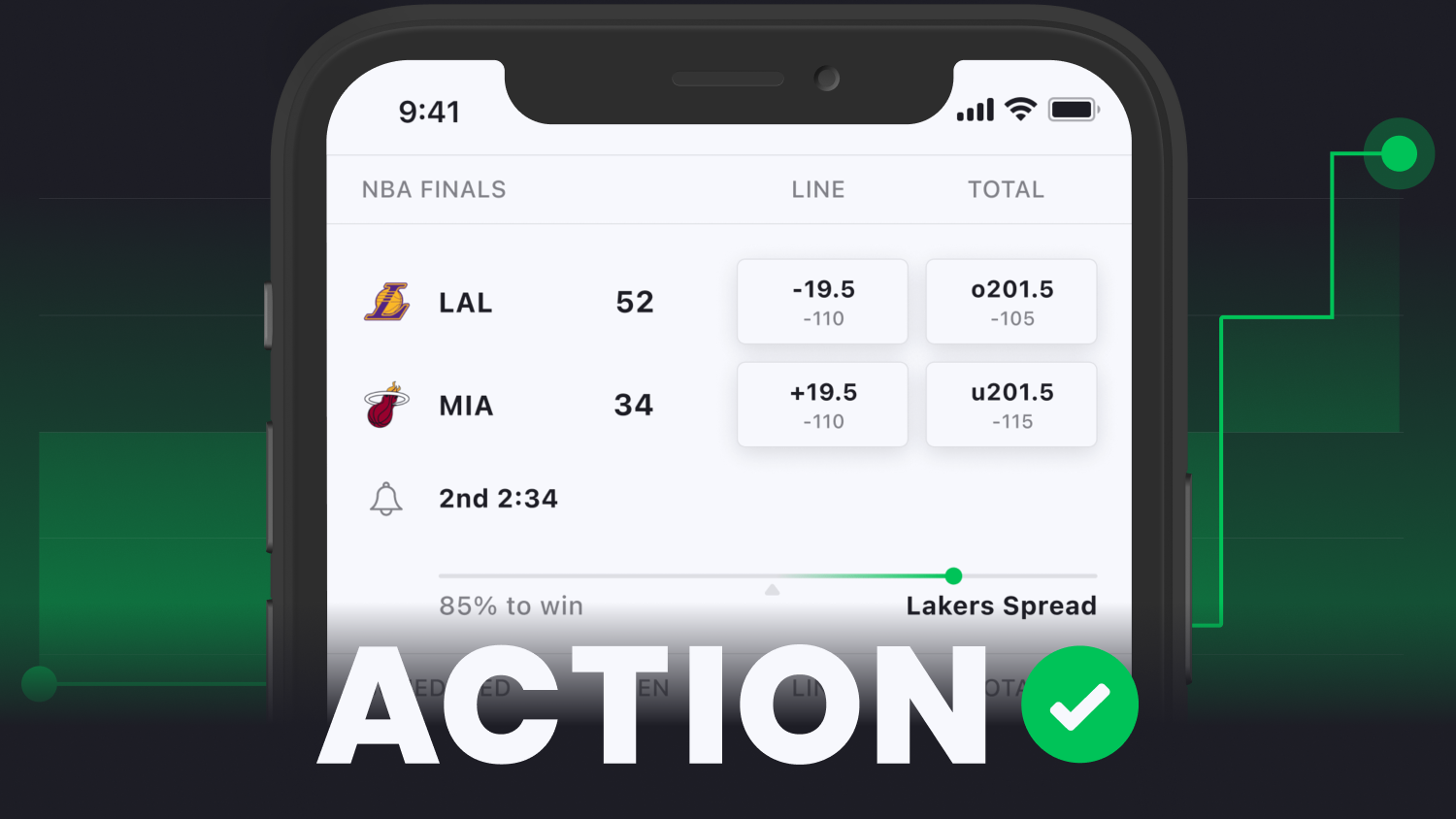 The must-have app for NBA bettors


Free picks from proven pros

Live win probabilities for your bets
Bucks-Suns Pick
I see a clear advantage for the Suns in Game 1 as the more rested team that thrives at home.
If Antetokounmpo sits, the Bucks are disadvantaged against the deep and physical Suns team. If there are any positive indicators that he will play, I suggest waiting until that news is announced to get a cheaper price on the Suns.
I will be backing Phoenix on the spread, but I like them in the first half, as well. The Suns are 26-13 ATS in the first half as home favorites, per our Bet Labs tool. In addition, they are 52-35-1 ATS in the first half during the regular season and playoffs combined, as well as 12-4 in the playoffs.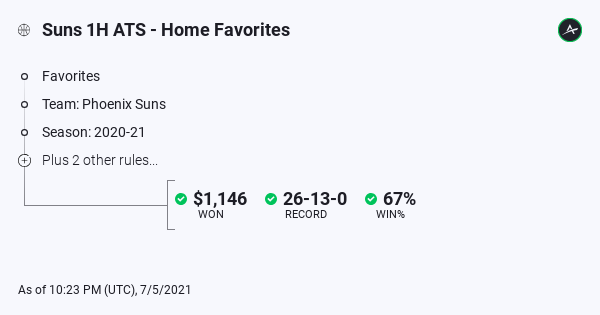 The Suns set the tone early most of the time, and I think they will do the same in this game. If you can find a -3 out there for the 1st half, I would happily take it. However, if it is -3.5 or above, I would refrain since it is more than one possession.
Picks: Suns -5.5 (up to -6.5) & Suns 1st Half -3 (up to -3)
How would you rate this article?