Moore & Palmer: Analyzing the Chicago Bulls' Start, DeMar DeRozan's MVP Chances, Postseason Odds and More
Credit:
Stephen Gosling/NBAE via Getty Images. Pictured: DeMar DeRozan #11 of the Chicago Bulls.
The Chicago Bulls were one of the most interesting teams entering the season. Whether you expected them to be overrated, average, or even good, the Bulls have likely outpaced your expectations as the top team in the Eastern Conference as we hit the halfway mark.
Our own Matt Moore and Raheem Palmer were among those who did not expect this level of play from the Bulls.
Now that we've seen just how good the Bulls can be at their peak, Matt and Raheem discuss what we should expect from them and their star player for the rest of the season.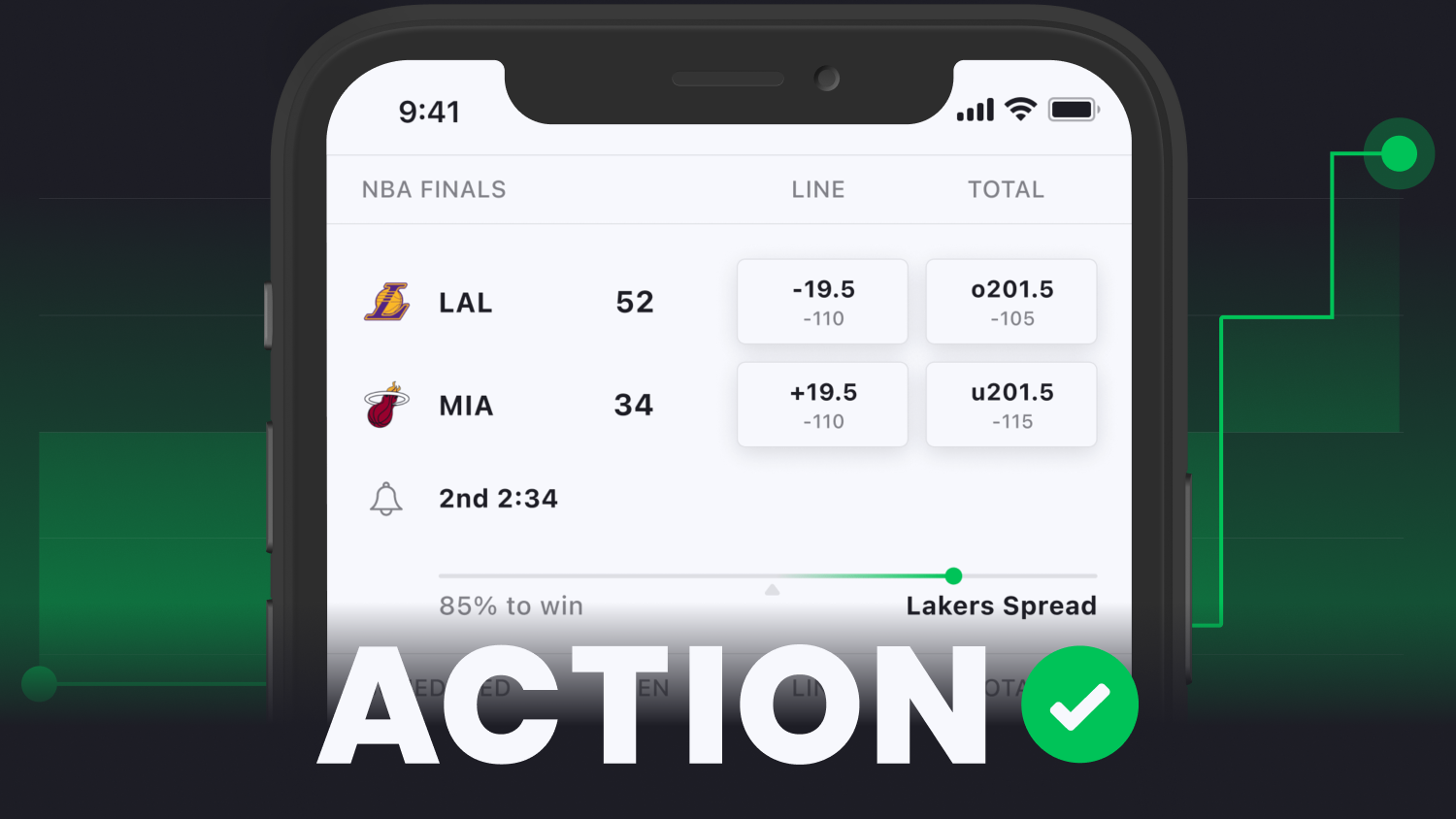 The must-have app for NBA bettors


Free picks from proven pros

Live win probabilities for your bets
Matt Moore: Raheem, Chicago's out to an amazing start, with a 2.5-game lead over the Milwaukee Bucks for the division and a two-game lead in the Eastern Conference. They rank seventh in Adjusted Net Rating.
Before the season, I called them a Rorschach test; you looked at them and what you saw said more about how you look at the game and their players than the team itself.
What did you think the Bulls were going to be, and how different have they been?
---
Raheem Palmer: I have to admit, although I did see the Bulls as a fringe playoff team as they appeared to be making a push before LaVine missed time back in March. However, I was bearish on their chances of being a contender in the Eastern Conference.
Their hot start was a surprise — I didn't think they would be capable of putting together a solid defense with a starting lineup featuring Nikola Vucevic, Zach LaVine and DeMar Derozan.
I wasn't very bullish on the addition of Derozan pushing this team to the top of the conference as he had a negative Net Rating in 11 out of his previous 12 seasons in the NBA. His defensive deficiencies and unwillingness to space the floor as a 3-point shooter appeared to be concerns that would limit this team's ceiling.
Last season's Bulls rank 18th in 3-point shooting frequency and 13th in percentage last season and it was tough to imagine that improving this season. Although this year's Bulls are shooting even less 3-point attempts, ranking 29th in frequency of three point field goals, they're currently the first in three point shooting percentage and they've been dominant in the midrange.
The Bulls offense ranks fifth in Offensive Rating in their non garbage time minutes according to Cleaning the Glass (113.1) and they're scoring 114.8 point per 100 possessions when LaVine and Derozan share the court.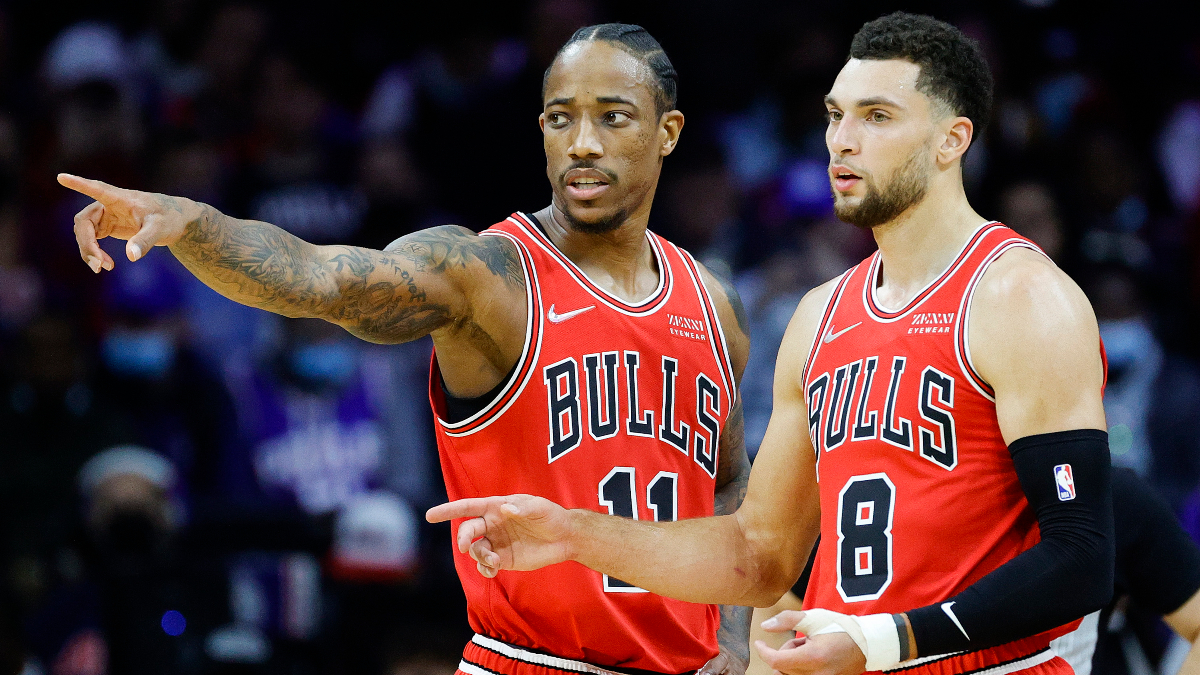 This two man combination is in the 83 percentile of all two man lineups and it's clear that having two isolation scorers have carried this team to an elite offense.
With Lonzo Ball and Alex Caruso, the Bulls have had enough perimeter defense to compete and even with Derozan, LaVine, Ball and Caruso all missing time they've still found a way to remain one of the best teams in the league.
---
Moore: I was probably the only person who thought they'd be decent defensively. My premise was that Billy Donovan could coach this team under one specific pick-and-roll scheme: Dropping the big. Vucevic's numbers were quietly very good under that scheme and the rest of the roster fit nicely into it. It takes the emphasis off of containment and mobility.
A few things have contributed on that end:
Ball's development into a top-10 on-ball defender in the league. Ball was never elite on-ball; he was a magnificent off-ball help defender but struggled at containment. He's been spectacular this season.
DeRozan's move to the wing. That's let Donovan play Caruso-Ball backcourts to contain guards and help match LaVine and DeRozan vs. lesser threats.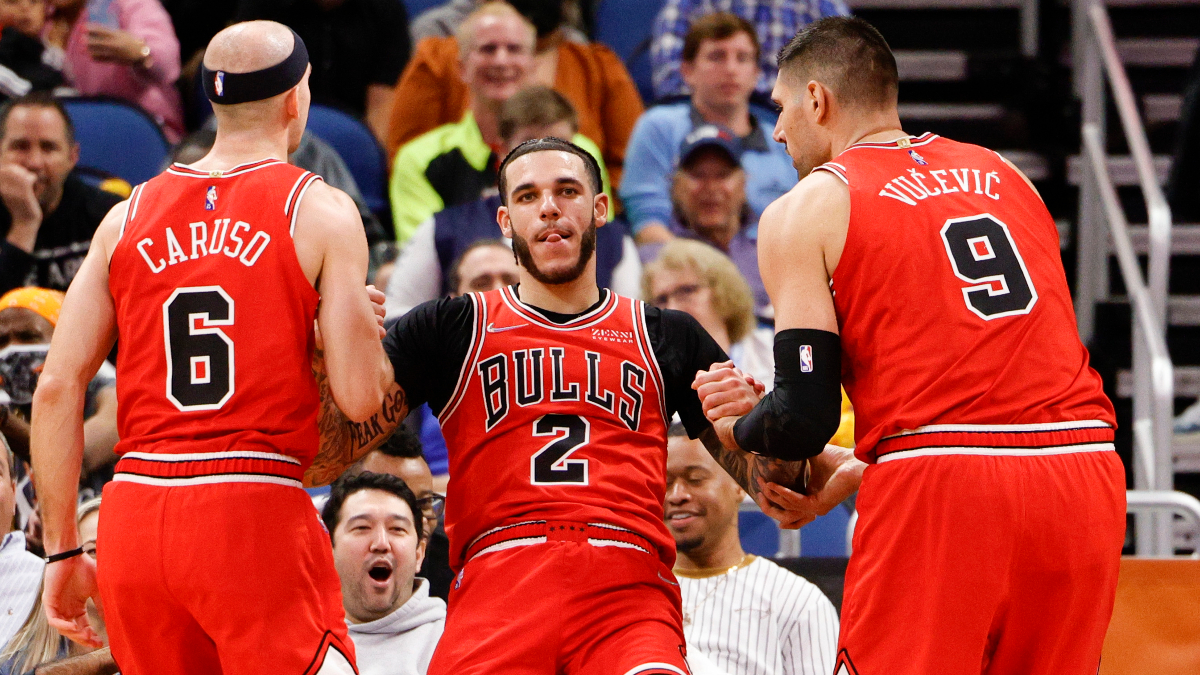 But even then, with DeRozan or LaVine guarding the ball-handler and Vucevic guarding the screener, the Bulls have held opponents to just 0.784 points per possession. That's wild. It's also suspect. We'll come back to that.
DeRozan's fit was considered suspect, but I thought it worked with DeRozan having become such an elite passer. However, his scoring has taken such a leap. They're getting 51 points per game on 49% shooting from DeRozan and LaVine combined along with nine assists per game. All of this with what you said about their overall offensive efficiency. It's wild.
But is it sustainable? Do we think these numbers regress over the second half of the season? Are they built for the playoffs or are they vulnerable? How do we handle this team going forward?
---
Palmer: Seth Partnow actually pointed out something on twitter that I found very concerning notably Vucevic's decline in shooting percentage at the rim.
Vucevic's sharp decline in rim finishing is one of the few big negatives of the bulls season.

— Anchorage Man (@SethPartnow) January 13, 2022
He's shooting just 57% at the rim, which is in the 11th percentile among all NBA players according to Cleaning the Glass, by far the lowest mark of his career. Last season Vucevic shot 67% to provide context for how far he's fallen.
Derozan's numbers at the rim have fallen as well, which makes his efficient scoring even more impressive. Derozan's playmaking and efficiency from midrange along with LaVine's dominant scoring make me believe their offensive numbers are sustainable especially when you consider that Derozan, LaVine, Vucevic, Ball, Caruso and White have all missed time this season.
I think this is a great regular season team who we should approach like the 2014-2018 Toronto Raptors who were also led by Derozan (and of course one of my favorites in Kyle Lowry).
They are going to be dominant during the regular season, but as we saw Thursday, they're going to struggle stopping an elite team in the Brooklyn Nets. The Nets scored 138 points son 1.39 points per possession and this is just the second game Kevin Durant, Kyrie Irving and James Harden have played together all season. The Nets were also shorthanded as well.
What happens when this team actually has games under their belt? I think the Bulls could have issues with the Milwaukee Bucks as well. I'm also concerned with Derozan come playoff time as he's historically seen a sharp decline in his production. In the regular season, Derozan has averaged 23.2 points on 46.5% shooting from his first All-Star seasons in 2013-2014 through 2022.
In the postseason he's averaging 21.9 points on 41.8% shooting and there were a few crucial games where Dwane Casey benched Derozan in key spots (Game 2 of Pacers-Raptors first-round series in 2016, Game 3 of Cavaliers-Raptors second-round series in 2018) with the Raptors defending better with him off the floor.
Although he performed a lot better during his San Antonio Spurs tenure, it will be interesting to see how he performs this postseason.
How are you approaching this team in the postseason? Any futures for you?
---
Moore: I'm not willing to go in on futures now because I think we can still get them as big dogs closer to the playoffs and not get caught by a late-season regression that lowers value.
However, I'll tell you this, they don't project like those Raptors teams. For starters, they won't face LeBron James. As good as Giannis Antetokounmpo and and Kevin Durant are right now, no one overmatched Toronto the way LeBron and those Cavs teams did.
Second, the Bulls actually are running a more diverse defensive set than I would expect. They play drop coverage, but they are also fourth in playing at the level. They can't switch, that's a limitation, but if you can play back or up in coverage you can usually figure out answers in the playoffs.
The Vucevic stuff is largely early season nonsense when he was dealing with COVID and didn't look right at all. He played a few games and then was out with COVID. For example, in the last 15 games, he's shooting 65% in the restricted area. I have no worries about Vucevic being able to make layups.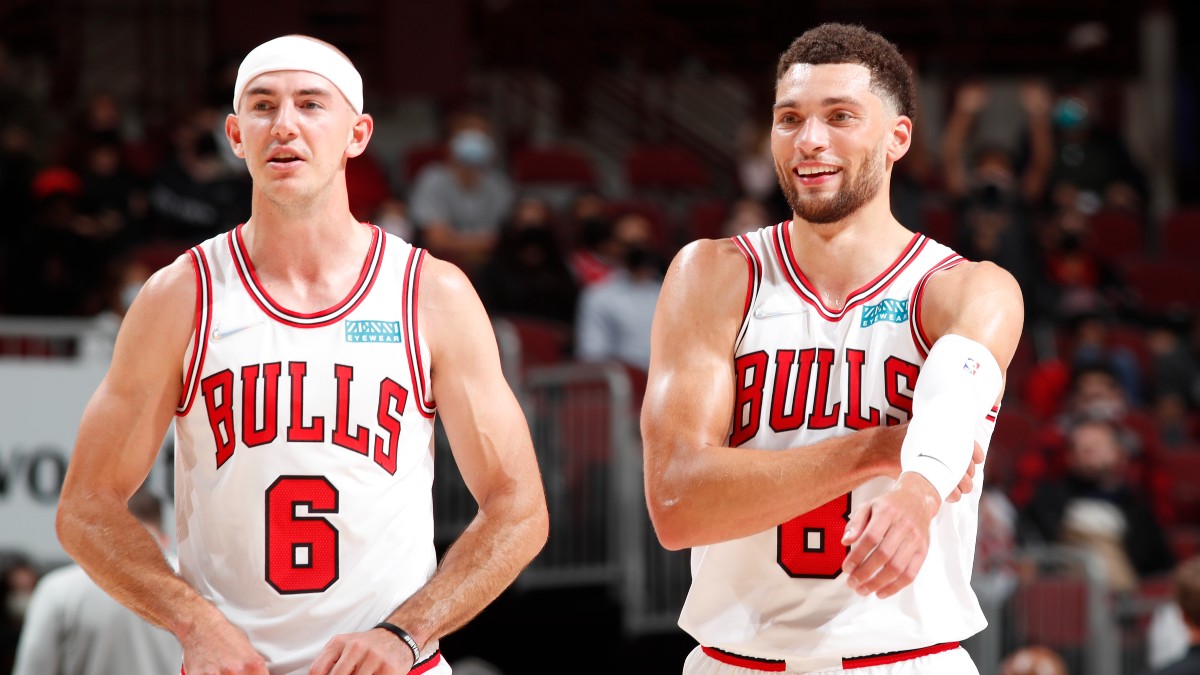 It's possible they get hit with an extreme regression come playoff time, the first for LaVine, Lonzo, and the rooks. But DeRozan wasn't bad the last time out with the Spurs, Vucevic is consistent, and Caruso has championship chops. My biggest confidence?
Billy Donovan is a hell of a playoff coach. The man ended the Tim Duncan era. I think they're live, but I want to wait til the playoffs when I think i can still get them as dogs.
Let's talk MVP. What does your model say about DeRozan and is there any value there, especially if the Bulls do hang onto the No. 1 seed.
---
Palmer: I have two models to simulate the winner of the league's MVP award, a linear regression model which predicts the percentage of voting shares each player will receive and a logistic regression model which predicts the probability each player will win or lose. (You can read more about the methodology here.)
While the linear regression model has Derozan behind Durant, Antetokounmpo, Stephen Curry and Nikola Jokic, the logistic regression model heavily weights wins and seeding and with the Bulls having the best record in the Eastern Conference, it believes Derozan has a ton of value to win the award.
DeRozan is having a tremendous season, averaging 26.0 points on 50% shooting while grabbing 5.2 rebounds and dishing 4.7 assists. His clutch play has been huge as he ranks third in fourth quarter scoring (7.5) now behind Antetokounmpo and LeBron, according to NBA Advanced Stats.
During this recent 10 game stretch where the Bulls were 8-2, he's hit game winners against the Lakers, Pacers and Wizards, which has catapulted him into the MVP discussion among both hardcore and casual fans. His MVP odds have since dropped from +6600 on Dec. 22 to +4200 as of today.
Still, his advanced metrics are lacking compared to his peers. For Derozan to have a legitimate shot at winning MVP, the Bulls would need to finish as the No. 1 seed and he'd have to overcome the impact of his teammate Zach LaVine who is also having a stellar season, averaging 25.6 points per game along with 4.3 assists and 4.9 rebounds.
While I do believe there's value at +4200, I think he'll have a hard time overcoming many of the other candidates in Curry, Durant and most recently Antetokounmpo who is making a push with his recent play. Sportsbooks also have Jokic, Ja Morant, Joel Embiid and even LeBron James whose team is in the 8th seed priced in ahead of him.
To me, that speaks volumes about the uphill battle Derozan is facing to win the award despite the perceived value it has.
---
Moore: I agree, I can't see DeRozan claiming it and I'll go further. The No. 1 seed is probably not enough, they need to finish with the No. 1 overall seed or at least ahead of both the Nets and Warriors along with the Bucks. If Antetokounmpo, Durant, or Curry have a better record, DeRozan is toast.
Ultimately, the Bulls' run has been impressive and profitable if you had their win total over and playoff props (like I did). But we've yet to figure out how far this can go.
I'll tell you I'm not ready to count the Bulls out, but I'm also not ready to buy in. We're in a definite hold spot with the Bulls, especially since buying now feels like buying them at their apex.
How would you rate this article?
This site contains commercial content. We may be compensated for the links provided on this page. The content on this page is for informational purposes only. Action Network makes no representation or warranty as to the accuracy of the information given or the outcome of any game or event.