Our Experts' Initial Reactions to the Clint Capela-Robert Covington NBA Trades
Credit:
Photo credit: Tim Warner/Getty Images. Pictured: James Harden and Robert Covington
It looked like it might be a quiet trade deadline, but late Tuesday night it was reported that four teams got together and made a 12-player trade happen.
Here are the details of the movement:
Final trade summary:

Rockets get – Robert Covington, Jordan Bell
Hawks get – Clint Capela, Nene
Wolves get – Malik Beasley, Juancho Hernangomez, Evan Turner, Jarred Vanderbilt
Nuggets get – Shabazz Napier, Gerald Green, Keita Bates-Diop, Noah Vonleh

MIN, DEN get 1st-round picks

— FantasyLabs NBA (@FantasyLabsNBA) February 5, 2020
So what does this mean for the teams involved? Should it change any futures value? What about immediate betting impact? A few of our NBA experts got together below to discuss.
Wob: Everybody Wins?
I love that the biggest (in terms of quantity of players) trade since the Patrick Ewing-to-the-Sonics deal is quite possibly the most irrelevant trade of the season. Not a single move made in this blockbuster will affect who wins the title.
Robert Covington is having the worst season of his career. He has lost his jumper to the point that he's starting to get the Andre Roberson treatment by opposing defenses, he's absurdly overpaid, his defense isn't nearly as good as it was on Philadelphia and he's on the wrong end of highlights almost nightly. Oh, and by the way, he's probably going to have to play the 4 and 5 on a Houston Rockets team without a playable center other than Zombie Tyson Chandler.
This trade certainly helps the Hawks on their way back from irrelevancy to being just standard bad. Clint Capela is a decent talent who's not only compensated fairly but under contract for many years to come. One of the primary reasons why he makes millions of dollars to play professional basketball is because all he has to do is dunk wide-open lobs from James Harden.
Well, that's gone now, and I'm skeptical if he can continue to be an efficient producer without the nucleus of his existence. Maybe he can run high pick-and-rolls with Trae Young and blitz the rim, because not a soul is going to pay attention to him outside of the paint. Only time will tell, and the Hawks are in no position to be picky in in regards to someone with this type of track record.
Poor Malik Beasley. This dude is good. Like, very good. The only reason why the mainstream sports world doesn't know who he is is because 1) he played in Denver, where the Nuggets are the city's fourth-favorite team and 2) the Nuggets are 15 players deep with legitimate playoff guys. There just wasn't enough playing time for him.
Oh, and by the way, he's going to need to get paid this summer. In Minnesota, this man better start. I promise you the talent is there. While getting traded from a championship contender like Denver to basketball purgatory in Minnesota, he has plenty of time to showcase his talent and get the bag this summer, when there are hardly any free agents.
Good job by Denver shedding some salary and getting a draft pick in addition.
From what I can tell, everybody won this trade. Nothing that matters to a championship in the near future, but the only team rolling the dice for short-term prosperity is the Rockets — who have no choice.
Matt Moore: Hitting All the Angles
I wrote a 900-word column yesterday that led with the idea this was going to be a quiet trade deadline. Spoiler alert: It's isn't.
While I was chasing down some leftover information, including from one of the teams involved in Tuesday night's not-a-blockbuster-but-man-that-was-a-lot-of-stuff four-team trade, one deal fell apart and then morphed into something different. See my extended thoughts on last night's trade here.
Brandon Anderson: Why I'm Buying Houston Futures
Four teams and 12 players is a lot to digest. Let's go team-by-team here, with our betting focus heavily on one of the four.
I love the move for the Hawks. Capela is a better stylistic fit than other rumored targets like Andre Drummond and Steven Adams, and he's on a far better contract. Capela should retain strong fantasy value as a rim runner living the dream, going from one top-10 passer in the league in Harden to another in Young, and his rebounding numbers should be as strong as ever.
Denver dumps some of its end-of-the-bench guys and essentially consolidates those assets into Houston's first-round pick this year, which should be in the early 20s.
That makes sense. I don't see it affecting the team much this season. Juancho Hernangomez was barely playing. I do think they will miss Beasley as a playoff wildcard, but Shabazz Napier can give them a different version of that, and the difference isn't enough to miss out on the pick.
Minnesota stunk before and will continue stinking. The Wolves defense will be worse than ever without Robert Covington around, and the team has a real chance at finishing with the worst record in the league now that they literally don't have an NBA point guard on the roster.
Gersson Rosas is hellbent on shaking things up, and this is just the first step. I feel like it's a bit of a rushed sell-low on Covington, but that remains to be seen. Beasley and Hernangomez are nice stylistic fits on the team, but it's a bit of a steep price (the Houston first) for two guys who will play 30 games before free agency.
Will the Wolves get the usual restricted free agency bargain re-signing them, or will they be forced to overpay to keep an asset they just traded for? That's a key here. The Brooklyn pick should come in at 15 or 16, though even that has some risk. If the Nets fall apart with injuries and miss the playoffs, the pick rolls over to next year and could fall to the mid 20s by then with Kevin Durant back.
Our immediate focus here should be on the team that got the best player in this trade. That would be the Houston Rockets and Robert Covington.
Houston paid a lot for Covington, and they're now more all-in than ever on 3s and small ball. Honestly, I love it. Daryl Morey and Mike D'Antoni have never been half-measure guys. This could go down in flames, and either or both of them might not be around to pick up the pieces next year.
It makes all the sense in the world for this team to go all-in right now. Harden, Russell Westbrook and P.J. Tucker will only get older, and the window is more open this season with the Warriors and Nets out of the picture.
So what does Houston look like with Covington instead of Capela? In the short term, I think they may look worse.
The Rockets basically don't have an NBA-caliber big man on the roster now — Jordan Bell was also acquired, and he's as close as it gets. He could be a nice ninth man on this team, but let's just say he's not going to make a difference on the nights Houston is getting hammered by Anthony Davis or Nikola Jokic.
Houston will probably add some more size, but I'll be watching for games against teams with elite big men — like tomorrow night against the Lakers — and playing the team with the size.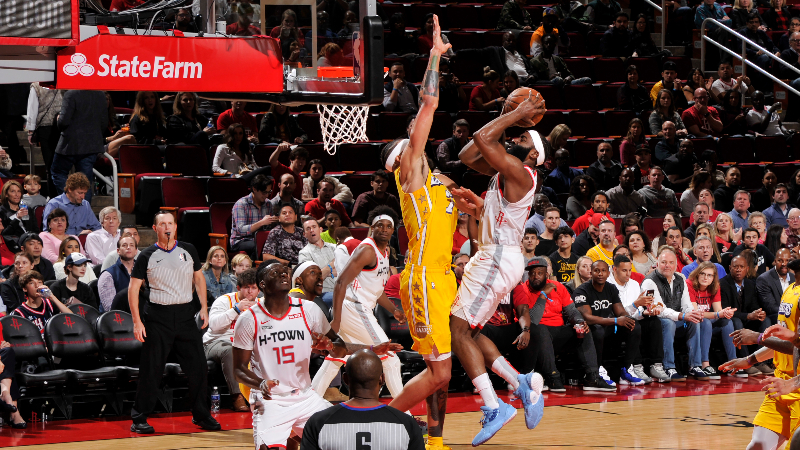 But I have this funny feeling that that's actually exactly what Houston wants. Remember, three points are greater than two. This is Houston betting on that formula more than ever — both on offense and on defense. Go ahead and feed your big man in the post. No, really, post up as much as you want. Eat your heart out. The Rockets still like their chances shooting 3s, and rest assured, there will be more 3s than ever without Capela around to dive to the rim.
While I like Houston less in the regular season, I'm actually quite intrigued by their championship odds this year now. The reason for that is one word: variance.
It's entirely possible the Rockets lose in five games in the first round and blow it up. But every game against the Rockets is now a giant mass of variance. That's what happens when you shoot upwards of 50 threes a game. Some games, you're going to make 15 of them (30%) and get blown off the court,  other games you might make 25 (50%), and suddenly you have 30 extra points.
Do that four times in a series, and the Rockets will be awfully hard to beat. Any given game, Houston can have the best player on the court or just hit you with a landslide of 3s. That's dangerous, and it's interesting.
I've got my eye on Houston's championship odds, and I'm not sure I even need to grab them now. If they really do struggle in the regular season against bigger teams, their odds may drop even further for me.
But Capela was never going to play the most important minutes for Houston this summer anyway, and Covington is now. He will take a lot of open 3s and add to the team immensely on defense. I had totally counted out Houston before this trade. Now? I'm telling you there's a chance.
Bryan Mears: My Thoughts on the Trades
Not to sound defeatist, but like Wob I agree this probably doesn't move the needle much for the title this year. Brandon made a good point about variance, and that's been the case for the Rockets all along. Maybe it works for them finally; that probably would've happened with or without Capela.
That said, I think it makes sense for them to swap him for a different asset. The Rockets are not the "beautiful offense" with cuts, flow and a ton of passes. They have pace and they have space — it's a Mike D'Antoni system, after all — but it's mostly in the name of setting up isolation sets.
And it's hard to blame them for going that way. Those James Harden ISO possessions have largely done well, even if they have issues in the playoffs, and the numbers for Capela pick-and-rolls have continued to dip. If you're going to completely sell out to isolation ball, you don't need a center who can't space the floor. Offensively, he had no place.
Defensively, he did, but the numbers just haven't been there recently for the Rockets. He's shown glimpses of being a good rim protector, but he's yet to shown the consistency needed there. Playing PJ Tucker (or whoever) has done little to change the defense — and in that case, they might as well sell out to the offense, which is built around getting out of Harden's way.
I like Covington, but I'm not sure he's a needle-mover for the title. He's a useful player, don't get me wrong, but it remains to be seen whether the shooting will really hold up in a playoff setting. At minimum, he'll be not disastrous offensively and another guy to throw at all the elite wings in the West. That certainly has value, especially compared to an asset they weren't really using anyway.
The other trades are on the margins; only this one could really swing anything meaningful in the playoffs. But I am intrigued by what the Hawks are doing.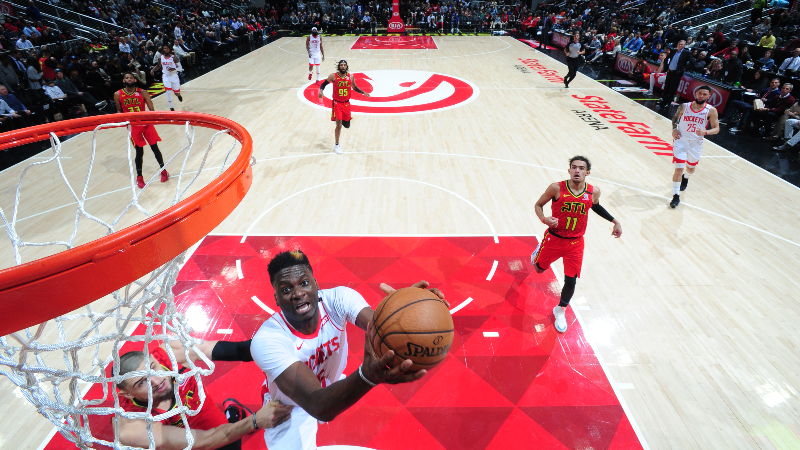 Capela is a good roll partner for Trae Young, who can throw lobs with the best of them in the NBA. But John Collins is a good roll partner, too, and I think his best offensive skillset is as a center, not a power forward. Collins can space and probably has underrated upside in that regard, but it's not really maximizing what he does well. It's a fine fit — but it's not optimal.
And it remains to be seen whether Capela can regain his previous defensive form, and whether he and Collins fit well on that end, too.
It's certainly interesting: The Rockets have been at the forefront of NBA innovation with their spacing and 3-point rate; now they're doing something similar with their punting on the center position. Meanwhile, the Hawks are buying centers … despite already having a young, intriguing option in Collins who probably best fits on a winning team as a center.
We'll see how it goes, and I'll be monitoring all of these storylines closely in my NBA manifesto, as I did today with the Wolves, Hawks and Nuggets.
How would you rate this article?