FIBA World Cup Odds & Picks: Our Best Bets, Futures Entering the Tournament
Credit:
Takashi Aoyama/Getty Images. Pictured: Rudy Gobert #27 of France.
The FIBA Basketball World Cup tips Friday in South East Asia with games in Japan, the Philippines and Indonesia with spots in the 2024 Olympics on the line. Team USA is the favorite (-145) entering the tournament with Canada (+850), France (+1000) and Australia (+1000) trailing on the odds board.
Oddsmakers didn't limit themselves to tournament winner markets and neither did our betting analysts Brandon Anderson, Joe Dellera and Bryan Fonseca. They have 12 bets, from tournament props to group winner bets, ahead of this much anticipated tournament. Here's a look at their FIBA World Cup best bets.
Luka Doncic MVP +2000 DraftKings | Top Points Scorer +350 Bet365
Brandon Anderson: Forgive me for betting on by far the best player in the tournament winning MVP at a ludicrous number. Novel concept, huh?
I don't need to sell you on Doncic. He will do everything for his team, and Slovenia and Luka have a good history as a national team with strong results so we know he'll take this seriously. Doncic will fill up the stat sheet with assists and rebounds, and there's a chance he just scores like 5 PPG more than anyone else this tournament.
The last four World Cup MVPs played for the champs, but we do have a Dirk Nowitzki MVP from third place Germany back in 2002. I think Luka wins MVP if Slovenia makes the final four teams, especially since USA is a heavy favorite and has no clear MVP choice (or need).
The last five MVPs were Dirk, Pau, Durant, Kyrie, and Rubio – all NBA stars. There aren't that many NBA stars outside Team USA at this tournament, and Doncic dwarfs everyone else.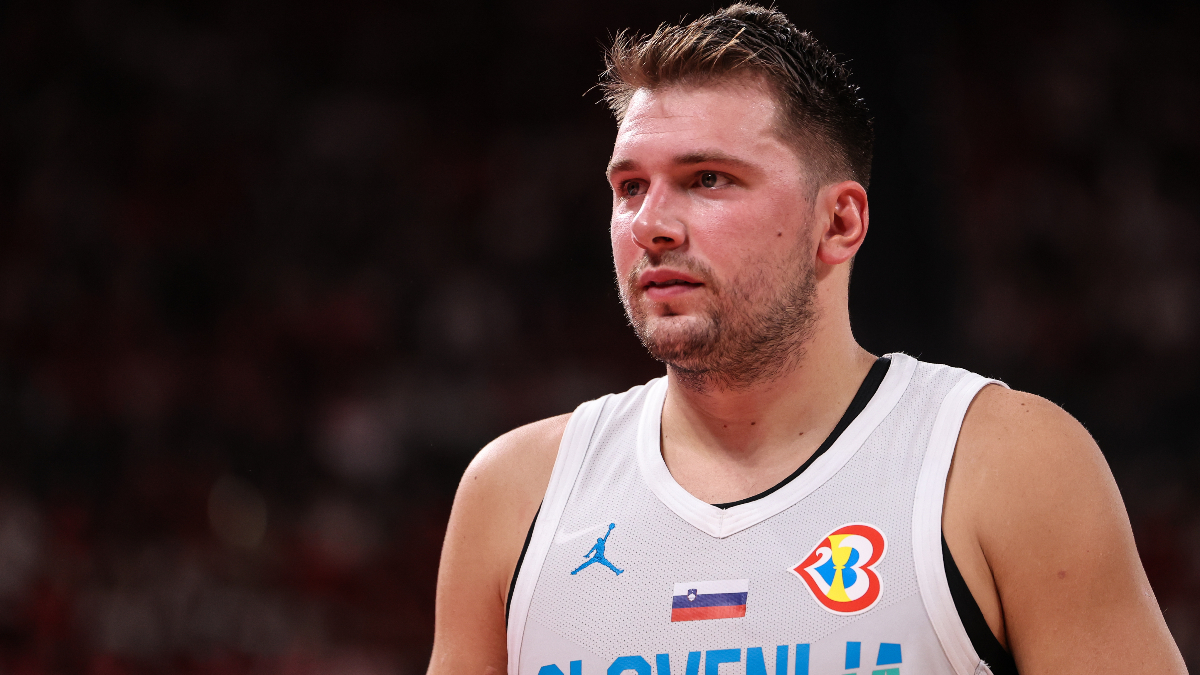 Slovenia has a cakewalk group, then has two chances to beat one Germany or Australia to make the final eight. That next game is the key, likely against France, Spain, or Canada, possibly as an underdog, but if Slovenia wins it – with the best player on the court, mind you – I think Doncic is MVP.
Slovenia is +150 to make the semis (40% implied), and I'd give Doncic at least a 50% shot at MVP if they do so. That implies 20% at least vs 4.8% implied at +2000. Gimme Luka.
If you want a slightly safer play, grab Doncic to lead all tourney scorers at +350. Slovenia plays the max as long as it makes knockout and should definitely do that, and Doncic should will score plenty as long as he stays healthy enough to play.
Rudy Gobert France Rebounds Leader -400 DraftKings | Tournament Rebounds Leader +400 Bet365
Anderson: Rudy Gobert is an international beast.
Look, I slander Gobert with the best of them. I was out on the Gobert trade from the literal second I heard it as a Timberwolves fan, and I'm not optimistic about the outlook going forward.
But none of that matters in international ball, where Rudy is a legit superstar for France. He plays with a different level of confidence, especially on offense, and he owns the expanded paint and beasts on the glass.
I like France to make a deep push in this tournament, at least final eight knockout play which gives France the max games. France's only other real center is Moustapha Fall, so Gobert will get all the minutes he can handle. The only way he doesn't lead France in rebounding by a wide margin is if he gets hurt.
I'll bet Gobert to lead France in rebounds as a way of funding the second bet, for him to lead all players in rebounds. Unless Gobert gets hurt or shut down, it's pretty hard for him to imagine not out rebounding Fall, Mathias Lessort, Guerschon Yabusele, and other French options.
I know Joe and Bryan both bet this one too, so we're all in on Rudy rebounds.
Jaren Jackson Jr. Blocks Leader -110 DraftKings
Anderson: Come on, you know you want an American bet somewhere.
One season ago, Jaren Jackson Jr. led the NBA in Block Percentage at 7.4%. Pretty good. Then this past season he led it again – at a ridiculous 9.6%, blocking nearly 1 in every 10 opponent twos while he was on the court.
He led the league in blocks per game both years too at 2.3 and then 3.0 BPG, and so far for Team USA, he hasn't exactly slowed down. The only other true center on the team is Walker Kessler, who doesn't seem to get much trust from the coaches, so Jackson will clearly start and close games and he should rack up blocks, especially in international play where teams shoot far more twos than the NBA.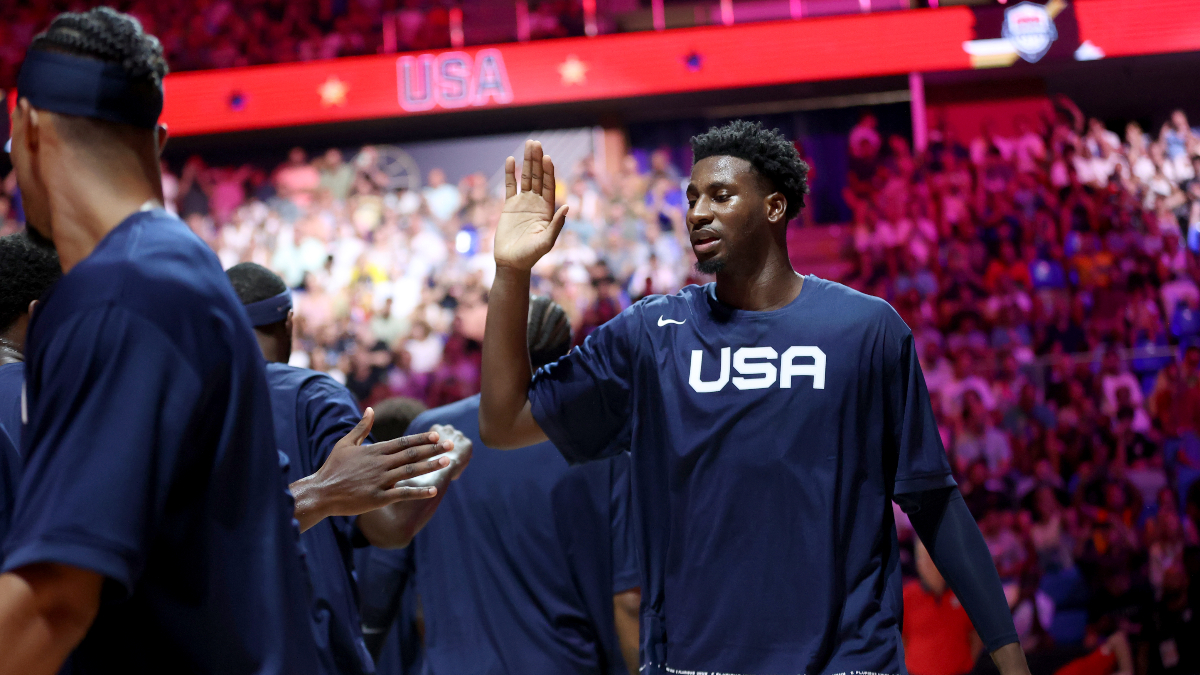 It would be a shock if Team USA doesn't at least make the knockouts, which should give Jackson the full eight games on the court. That should be enough to make him the leader, and Rudy Gobert is the only other name that should really even be in contention barring a surprise.
France to Win World Cup +1,000 DraftKings
Bryan Fonseca: I love France in this tournament, and did bet them to win outright at both +900 and +1,000.
Team USA is a worthy favorite with a light path that won't see them get tested in group play, but they're not unbeatable at all. Even a 2002 team led by Paul Pierce, Jermaine O'Neal, Shawn Marion, Ben Wallace, Elton Brand and Reggie Miller finished sixth.
Hell, LeBron James, Dwyane Wade, Carmelo Anthony, Chris Paul and Chris Bosh only finished third in 2006.
France beat Team USA in the first game of the Olympics in 2021, 83-76, which people forget because the U.S. got their revenge in the Gold Medal Game, winning 87-82.
France is also the primary reason for Team USA's seventh-place finish in 2019 by beating them 89-79 in the quarterfinals. France has some holdovers from both rosters, including their core of Rudy Gobert, Evan Fournier and Nicolas Batum.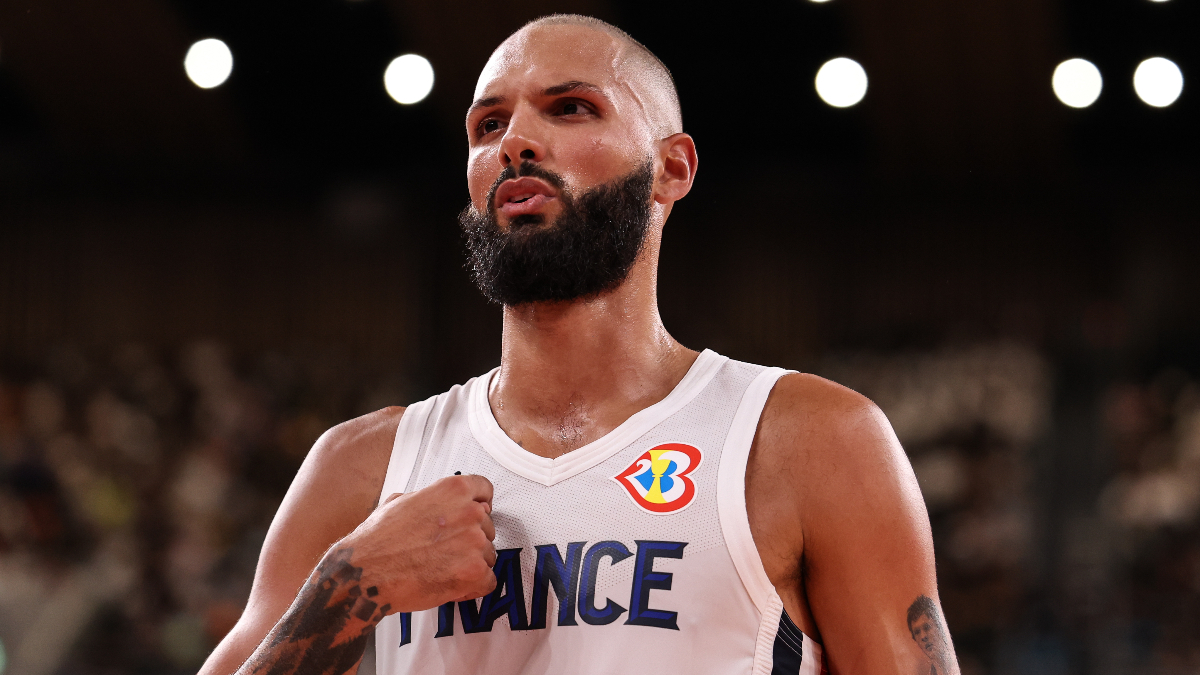 They also have Nando De Colo, one of the best and most accomplished European players of the last 16 years. They have a 7-foot-2 center in Moustapha Fall backing up Gobert and is also one of Europe's most intimidating bigs. And former Boston Celtic Guerschon Yabusele was a standout player on EuroLeague Champion Real Madrid last season.
Vincent Collet has one of the deepest coaching resumes in international play, second perhaps only to Spain's Sergio Scariolo in this tournament.
France will see Canada in group play, Spain in Round 2, and potentially Slovenia and or Germany and or Australia beyond that, but they can beat anyone and are again built to go deep in this tournament."
Dominican Republic Stage of Elimination – Quarters +300 | DR to Win Group A +150 DraftKings
Fonseca: I have a longer write-up on why DR is my sleeper in this year's tournament, but I think they have a favorable bracket on their side.
They should beat the Philippines and Angola, and in group play, they'll be enough to advance them to round two. I even think, behind Karl-Anthony Towns, they could beat Italy. If so, a 4-1 start to the World Cup is at play, which gets you to the quarters.
Australia Head-to-Head vs. Canada -110 DraftKings
Fonseca: Canada has France in their group, which is already tough. They also will see Latvia, which should be a win, but even without Kristaps Porzingis, they better take them serious. Assuming they get their 2+ wins and reach round two, they'll see defending champion Spain, and likely Brazil.
So if the group is France, Spain and Canada plus Brazil, only two teams are making the quarterfinals here. I think France will be one of them, and Spain or Canada will be the other. Canada could lose right here, and if not, you could be looking at a Slovenia or Australia in the quarterfinals.
For Australia, the path is cleaner. They have a tough group with Germany and Finland (Japan should go 0-3), but they will be favored to go 3-0. Beyond that, Australia is expected to have round two games against Slovenia and likely either Venezuela or Georgia. I can bank on Australia getting to the quarterfinals – and I think they're at least a semifinal team who is good enough to win it all. Canada? We'll see.
Most Assists for France: Nando De Colo +160 DraftKings
Fonseca: This is just me banking on one of Europe's most accomplished point guards on a team I think may win this World Cup to get the most assists on his club. Nando De Colo is still one of the world's best floor generals, and while he isn't a high-volume assist guy typically – which is why I'm taking him to lead the team, not the tournament – I think he should be the category leader here.
De Colo lead France with 37 assists during the 2021 Olympics, 16 more than second place Thomas Heurtal, 27 assists in the 2019 Cup, three more than Evan Fournier. This nearly feels like a steal at +160, so hopefully, De Colo leads France in dimes for a third straight world tournament.
Germany over Greece H2H (Team To Go Further) -135 DraftKings
Joe Dellera: Germany and Greece are both relatively close in odds to win the World Cup; however, I don't believe these lines adequately capture the loss of Giannis is for Greece.
Giannis would immediately be one of the best players in the tournament by a wide margin, and while the Greek National Team is solid behind him, I think their ceiling is severely capped beyond the Group Stage.
Without Giannis, they will be leaning on the rest of the team's chemistry and Thomas Walkup who is a defensive talent; however, there is simply no real way to replace Giannis' presence in the lineup.
For Germany, their odds here are being pulled down a bit because they are in "The Group of Death" due to their matchups with Australia, Finland, and Japan. Japan is a distant fourth, but despite Finland enjoying the talents of Lauri Markkanen, Germany has a loaded roster. Germany will be lead by Dennis Schroder and Franz Wagner whose game is perfectly suited for international play.
Wagner's Basketball IQ is off the charts for a 21 year old and he can do a bit of everything – he can create his own offense, facilitate the entire offense or complement as a secondary facilitator, and he can get to the rack. They have the potential to win this group and advance further in the tournament.
I think it's also worth a sprinkle on Germany to win Group E (+200 Bet365). Germany gave Team USA a run for their money in the preparation games. They obviously need to get through Finland as well but this line is off from what the likely moneyline will be in a H2H with Australia.
Stefan Jovic Team Assist Leader +400 DraftKings
Dellera: Nikola Jokic will not be suiting up for the Serbian National team but they will also be without some other key contributors between Vasa Micic, Vladimir Lucic, Nikola Kalinic, and Aleksej Pokusevski. In other words, this team will be looking for a few different faces to step up. While Miami Heat (for now) youngster Nikola Jovic has looked excellent as a secondary scoring option, there is some value here when looking at a facilitator.
Stefan Jovic is the only true point guard on the team. In his last four International Games he tallied, 3, 5, 8, and 7 assists for 5.75 per game. With Jokic and co sitting, he should see plenty of run atop the offense for Serbia.
How would you rate this article?
This site contains commercial content. We may be compensated for the links provided on this page. The content on this page is for informational purposes only. Action Network makes no representation or warranty as to the accuracy of the information given or the outcome of any game or event.