Moore: Best Fit for Jimmy Butler? Ranking His Trade Wish List
Credit:
USA TODAY Sports. Pictured: Jimmy Butler
Minnesota Timberwolves All-Star Jimmy Butler is demanding a trade. His three preferred teams are the Brooklyn Nets, New York Knicks and Los Angeles Clippers.
The Clippers are the best fit for Butler among those teams. They have a playoff-ready roster, a proven coach and the best culture to accommodate Butler.
Well, that escalated quickly. News broke Wednesday after Jimmy Butler met with Tom Thibodeau and Timberwolves officials in LA that the All-Star is demanding a trade.
He has reportedly listed three suitors with whom he's willing to sign a long-term deal: the Clippers, the Nets and the Knicks.
So which is the best fit? Let's rank 'em in order of best to worst.
All title odds via the Westgate Las Vegas SuperBook. They're current as of Wednesday evening.
1. Los Angeles Clippers
Current title odds: 300-1
The Clippers have the most playoff-ready roster. They have the most playoff-ready coach. They are furthest along with their rebuild, and they have the trade pieces to pull it off.
A prospective trade, since the Suns reportedly want Clippers point guard Patrick Beverley: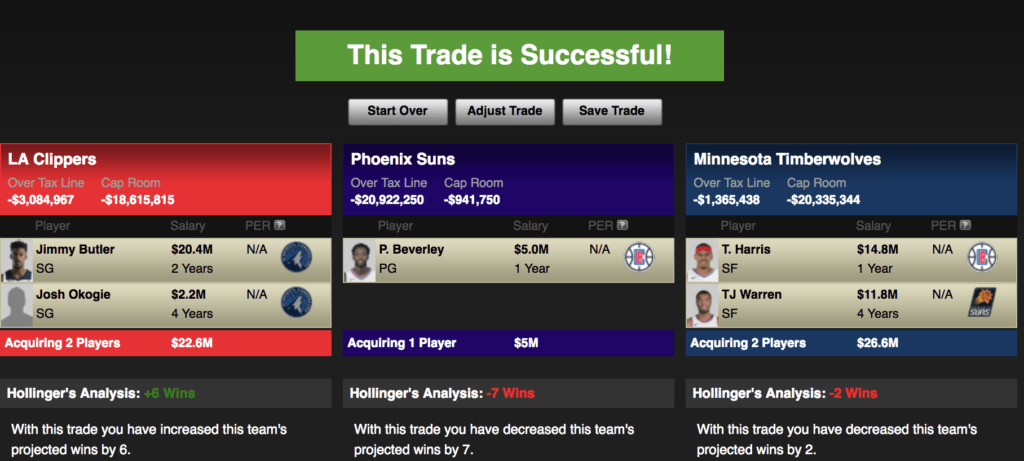 The Clippers lose Tobias Harris, which is rough, but Harris just turned down $80 million in an extension offer this summer, so he's looking for a huge payday. You'd rather give that money to Butler.
The Suns get their point guard while giving up T.J. Warren's long-term money since they have Josh Jackson coming into his own and Mikal Bridges on the wing.
The Wolves get Warren, a replacement-level scorer, even if he can't spread the floor, and Harris, who very much can. Their Teague-Wiggins-Warren-Harris-Towns starting lineup is a nightmare defensively, but then, they were that last season, and it frees them to move Taj Gibson's expiring deal.
Jerry West gets his superstar to use to recruit other players, Butler gets to be the man for the other Los Angeles team and everyone goes home somewhat happy.
It should be noted that Butler is a difficult person to deal with. He rubbed the Bulls the wrong way, which is why they traded their best player.
That move wasn't smart at the time, and Bulls management has made a lot of questionable moves, but it's still a factor. Butler clashed with the young players in Chicago, then did the same with the Wolves.
In Los Angeles, it's mostly a veteran group, with an owner in Steve Ballmer who has turned down the chance to rebuild to try to compete.
Doc Rivers will always go for wins over losses no matter the long-term strategy.
It's a good cultural fit for Butler. This makes the most sense.
2. Brooklyn Nets
Current title odds: 500-1
The Nets have very quietly built a tough, sneaky team with good coaching and great management. You add Butler and that's probably a playoff team in the East after spending four years recovering from the disaster of the Boston trade.
Spencer Dinwiddie helps you win and is capable of running the offense. Caris LeVert has great athleticism and is improving his feel for the game.
They added Ed Davis and Kenneth Faried this summer, two hard-nosed rebounders who will smash the offensive glass.
They have shooters with DeMarre Carroll and Allen Crabbe. (The Nets ranked third last year at spot-up scoring per Synergy Sports.)
If Minnesota just wanted to start over, this package gives it flexibility with Russell being a restricted free agent and the other guys being expiring contracts: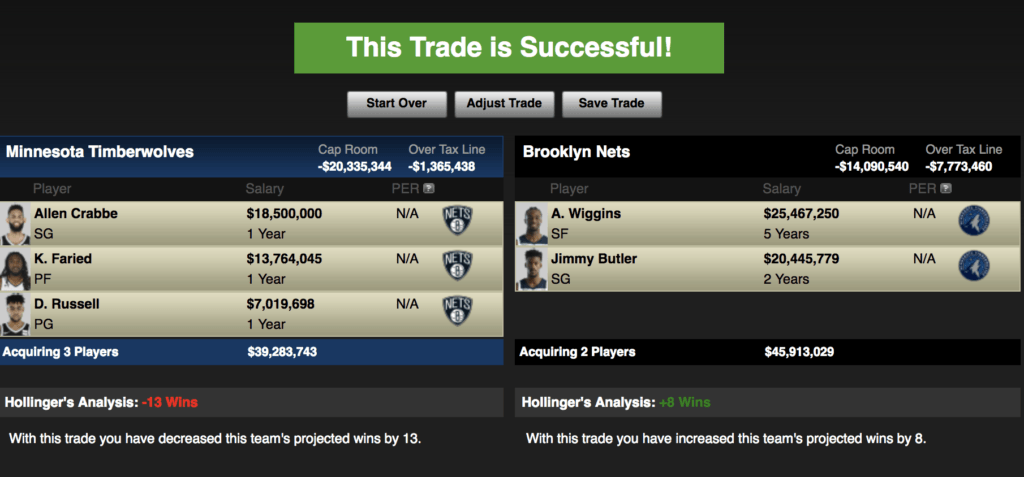 That's probably not enough for the Wolves, however, which is why the Clippers make more sense.
The Wolves would want a pick involved, and — I cannot stress this enough — the Nets should not include any draft picks under any circumstances, whatsoever.
They went too long without any top picks, and with Butler still likely hitting free agency next summer, they cannot risk that happening again.
This trade would clear Wiggins off the books, though, and that'd give the Wolves a lot more future flexibility than they would otherwise have. (That's how Wiggins needs to be considered at this point, by the way, a large-contract drain, until he proves he can impact the floor in a meaningful way.)
That's the best offer the Nets can put together, though. And I'm not even certain Butler is a great fit for them.
They play a smart, efficient brand of ball; Butler is ball-dominant.
They create quality looks for good shooters; Butler creates tough looks that he's elite at making.
They don't have a great big man to pair with him, though Jarrett Allen is coming along nicely and Davis is good. They don't have an elite point guard to set the table, either, although Dinwiddie continues to be a big shot-maker.
It's just not a great fit, but it's still a better fit than the…
3. New York Knicks
Current title odds: 300-1
Guys. Guys. Guys. How many times have we been down this road? The Knicks acquire damaged goods for flawed players from elsewhere and wind up regretting it when the culture goes sideways and the salaries skyrocket.
It's not that Butler's game is a problem. For the most part, he's durable, he's an elite scorer, he's a phenomenal defender.
The argument for who is better between Butler and Paul George is a legitimate one. (For the record, I happen to side with George based on his malleability and versatility, but it's darn close.)
The big concern: Butler has had those locker-room issues the past two places he stopped. You want to put him on a mostly young team for one of the worst-run NBA franchises over the past two decades? Did we learn nothing from the Melo Era?
The Knicks finally have a good young core and are getting better. Frank Ntilikina has real upside. Kevin Knox is my sleeper ROY pick. They have good trade pieces to add other young assets in Courtney Lee and Enes Kanter's contract.
There's maneuverability and they own their picks. The last thing the Knicks need to do is go chasing another star.
Butler is very much the kind of player the Knicks have always pursued and often acquired. And that's very much a reason not to pursue and acquire him.
4. The Dark Horses
If the Kawhi Leonard saga taught us anything, it's that a long shot team can swing an unexpected deal if it's willing to take on a lot of risk. A few ideas:
Miami Heat: Butler is buds with Dwyane Wade, and while the market may not be LA or New York, it's certainly not Minnesota, either.
Erik Spoelstra would get the most out of him, and the Heat have capable veterans who are younger than 27 to send back to Minnesota to help it win now. This makes a lot of sense from all angles.
Milwaukee Bucks: OK, the market fit isn't great, but you're banking on a full season with Giannis selling him on the ability to win big.
You ship out Khris Middleton as the centerpiece, giving the Wolves a player like Andrew Wiggins only good, and you add in Thon Maker for upside.
Charlotte Hornets: Again, the market isn't excellent, but Butler likes country music and maybe North Carolina — and playing for Jordan and with Kemba Walker — would appeal to him.
The Hornets have the veteran pieces and young guys to throw together a package to entice Minnesota, and have very little to lose if Butler walks in free agency provided they don't give up a pick.
Philadelphia 76ers: I don't love the fit, but it gives them a scorer with the ball in his hands, and Butler's defense would make a great group elite. The Sixers could send Dario Saric and some combination of assets back and gain a true All-Star to make a trio with Joel Embiid and Ben Simmons.
Washington Wizards: This core has run its course. Hear me out: Trade Bradley Beal for Butler, who is a slight improvement in multiple areas outside of perimeter shooting, and inject some life into the franchise.
It's risky as hell with Butler's upcoming free agency, but it gives Washington a chance to make a real shakeup. Meanwhile, the Wolves get Beal, who instantly becomes their best player.
This is probably way too much for Washington to go for, but with how stuck they appear, it makes some sense.
Los Angeles Lakers: I mean, if the Wolves want super young guys and you can convince LeBron to make it happen, why not? Butler probably would have put the Lakers on the list if he wanted to go there, but it's at least worth mentioning.
Some combination of the young guys and picks would probably be better than whatever Minnesota winds up getting for him elsewhere.
After all of this, I should note that reports indicate Thibodeau does not want to pursue a trade and instead wants to run back another season with Butler on roster.
Spoiler alert: this will not end well.
How would you rate this article?