NBA Trade Deadline: Knicks Face Toughest Opponent of Season
Credit:
Elsa/Getty Images. Pictured: Julius Randle #30 Reggie Bullock #25 and RJ Barrett #9 of the New York Knicks.
It has been a whirlwind season for the New York Knicks. Their win total was set at 21.5 in the preseason, and at 22-22 entering Thursday's trade deadline, it's safe to say anyone who is invested in the team is pleasantly surprised.
New York is sixth in the East standings and according to the odds at FanDuel, the Knicks are -162 (61.83% implied odds) favorites to make the playoffs this season.
A team that regularly disappoints actually hasn't let anyone down so far, but for Knicks followers with PTSD from the past 20 years, there's always that sinking feeling that something unthinkable could be coming.
So before the trade deadline gets here, we tapped two of the biggest Knicks fans we know — Action Network Senior Editor Malik Smith and NBA contributor Joe Dellera — to discuss what they do and don't want to see out of the Knickerbockers at the trade deadline.
The Knicks Should Not…
Trade for Victor Oladipo at the Deadline
Joe Dellera: I love Victor Oladipo, he's an awesome wing player on both sides of the ball. If you exclude his last season-and-a-quarter in Indiana where he was hurt/recovering from injury, he's posted a positive plus/minus every season since 2015.
Moreover, considering his strong assist to turnover ratio, there's reason to believe he will continue to be a strong player throughout his next contract. The only issue with Oladipo is that he has been injured the past few seasons.
There will be a hefty price tag on him despite the fact that he is an unrestricted free agent at the end of this season and has expressed a desire to leave the Houston Rockets.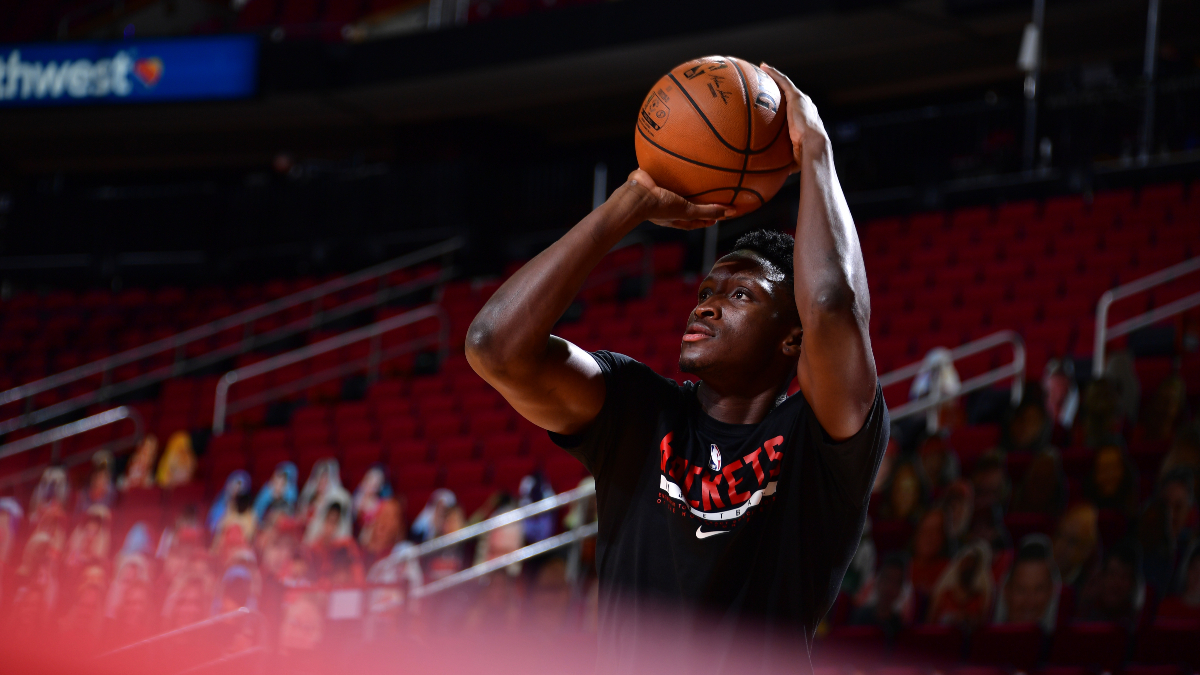 If the Rockets refuse to lower their asking price, there really is no reason for the Knicks to disrupt their current chemistry and sell off assets for someone who may not even re-sign in New York.
We don't need another situation like the Carmelo Anthony trade. Don't get me wrong, I loved Anthony during his time in New York, but the Knicks essentially mortgaged their future because they were impatient.
The Knicks can still pursue Oladipo in free agency, and if he goes elsewhere then so be it. ESPN's Adrian Wojnarowski recently tweeted that the Knicks are reluctant to offer a premium package for Oladipo, and this is the right course of action for NY.
Oladipo is an excellent player, but I don't think he necessarily pushes the Knicks to suddenly be title contenders without further developing their current young core. There's just no reason to rush into this type of deal unless it's at a bargain basement price.
Acquire Andre Drummond by Any Means
Malik Smith: I'm not even sure why this was being discussed, but this is easily the worst idea of all the rumors floating around for the Knicks.
Like Oladipo, Drummond is in the last year of his current deal, so the Knicks could sign him in the offseason if they are interested. Drummond is also a buyout candidate, so that option is available as well.
But here's the thing: the Knicks don't need a center.
They have Mitchell Robinson, who has a team option for next season. They also have Nerlens Noel on a cheap deal and could conceivably re-sign on a cheap deal.
Even if you have cap space, trading for Drummond's $28M contract for one season for a position that you don't really have a need for seems — well — exactly like something the Knicks have done in the past.
If this organization has truly turned the corner from its past transgressions, they absolutely can't make this type of move.
The Knicks Should…
Sell High on Players Who Aren't Contributing
Dellera: The Knicks need to examine who complements their young core of players. I'm saying this core is Julius Randle (extend him ASAP), RJ Barrett, Robinson and Immanuel Quickley.
Interestingly enough, the Knicks' best lineups have not featured Mitchell Robinson this season, but considering his youth, his extremely affordable contract and his +8.8 point differential for his on/off splits last season, he is someone the Knicks will need to build around moving forward.
It's hard to capture because it's such a limited sample size, but in the 94 possessions these four have shared on the court this season, the Knicks are +14 points per 100 possessions (98th percentile) while scoring 117.0 points and only allowing 103.0, per Cleaning the Glass. These four are the future. Everyone else is expendable if there are better options.
So let's unpack it.
Obi Toppin is a rookie and needs time to develop, but he also needs to improve quickly, considering he is nearly 23. He needs to contribute a bit more on the defensive side of the ball and figure out his niche offensively besides just calling for alley-oops.
Elfrid Payton has got to go. He's posting a -4.8 point differential this season in his on/off splits and at 27 years old the Knicks know he is not the future. Any minutes that Payton plays should be given to Quickley or even Frank Ntilikina to see how he develops. The Knicks should try and trade Payton to a team that is desperate for a guard or renounce his rights at the end of the season.
Ntilikina is amazing defensively, but to say he's awful as a scoring option is an understatement. He has a qualifying offer for $8.3 million next season, and I cannot imagine any circumstance where the Knicks re-sign him for that price.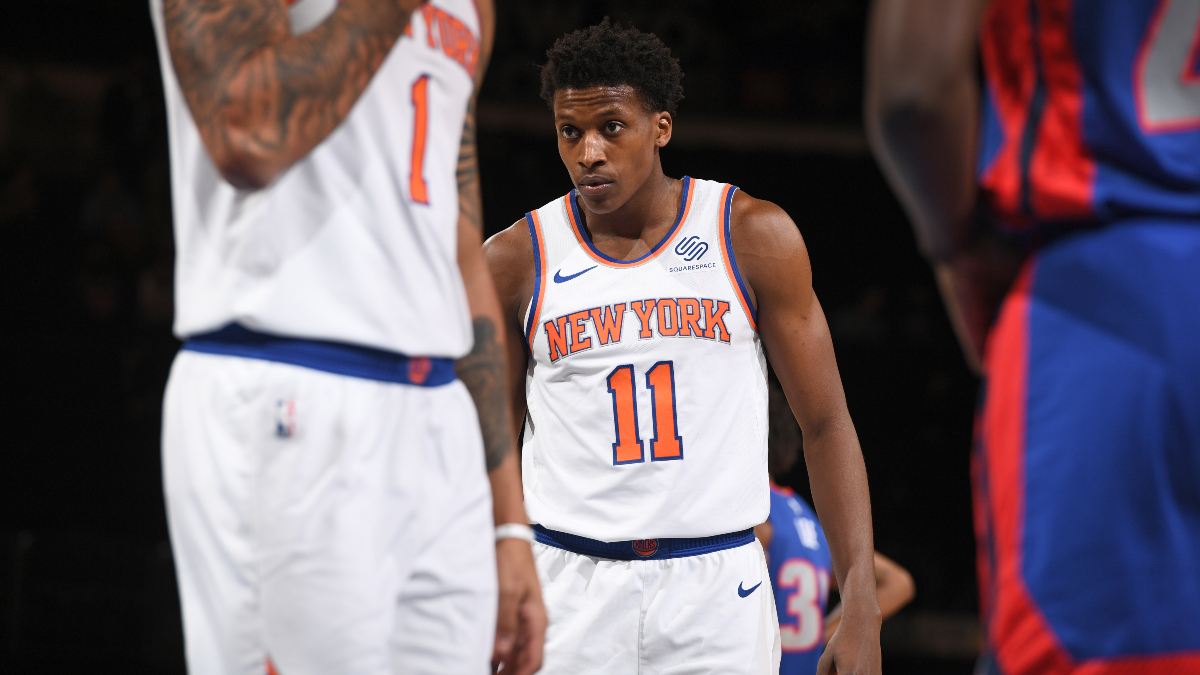 Alec Burks and Reggie Bullock have been solid during their time in New York, and they've shown some defensive tenacity that fits perfectly with this squad. I would not mind seeing the Knicks keep them around next season.
Kevin Knox is an enigma. He's still under his rookie contract, but he truly struggles to efficiently score. This season he finally is making 3-pointers at a respectable clip (40%), but he's still a net negative on both sides of the floor. He's only 21, but in his third season in the league we have yet to see significant growth from him.
The Knicks need to figure out if he's in their future plans or if he's someone that should be traded either at the deadline or in the offseason. Knox is a piece that still holds value and could be sought after in the trade market due to his shooting.
Austin Rivers needs to be traded. He has not played meaningful minutes since Feb. 7, and he is on a relatively inexpensive contract moving forward, roughly $3.5M per year through the 2022-23 season.
He's an above average shooter, but on this Knicks team that needs to prioritize young talent, he is an easily tradable asset to a contender that's looking for some additional perimeter scoring. Teams that may be in the market for that are the Sixers, the Lakers, the Bucks or even the Warriors.
Smith: We're certainly on board with who fits into the core for this team. As for the rest of the team, I think it's less about who should be traded and more about who (or what) can be traded.
As much as New York fans want Payton gone, I don't think there's any team that is more desperate for a healthy, experienced starting point guard than the Knicks. And given the injuries that the Knicks are dealing with at the position, they could very well be stuck with Payton for the rest of the season.
Knox and Ntilikina have some value, but not enough that the Knicks would be able to get much in return without attaching draft picks. The Knicks have two picks in the 2021 draft not including their own — a second round selection from the Detroit Pistons and a first-round pick from the Dallas Mavericks.
When you need as much help as the Knicks do, you don't acquire draft picks at the end of the first round expecting to hit a home run — though the early returns on Quickley, picked at No. 25, are really promising.
Leon Rose and Scott Perry need to strongly consider dangling that first, or second-round pick and the two young players teams might take a shot on to improve this roster.
Of course, there's also the very boring option of doing nothing. Right now, there isn't a move out there that would instantly make this team a contender. They have already exceeded expectations from those on the outside, and I'd be willing to bet they surpassed internal expectations, too. But this recent upswing all started with the team being patient.
So please, for the love of God, just don't screw this up.
How would you rate this article?
This site contains commercial content. We may be compensated for the links provided on this page. The content on this page is for informational purposes only. Action Network makes no representation or warranty as to the accuracy of the information given or the outcome of any game or event.