Dr. Moore & Mr. Wob: Lakers Panic, Buying the Raptors, Contract-Year Kemba, More
Credit:
Tom Szczerbowski-USA TODAY Sports. Pictured: Kawhi Leonard
Matt Moore and Rob Perez discuss the biggest topics in the NBA.
Are the Toronto Raptors for real with Kawhi Leonard at the helm?
Should we be concerned by sluggish starts for the Lakers and Thunder?
Well hello there. Week 1 of the NBA regular season is complete, and it honestly feels like it should be the playoffs already with how much has transpired.
Doing an "overreaction" column is too easy. Let's change it up a little bit.
Every week, Matt Moore and Rob Perez are going to impersonate Dr. Jekyll (Matt) and Mr. Hyde (Wob).
Wob is going to use the eye test only to deliver five in-the-moment hypotheses after consuming an adult beverage, and Matt will either support or rebut them with facts.
This week's topics: The crazy amount of points being scored, whether it's time to panic on LA and OKC, Kemba Walker's hot start, and the Nuggets and Raptors looking like world-beaters.
Let us begin.
1. POINTS ON POINTS IN POINTS
WOB: I am genuinely curious at this point what the record of over/unders is for NBA full games this year. Every time I look up there's a Kings-Pelicans or Bulls-Mavericks score that looks like two teenagers are playing NBA2K on Rookie with actual 12-minute quarters.
It is out of control. The '90s are rolling in their graves watching the defense and micro-managed officiating that's being played out in today's game.
MOORE: Here's the thing, I don't think it's a defensive problem. Everything isn't a two-way dynamic where if the offense is good, the defense has to be terrible, or vice-versa.
Teams are playing insanely fast.
WOB: That has to be the result of the shot clock resetting to 14 instead of 24 after offensive rebounds, right?
It's been very funny watching teams that retrieve the offensive rebound kick it out to their point guard standing a step inside the half-court line and stand around waiting for a play call not realizing that there are now only eight seconds left and they have to improv scramble around the court like it's a YMCA game.
As soon as that ball comes off the rim it is going RIGHT back up and causing all sorts of fast breaks leading to more rim warfare, which means more fouls and more free throws and more points.
There, I solved it.
MOORE: The 14-second reset is contributing, but as we looked on Monday, pace and the free throw rate are driving a lot of this. And the key here is that the freedom of movement calls are probably going to chill.
It's an annual rite where the league makes a big deal about a call early, and by December we don't remember it. I'm getting ready to hop on board the unders in the month of December, but for now, get while the getting is good.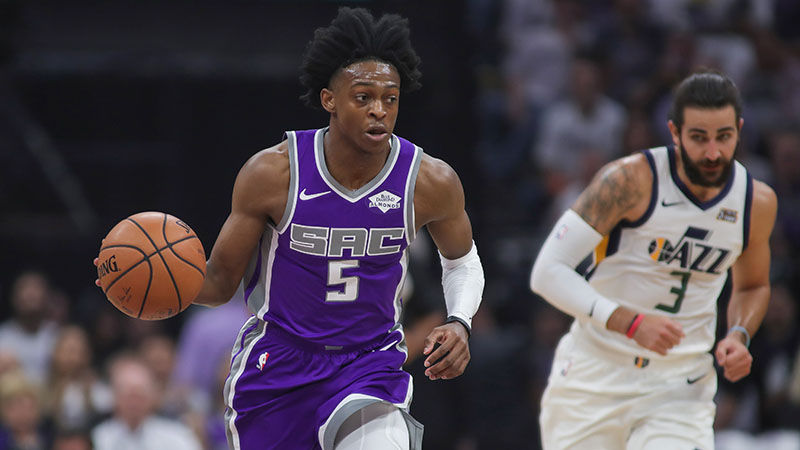 WOB: Will we see a team score 200 points this season? Honestly, all it might take is a three-overtime game.
MOORE: Hell no, because you have to have a coach who's at least marginally interested in doing that.
If the Warriors had 170, Steve Kerr is pulling the plug on the starters and demanding they grind. Alvin Gentry wouldn't push for it, either.
You'd need a team that was so blistering hot, and fast, and wanted to pursue it, and I don't think we have that combo. You also need sustained shooting and fouling to get there, and eventually, the other team will either buck up enough or stop trying enough to slow its opponent down.
No team wants to say it gave up the most points in NBA history. A triple-overtime game would require guys to keep slinging and splashing constantly throughout those overtimes, and when games get tight, that gets tougher.
No way.
2. Lakers or Thunder: Which team should be worried more?
WOB: Ladies and gentlemen: please put your hands together for your respective 14th- and 15th-place teams in the Western Conference!
I'm not worried about the Lakers at all, and it has nothing to do with "they'll figure it out!" This season is a PUNT.
Dear Lakers fans: You are not beating anyone in the playoffs, you are not beating the Warriors, the ENTIRE goal of getting LeBron in uniform was to surround him with expiring contracts, start developing chemistry with the young core now and get ready for the free agency Summer of 2019 when you can actually build the championship roster LeBron deserves without having to trade away any assets.
Lakers, YOU did this to yourself the moment you assembled the Meme Team. The whole point of inviting everyone to the roast is so that they can make fun of you and you can laugh at yourself.
Is it costing you a year of LeBron's prime? Yes. But the moment you passed on trading for Kawhi Leonard was the moment you said you were willing to do this. Josh Hart is your second-best player, and JaVale McGee is your second-most important player. Nothing here surprises me.
MOORE: I'm worried enough about the Lakers. The losses, OK, whatever. But their defense looks like a mess, and they were counting on that being good like it was last season.
If they're not a good defensive team, I don't know what the Lakers are good at at this point. And if this thing spirals more, LeBron is not going to buckle down, go Zero Dark 23 and burn the league down.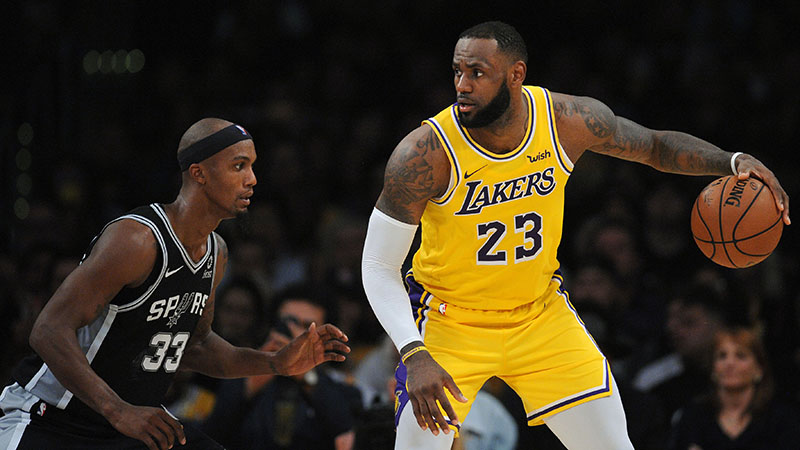 He's going to do what he did last season and check out. As he gets older, this is going to be the challenge. He has three titles, he certified himself as the second-best ever, he made the money, got Cleveland the title.
What's his motivation? Because so far it seems to be making entertaining #content in entertainment ventures while expanding his brand. And more power to him. But that situation becomes toxic.
This is the deal with the Lakers: You get all the fame and perks, but you also get the expectations and the pleasure of being judged against Kobe.
In a more concrete sense, the Lakers need Hart to hold them up way too much, and it's going to get awkward if he hits a slide.
Their schedule over the next week is key. They have a beatable Suns team, a very good Nuggets team at home and then the Spurs again. A 2-1 performance quiets all this down.
That's enough Showtime … what about the Thunder, Wob?
WOB: Oh, I am definitely worried about the Thunder because I don't know how this team solved any of its issues from last season, other than some addition by subtraction with Melo.
Who — not named Paul George — is going to run the baseline and make a corner 3 for this team? Terrence Ferguson? Jerami Grant? The injured guy who can only score on social media?
MOORE: You know what's weird? OKC is averaging just 8.2 three-pointers per 100 possessions. That ranks bottom five in the league.
They're 30th in effective field goal percentage on shots between 5 and 14 feet, and then on short jumpers (between 9 and 14 feet), they are shooting 11-of-48.
OKC needs a 2-guard shooter for the 11th season in a row, and unless it finds another discount option, it's going to be tough sledding.
WOB: Westbrook cannot go Oscar Robertson again to save this team. He just can't. Can he?
MOORE: Russ can do whatever the hell he wants, but he better not. That is not a sustainable formula for them to get what they need out of George.
3. Kemba Walker the God
WOB: He's not going to get the votes to start in the All-Star Game because it says 'Charlotte' on the front of his jersey, but at this rate, he should. He is absolutely balling.
ALL HAIL CONTRACT YEAR KEMBA because this man is about to get PAIDDDD.
I'm sorry I cheated and looked at Basketball-Reference. I had to. After four games, he is averaging 33 points per and has a Player Efficiency Rating almost SEVEN points higher than that of any of his previous seasons.
This is a walking, breathing bucket who is only getting better and is already captain of the NBA's All War-Trench team — the five guys you want to be in a trench with you if there is another world war (rounding out this list, by the way, are Patrick Beverley, Rajon Rondo, Chris Paul and Jimmy Butler).
A fun fact, by the way: On Monday night Kemba broke Steph Curry's record for most 3s made in the first four games of the season (21), so Steph came out vs. the Suns and made six more to put him at 22 and re-break his own record + Kemba's mark.
Never drink with your crazy single uncle. You will wake up in the front yard 12 hours later.
MOORE: Jekyll's about to steal your slant, Hyde. You want a take? YOU WANT A TAKE?!
Kemba is like Kyrie Irving … only he's a better passer, better defender and has 80% of Kyrie's tough-shot-making ability.
If Kemba played in Boston? He'd be a megastar. If he played with LeBron? He's knocking down that shot in 2016.
I think Kyrie's a better pure scorer on account of the insane layups he hits, but for efficiency and big-shot cojones? Kemba is RIGHT. GODDAMN. THERE.
That said, the Hornets are playing better but still have so many question marks in their lineups. They're one good trade — just one good trade of standard role players — away from being a playoff lock.
//corrects tie, straightens out shirt
Ahem. So yes, I agree. Kemba good.
4. Hang the banner, the Nuggets are paper champions!
WOB: So, um, are we going to talk about how Nikola Jokic just had the third 'perfect' 30-point triple-double in NBA history (Wilt Chamberlain had the first two triple-doubles recorded without missing a single shot), had ZERO turnovers in that same game and the Nuggets have held three of their first four opponents to fewer than 100 points INCLUDING the Golden State Warriors?
Oh we're not because there was a fight at STAPLES? OK.
MOORE: That game is one of the finest I've ever seen in person. Like, LeBron's 2012-15 playoff runs and Klay's 2016 Game 6 performance and a few others top it.
But being in the building, it was insane. It was the Suns, sure, but Jokic also took an NBA team and played it like a marionette. They danced their puppet dance to Jokic's tune.
WOB: Fact: If Will Barton doesn't pop his groin, this is the best team on paper in the Western Conference right now, and I'm not sure it's close either.
They are TWELVE deep with guys who could start on any other team in the Association. Now they play defense — their one Achilles heel throughout all these lost seasons? AND they have Michael Porter Jr. just chilling on the bench for future use?
I am ALL IN on this damn team…
…again.
MOORE: Something feels distinctly different about the Nuggets, and you get that sense from being around them. They're defending the pick and roll better than almost any team is right now, and their offense hasn't even clicked in.
It was so important for them to get off to a good start, and honestly, losing Barton for only six weeks is a godsend when a lot of us thought he tore his labrum.
Things are shaping up if they can just manage to not Nuggets this thing.
5. The Toronto Raptors are FINALLY for real
WOB: I know…. I KNOW…..
We do this EVERY year.
Death, taxes, October Raptors hype.
But I promise you, Toronto, this time is different. You have a T-1000 Terminator on your roster who is the best player in the conference by a decent margin.
You have NEVER had an ace in your hand … EVER … you had a bunch of Jacks trying to take down a King.
Kawhi being a basketball X-Man isn't even the most important part. He is so good that it is allowing Kyle Lowry to be the secondary option. He doesn't have to go bucket for bucket with LeBron James anymore as DeMar DeRozan sits at the end of the bench begging Dwane Casey to put him back in.
Lowry can just stand out there and reap the benefits of having a mutant get him wide-open looks. Fred VanVleet would start on pretty much any other team in the NBA and can be that third scoring option when the tough gets going in the postseason.
Kawhi and Ibaka patrolling the paint together is the most terrifying tag team I've seen since Kane and the Undertaker teamed in the WWE Attitude era.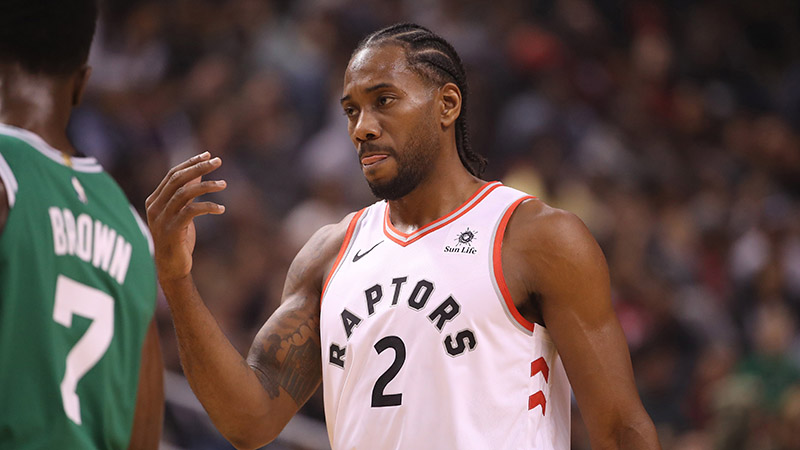 Siakam, Anunoby, Powell, Miles, Danny Green — this roster is a nuclear arsenal of swingmen. We don't even need to care about Jonas Valanciunas anymore. Greg Monroe can't even get in the 10-man rotation. That's how stacked the Raptors are.
They showed up to D.C. on the second leg of a back to back, benched Kawhi, and took the Wizards to the shed. This is not your grandfather's Raptors. There is nothing you can do to convince me an Eastern Conference team can beat these guys four out of seven times. Even Boston.
I'm going to regret this column in April aren't I?
MOORE: Yes. You are. I want to get on the wagon. I want such good things for this awesome fan base and a fun-as-hell team. And LeBron's gone. That's huge.
But I just don't know how the Kawhi thing ends, I don't know what they're going to look like, chemistry wise, come the playoffs when things stop being fun and get real.
They are so sharp right now, it's mind-boggling. Their rotations are the best I've seen of any team in the league this year, including Utah and Boston.
Kawhi is just kind of fitting in around the rest of the offense like a creepily big glove.
But I've bought in too many times. I gotta see Lowry come out and kick the doors down in the playoffs (and stay healthy). I gotta see Kawhi stay engaged if he knows he's leaving. I gotta see the bench be ready for how intense it gets.
Honestly, I feel you're screwed either way with this team. Buy in and you're buying stock that can crater at any moment; sell and you may be missing out on the most valuable commodity in the league.
Good luck, I'm staying on the sidelines.