NBA Win Total Odds & Pick: Can the Los Angeles Clippers Lead the West?
Credit:
Michael Gonzales/NBAE via Getty Images. Pictured: Kawhi Leonard #2 of the L.A. Clippers.
Check out this post for updated season win total odds for all 30 NBA teams.
---
Los Angeles Clippers Win Total Odds
| | |
| --- | --- |
| 2023-23 Win Total | 52.5 |
| Previous Season's Wins | 42 |
The Case for the Over
They Have an Answer for Everything
You're welcome to come up with an argument.
"Oh, but Paul George and Kawhi Leonard won't play that many games."
With Paul George, when Kawhi Leonard is out, under Tyronn Lue, the Clippers are 24-19 (56%). With Leonard, when Paul George is out, under Lue, the Clippers are 4-5. Without either one, the Clippers are 29-32, 47.5%. When both play, the Clippers are 32-11 (74%).
Let's say they get 45 games with both guys active — a conservative estimate — that's 33 wins based on their win rate in previous seasons. They would need 20 wins out of the remaining 37 games (54%), with one of them playing or neither. That's intensely doable.
The Clippers are also better equipped to deal with the absences of one or the other than in seasons past. This is the deepest roster in the league. Every single player in their top 14 is a certified NBA player.
This helps with getting through the rigors of the regular season. If Reggie Jackson needs a night off, John Wall fills in. If Ivica Zubac is sore, the Clippers can play small-ball. If one of their 18 forwards is out, they have multiple replacements who can all shoot and defend.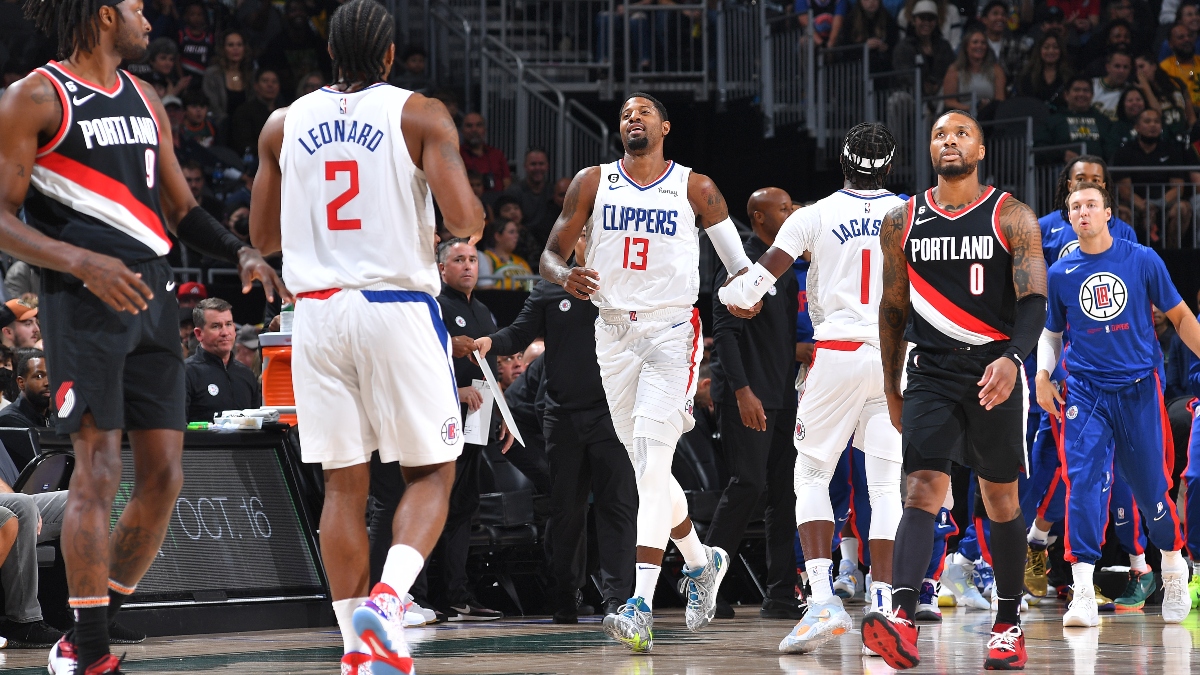 The Clippers are able to create separation with their shooting. They had the fourth-highest 3-point shooting for a team ever in 2021 and were fourth-highest league-wide last season, even without PG and Kawhi.
This should be a top-five offense.
But what about the defense? Well, the defense was eighth last season without PG and Leonard for most or all of the season.
The Clippers can play multiple styles with their roster, that's where the depth helps. If they need to play big, Zubac is perfectly fine in that coverage and, honestly pretty good. If they need to switch, Zubac can survive for stretches, and if he can't, they can go to a small-ball look (though they'll miss Isaiah Hartenstein here).
The Clippers are just exceptionally well-coached with a veteran roster that has a lot of answers.
The biggest counterargument to the Clippers' potential success is their star players' unavailability, but this roster is well-positioned to manage without them for stretches.
---
The Case for the Under
Motivation vs. Key Number
Specific Key Weaknesses
Fifty is a key number in NBA win totals over the past 10 years. Teams with a win total of 50 or more are 31-16-1 to the under in that span.
So if we know that it's actually difficult to win 50 games, even though we don't think of it as a tough number, why is this the team that's going to go for it?
Ty Lue has made it readily apparent that he'll play to make sure that the team is healthy going into the playoffs first. He's not concerned with seeding or home court.
You have a team led by a player who may or may not have a degenerative leg injury (it's never really been talked about in detail with Kawhi Leonard) who also prioritizes rest over everything with a team that doesn't have much investment in a top-four seed facing a 50-plus win mark.
You're banking on the rest of the team being able to get you through the margin without him. What if Leonard misses time in the hard part of the schedule? Or if Paul George and he both miss time at the same time?
It'll be a sweat.
The Clippers' roster is not without weaknesses. Yes, they are probably the deepest team in the league, but their center options are Zubac and that's it. After that, it's small-ball weapons, and the Marcus-Morris-at-center lineups have not been great.
Their two point guards, Reggie Jackson, and John Wall are not shooters. So if the whole "bomb from deep" thing is the plan, having two guys who can't as the lead ball-handler is an issue.
Clippers Win Total Bet
It's an over. Not a big one (2.5 units). But it's an over play. At the time of writing, Caesars has the best line at 51.5.
The trends suggest caution, like the fact that teams that won fewer than 45 games with a win total over 50 are 6-0 to the under in the last 10 years. But this is a different situation with the injuries. It's a one-of-one condition, and I trust the Clippers to be able to get to 53 wins.
They won at a 50-plus pace in 2021 when they had the two stars. This roster is better. They can coast and still rack up 53-55 wins, and I think the No. 1 seed is in play if the stars don't get hurt, even with injury maintenance.
How would you rate this article?
This site contains commercial content. We may be compensated for the links provided on this page. The content on this page is for informational purposes only. Action Network makes no representation or warranty as to the accuracy of the information given or the outcome of any game or event.