NBA Odds, Picks, Predictions: Our Staff's Best Game 6 Bets for Jazz vs. Clippers (Friday, June 18)
Credit:
David Sherman/NBAE via Getty Images. Pictured: Donovan Mitchell #45 of the Utah Jazz.
The Utah Jazz head to Los Angeles to face the Clippers and try to keep their season alive in an elimination Game 6.
In a series that has swung wildly for both teams, our NBA crew is looking at a number of ways bet tonight's action.
Our staff of NBA analysts breaks down its best bets of the night below.
It's gut-check time for the two top seeds in each conference, the Philadelphia 76ers and Utah Jazz.
Both teams need a win in Game 6 just to stay alive in the NBA Playoffs. Both are coming off crushing losses, which means the momentum is with their opponents.
On the flip side, the Atlanta Hawks and Los Angeles Clippers are highly motivated to close things out in their respective arenas.
Our NBA analysts have found a number of ways to play each matchup with bets for both the first and second half of the first game, plays on the total in the late game, plus a player prop.
Check out how they are attacking both Game 6s below.
NBA Odds & Picks
Philadelphia 76ers vs. Atlanta Hawks
| | |
| --- | --- |
| Pick | Philadelphia 76ers 1H -1.5 |
| Book | BetMGM |
| Tipoff | 7:30 p.m. ET |
| TV | ESPN |
Raheem Palmer: Although the 76ers have struggled to close games, they've won the first half in each of the past four games. They aren't just winning the opening half, they've held double-digit leads in each of the last four games.
The last two in particular, they've won by 13 and 22 points respectively before blowing the lead in the second half. Despite being down 3-2, the 76ers are the better team and the Hawks haven't truly figured out how to score consistently against this defense.
Is it sustainable for Lou Williams to lead the charge against the 76ers defense in a quarter in which the Hawks shoot 72.7% from the field? I doubt it. Joel Embiid has been dominant throughout this series, averaging 32 points, 13 rebounds and 4.6 assists.
The Hawks haven't had any answers for him outside of his stretch where he went 0-for-12 in the second half of Game 4, which is something I'd bank on not happening again.
The Sixers have an edge here and should be able to clean up their mistakes to keep their season alive. Still, I'm not willing to back this team full game given the blown leads in each of the last two games.
I'll play the 76ers on the 1H at up to -2.
---
» Return to the table of contents «
---
Philadelphia 76ers vs. Atlanta Hawks
| | |
| --- | --- |
| Pick | Hawks Live ML (2H) |
| Book | DraftKings |
| Tipoff | 7:30 p.m. ET |
| TV | ESPN |
Matt Moore: It all started in Game 4.
With a 13-point lead, Joel Embiid went 0-for-12 from the field for four points. Philly was outscored by 16 points in the second half. The Hawks stormed back to even the series.
In the second half of Game 5, with 22-point lead this time, Joel Embiid went 3-for-9, and while he got the line for another six points, scored just 13 and the Sixers were outscored by 14 points and the Hawks, again, stormed back to take the 3-2 lead.
This is after in the first three games of the series, the Sixers won the second half by double digits in each of the three games.
In the past two games, Embiid has an on-court Net Rating of -38.5 in the second half. Now, let's be clear, Embiid was not why they lost Game 5, that was a collective meltdown among the all-timers. However, with Embiid dealing with the torn meniscus in his knee, you wonder if whatever treatment the Sixers are providing pre-game may not be enough to keep him comfortable in the second half.
And if the Sixers aren't winning the Embiid minutes, they are not winning this series. In the first three games, the Sixers actually had a better net rating with Embiid on the bench (+50.2) than with Embiid on the floor in the second half (+24.1).
But that carriage has turned back into a pumpkin as the Sixers have been outscored by 57.9 points per 100 possessions in the past two games in the second half without Embiid. Nothing shocking, a team collapses and those numbers will be poor, but it's more important to note that if Embiid can't carry them in the second half, the bench is unlikely to step up.
Plus, given the various scenarios, there are a number of ways this works. If the Sixers are up big at half, the line will be inflated for the Hawks. If the Hawks are rolling, it may finish garbage time with Embiid not playing.
The pre-game second half moneyline is Hawks -105 at DraftKings. It's better to wait because barring an injury, the Hawks will likely be bigger second half dogs no matter what the margin is at halftime.
---
» Return to the table of contents «
---
Utah Jazz vs. Los Angeles Clippers
| | |
| --- | --- |
| Pick | Under 221 |
| Book | FanDuel |
| Tipoff | 10 p.m. ET |
| TV | ESPN |
Matt Moore: Despite going completely frozen in the second half of Game 5, the Jazz hit 20 3's. Since 2003, the under in playoff games after a team hits 20 or more 3's 21-12-1 (61.7%). When the team that hit 20 or more 3's in the previous game is on the road, the under is 11-5 and they've hit their team total under in 10 of the 11.
The Clippers are switching everything in this series, which is bogging down the Jazz offense. In the last two games, 80% of the Jazz pick-and-roll attempts have been met with a switch, and in those, over half have resulted in taking 17 seconds or more of the shot clock. Those possessions also are averaging just 1.0 points per possession. If the Clippers win, it's likely largely because the Jazz shooting regressed hard.
Meanwhile, the Jazz have had a lot of success in drop coverage vs. the Clippers, holding them to just 0.79 points per possession, which is hot garbage in a hazmat zone. Without Kawhi Leonard, the Clippers have one less isolation creator. Paul George is carrying a heavy load right now. If the Jazz win, it's because they finally managed to figure out how to get some stops.
As of this writing, 62% of the tickets are on the over, but 92% of the money is on the under in our Action Network app. We've tracked both big money and sharp action on the under. I like the under here too.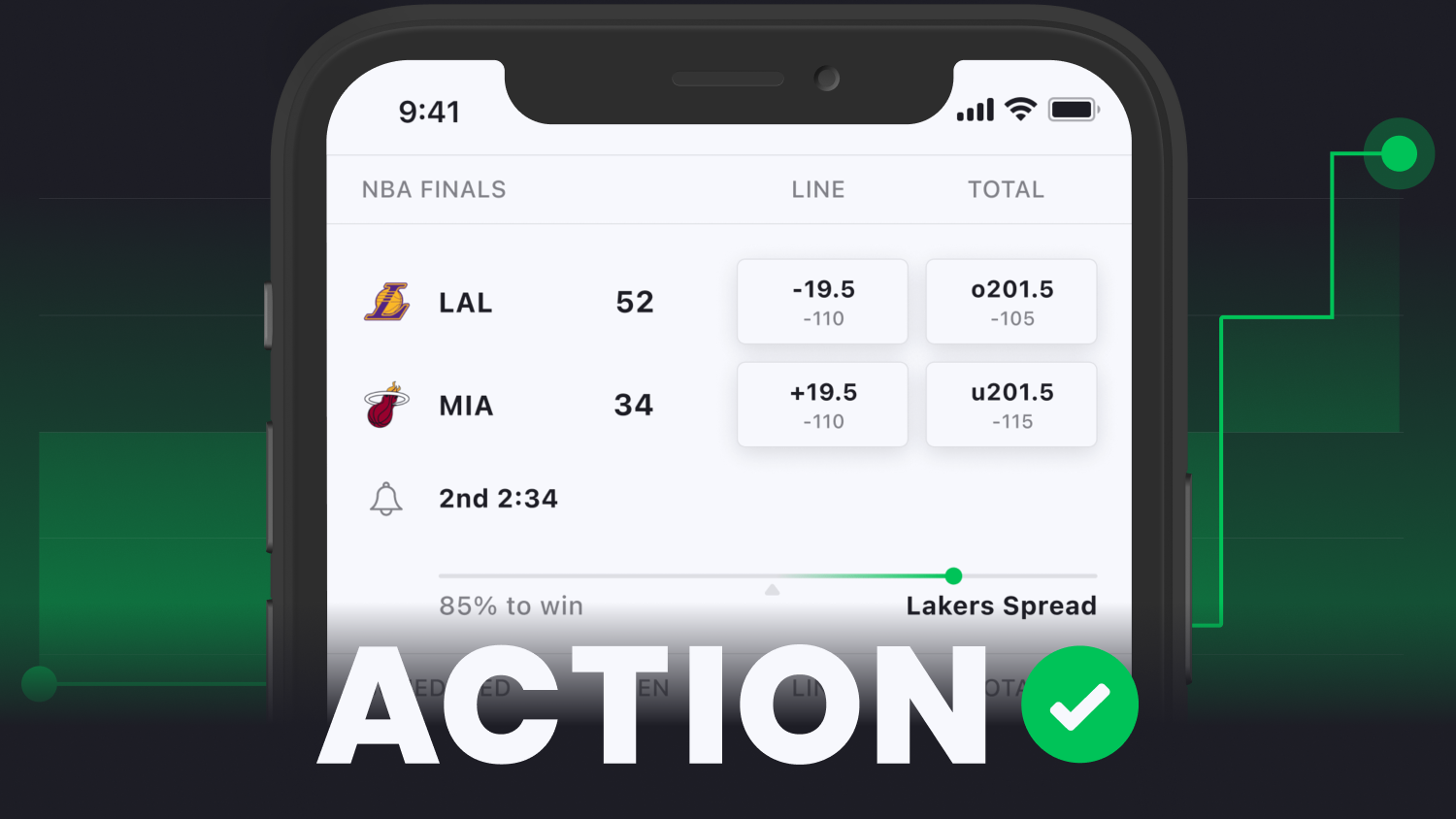 The must-have app for NBA bettors


Free picks from proven pros

Live win probabilities for your bets
---
» Return to the table of contents «
---
Utah Jazz vs. Los Angeles Clippers
| | |
| --- | --- |
| Pick | Clippers ML (+124) |
| Book | FanDuel |
| Tipoff | 10 p.m. ET |
| TV | ESPN |
Kenny Ducey: The consensus here seems to be that with the pressure squarely on the Clippers' shoulders, they will crumble to perhaps the most efficient team in the league. I'm willing to take a shot on the Clippers here yet again as an underdog.
For starters, the Jazz really miss Mike Conley, and have been living off of offense from unsustainable sources. Jordan Clarkson has proven to be volatile as ever in this series, and Bojan Bogdanovic had some pretty pedestrian shooting nights on the road.
Game 5 was a great example of this: Bogdanovic and Clarkson seemingly couldn't miss in the first half, yet the Clippers hung in the game with some phenomenal creativity on offense from Paul George and some big shot-making of their own. When the hot streak subsided, it was the all-around offensive talent of the Clippers that shined through and consistently got buckets.
The Jazz have obviously been one of the best shooting teams in the league, and won't stop hoisting now, but without Conley — who had been exceptional in that department this season — and without a version of Donovan Mitchell that is 100%, Utah's forced to lean on players that were merely icing on the cake this year.
With all that being said, the defensive side of the ball has arguably been a larger issue for Utah, and it has been all postseason long. Not only have the Jazz posted Defensive Ratings of 125.3, 126.9 and 140.4 over the past three games, they were struggling to contain the Grizzlies last series. The biggest strength of this team all season long seems to be no more.
Mitchell has carried Utah through some tough times this postseason, but it seems unlikely that happens if his ankle won't cooperate. The Clippers, even without Kawhi Leonard, are still the deeper and more talented team, and their defense should once again win out in what should be a nail-biter.
---
» Return to the table of contents «
---
Utah Jazz vs. Los Angeles Clippers
| | |
| --- | --- |
| Pick | Under 221 |
| Book | FanDuel |
| Tipoff | 10 p.m. ET |
| TV | ESPN |
Austin Wang: The Jazz are facing elimination against Clippers, who will be without Kawhi Leonard in Game 6 on Friday night.
Despite being a high-scoring series that has favored the over (three out of five games have gone over the total), the pace has been incredibly slow.
The Pace factor for this series is 95 possessions per 48 minutes, which marks the slowest-paced series in these conference semifinals. The 3-point shooting has been incredible, but with an elimination game at hand, I expect the defense to tighten up.
The Clippers' Offensive Rating decreases by 10.3 points per 100 possession when Leonard is off the court, per Basketball Reference. The Clippers did an admirable job to get the win in Game 5 in his absence, but it took an above average shooting performance (51.3% shooting from the field, 16-for-40 from behind to arc for 40%) to get there.
Mike Conley and Donovan Mitchell are both listed as questionable. Even if either of them play, they will be less than 100%. Mitchell has really struggled shooting the ball in the last two games. Conley hasn't played a game this entire series and would be rusty. I anticipate some regression from Bojan Bogdanovic, who scored 32 points off nine 3-pointers in Game 5.
Favorites on the road in a playoff elimination game have gone 10-2 (83.3%) to the under in the history of the SDQL, dating back to 2002. This is active on the Jazz. The road favorite pulls out all the stops on defense in their last stand.
Factoring in the slow pace, increase in defense due to an elimination game and injuries to key players, I expect this to be a low-scoring game and my numbers make this total at 216. My recommendation is a play on the under at the total of 221 and would gladly play this down to 218.
---
» Return to the table of contents «
---
Utah Jazz vs. Los Angeles Clippers
| | |
| --- | --- |
| Pick | Donovan Mitchell Under 33.5 points |
| Book | FanDuel |
| Tipoff | 10 p.m. ET |
| TV | ESPN |
Brandon Anderson: It sure doesn't seem like it's been a very good idea to bet against Donovan Mitchell in the playoffs.
Last year in the bubble, Mitchell dropped a Jazz record 57 points in the opener and finished the seven-game series averaging 36.3 points a game. He was the story of the first round, and he's picked up this postseason where he left off. Mitchell had to ramp up a bit after missing the playoff opener, but he scored 25 points in limited minutes in his return and he's averaging 31.6 PPG so far in these playoffs.
That included a 45-point scorcher in Game 1 against these Clippers, followed up by 37 points in Game 2, and it again includes Mitchell dropping a barrage of 3-pointers on the hapless opponent. Spida is averaging 13.0 3-point attempts per game against LA, and he's made 27 treys in five games, lighting up the scoreboards. As Utah's offense shrinks and its shots falter, Mitchell has been the one constant for the Jazz.
Only he hasn't been a constant. After 45 and 37 points the first two games, Mitchell dropped to 30 and 37 in Games 3 and 4, then all the way down to 21 in Game 5, his lowest total of the playoffs thus far. It's not the 3-pointers, which he's still taking and making plenty of, but it's the 2-pointers that have gone missing.
In Game 1, Mitchell made 10 2s, and he added nine more makes in Game 2. He was attacking the rim relentlessly and the Clippers had no answer. Well, they did have an answer, but his name was Ivica Zubac and his drop coverage wasn't working.
So the Clippers adjusted, like they did in round one, dumping Zubac mostly out of the rotation and turning to Nic Batum and wings in a switch-everything defense that flummoxed Luka Doncic last round and now is limiting Mitchell. He made only six 2s in Game 3, then three and two the last two games.
Mitchell isn't getting lanes to the rim anymore, in part because of LA's defensive adjustments and, sadly, in part because that leg is getting worse and worse as the playoffs go on. Mitchell is a game-time decision tonight, and while you have to believe he gives this a go, it's clear that he isn't getting the same push of explosion on that injured leg.
Even as awesome as Mitchell has been this postseason, this is a high number, and he's gone under it in six of nine playoff games. All three overs came this series, but unless Mitchell hits a barrage of 3s or gets to the line 15 times again like he did in Game 4, it's tough to see him getting this number.
It brings me no joy to bet against Mitchell. As a fan, we can only hope we get to see him out there and see his best. But there are too many ways to hit this under. Mitchell can go cold behind the arc, he could struggle to get to the rim like he has lately, he could cede some of the load to Mike Conley if he returns, or he could struggle to stay on the court with his injury issues.
None of those outcomes are fun, but here we are nonetheless. If the Jazz are going to survive the night and live to fight for Game 7, Mitchell is going to need a lot of help from his teammates. I'll play the under to -130.
---
» Return to the table of contents «
---
How would you rate this article?